Most Popular Cabbage Kimchi Recipe in Korea
This cabbage kimchi recipe is perhaps most popular one in Korea. Although it takes time to make authentic kimchi, but it's worth every effort. This authentic kimchi recipe rewards you with light and refreshing flavor and will last for several months.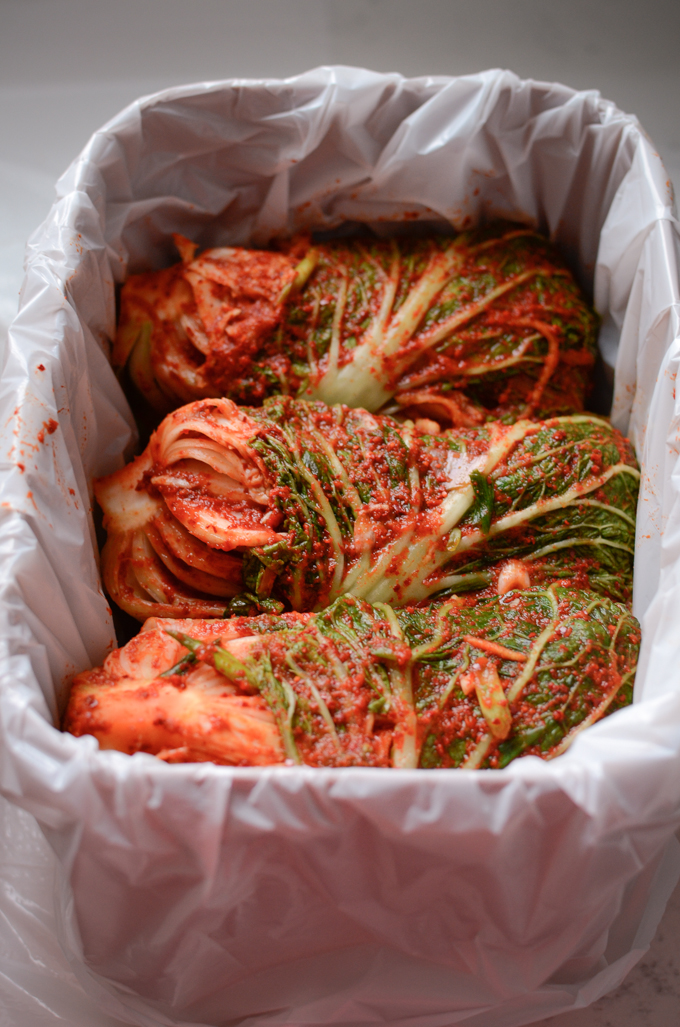 Late fall is a busy season for most Korean housewives. It is the season of kimchi making for a long term storage. Kimchi, especially cabbage kimchi, is a staple dish in Korea.
It is very important to Korean people to have enough kimchi to last through the cold winter when cabbage is not available.
Cabbage tastes its best around late fall season, and I have to make sure that I have plenty of kimchi to last for me and my family.
I intended to buy only 2-3 large heads of cabbage, which is just enough for my family size and needs. The cashier at the Korean store told me that it would be actually cheaper to buy a box of cabbage than buying 3 separate pieces. So why not?
Without knowing how many cabbages are in a box, I paid for it before I even see the box. The bag man at the store carried the cabbage box to my car and I soon found out that there were 10 large heads of cabbage in the box.
Oh my! What in the world am I going to do with all this cabbage? I didn't even have enough space in my refrigerator to store them. So my darling cabbage stayed in the trunk of my car for a few days before I was able to get to work on kimchi making. Gosh!
I have been wanting to try one special kimchi recipe that is very popular in Korea these days. This recipe is from a famous food blogger in Korea. Her nickname on her blog is called "really hate carrot (당근정말시러)" – I can't agree enough on the carrot part.
She is famous for her Kimchi and it seems like everyone who followed her recipe is adoring the flavor. Most of her kimchi recipes start with a special kimchi stock called "Fruit stock (과일육수)". The stock makes the flavor of kimchi much lighter and refreshing without a heavy aftertaste. I am glad that I finally found the time–and have plenty of cabbage!–to make it.
With her approval, I am happy to share her recipe with you. I had to alter the recipe for kimchi seasoning paste slightly due to the availability of ingredients in the U.S. Other than that, you will make a tasty kimchi with this recipe.
I won't go into the intensive tutorial details this time because I have posted so many kimchi recipes before with a plenty of explanations. For the cabbage soaking part with salt brine, look at my cabbage kimchi recipe post.
For kimchi seasoning paste, look at the second post of cabbage kimchi recipe. If you need more details on how to assemble the cabbage with the kimchi seasoning paste, you will find it in the third episode of my cabbage kimchi assembly post as well.
If you want to learn more about the role of each ingredient in Kimchi making, please see my Easy Kimchi Recipe for Beginners post. You will find a good information there.
How to make Authentic Cabbage Kimchi
Fruit Stock For Kimchi
This dried berry like fruit is called "구기자(gugija)". The package says "Chinese matrimony vine" in English. I have no idea what kind of vine that is, but it produces some fragrant berries that are good for making tea.
You will be able to find it in major Korean stores or Chinese stores. This is perhaps the most exotic ingredient in this recipe other than shrimp sauce. But I've been using shrimp sauce so many times in my Korean recipes, so you should be familiar with that, right?
This is her fruit stock: apples, gugija, Korean leeks, onion, and dried sea kelp.
Simmer for nearly 1 hour, and you will have the sweet fruity stock ready.
Kimchi Filling
I made a rice paste with the stock and let it cool down. To learn how to make rice paste, check my cabbage kimchi post.
You will need to slice the Korean radish into very thin matchsticks, as thin as humanly possible. She mentioned that you will need to do this by knife, not with a mandolin.
It takes a good knife skill with an elbow grease, but the texture of hand sliced radish makes a big difference at the end.
Look for the best quality shrimp sauce. The shrimps should look pale pink and its juice shouldn't be muddy.
Combine all the ingredients for the kimchi seasoning paste, and mix them up. The vivid red devilish paste is ready to tackle the cabbage.
Assemble Kimchi
You will also need a large kimchi container that is airtight. Line it with a plastic bag. In Korea, you can buy a thick plastic bag that is specially designed for Kimchi storage, but of course, you can't buy anything like that outside of Korea.
So I used a medium size trash liner. The purpose of lining a container with a plastic bag is to keep the air out as much as you can, also to keep the container from the kimchi stains.
You will need a clean pair of kitchen rubber gloves. Please don't use the pair that you use to clean the house. Get a brand new pair and let it be your divine kimchi gloves.
Here is my cabbage. I only used 5 heads of cabbage since my sink can only hold that much. If you need to soak 10 cabbages, you will provably need to do the soaking job in your bath tub.
You might need to skip the shower for one day, but the cabbages will get a nice long bath, for sure.
My kitchen has white counter top, so I want to protect it by covering it with a plastic liner in case the kimchi paste splashes everywhere while I am assembling them.
Now my kitchen is ready, my hands are ready, and the cabbage is ready. It is time to make some serious kimchi!
Spread the kimchi seasoning paste onto the leaves of cabbage starting from the outer layer. Don't spread too much kimchi paste.
Try to coat evenly all the nooks and crannies of the cabbage. Here it is. This should go fairly fast.
Kimchi Storage & Fermentation Tips
Wrap the whole thing with the most outer leaf of the cabbage, then stack them up inside the plastic bag in the container.
When done, tie the bag tightly and cover. Let this kimchi sit at room temperature for 1-2 days depending on the temperature.
I left mine for 2 days since the temperature is quite cool these days. Then transfer the kimchi into the refrigerator and let it store for another 4-5 days. Your kimchi should be ideally fermented.
The fermentation will slow down in the fridge but it will continue to get sour as time goes. For the first 1-2 month, the kimchi will taste its best to eat as is. After that, it will become very sour and potent. That makes very good soups and stews, or other braised dishes.
As you can tell, kimchi making is labor intensive and daunting to start. However, the fruit of your labor will pay off greatly. Homemade kimchi is 1000% better than store-bought, and much healthier.
Kimchi is not a quick dish that you consume all at once and dispose after. It is a dish that requires long term storage and you get to enjoy every stage of the fermentation with a developed flavor.
Therefore, if you decide to make your own homemade kimchi, make tons. Share with friends and families.
Think of all the great dishes you can create with kimchi – kimchi jjigae, kimchi fried rice, and etc.
The possibilities are endless and you will enjoy the labor of love throughout the season.
Sav
The Most Popular Cabbage Kimchi in Korea
Making authentic cabbage kimchi takes time, but it's worth every effort. This authentic recipe rewards you with light and refreshing flavor.
Ingredients
2 heads napa cabbage, about 5 lb each
1 1/2 cup Korean coarse sea salt, divided
15 cups water
1/2 apple, cored and peeled
1/2 onion, diced
1 head garlic, peeled
1- inch ginger, peeled
1/2 medium Korea radish, sliced into very thin matchsticks
1 bunch green onion, siced
1-1/2 cup Korean chili flakes (gochugaru)
1/2 cup Korean fish sauce
1/2 cup Korean shrimp sauce
Instructions
Cut the cabbage in half and give 2-inch slit on the stem part of each half. Rinse the cabbage.

Using 1/2 cup of salt, sprinkle into white stem parts of cabbage toward the stem. Place the cabbage in a large container or in the sink.

Dissolve 1 cup of salt with 15 cups of water and pour over the cabbage. Press the cabbage to let the salt solution to sip through. Place a heavy object such as bricks or heavy cast iron skillet on top of cabbage. Let them soak for 8-12 hours turnign them to the other side during the soaking time. When the stem part of cabbage is bending without breaking, they are ready. Separate the split cabbage half completely.

Rinse the cabbage 2-3 times in the water and place them in a large colander to drain. Press gently to remove excess water.

To make the fruit stock; combine all the ingredients and bring them to boil. Turn the heat to low, and simmer for 50 minutes. Reserve the stock and discard the rest.

To make the rice paste; whisk together 1 cup of the fruit stock and 1 tablespoon of sweet rice flour. Cook over medium heat until it gets bubbly and thicken whisking constantly, about 2-3 minutes. Remove from the heat and let it cool.

To make kimchi seasoning paste; put apple slices, onion, garlic, ginger with fish sauce in a blender and process until smooth. You can add a few tablespoons of gruit stock to help the blender blade to run better. Transfer the puree into a large mixing bowl and add radish, green onion, shrimp sauce, and the rice paste. Mix well with a wooden spoon and set aside for 10 minutes.

To assemble; Line your container with a clean plastic bag and set aside.

Place each cabbage onto a shallow mixing bowl, spread a little amount of seasoning paste onto the outer leaf of the cabbage first, then moving onto the next layer one leaf at a time. Spread just enough to cover entire leaf. When all the leaves are covered, gather up the leafy part of the cabbage toward the stem and wrap the whole thing with the most outer large leaf to make a bundle to secure everything inside.

Place the kimchi in side of the plastic bag and stack them tightly together. When finished, tie the bag tightly to keep the air out. Cover with a lid and let the whole thing sit on the room temperature for 1-2 days depends on the weather.

Store the kimchi in the refridgerator after the fermentation. Your kimchi should be ready to serve in next 3-5 days. This kimchi can last months stored in the refrigerator and it will continue to ferment slowly developing more sour flavor as time goes.
Did you make this recipe?
Tag @beyondkimchee on Instagram. I love to see your masterpiece.
Sav
Save