Classic Doenjang Jjigae (Korean Soybean Paste Stew)
This classic doenjang jjigae recipe uses fermented Korean soybean paste to create a deeply flavorful stew accented with tofu and fresh vegetables. My step-by-step photos make at home preparation of the stew easy.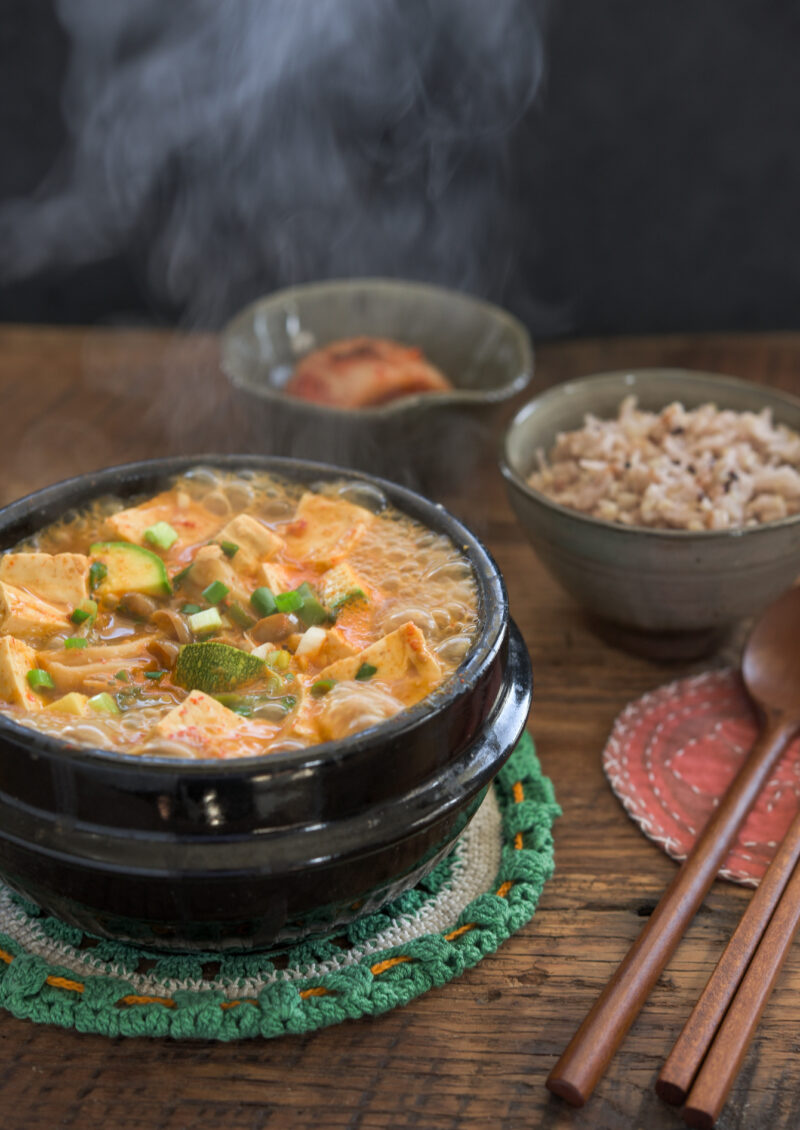 "Thank you so much for this recipe! It was simple and very delicious."

jessica
A pot of hot boiling doenjang jjigae (Korean soybean paste stew, 된장찌개) is perhaps the most desired stew in Korea along with kimchi jjigae. In terms of Korean "comfort food," this is the #1 stew, and no Koreans will disagree on that.
This doenjang stew is also a common sight in numerous Korean restaurants, where it is frequently offered as the concluding dish following a Korean barbecue meal.
Without a doubt, most Korean people grew up eating this Korean stew at least once or twice a week. Surely, the smell of doenjang jjigae coming out of kitchen brings a nostalgia to many Koreans.
It brings back our childhood memories. I have a fond memory of my mother fixing her signature doenjang jjigae often. My father adored her jjigae.
My mother's doenjang jjigae is special because she made her own doenjang paste. Nothing can beat homemade doenjang jjigae made with well-fermented homemade soybean paste
Unfortunately, like many of you, I don't have the luxury of having homemade doenjang paste. Making it is on my bucket list to do sometime soon, and I hope I am up to the challenge!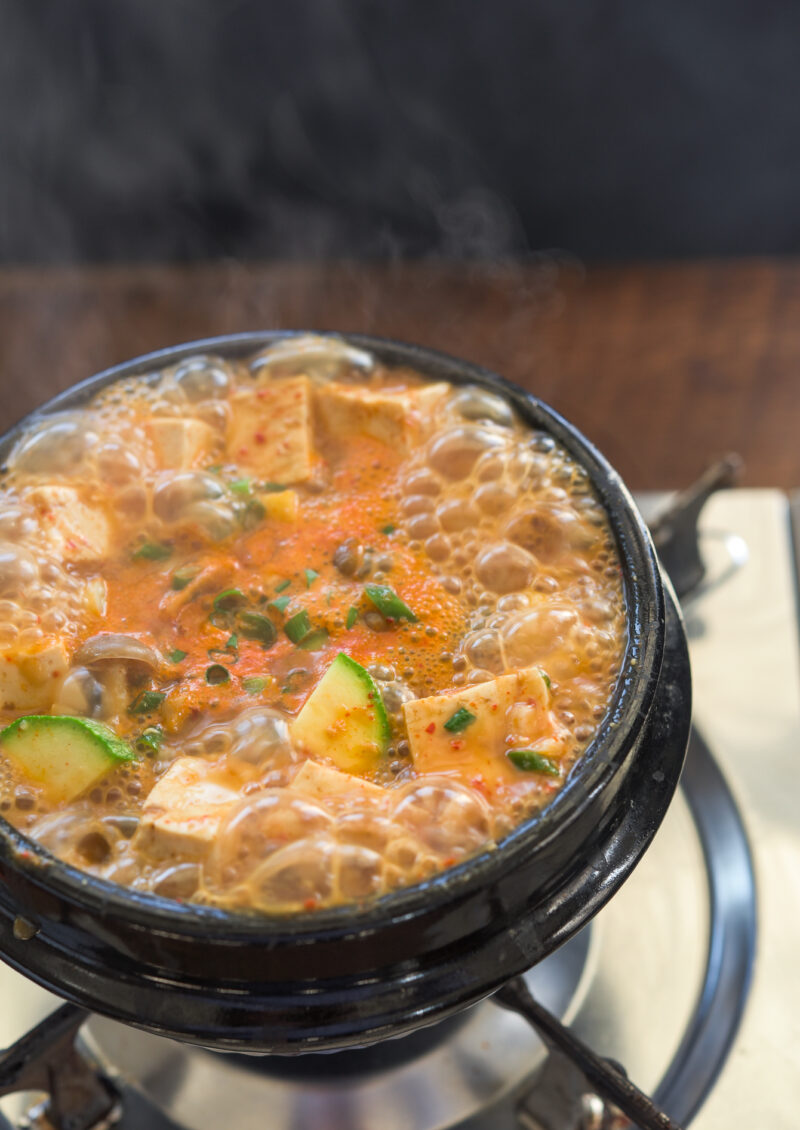 Although doenjang jjigae made with homemade doenjang paste would be the best, you can still make a good stew with a store-bought Korean soy bean paste. Either way, it is an essential ingredient for Korean cooking.
If you enjoy Korean soups and stews, don't miss out this ever-popular Korean soybean paste stew. With my recipe, you will enjoy one heck of a delicious doenjang jjigae just like you would enjoy at your favorite Korean restaurant.
If you have a Korean man or woman in your life, make this stew and serve it to them. They will truly appreciate you, and think you are getting close to mastering the art of Korean stew recipes. Neat, right?
Korean stone pot (ttukbaegi, 뚝배기)
Ttukbaegi is a Korean earthenware made out of a type of clay, and usually glazed inside for the cooking purpose. Unglazed Korean earthenware (onggi) is mostly used to store food for fermentation. Cooking doenjang jjigae in a ttukbaegi retains heat very well, which keeps the stew hot longer. Without the interference from metallic surfaces on other kinds of cookware, ttukbaegi will maintain the natural flavor of fermented food throughout cooking.
Best Doenjang Jjigae Recipe Tips
#1: Combination of pastes
To make authentic doenjang stew, you will need Korean soybean paste (doenjang) for sure. On top of that, try adding a tiny bit of Korean chili paste (gochujang).
It may sound unusual, but a teeny-tiny bit of gochujang will add a depth to your stew. A small amount of Korean chili flakes adds a slight kick to the stew as well.
Note: This recipe is similar to the Korean BBQ restaurant style doenjang jjigae recipe that I introduced in my cookbook.
With the combination of these three ingredients, you will have a really good doenjang jjigae that will impress even your local Korean friends.
#2: Anchovy and sea kelp stock with rice water
If you have followed my blog over the years, you know that I use a variety of Korean soup stocks in many recipes.
A good doenjang jjigae MUST start with a good stock – typically anchovy stock. I used rice starch water instead of plain water as a base.
Rice starch water is basically the water you rinsed the rice with. The starch component will thicken the stew and add depth to the flavor. If you prefer a thinner stew, use plain water instead.
To make the stock: All you need to do is simmer dried anchovies and a piece of dried sea kelp in the rice water (rice starch water) for 3-4 minutes. Discard the anchovies and sea kelp, and your stock is ready!
#3: What goes inside doenjang jjigae?
Typical option: onion, zucchini, tofu, mushroom, fresh chili
Other choices: thin slices of beef or pork, clam, shrimp, crab, watercress, radish, potato, mushroom, bean sprouts, kale, turnip green, etc.
How to make Korean Soybean Paste Stew
Feel free to double the recipe if you want to feed more people since this recipe makes only 2 servings.
When the anchovy stock is ready, add Korean soybean paste and chili paste into the stock.
Hint: I used this mini scoop strainer to smear the paste into the stock. You can also use a slotted spoon or wooden spoon. Just smear the paste to loosen it up, then add it to the stock.
Add onion and bring to a gentle boil over medium heat.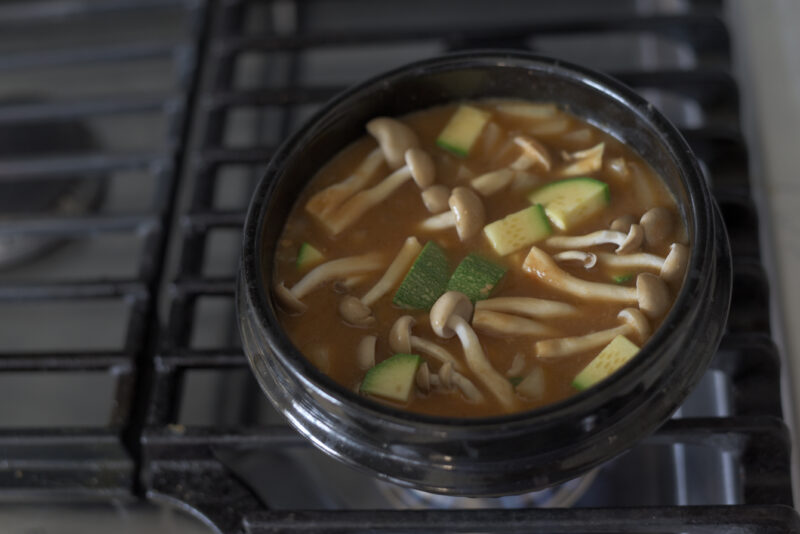 When it is about to boil, add zucchini and mushroom; continue to boil on medium-low heat.
Toward the end of cooking, add garlic, Korean chili flakes, and fresh chili slices.
Lastly, turn off the heat and garnish with chopped green onion. That's it! You've got a pot of boiling hot Korean stew and it is ready to serve.
Doenjang Jjigae Serving Suggestion
Rice, of course. What else?
Make sure to serve this homey delicious Korean comfort stew when it is hot, but be careful not to burn your tongue. That happens often to those who are not used to boiling hot Korean stews!
Serve with any Korean side dishes you like along with your favorite kimchi.
Any leftover stew should be stored in the fridge. It reheats nicely in the microwave. Enjoy!
This recipe was originally posted in November 2011. I've updated the recipe with a few changes, new photos, and more information.
More Korean Comfort Stews
Some of these stews are my favorite Korean stew recipes. If you love doenjang jjigae, you will love them equally.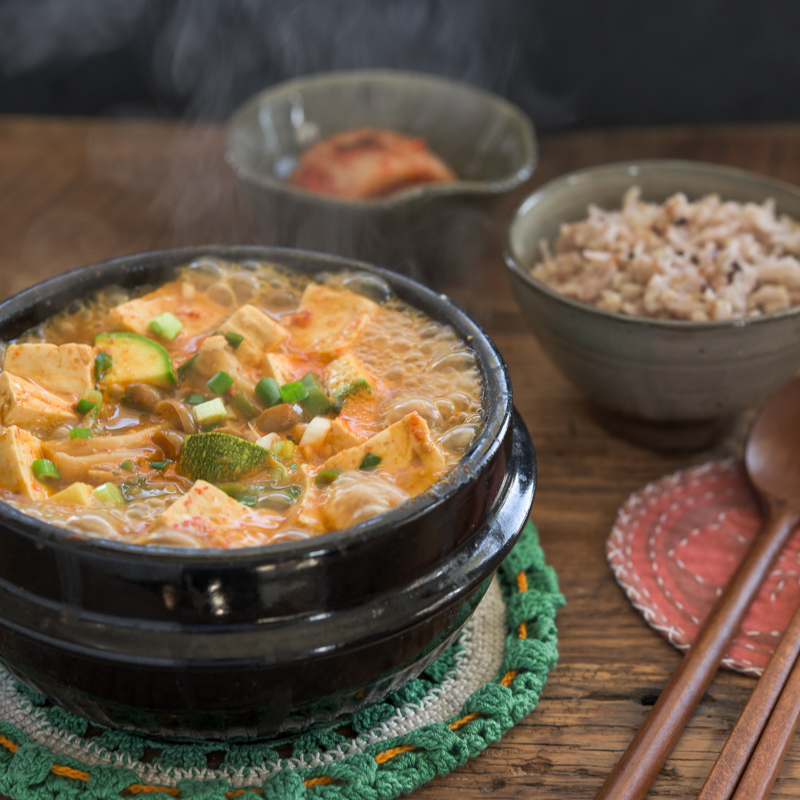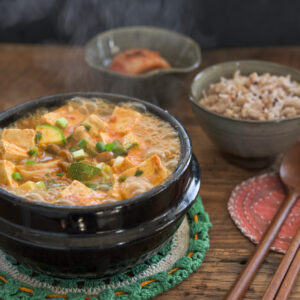 Classic Doenjang Jjigae (Korean Soybean Paste Stew)
This classic homemade doenjang jjigae recipe uses Korean soybean paste to create a deeply flavorful stew accented with tofu and fresh vegetables. It's easy to prepare, and ready in 25 minutes or less.
Ingredients
For Stew
2 heaping tbsp Korean soybean paste (doenjang)
1/2 small onion, chopped
1 small zucchini, diced
4 oz soft tofu, diced
2 oz mushroom, optional
1 clove garlic, finely minced
1 fresh chili, sliced
1 green onion, finely chopped
Instructions
To make the anchovy stock, combine rice starch water, dried anchovy, and sea kelp in a stone pot or heavy bottom pot and bring to boil. Reduce the heat to low and simmer for 3-4 minutes. Discard the anchovies and sea kelp.

To make the stew, smear the pastes in a mini scoop strainer or slotted spoon and incorporate into the stock. Add the onion and bring to a gentle boil over medium heat.

Add zucchini, tofu, and mushroom; continue to boil over medium-low heat for 1-2 minutes.

Add garlic, chili flakes, and fresh chili and heat through. Sprinkle green onion and remove from heat. Serve hot with rice.
Notes
To make rice water (rice starch water):
Rinse your rice with water briefly. Pour out the water and discard.
Swirl the rice around rapidly with your fingers for 15 seconds to remove starch from the rice grains.
Pour about 3 cups of water to the rice and rinse.
Collect the milky rice starch water and reserve 2 cups to use for this recipe.
Continue to rinse your rice 2-3 more times. Cook your rice by your usual rice cooking method.
Calories: 84kcal, Carbohydrates: 11g, Protein: 6g, Fat: 1g, Saturated Fat: 1g, Polyunsaturated Fat: 1g, Monounsaturated Fat: 1g, Sodium: 534mg, Potassium: 590mg, Fiber: 3g, Sugar: 6g, Vitamin A: 774IU, Vitamin C: 55mg, Calcium: 40mg, Iron: 1mg
Did you make this recipe?
Tag @beyondkimchee on Instagram. I love to see your masterpiece.