Easy Kimchi Recipe for Beginners
This beginner's kimchi recipe uses simple ingredients to make traditional Korean kimchi, and includes essential tips and step-by-step instructions to help you easily create healthy cabbage kimchi at home.
"My 4 year old daughter and I just made this recipe to a tee except I forgot the leeks and green onions. She went from being a food wimp to being a daring taster in the course of a day."

son
It is a wonderful phenomenon that more and more people around the world are trying Korean authentic kimchi recipes. That pleasantly pungent, sour, spicy, and perfectly salty taste — with the crisp texture of cabbage — indicate that you have yourself some good kimchi.
Koreans make their kimchi in different ways depending on the season and the purpose. Cabbage kimchi is perhaps the most well-known and common kimchi eaten in Korea. The next common one would be the Cubed Radish Kimchi.
So, you are looking for a good kimchi recipe with a truly traditional taste, but with less effort? You are in the right place. This recipe might be the one.
What is Kimchi?
Kimchi is a traditional side dish and a staple food in Korean cuisine. You will find kimchi as an accompaniment in many popular Korean meals including Korean bbq beef (bulgogi), bibimbap, japchae, and Korean chicken stew.
A wide variety of vegetables, including napa cabbage and Korean radish, are salted then seasoned with a varying selection of Korean chili flakes (gochugaru), green onions, garlic, ginger, and fish sauce (akjeot, 액젓 or jeotgal, 젓갈).
About 100 different recognized varieties are known to exist in South Korea. However, different regions in Korea have their own unique version that use various types of vegetables and methods.
And every Korean household carries its own special family kimchi recipe, traditionally passed from mothers to daughters or daughter-in-laws, so it is hard to count the exact number of varieties.
Mak-kimchi (Easy Kimchi)
We call this kind of easy version,"Mak-kimchi (막김치)". The word "mak" is not a proper vocabulary word but it indicates a meaning of "whatever" or "anyway you like." So as the name says, you can freely cut your cabbage as you like it without following any specific rules. The freshly made mak-kimchi also can serve as kimchi salad (Geotjeori).
What good kimchi should be?
Kimchi has a complex flavor and taste depending on the recipe. For the main flavor, it carries sour, spicy, and umami taste throughout due to the length of fermentation. Here are some of the characters of what good kimchi should include.
Flavor: Good kimchi should have a well-balanced flavor that is tangy, spicy, and slightly sweet. The flavors should be strong, but not overpowering.
Texture: The texture should be crunchy and slightly firm. It should not be too mushy or too hard.
Color: The color should be vibrant and bright. The red color of the chili flakes should be prominent.
Aroma: Have a strong, pungent aroma but without any off-smells or odors.
Fermentation: Needs to be properly fermented. This means that it should be sour, but not too sour, and it should have a slight fizziness.
Health benefits
Kimchi is very good for you. It's low in calories and fat while boasting an impressive list of nutrients, fiber, vitamins, and minerals. Kimchi contains healthy bacteria and probiotics, which is effective at reducing cholesterol and improving gut health.
It is also full of antioxidants and anti-aging properties, it can help reduce the risk of serious health conditions such as stroke, and diabetes.
What is Kimchi made of?
1. Cabbage
Use a whole head of Asian napa cabbage if you want to make it traditional. If Asian napa cabbage is not available in your area, try green cabbage kimchi using this recipe. It will have a different texture and taste, but it makes its own unique kimchi.
2. Korean coarse sea salt
The most important ingredient for making good kimchi is the salt. You will need to brine the cabbage with salt for 2 hours. I recommend using a good quality Korean coarse sea salt. Salt penetrates into the cabbage and draws the moisture out, which makes the cabbage wilt. The minerals in the salt bind with the cabbage, yielding a good flavor.
Can't find Korean sea salt? — use any flaky sea salt or kosher salt, but only use 1/3 the recipe amount. Do not use table salt.
3. Korean Chili Flakes
Korean chili flakes (gochugaru) are perhaps the second most important ingredient. You have to use chili flakes, not the fine powder. Use the best quality you can afford — possibly a product of Korea (more expensive but worth the price). Look for a bright red hue in the chili flakes, and avoid brown flakes. See my Korean pantry page for more information.
There's no substitution for Korean chili flakes. If you use a different type of chili flakes or chili powder, you will alter the flavor vastly — and you could end up with something that is spicy beyond your imagination!
4. Starch
Starch helps the fermentaion ideally. The carbohydrates in the starch feed good bacteria (lactobacilli) to create a gas, which allows kimchi to develop its pungent sourness. Not all kimchi needs starch but cabbage kimchi can benefit greatly from it. There are a few different options of starch you can choose from.
Rice paste: boiling rice flour and water makes a glue-like paste.
Wheat paste: same cooking method as rice paste, but use wheat flour instead of rice flour.
Cooked rice: a great way to use up leftover rice. Use white rice.
Cooked potato: A plain cooked potato is another great starch to use in Kimchi. See my radish kimchi recipe for an idea.
5. Fish Sauce and Salted Shrimp
Traditional Korean kimchi always uses Korean fish sauce and salted shrimps. Korean fish sauce is made with fermented anchovies, and salted shrimps are fermented baby shrimps. They are easily found in most Korean stores.
If you can't find these sauces, substitute with Thai or Vietnamese fish sauce, but reduce the amount by 25%.
If you can't have the seafood sauces at all for a dietary reason, my vegan kimchi recipe will be more suitable.
6. Sweetener
A good kimchi needs a balance of spiciness and sweetness. Here's a few sweetener options that are commonly used. For this recipe, I used a mixture of apple and pear nectar which I found it in my local Latin grocery store. I love the outcome!
Asian pear: The crisp, juicy, sweet Asian pear is the most widely used sweetener in traditional Korean kimchi. It's natural and better for you.
Sweet red apple: Another natural fruit that is often used
Korean plum extract: It's a syrup made with green plums that are often used in Korean cooking.
Sugar: an everyday ingredient that everyone has
Pear juice or nectar: Since it is a liquid, you don't need to add the additional water.
7. Flavored Stock (Optional)
I like to add sea kelp stock or other flavored stock in the kimchi seasoning paste. It's an optional addition – and you can use water instead. Kimchi stock will deepen the overall taste of kimchi and adds umami.
Kitchen tools you'll need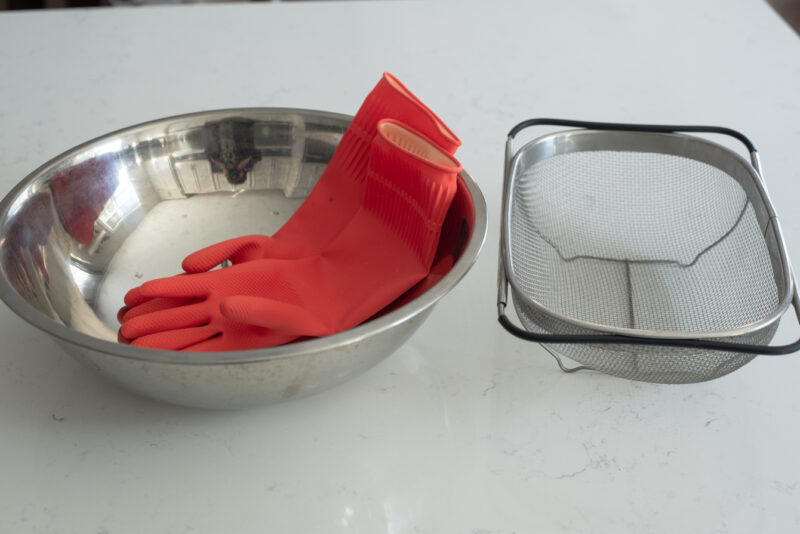 Extra large mixing bowl: You will need it to soak the cabbage with salt. You could even use your kitchen sink.
Big colander: It's for straining the extra water from the cabbage after rinsing them out.
Kitchen rubber gloves: Food-prep rubber kimchi gloves are to protect your hands from intensive red chili kimchi paste when you mix.
Storage jar(s): I recommend using glass food storage jar(s) with an airtight lid. They should be large enough to have room at the top, or use two smaller jars.
How to make kimchi (easy recipe)
Cut napa cabbage
Here are steps on how to cut nappa cabbage.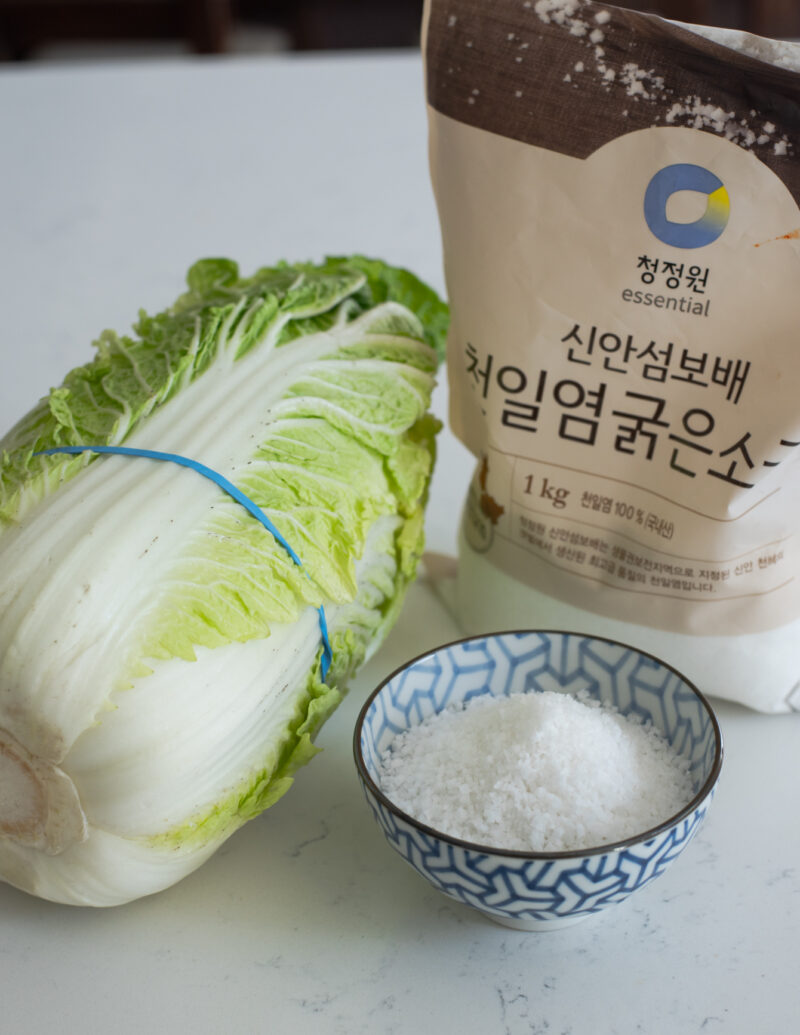 Get your cabbage and coarse sea salt.
Cut a 3-inch slit through the white stem part of cabbage.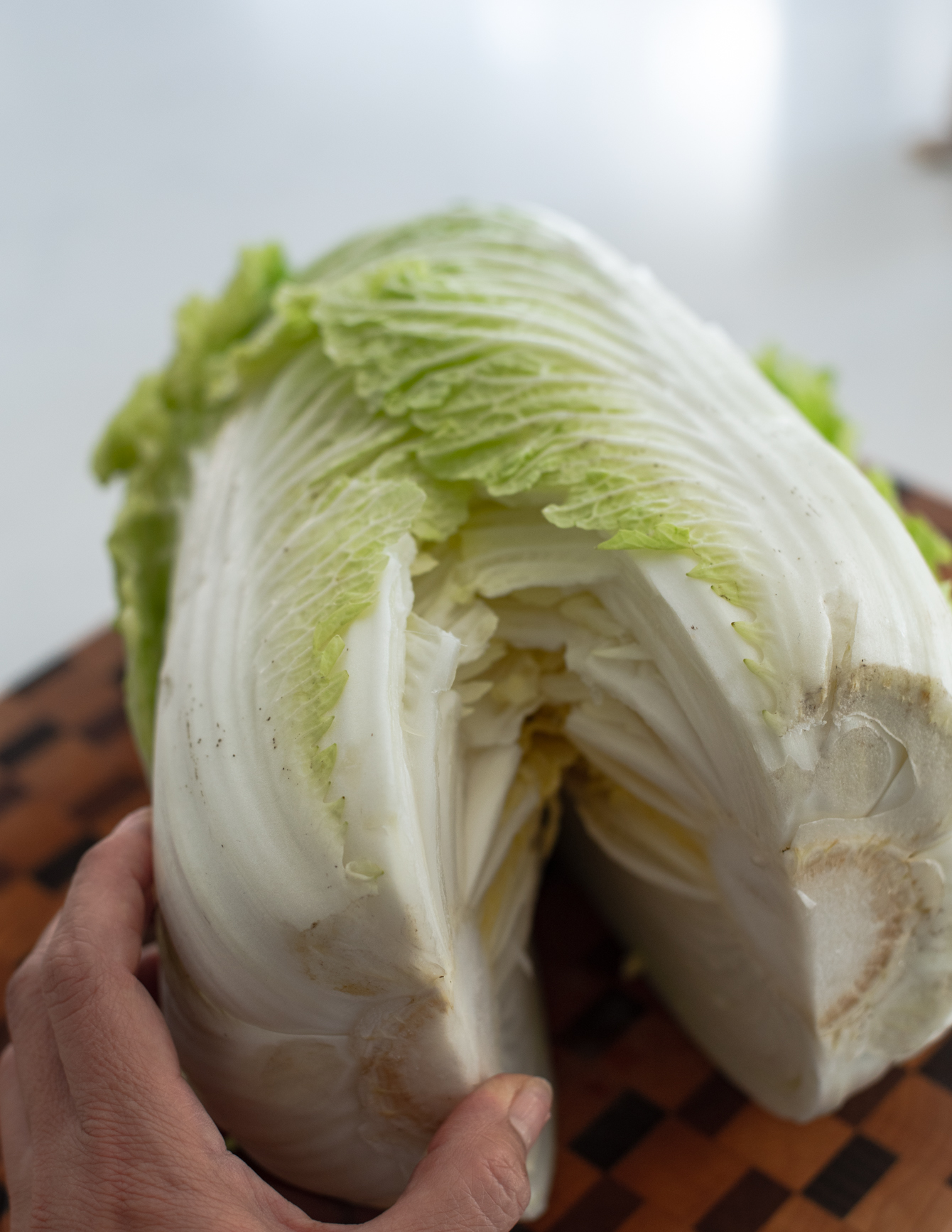 Open up the cabbage from the white stem part using your hand. It should open up easily.
Cut additional slits on each cabbage half on the stem and open up again. By doing so, you are quartering the cabbage the Korean traditional way. Rinse the cabbage quarters once to wet them.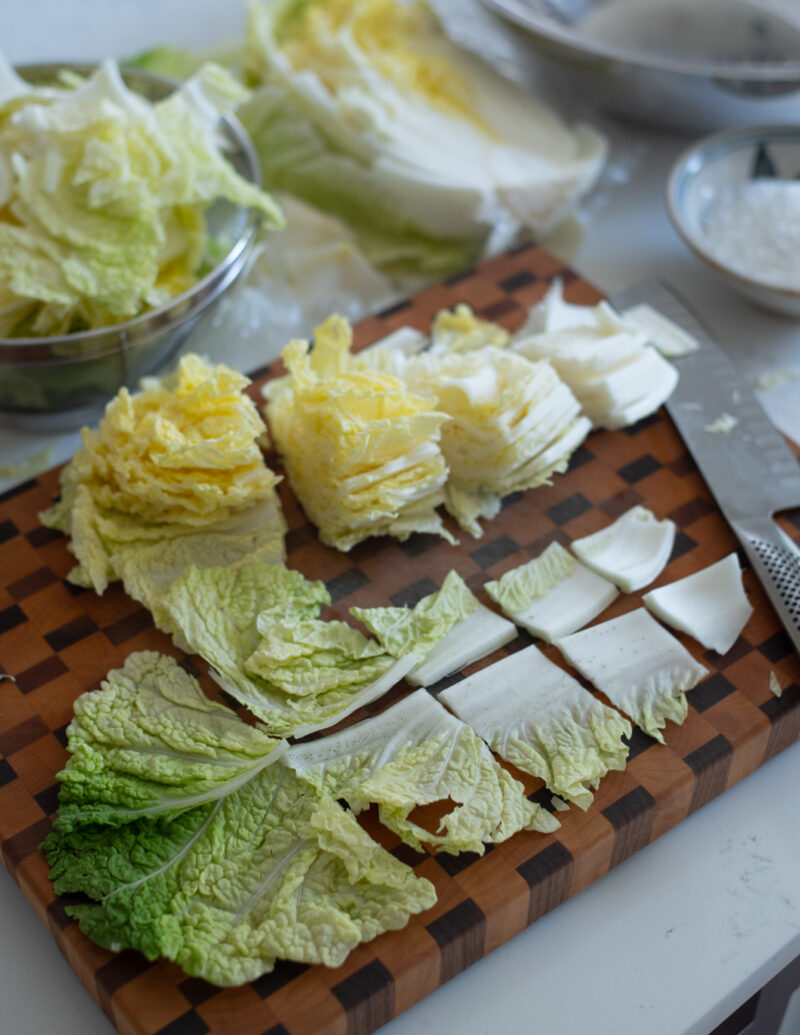 Dice cabbage quarters into large chunks. For the large outer leaves, slice them in half lengthwise first, then dice into chunks.
In a large bowl, put in a small layer of cabbage chunks and sprinkle about 2-3 tablespoons of coarse sea salt over the cabbage. Repeat the process several times, creating layers of cabbage chunks and salt.
Video tutorial for cutting napa cabbage
I have posted a 30-minute kimchi recipe on my website before. I recommend watching the beginning part of my recipe tutorial video to understand how to cut cabbage the Korean traditional way. The 30-minute kimchi recipe itself is designed to make a quick small batch as the title indicates. It is not suitable for a longer fermentation, though.
Salt brine
Salting cabbage is an important step, and this easy brine method works best for making cut cabbage kimchi.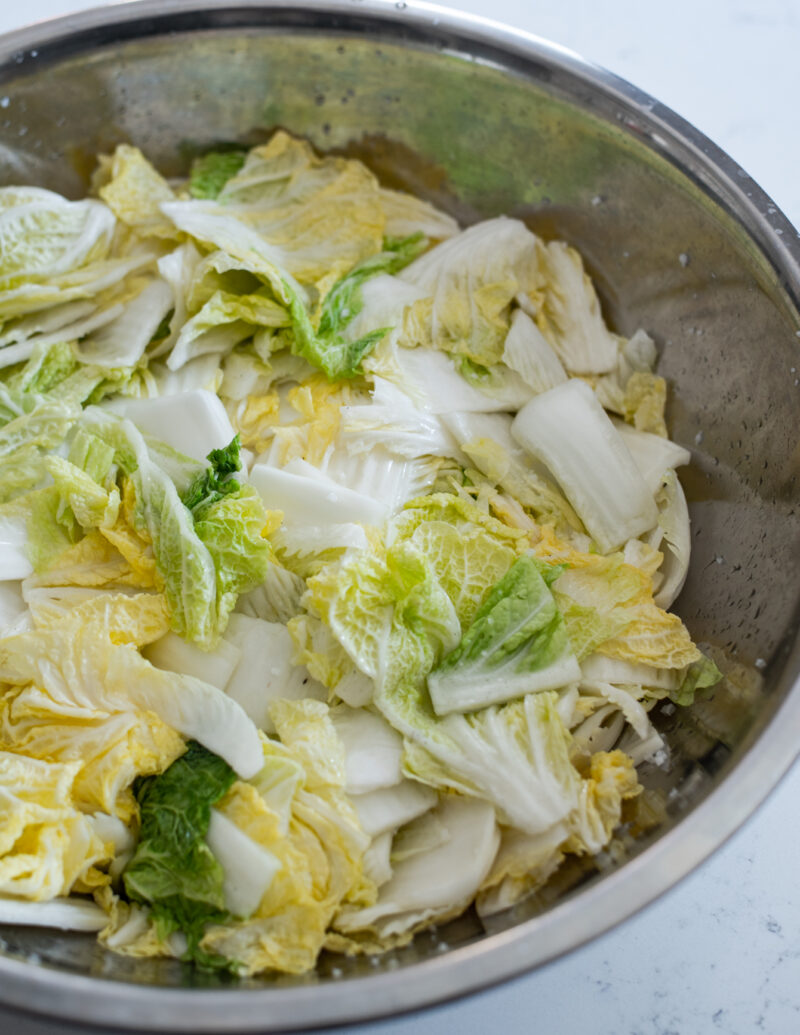 Let the cabbage soak for 2 hours, turning them upside down a couple of times during the soaking.
When you bend the white stem part of cabbage, if it bends with a gentle pressure, the brine step is completed.
Rinse the cabbage 3 times in water. Drain the cabbage in a colander, pressing down gently to remove excess water.
Fruit and vegetable puree
Before you move on to make kimchi paste, puree the savory ingredients and sweet fruits together in a blender.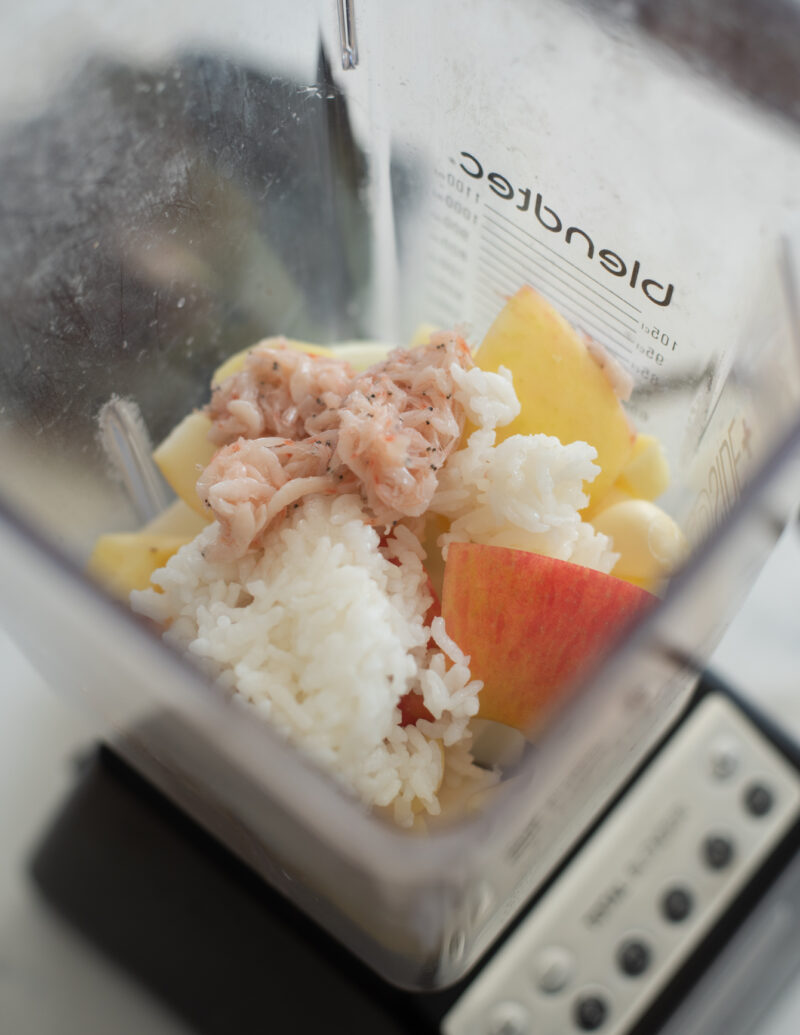 Combine onion, garlic, ginger, apple (or pear), sugar, Korean anchovy sauce, salted shrimp, and cooked rice (or other choice of starch) in a blender.
Pour in sea kelp stock (or water) to allow the blade to mix the ingredients. If using fruit nectar, you don't need to add stock. Process everything until smooth.
How to make sea kelp stock: Simmer 2 cups water with a piece of dried sea kelp (dashima) in a pot over low heat for 5 minutes. Discard the sea kelp and let the stock cool.
Make kimchi paste and mix
Use good quality Korean chili flakes (gochugaru) for making kimchi paste. You want your kimchi to look its bright and vibrant red color.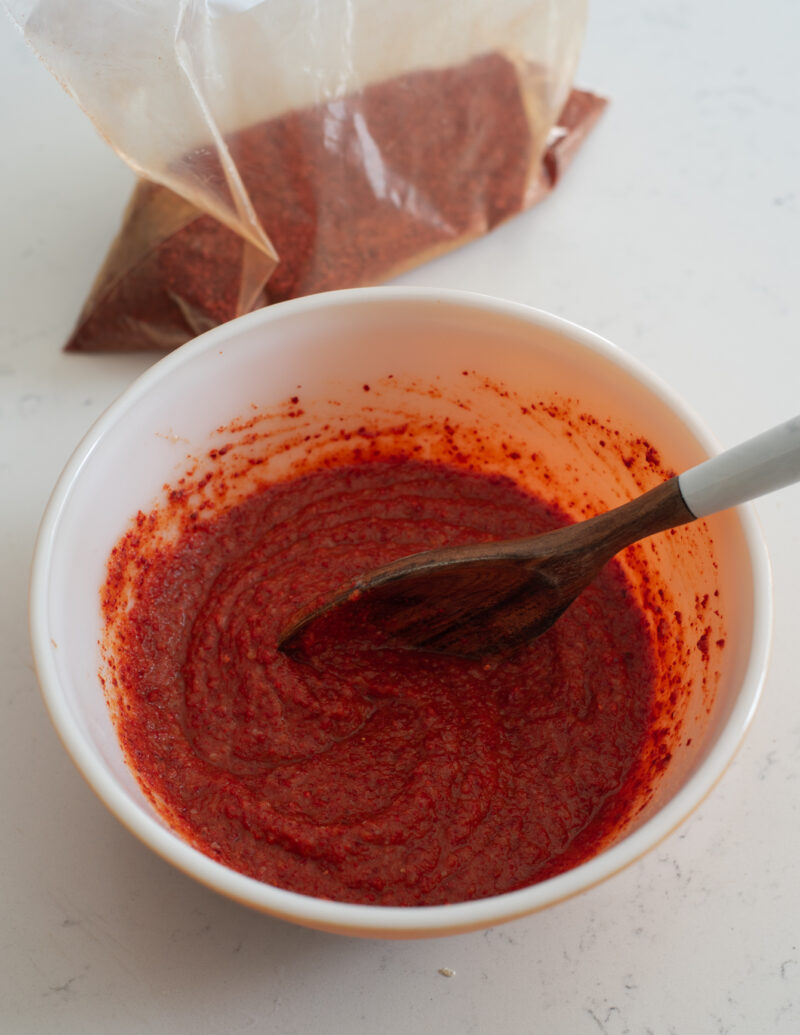 Pour the fruit and vegetable puree in a large mixing bowl. Add Korean chili flakes, and mix well. Taste and adjust the seasoning of kimchi paste for your liking. Let the paste rest for 5 minutes, so the chili flakes will get re-hydrated.
Put the drained cabbage in a large mixing bowl. Add leek (or green onion), fresh chili (if using), and kimchi paste to the cabbage.
Mix well to coat the cabbage with the seasoning paste. (Wear kitchen rubber gloves to protect your hands from getting stained or smelly.)
Taste your kimchi. If it tastes saltier than you would hope for, don't worry! Freshly made kimchi usually taste much saltier, but the saltiness e will subdue as it ferments.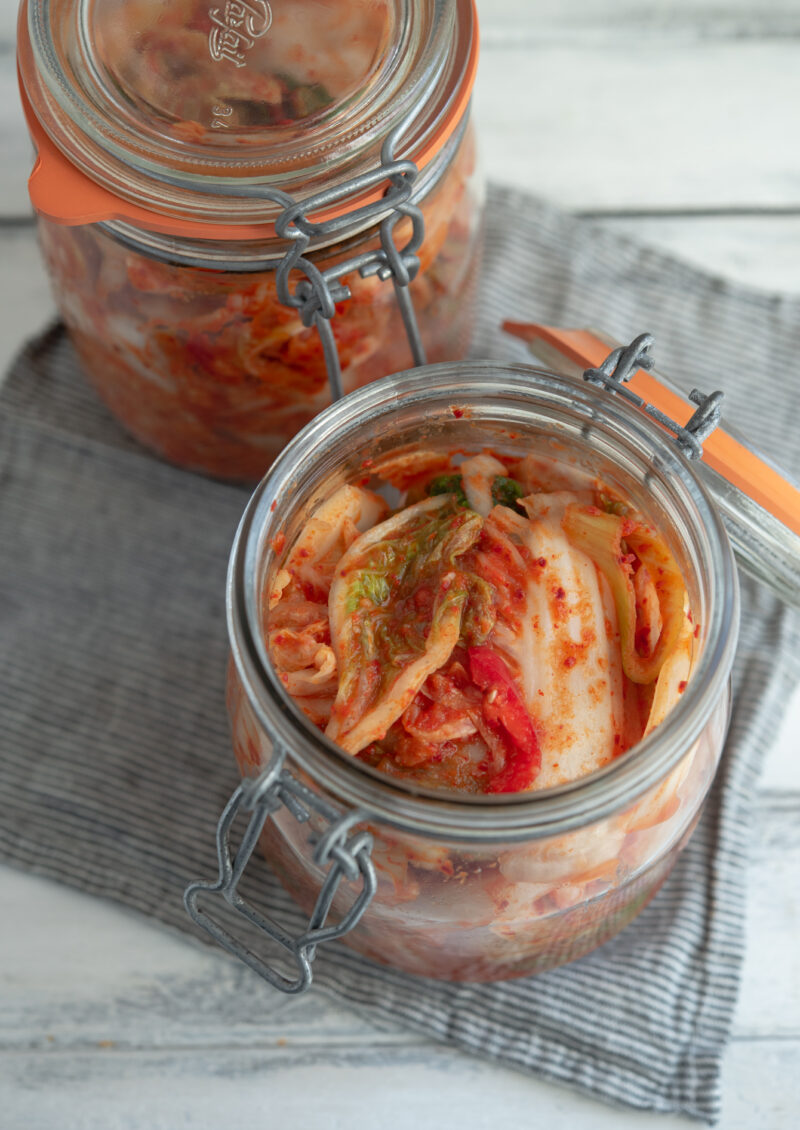 Fermentation and Storage tips
Put kimchi in an airtight glass food storage jar(s). Let it sit in a room temperature for 1 day (or as long as 2 days, depending on the temperature). When you see a gas foaming and air bobbles appear, transfer it to the refrigerator and store it for 4-5 days before you serve.
Unlike traditional version, this easy Mak-kimchi is not intended for a very long storage period. But it will still last in the fridge for up to 2 months. After that, it will continue to ferment and become very sour and potent.
Pro Tip: Fermented kimchi produces odor. Keep 1-2 box of odor absorbing baking soda in your fridge to keep the other food from the smell.
Dishes you can make with cabbage kimchi
You can enjoy freshly made kimchi as a kimchi salad – Bossam or other Korean pork belly dishes are great to go with. If your kimchi has gone too sour to eat as is, do not throw it away. It makes a great base for kimchi jjigae and other following dishes:
More kimchi recipes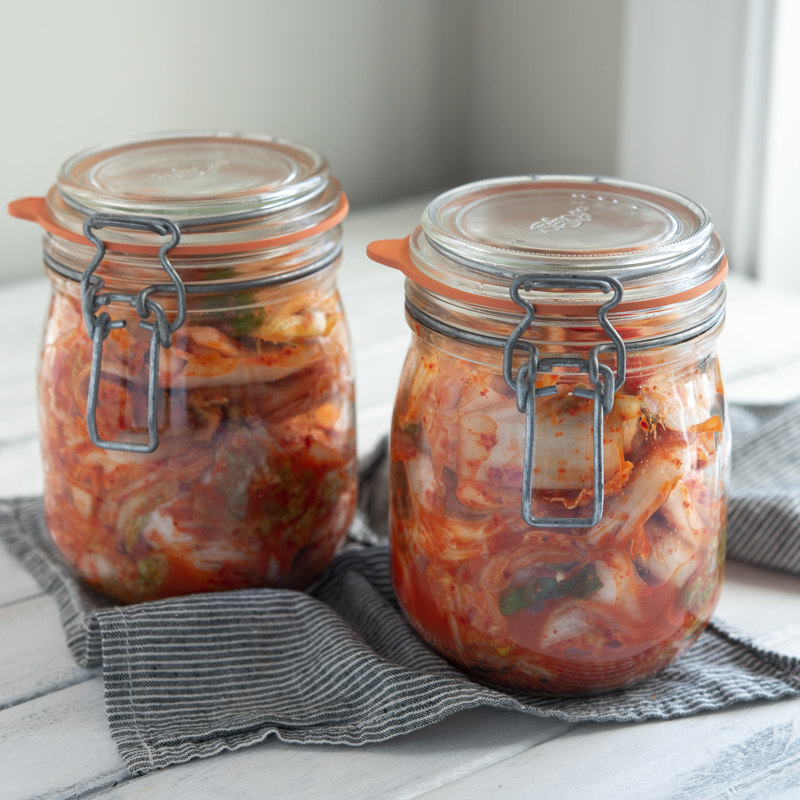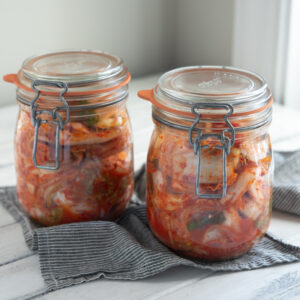 Easy Kimchi Recipe for Beginners
This kimchi recipe is a beginner's guide and makes traditional Korean kimchi easily. You can enjoy the healthy benefit of homemade kimchi with this cabbage kimchi recipe. The recipe yields 6 cups (50 oz).
Ingredients
3 lb (1.3 kg) napa cabbage, about 1 medium head
2/3 cup (200 g) Korean coarse sea salt
1 bunch green onion, sliced
2-3 fresh red chili (optional), sliced
Instructions
Notes
How to make sea kelp stock: Simmer 2 cups water with a piece of dried sea kelp (dashima) in a pot over low heat for 5 minutes. Discard the sea kelp and let the stock cool.
Keep the odor out: Fermented kimchi produces odor. Keep 1-2 box of odor absorbing baking soda in your fridge to keep the other food from the smell.
Calories: 79kcal, Carbohydrates: 15g, Protein: 4g, Fat: 2g, Saturated Fat: 0.4g, Polyunsaturated Fat: 1g, Monounsaturated Fat: 0.5g, Cholesterol: 1mg, Sodium: 5896mg, Potassium: 600mg, Fiber: 6g, Sugar: 5g, Vitamin A: 4354IU, Vitamin C: 43mg, Calcium: 144mg, Iron: 3mg
Did you make this recipe?
Tag @beyondkimchee on Instagram. I love to see your masterpiece.