Jjajangmyeon (Korean Noodles with Black Bean Sauce)
Jjajangmyeon is a Korean-Chinese restaurant style noodles made with black bean sauce, pork and vegetables. Making this delicious noodles at home is easier than you think.
Before the McDonald landed in Korea, or Pizza Hut invaded with pizza to change the taste buds of Korean children from kimchi pancakes to pizza, there was a noodle dish called "Jjajangmyeon (or jajangmyun, 짜장면)", the Korean noodles with black bean sauce.
Jjajangmyeon used to be the all time Korean kid's favorite food. At least to me, it was. The dish was known as the special treat to the children when they had done something really good; like getting an A in their school report or finishing their piano lesson to a certain level. It is a nostalgic food to every Koreans above 30+ years old.
I don't remember my mom making this noodles at home. She never bothered to make it because it was easily, quickly, and inexpensively accessible. Like a box of pizza that we order as a take-out these days, this Jjajangmyun was often delivered to everyone's home.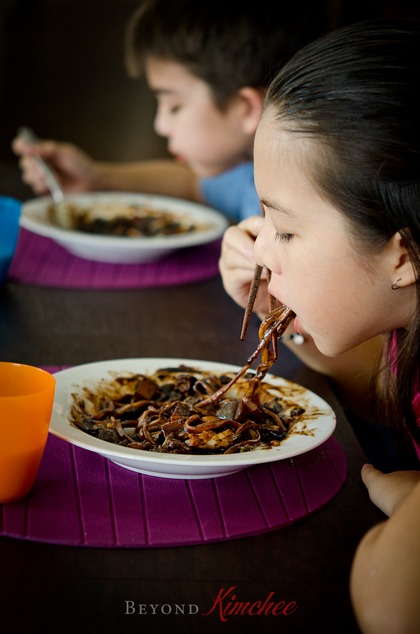 Jjajangmyeon is actually a Chinese noodle dish, made with black bean paste in the sauce.
For some reason the dish have evolved a little differently in Korea than it was in China, and became very popular among Koreans. I have tried in Hong Kong and Taiwan with their version but I prefer the way Koreans make.
If you don't have the Korean style Chinese restaurants in your area, you will be glad that you found this recipe. It is quite easy to make.
Pork and Vegetables
Use either pork belly or pork loin. Make sure to cut the pork intp 1/2-inch cubes.
Dice your vegetables, all in cubed shapes. Cabbage, onion, potato, and zucchini are my chosen ones.
Black Bean Sauce
Now, there are two types of black bean base taste to make the sauce. One is in powdered form and the other in paste. My advice? Get the paste. Although the powder is easier to cook with, I found the paste yields better taste.
You want to fry the paste in prior to make sauce. That way it will remove some bitterness of the black bean paste. It looks like there's awful amounts of oil, but the sauce doesn't soak up much oil. Fry the paste with 1 tablespoon of sugar for 3-4 minutes over the medium heat. As you see, the oil and the paste don't mingle together.
Pre-Roasted Black Bean Paste: You can find a jar of Korean style black bean paste that has been pre-roasted in many major Korean stores. Using pre-roasted black bean paste will eliminate the extra roasting step.
With a slotted spoon transfer the sauce to a bowl and set aside. Discard oil in the pan except 1 tablespoonful to remain.
How to Make Jjajangmyeon
Saute your pork until they are no longer in pink over high heat.
Add cabbage, potato, zucchini, onion and cook for 2-3 minutes until soft.
Return the reserved black bean paste into the pot and pour 1.5 cup of cold water (or chicken stock) to the pan. Add more liquid if you prefer thinner sauce.
I sometimes add a little bit oyster sauce to bring more flavor, but not today. Simply because I was lazy to go outside to buy a bottle.
Anyway, stir the sauce well to incorporate. Bring to boil first, then simmer for 3-5 minutes or until they are tender.
Dissolve cornstarch in water to make starch slurry.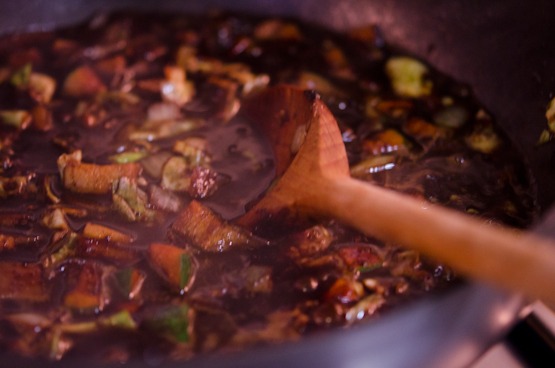 Add the starch slurry to the sauce mixture. Stir and continue to cook, about 2-3 minutes until the sauce thickens.
Here it is, the beautifully thickened Jjajangmyun sauce!
Oh, do you feel the dark side of the force? I do.
Here are Jjajangmyeon noodles. You will find them in a freezer section of Korean stores. Or you can use any thick wheat noodles, even Spaghetti or Fettuccine.
Add to the boiling water and cook according to your package direction, about 6 minutes.
Drain the noodles. I like to rinse them with hot water. My gluten loaded noodles are ready to take an action.
Place these chewy noodles in a large shallow bowl and pour the black bean sauce over. Mix like crazy with your chopsticks and enjoy.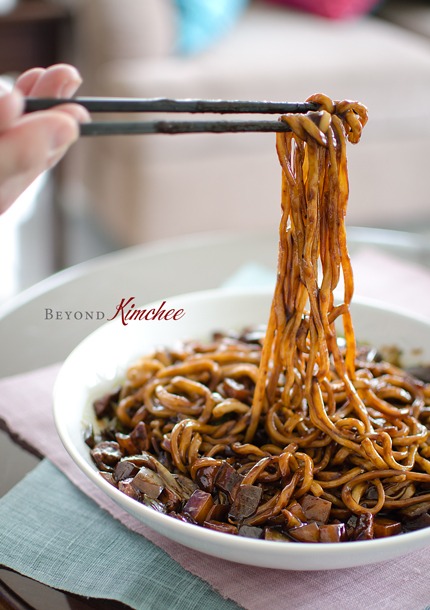 You will absolutely need some napkins, many actually.
Nothing is grosser than seeing a grown-up with the *Jjajangmyeon mustache* around his/her mouth. (Imagine the "Got milk?" ads in the 90's)
It is not easy to eat this dark-forced noodles without making the slurping noise but, hey! that is life. People will understand. My kids absolutely love this. One of them did have the cute jjajangmyeon mustache. Too bad, I missed taking photos of him.
More Noodle Recipes
Jjajangmyeon, Korean Noodles with Black Bean Sauce
Jjajangmyeon is a Korean-Chinese restaurant style noodle dish made with black bean sauce, pork and vegetables. Pre-roasting black bean paste before you cook gets rid of the natural bitter taste.
Ingredients
4 tbsp black bean paste (chunjang)
4 tbsp grape seed or canola oil
2 tsp sugar
1/2 lb pork, diced to 1/2″ cubes
1/4 cabbage, chopped
1 small onion, chopped
1/2 zucchini, diced to 1/2″ cubes
1 small russet potato, diced 1/2″ cubes
1 tbsp oyster sauce, optional
1 1/2 cup water or more
2 tbsp cornstarch , mixed with 3 tablespoon water
salt or soy sauce, to season, if needed
1/2 cucumber, julienne thinly to garnish
Instructions
In a wok or skillet heat oil over medium heat, add the bean paste and sugar and stir fry together for 3-4 minutes. The oil and the paste won't get mixed. Using slotted spoon, scoop up the paste to drain the oil and transfer to a bowl. Set aside.

Discard the rest of oil except 1 tablespoon remaining in a skillet. Add the pork and cook until no longer in pink. Add cabbage, onion, zucchini, and potato and stir fry until somewhat soft.

Add the black bean paste back to the skillet and mix. Add oyster sauce if your desire. Pour 1 1/2cup of water and bring everything to boil, reduce the heat to simmer until everything is tender yet retain their shape, about 3-5 minutes. Season with salt or soy sauce if needed.

Mix corn starch with 3 tablespoon water and add to the skillet. The sauce will thicken within minutes. Remove from the heat

Meanwhile bring a pot of water to boil. Add the noodles and cook according to the package direction, usually about 6-7 minutes.

Drain the noodles and rinse once with hot water to remove excess starch.

Place noodles in a large shallow individual serving bowl and pour the sauce over. Garnish with cucumber slices. Serve hot.
Did you make this recipe?
Tag @beyondkimchee on Instagram. I love to see your masterpiece.