Iconic Budae Jjigae Recipe (Korean Army Stew)
Budae Jjigae, also known as Korean army stew, is an iconic Korean-American fusion dish. This recipe is made with canned processed meats such as Spam, but with the Korean flavor of kimchi and instant ramen noodles. It's not high-class fare but tastes extremely good–a perfect dish to cook on the table and share with family and friends.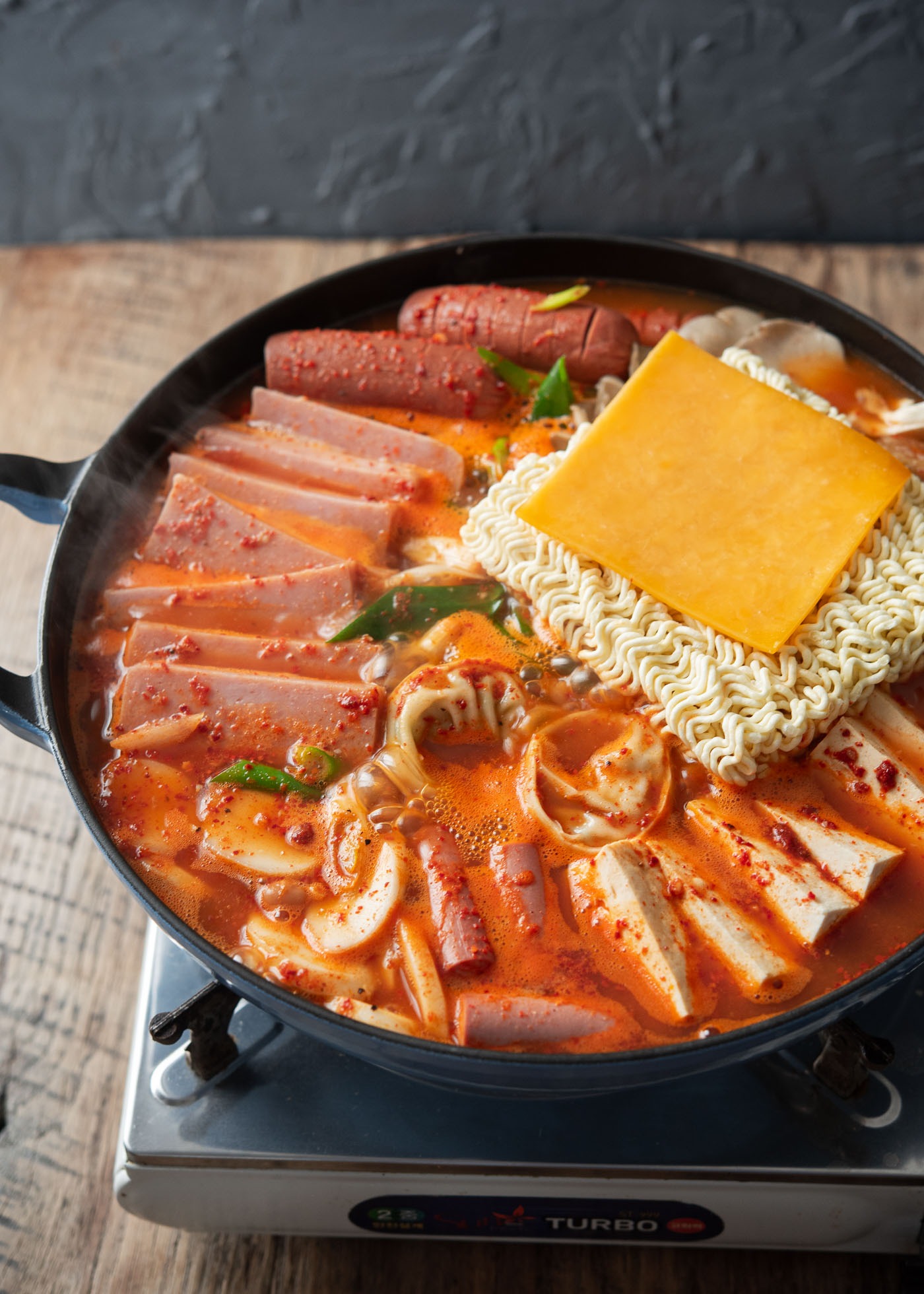 "Made the stew a few days ago. It was a total hit. Pan was licked clean in no time. We will definitely be having this again. Extremely convenient. Perfectly spiced, the umami was oooooo mama"

SuZQ
It's not an unusual scene in Korea to see a pot of steaming hot stew in the middle of the dinner table. This budae jjigae, known as Koran army stew, is another popular Korean stew to add to your repertoire.
The dish is typically made by boiling a variety of ingredients such as spam, hot dogs, canned baked beans, sliced rice cakes, and ramen noodles in a spicy broth. It is often served with rice and other side dishes.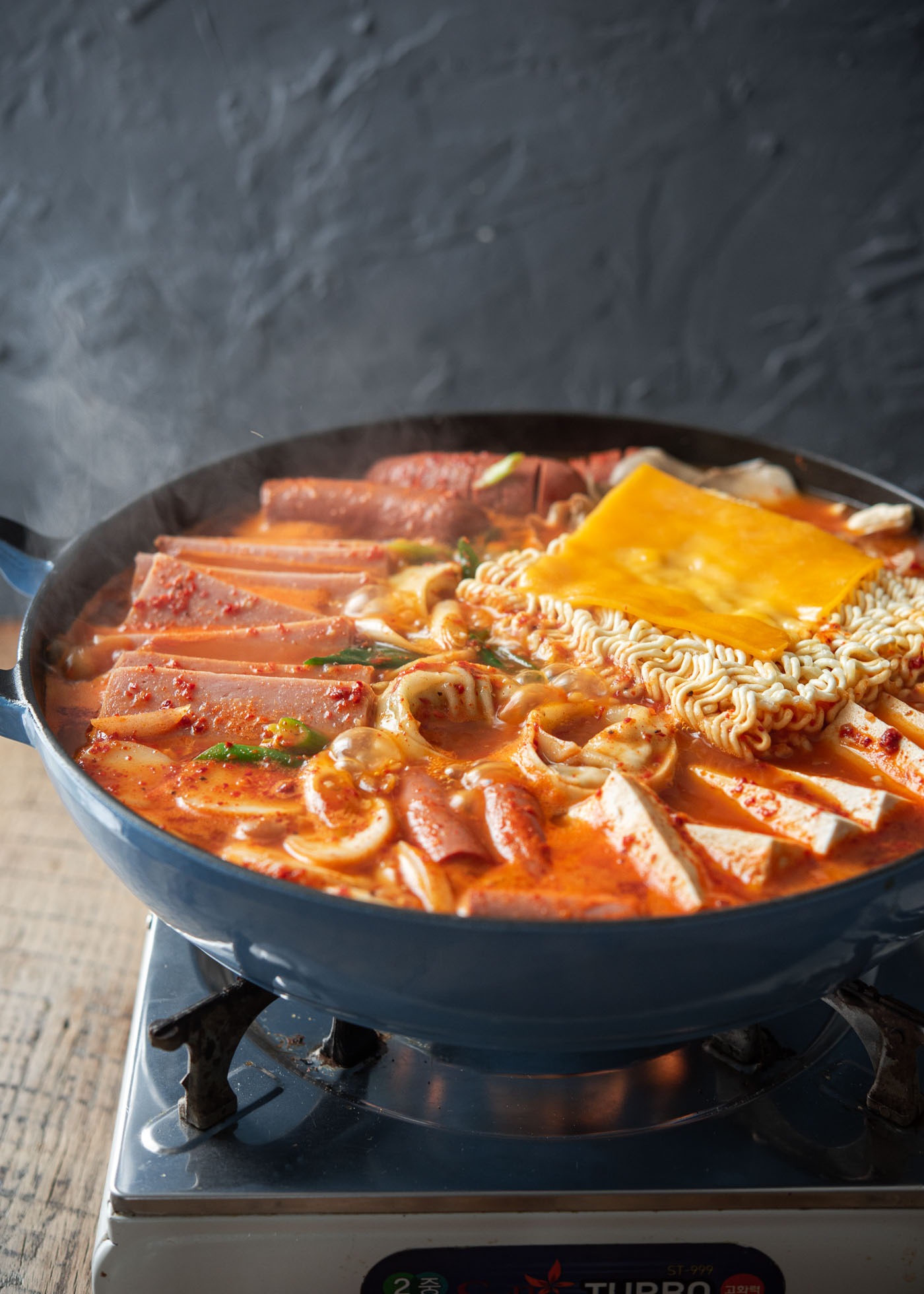 Who would have thought this post-war humble stew would gain such popularity around the world? Anthony Bourdain, the famous cook and TV personality on Food TV, shared a budae jjigae recipe with Andrew Cooper on CNN's Parts Unknown.
To be honest, I never tried this stew until I was in my 20's. My parents never wanted to eat army stew as I was growing up. I think that for them, it brought back memories of the miserable post-war period that they had to suffer through.
But for most other Koreans, this military stew, along with the popular dalgona candy, brings a feeling of childhood nostalgia. It teaches a lesson–to stay humble even in your abundance and to acquire strength to protect our freedoms and democracy.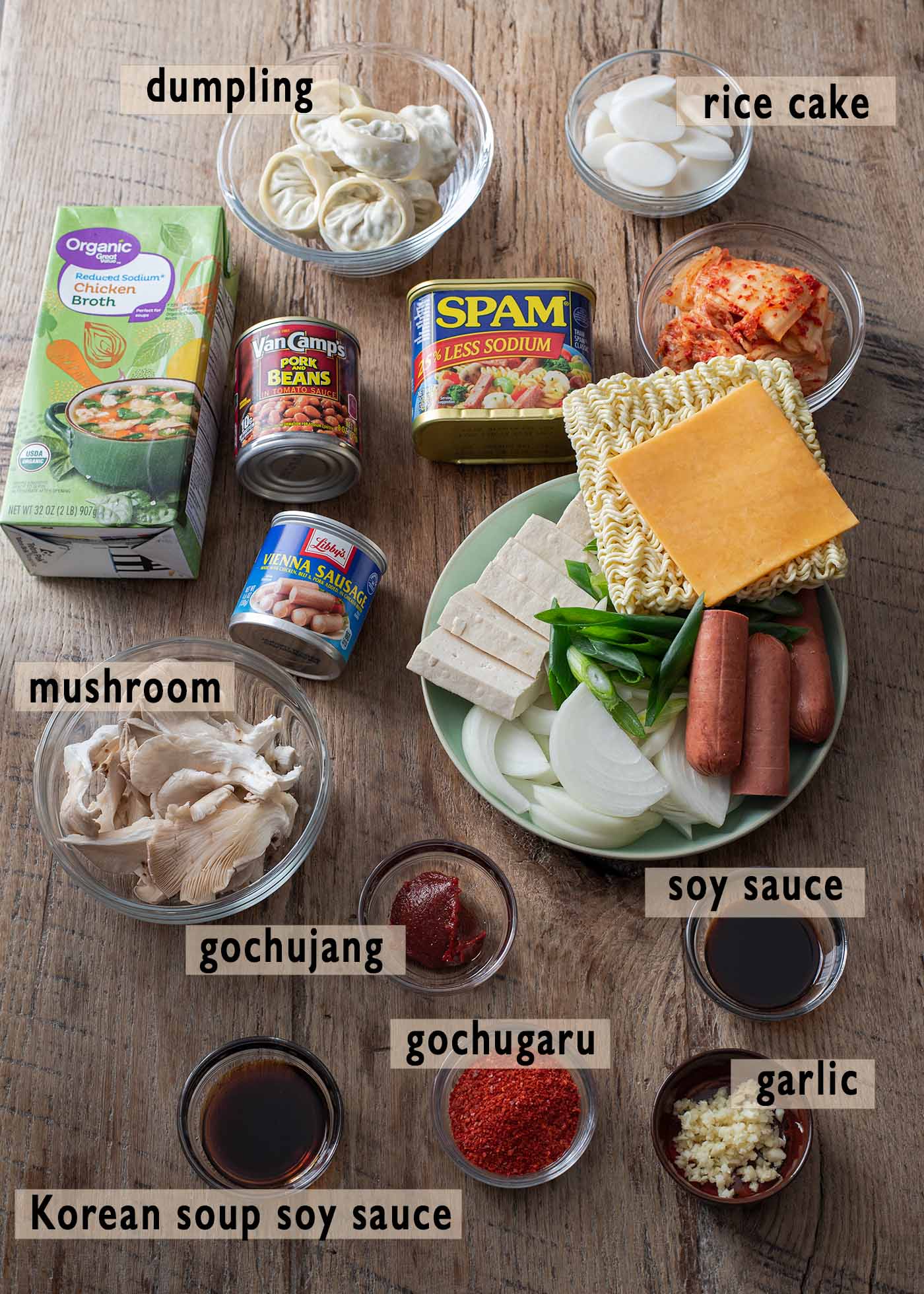 Recipe ingredients
This recipe might seem to have a long list of ingredients, but you can make it as simple or as hearty as you want. I am just offering you the options. So play with what's available and the ingredients you like. It's the best!
1) Must-include ingredients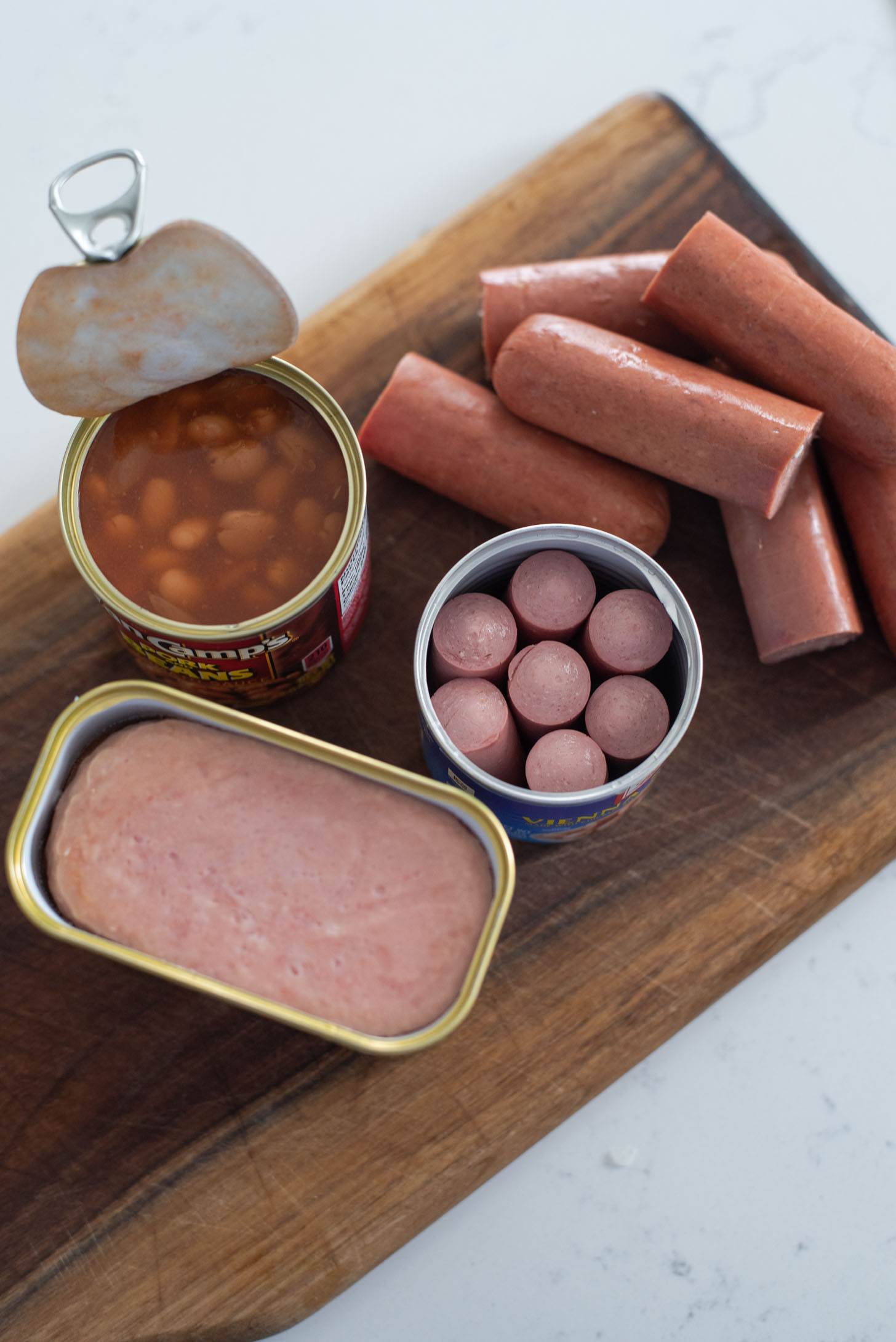 Pork & beans: The original budae jjigae always includes this canned food. It brings the unique flavor of this stew.
Hot dogs and/or sausage: more processed meat to make it hearty and add umami flavor.
Kimchi: Sour kimchi is what makes this stew "fusion"
Stock: Try it with chicken stock. It adds more depth to the broth. Some people use anchovy kelp stock. Either one is fine, but I prefer chicken stock for this recipe for Korean army stew. Using just plain water won't bring the flavor you want.
2) Other popular ingredients to add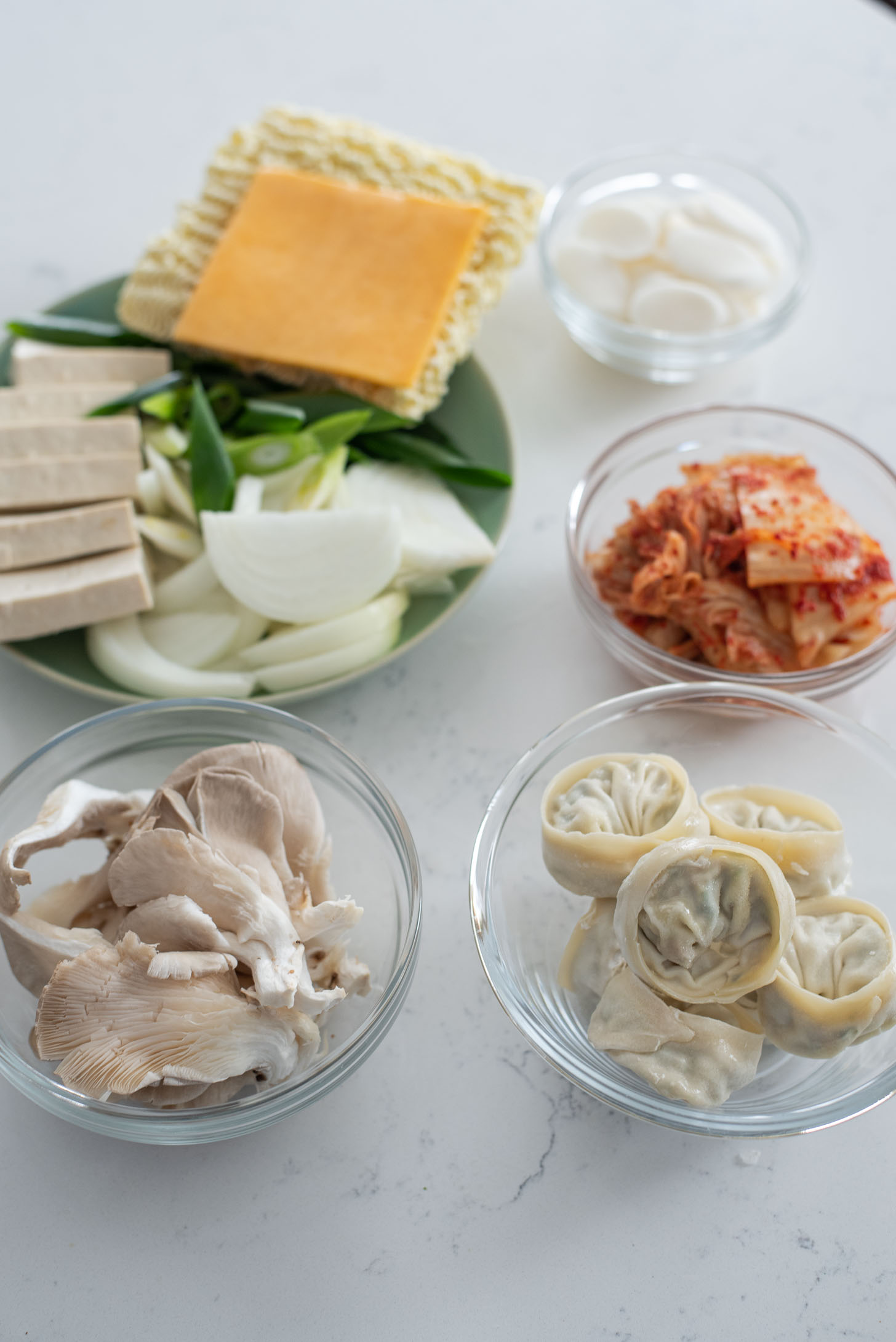 Pork belly or ground pork: additional protein
Tofu: I recommend using soft tofu for its delicate texture. It absorbs the broth and holds the taste better than firm tofu.
Instant ramen noodles: Use Korean ramen noodles if you can
Cheese: You can use American cheese, but I prefer cheddar cheese.
Onion/green onion: additional aromatic ingredients
Mushroom: Any mushroom of your choice. I used oyster mushroom.
3) Extra add-ins you might like
Budae jjigae seasoning sauce
Since all the add-ins are the typical ingredients, what makes the best budae jjigae is in the seasoning sauce you flavor the broth. Try mixing up the following ingredients to make the best tasting army stew.
Korean chili flakes (gochugaru)–you can adjust the amount depending on your heat tolerance
Korean chili paste (gochujang)–adds savory taste and thicken the broth
Korean soup soy sauce–adds umami and seasoning
soy sauce–more flavor
garlic–savory addition
pepper–to taste
How to make budae jigae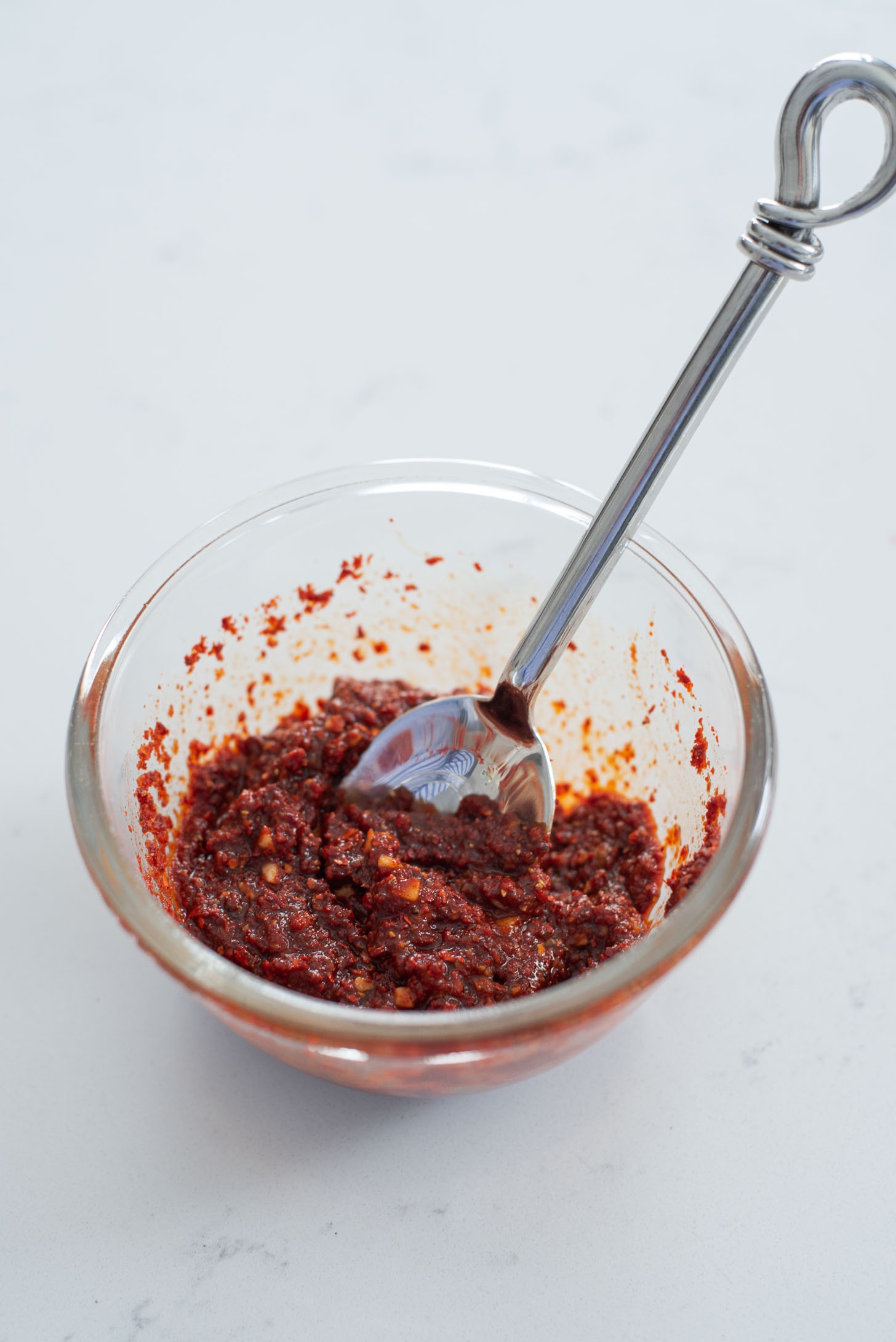 Step 1. Prepare the sauce.
Mix together Korean chili flakes (gochugaru), gochujang, soy sauces, garlic, and pepper in a small mixing bowl; set aside.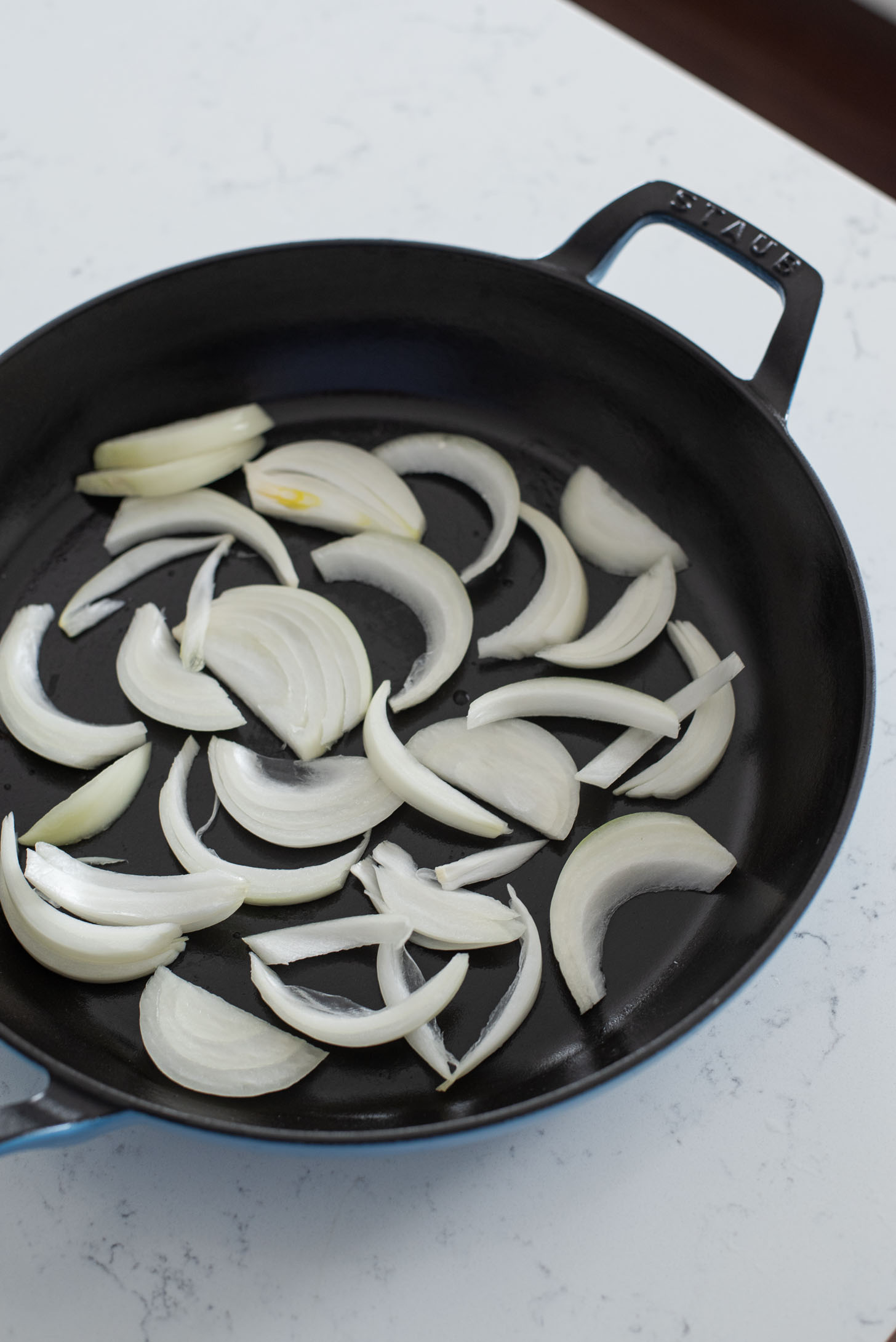 Step 2. Arrange ingredients in a pan
Put slices of onion on the bottom of a shallow pan. Arrange the jjigae fillings (Spam slices, hot dogs, sausage, tofu, mushroom, kimchi, and etc) as you please.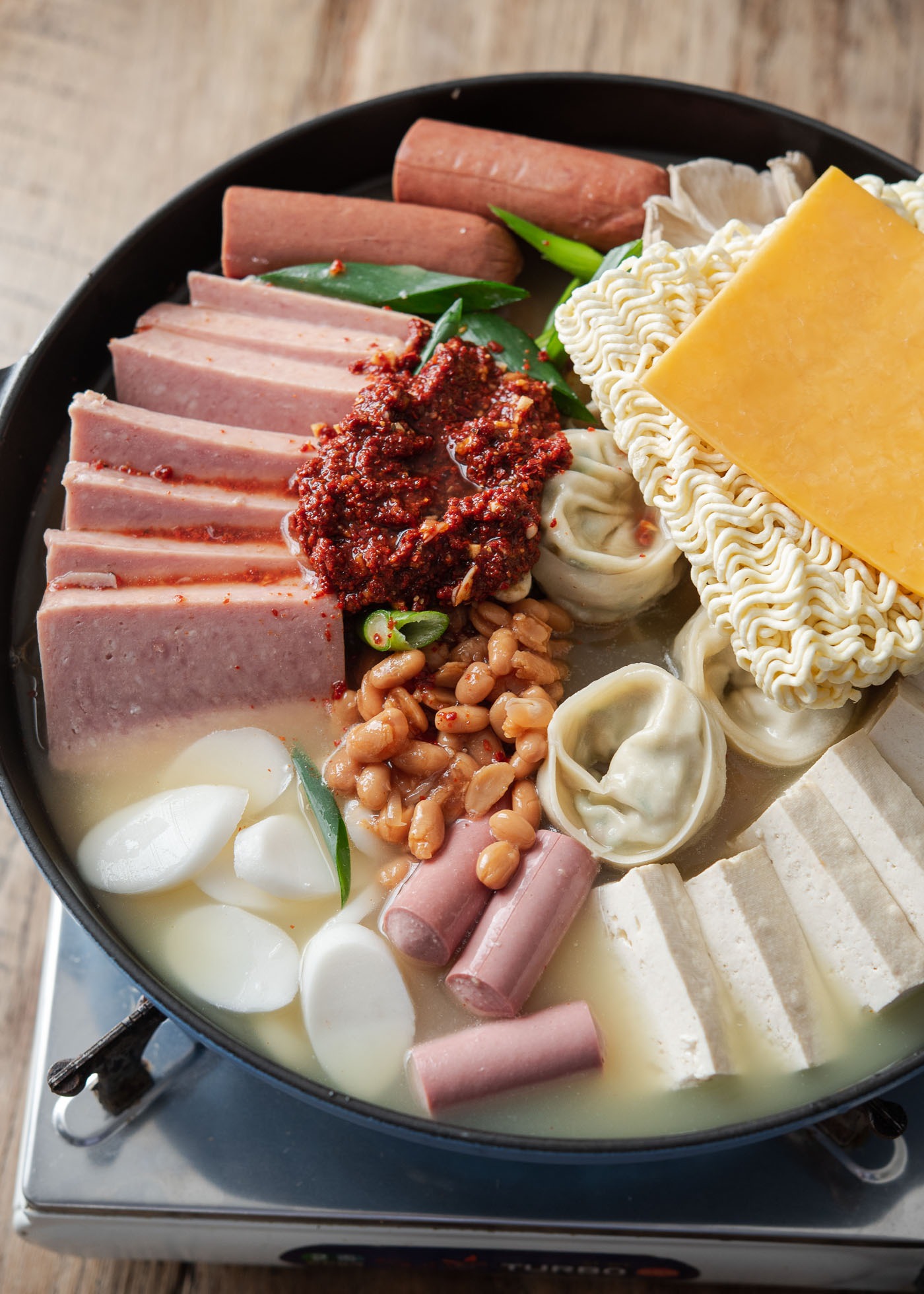 Step 3. Add noodles and stock.
Add instant ramen noodles, cheese and the seasoning paste. Pour in enough stock to barely cover everything.
Adding plain water results in bland tasting broth. I recommend using low-sodim (or no-salt) chicken stock instead of water to add more umami and depth to the flavor.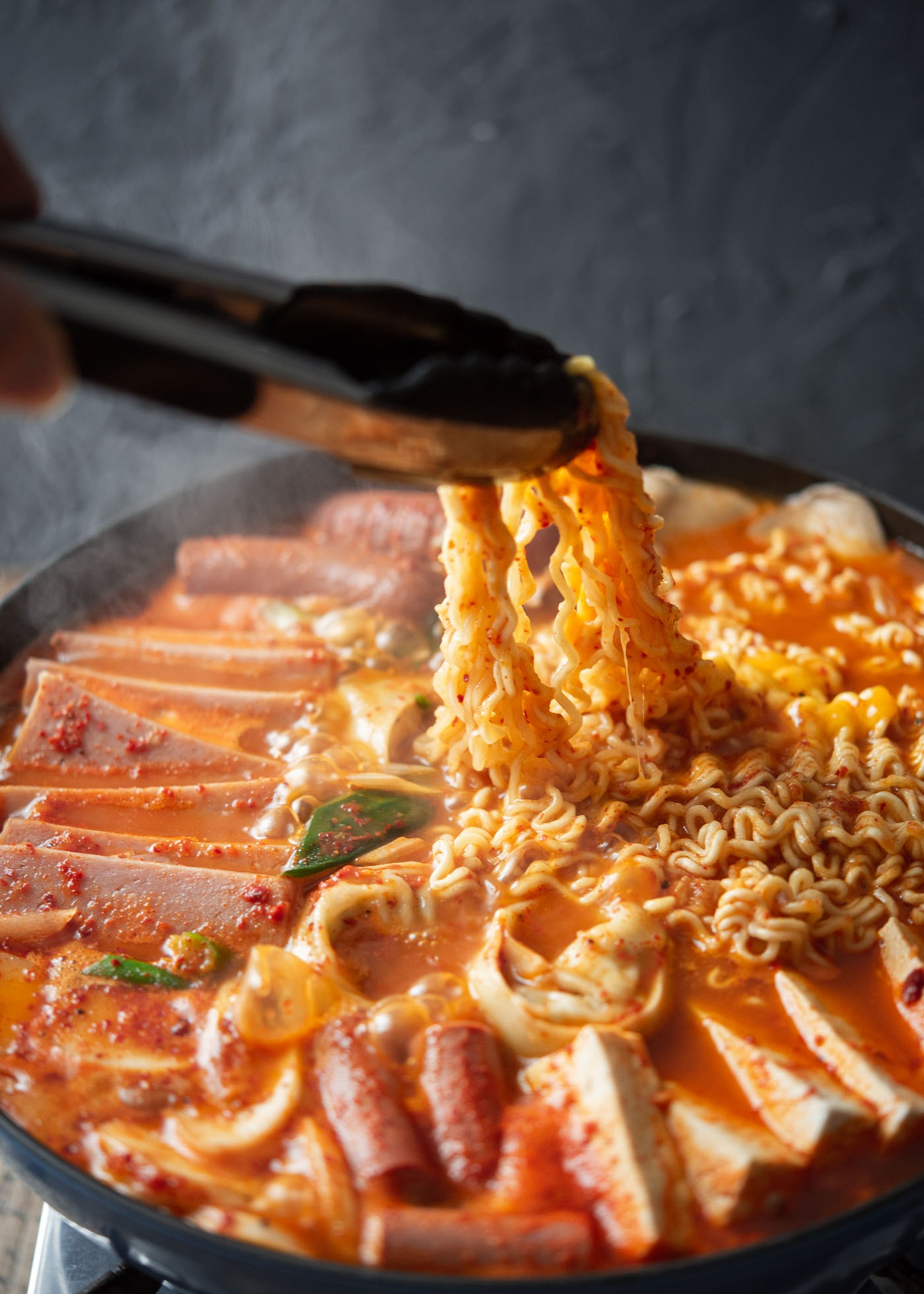 Step 4. Bring to boil.
Place the pan on the stove (I recommend using a portable burner right on the table) and bring the stew to a boil. Reduce the heat to low and simmer. Stir the seasoning paste to distribute it throughout the stew. Stir ramen noodles to cook evenly in the simmering stock.
Serving suggestion
Korean army stew doesn't take long to cook since most of the meat is already cooked.
When the ramen noodle is soft and chewy, enjoy the noodles first on individual plates or bowls before they get soggy. Then you can serve the stew hot right at the table, dishing out a portion.
You can also serve it with rice, drizzling the broth over the rice to soak up all the wonderful flavor.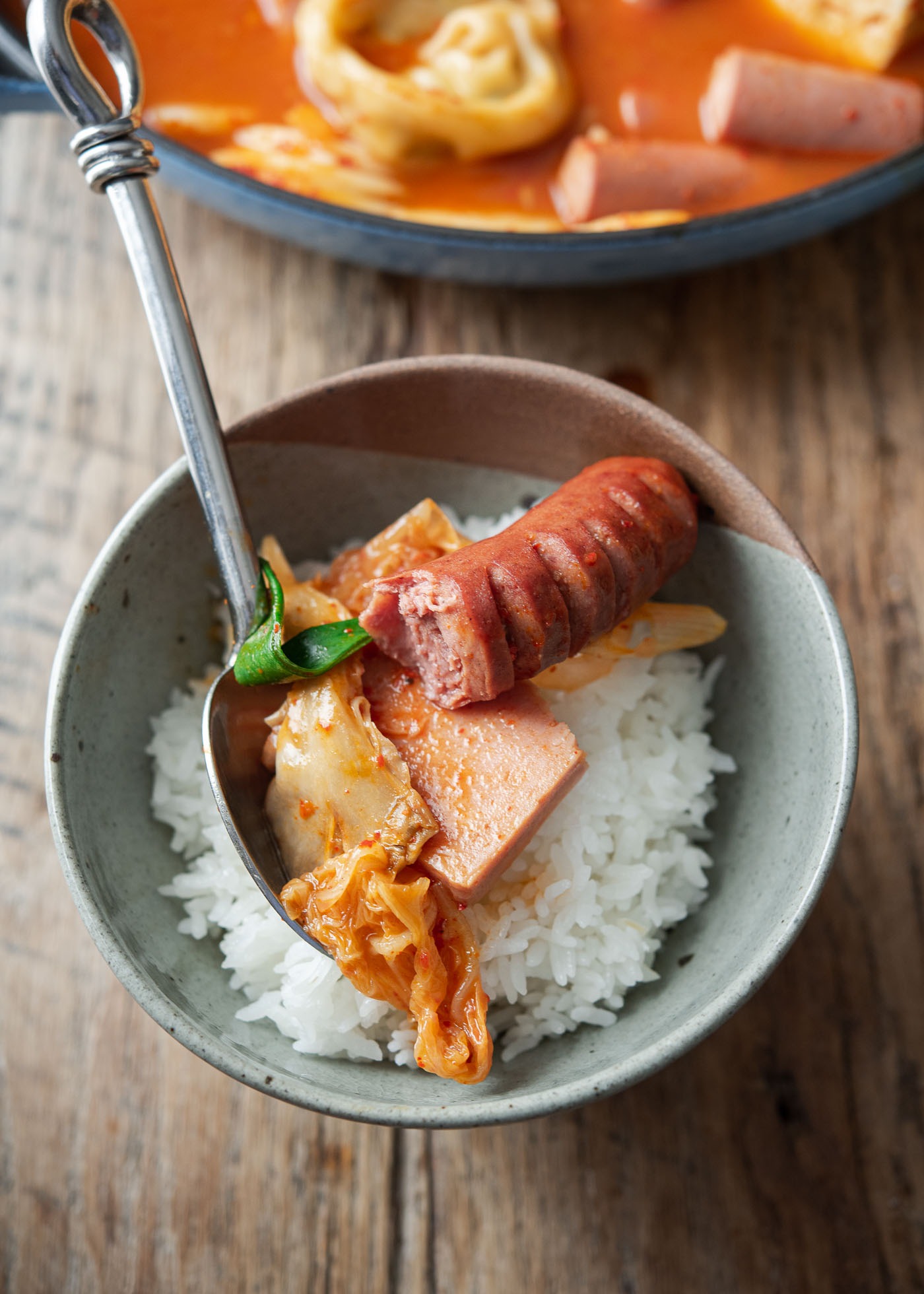 More Korean Fusion Dishes
If you want to explore Korean flavors mingled in other global cuisine, these recipes will satisfy your taste palettes:
Save
Save
Save