Tuna Sundubu Jjigae: 10-Minute Korean Tofu Soup
Sundubu Jjigae in just 10 minutes! Try this easy recipe made with canned tuna. Enjoy this Korean soft tofu soup packed with spicy tuna, fresh veggies, and traditional seasonings. A comfort soup every Korean food lover will appreciate.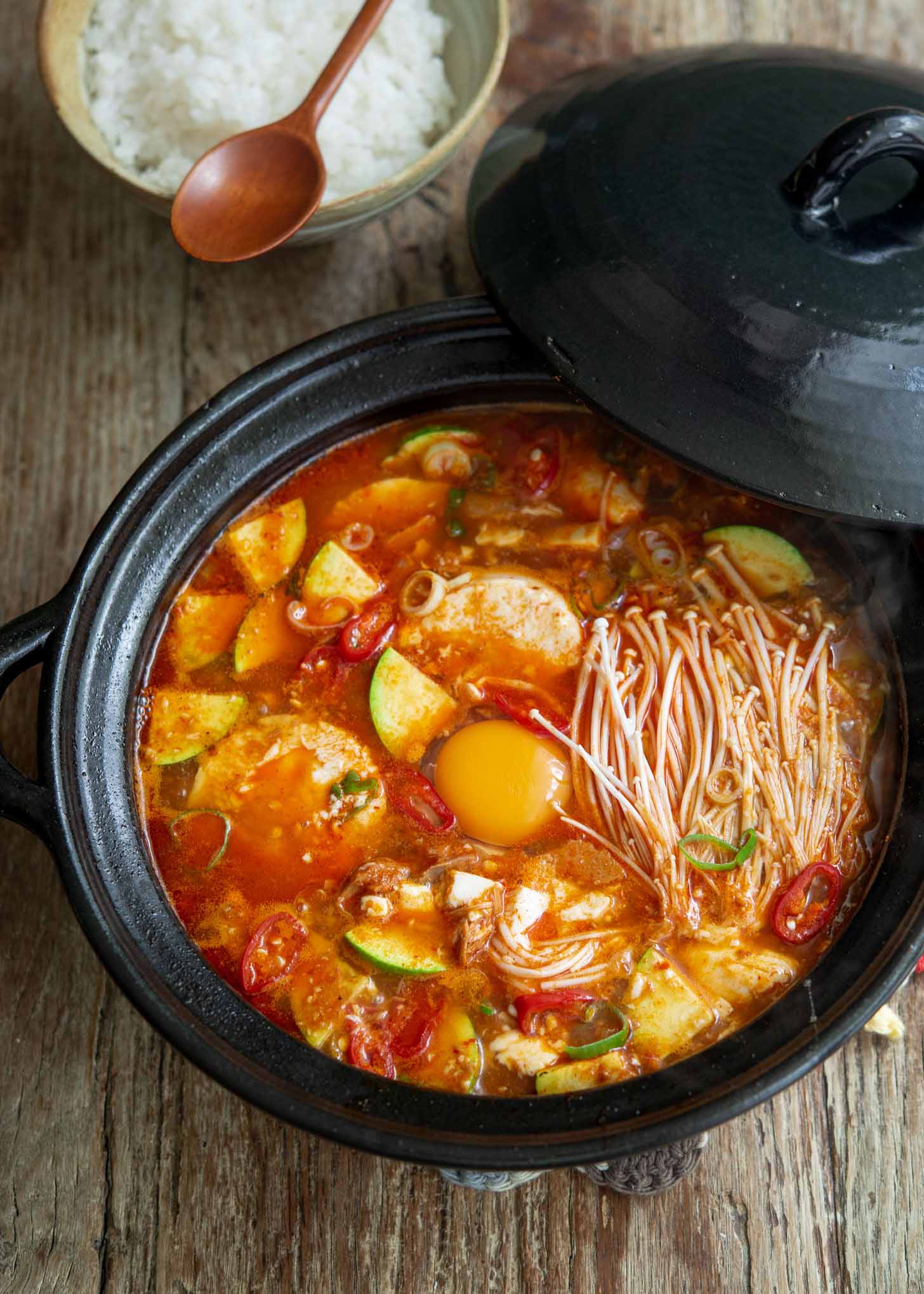 Sundubu jjigae (also known as soondubu jjigae, 순두부찌개) is undeniably one of the most sought-after Korean stew recipes. It's a go-to comfort stew for a cold day, beloved by both Koreans and non-Koreans who adore Korean food.
There are countless ways to approach the sundubu jjigae, from variations with pork or beef to a selection of seafood or even a vegetarian version with mushrooms. Be sure to check out my sundubu jjigae recipe with clams for a classic take.
In this post, I introduce a delightful spicy tofu soup using canned tuna. While some might mistake this tofu stew variation for the standard Korean tuna stew or tuna kimchi jjigae recipe, they're distinct.
This Korean tofu soup recipe doesn't use kimchi but instead focuses on the pairing of soft tofu (or, more precisely, silken tofu) and canned tuna. You can, however, introduce a hint of kimchi if you prefer. Including vegetables like zucchini or mushrooms is optional but can add depth to this hearty Korean tofu stew. Give it a try; I'm confident you'll enjoy the outcome!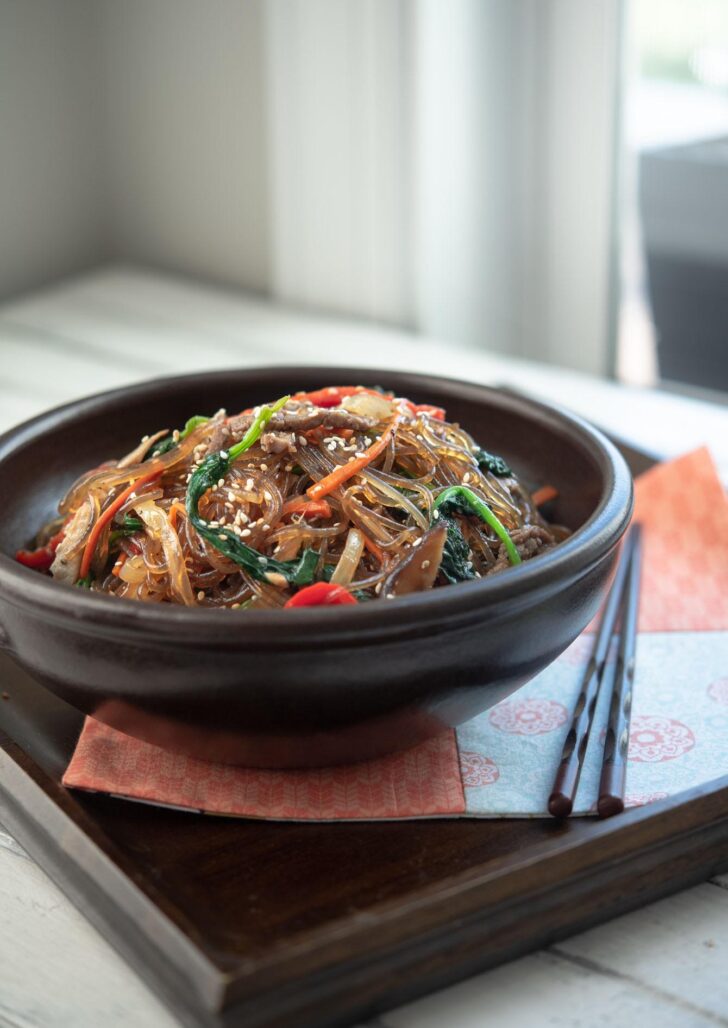 Get new recipes via email: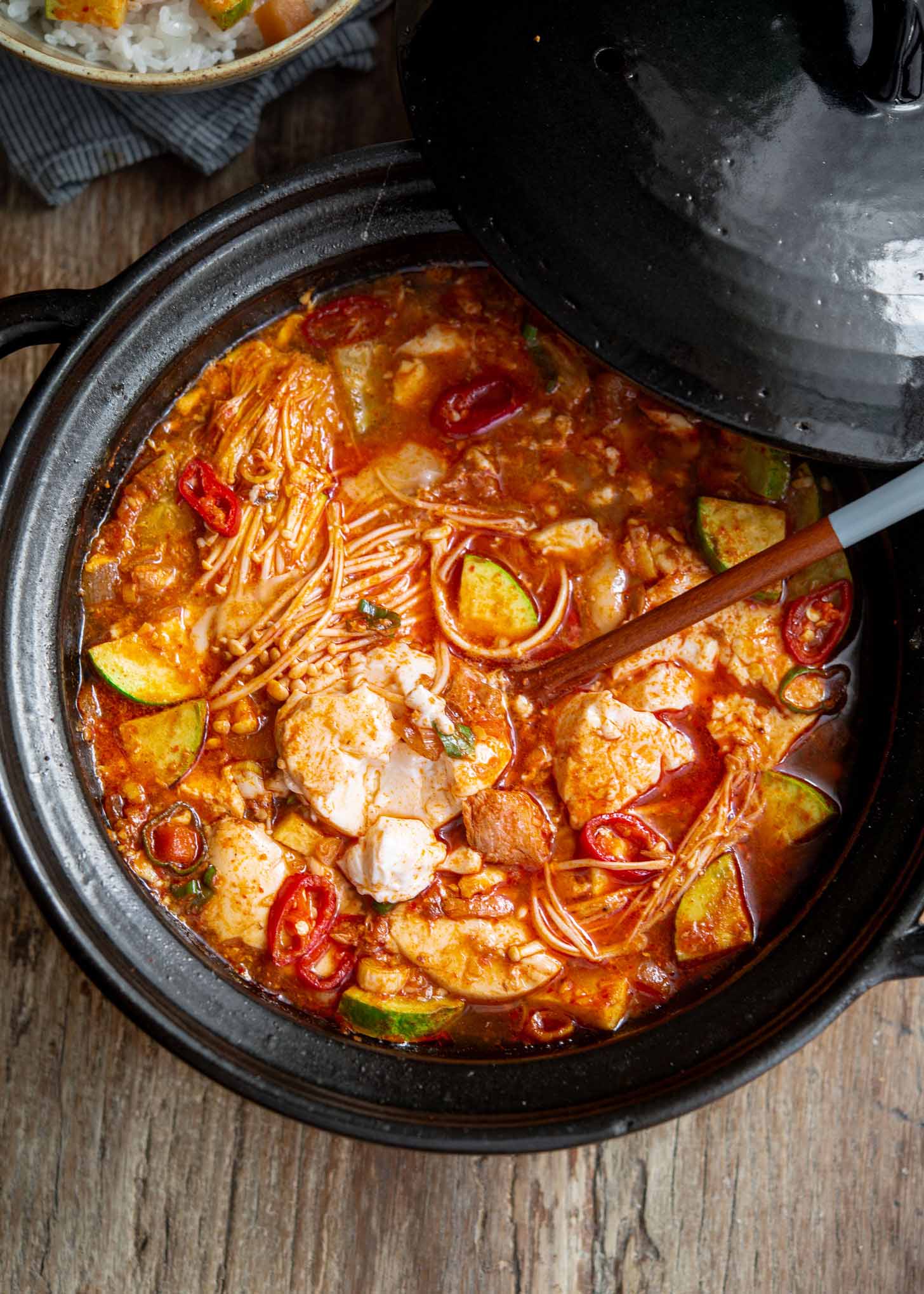 Reasons to Love this 10-Minute Sundubu Recipe
By using canned tuna, you bypass the usual time-consuming protein prep. There's also no need to prepare a separate anchovy broth, so you can create this dish in 10 minutes or less.
Served with steamed rice, this sundubu recipe offers both convenience and outstanding flavor. It's a match for what you'd savor at a Korean restaurant but at a fraction of the cost.
Tuna Choice for Authentic Flavor
I recommend the Korean spicy canned tuna (or hot pepper tuna), known as gochu chamchi (고추참치). It's seasoned with spices, making it ideal for Korean tofu stews or soups. This tuna is readily available in Korean grocery stores or online.
Can't get your hands on Korean canned tuna?
If you can't find Korean canned tuna, don't worry! Choose your favorite brand of oil-packed solid tuna from your local grocery (avoiding chunk tuna). To mimic the spiciness, add some gochujang and gochugaru (Korean hot pepper paste and flakes). When you're ready to cook, drain most of the oil, but keep 1-2 tablespoons for the cooking process.
Choosing the Right Tofu
Soft Tofu vs. Silken Tofu
Have you ever noticed that spicy Korean tofu stew is often referred to as 'soft tofu stew,' yet recipes usually specify silken tofu? This naming convention might have started years ago and simply stuck around. For an authentic touch, you should opt for silken tofu.
Purchasing Tips
For your convenience, some stores offer tofu specifically labeled for sundubu jjigae. These are usually available in Asian markets or Korean grocery stores.
If you can't find those, search for packages labeled 'silken tofu'. It's essential to bypass generic soft tofu varieties because of their differing texture. Remember: firm tofu isn't suitable for this stew; reserve it for dishes like crispy tofu or other tofu-based dishes.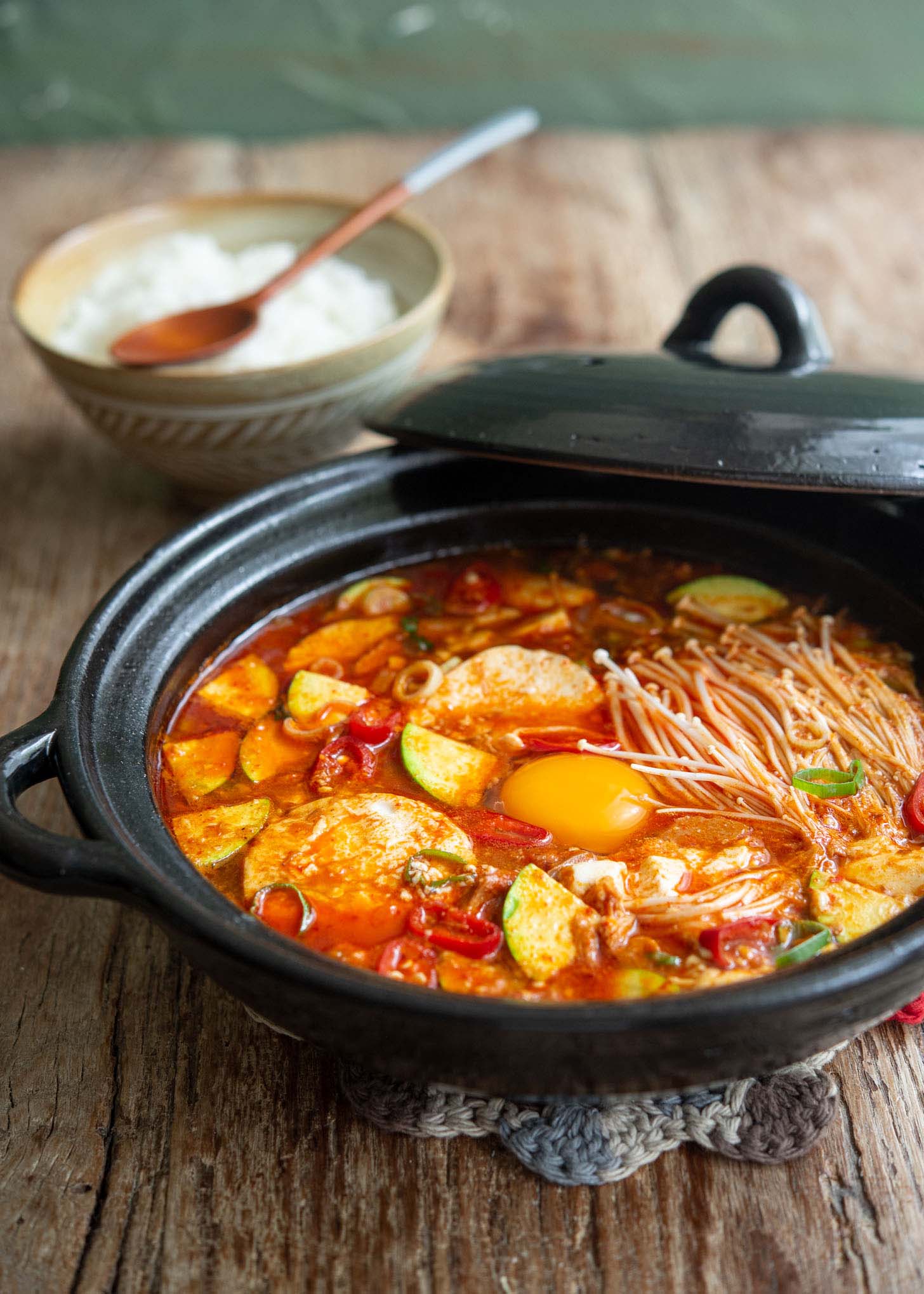 Pro Tips for tasty Tuna Sundubu Jjigae
Use rice water as stock base: For an authentic touch, use rice water as your soup base. This isn't some specialty ingredient; it's simply the starchy water left behind after rinsing white rice. It helps thickens the stew slightly and enrich the flavor.

Since you're pairing this stew with rice, remember to set aside a small amount of the rice rinse water. Simple yet transformative!

Spicing up plain canned tuna: If you have to use plain canned tuna (preferably solid tuna in oil), enhance its flavor profile with a touch of gochujang and gochugaru.

Tailor the spiciness to your liking; if you crave a bolder heat, feel free to add more of these seasonings.

Adding kimchi (optional): Old sour kimchi can add a big flavor boost to your stew. It makes Korean soft tofu stew richer and tangier.

If you add kimchi, pour in a little of kimchi juice too. It's delicious!
Ingredients list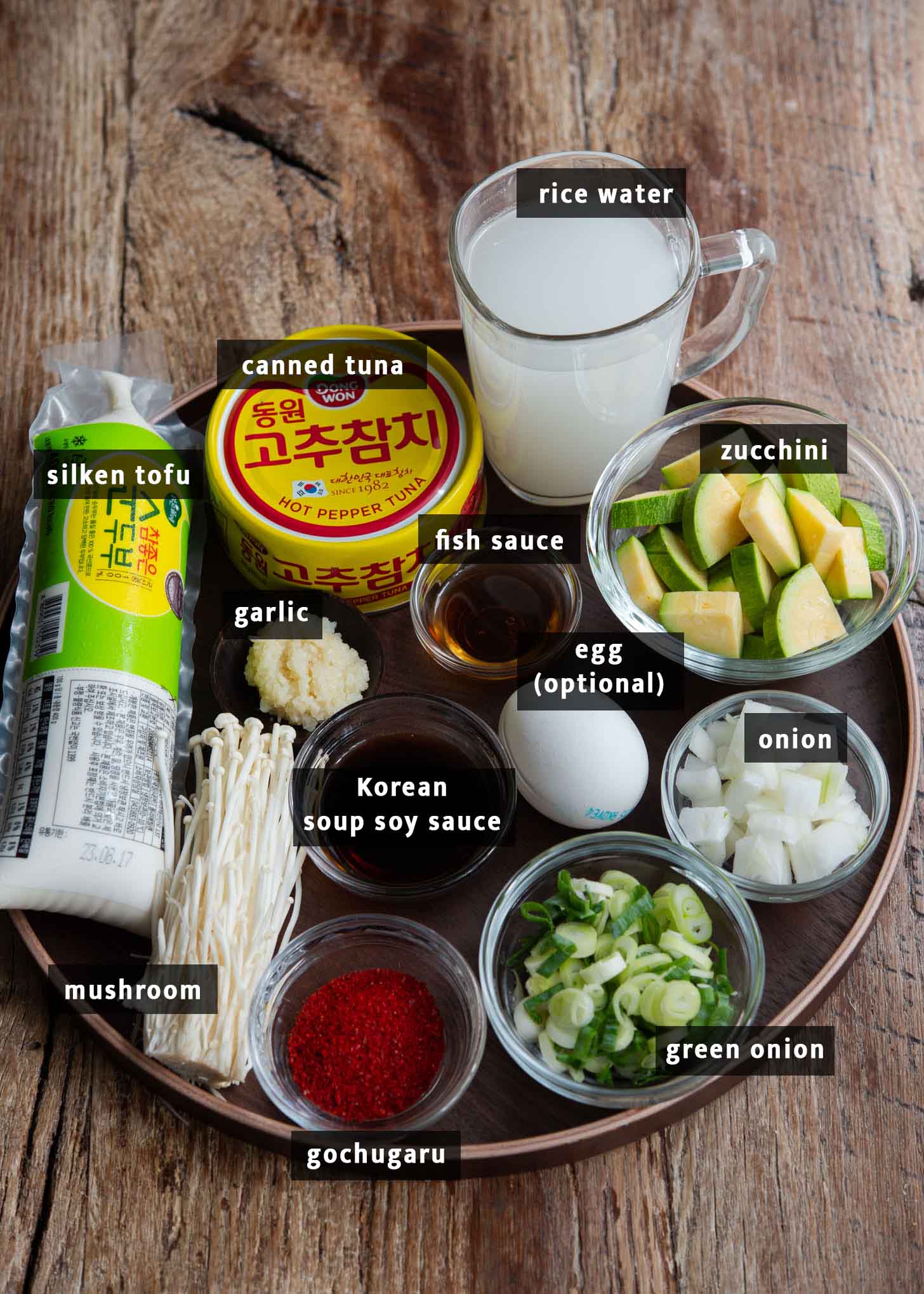 Tofu: Opt for 'sundubu' tofu or silken tofu.
Canned Tuna: Seek out canned Korean spicy tuna. If unavailable, oil-packed solid tuna will suffice, but remember to spice it up.
Asian leek, onion, and garlic: These are the savory foundations of your stew. Can't find Asian leek? Sub in an equivalent amount of green onion.
Gochugaru (Korean red pepper flakes): This introduces heat and a vibrant flavor.
Rice water: Don't throw away that starchy water from rinsing rice; it's an ingredient here!
Korean soup soy sauce and fish sauce: These are the umami powerhouses that season your stew.
Zucchini: For a wholesome touch.
Mushroom: Optional, but any variety complements the dish. Shiitake mushroom is the best choice but other types of mushroom works great as well.
Egg: An optional addition, but great for extra protein.
How to make Tuna Sundubu Jjigae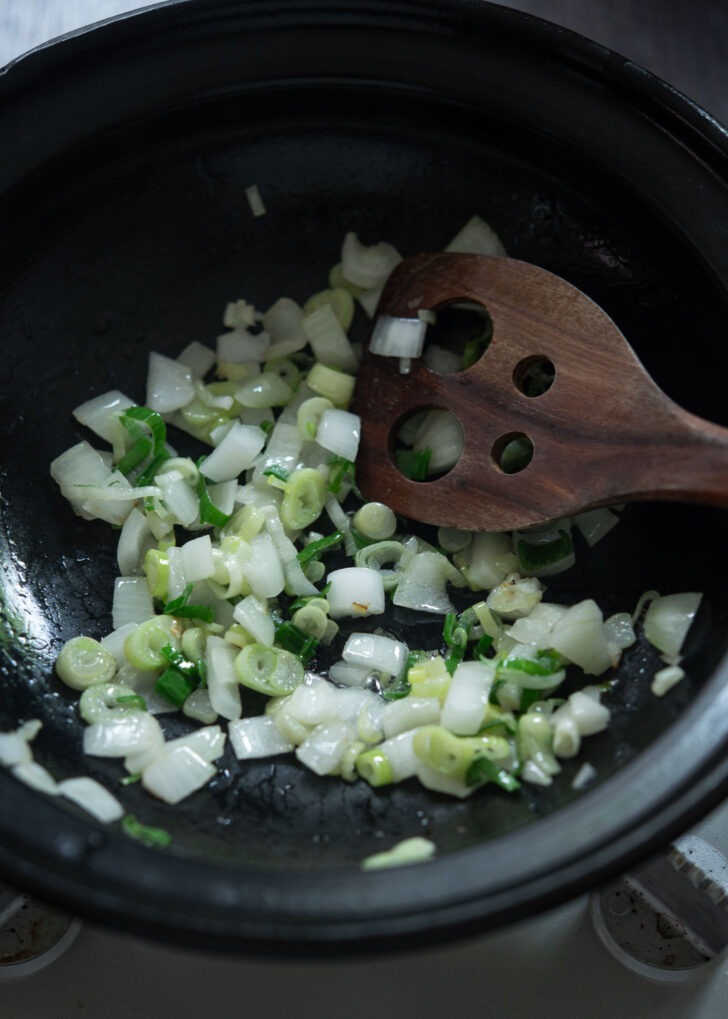 Preparation: In a small pot, heat oil over medium-high heat. Add leek and onion. Sauté for about 60 seconds until they soften.
Build flavors: Add the Korean canned tuna, garlic, and gochugaru to the pot. Stir-fry for 30 seconds to meld the flavors.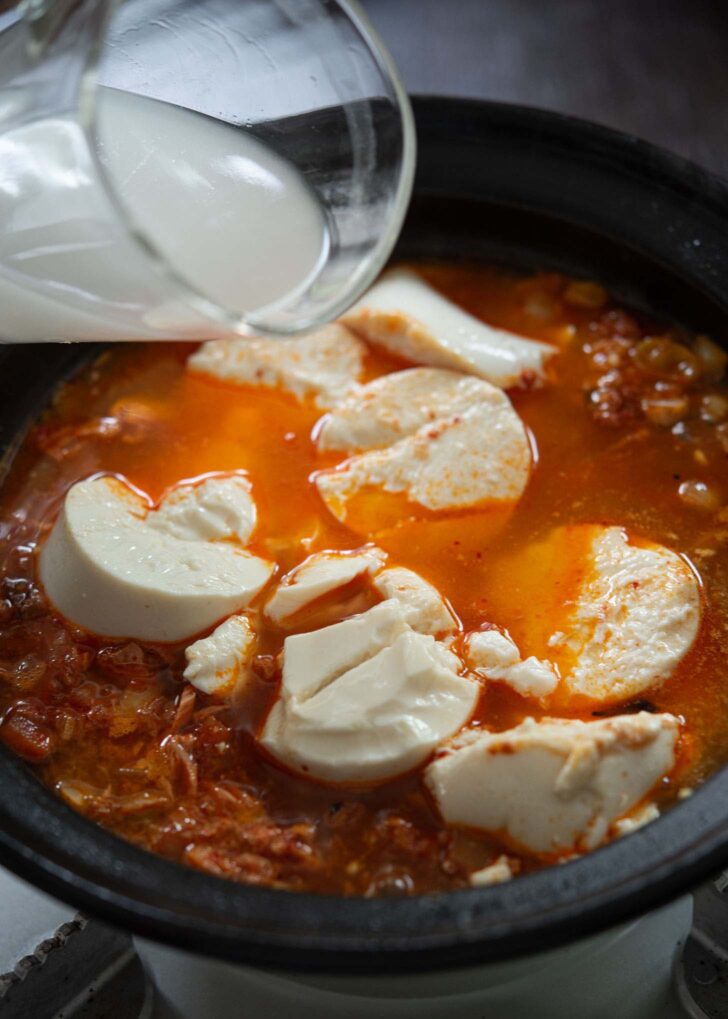 Incorporate Main Ingredients: Place tofu and rice water into the pot. The water should not completely cover the ingredients.
Add sliced zucchini and mushroom: Bring the stew to a boil. Once boiling, reduce the heat to medium and let it simmer for 3-4 minutes.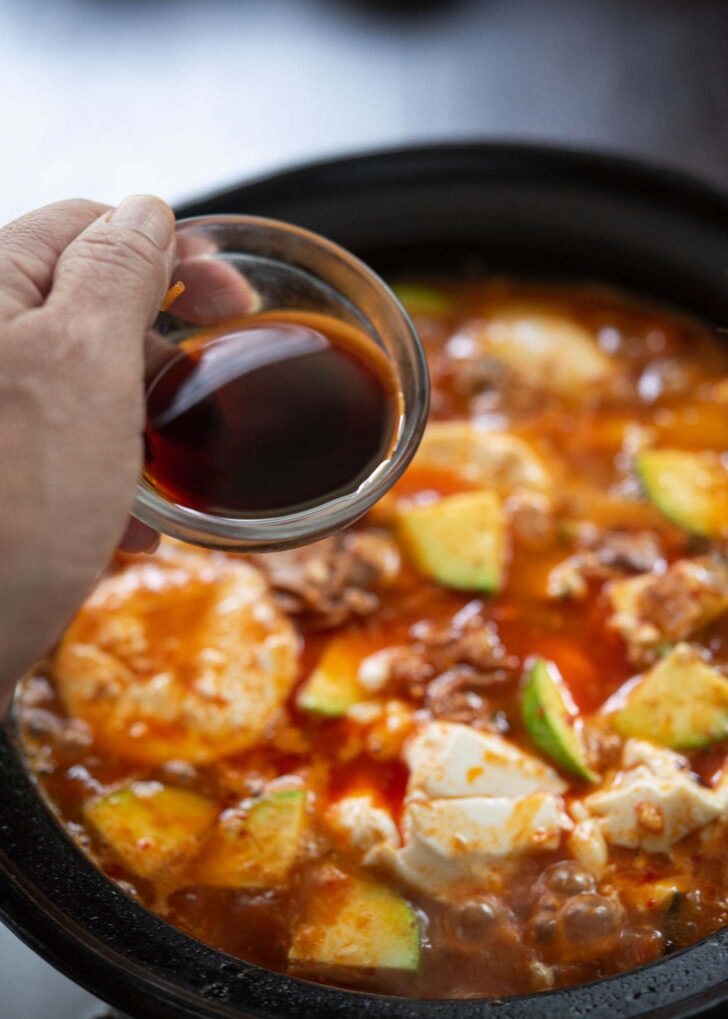 Season: Pour Korean soup soy sauce and fish sauce for richer flavor. Add salt if you desire a saltier taste.
Finishing Touches: Crack an raw egg on top and garnish with chopped fresh chili. Switch off the heat, and let the residual warmth cook the egg whites. For a creamy touch when serving, break the yolk and combine.
Note for Plain Solid Tuna: If you're using oil-packed solid tuna, drain the oil but set aside a tablespoon for cooking. When introducing the tuna, also add 1 teaspoon of gochujang and 1-2 tablespoons of gochugaru. Proceed as per the recipe from there.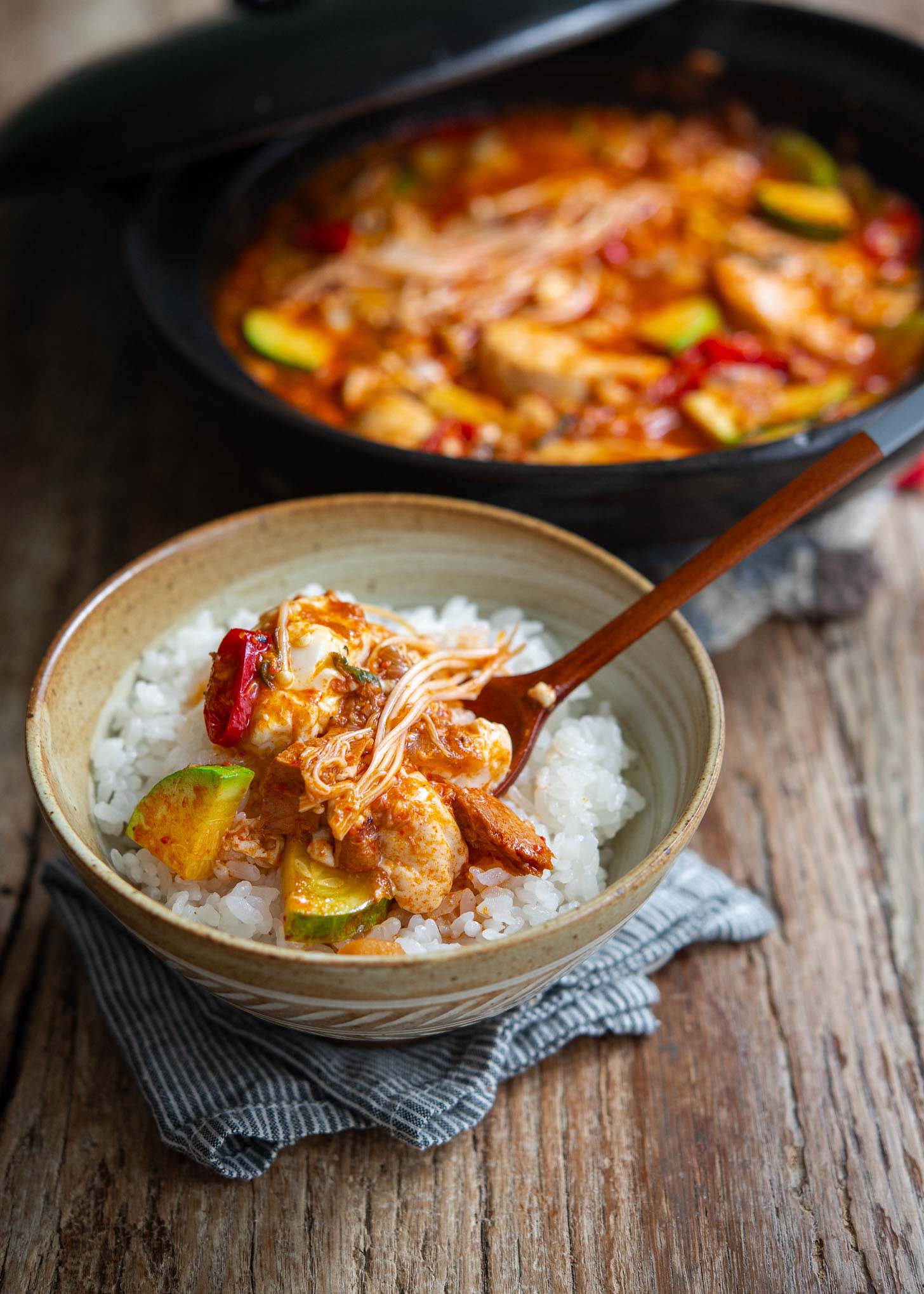 What to eat with Korean Tofu Soup
Always serve homemade sundubu jjigae hot with a bowl of rice and your favorite Korean side dishes, such as kimchi, potato side dishes, or any other Korean vegetable accompaniments of your choice. This hearty, authentic Korean soft tofu soup pairs excellently with grilled mackerel fish or samgyupsal.
Related Recipes
Love this recipe? Rate it and share your experience in the comments below! On Instagram? Tag me to showcase your creation. For more delicious recipes, subscribe to our newsletter!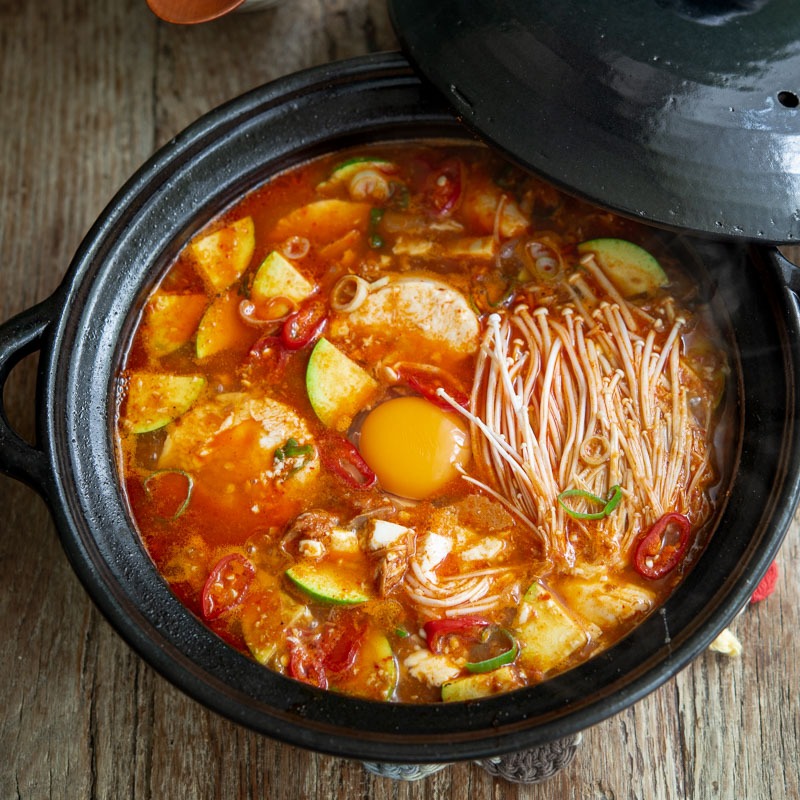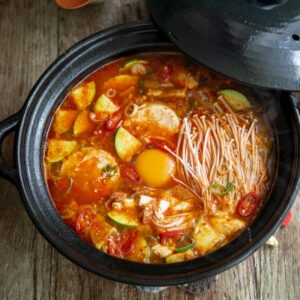 Tuna Sundubu Jjigae (Korean Tofu Soup)
Make Sundubu Jjigae in 10 minutes with canned tuna! It's a spicy Korean tofu soup with tuna, veggies, and classic spices. Perfect for those who love Korean dishes.
Ingredients
1 tbsp oil
1/2 small onion, chopped
1/4 cup chopped Asian leek , or green onion
1 can (250g) Korean hot pepper tuna, or solid tuna in oil (See note below)
1 tbsp minced garlic
1 tube (400g, 1 lb) silken tofu
1/2 zucchini, sliced
1 handful mushroom, any kind
1 cup (240 ml) rice water, see note below
1/2 tbsp fish sauce
1 egg, optional
1 fresh chili, sliced, optional
Instructions
Heat oil in a pot on medium-high. Add onion and leek (or green onion) and cook until they're soft, about a minute. Put in the Korean canned tuna, garlic, and gochugaru, and stir for 30 seconds.

Add tofu and rice water. Make sure the water doesn't completely cover the ingredients. Add zucchini slices and mushroom and bring the stew to boil. When it's boiling, turn the heat to medium and let it cook for about 3-4 minutes.

Add in Korean soup soy sauce and fish sauce for flavor and seasoning. If you like, add some salt.

Crack an egg on top and sprinkle with fresh chili (if using). Turn off the heat, and the hot stew will cook the egg. When serving, mix the yolk for a creamy taste. Enjoy your stew alongside fresh short-grain rice.
Notes
For Plain Solid Tuna: If you're using oil-packed solid tuna, drain the oil but set aside a tablespoon for cooking. When introducing the tuna, also add 1 teaspoon of gochujang and 1-2 tablespoons of gochugaru. Proceed as per the recipe from there.
Rice water: Don't throw away that starchy water from rinsing rice. Remember to set aside a small amount of the rice rinse water.
Calories: 136kcal, Carbohydrates: 8g, Protein: 6g, Fat: 9g, Saturated Fat: 1g, Polyunsaturated Fat: 2g, Monounsaturated Fat: 5g, Trans Fat: 0.04g, Cholesterol: 82mg, Sodium: 903mg, Potassium: 299mg, Fiber: 2g, Sugar: 3g, Vitamin A: 343IU, Vitamin C: 16mg, Calcium: 57mg, Iron: 1mg
Did you make this recipe?
Tag @beyondkimchee on Instagram. I love to see your masterpiece.