Samgyupsal (Korean BBQ Pork Belly)
This Samgyupsal recipe will guide you in making delicious Korean BBQ at home. Wrapped in fresh veggies and homemade dipping sauce, indulge in happiness with every mouthful of succulent pork belly!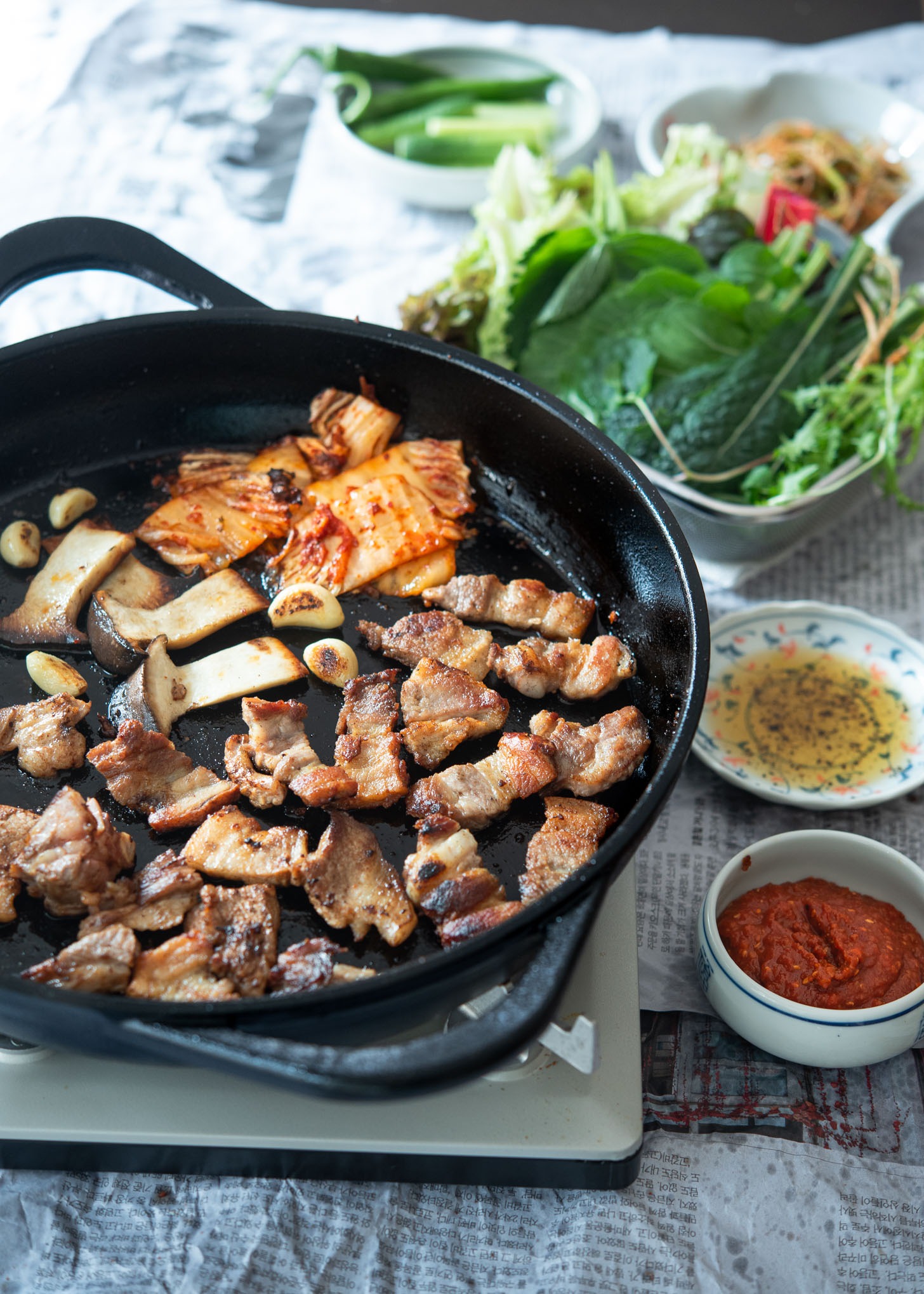 Samgyupsal-gui (삼겹살 구이) is a Korean dish of grilled pork belly served with sides like lettuce and dipping sauces like ssamjang and sesame oil.
It's named after the pork belly's three-layered meat and fat pattern. Samgyupsal is a beloved dish in Korean cuisine and is enjoyed both in Korean BBQ restaurants and at home.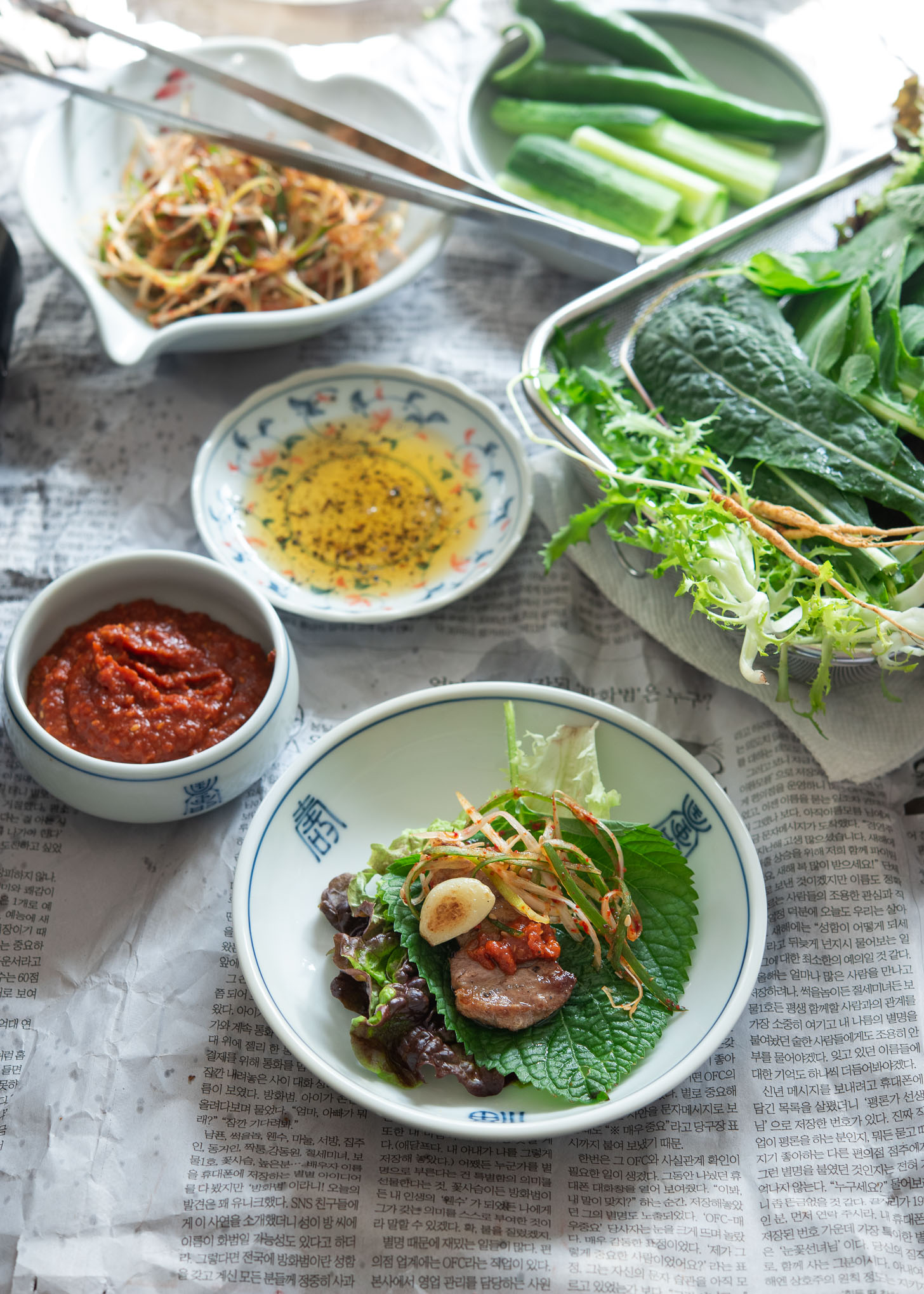 Popular Korean BBQ pork belly
Samgyupsal-gui has gained popularity around the world, with many Korean BBQ restaurants specializing in this delicious grilled pork belly.
This popular Korean dish is ideal for social gatherings and parties, as it's cooked and consumed at the table. Unlike classic beef BBQ, it doesn't require marination, making it easy to prepare. Its self-serving nature also makes it a great option for hosting events.
In general, pork belly is affordable, easy to cook, and incredibly flavorful and tender. It is available in various thicknesses and forms, allowing you to select your desired cut based on your preferences.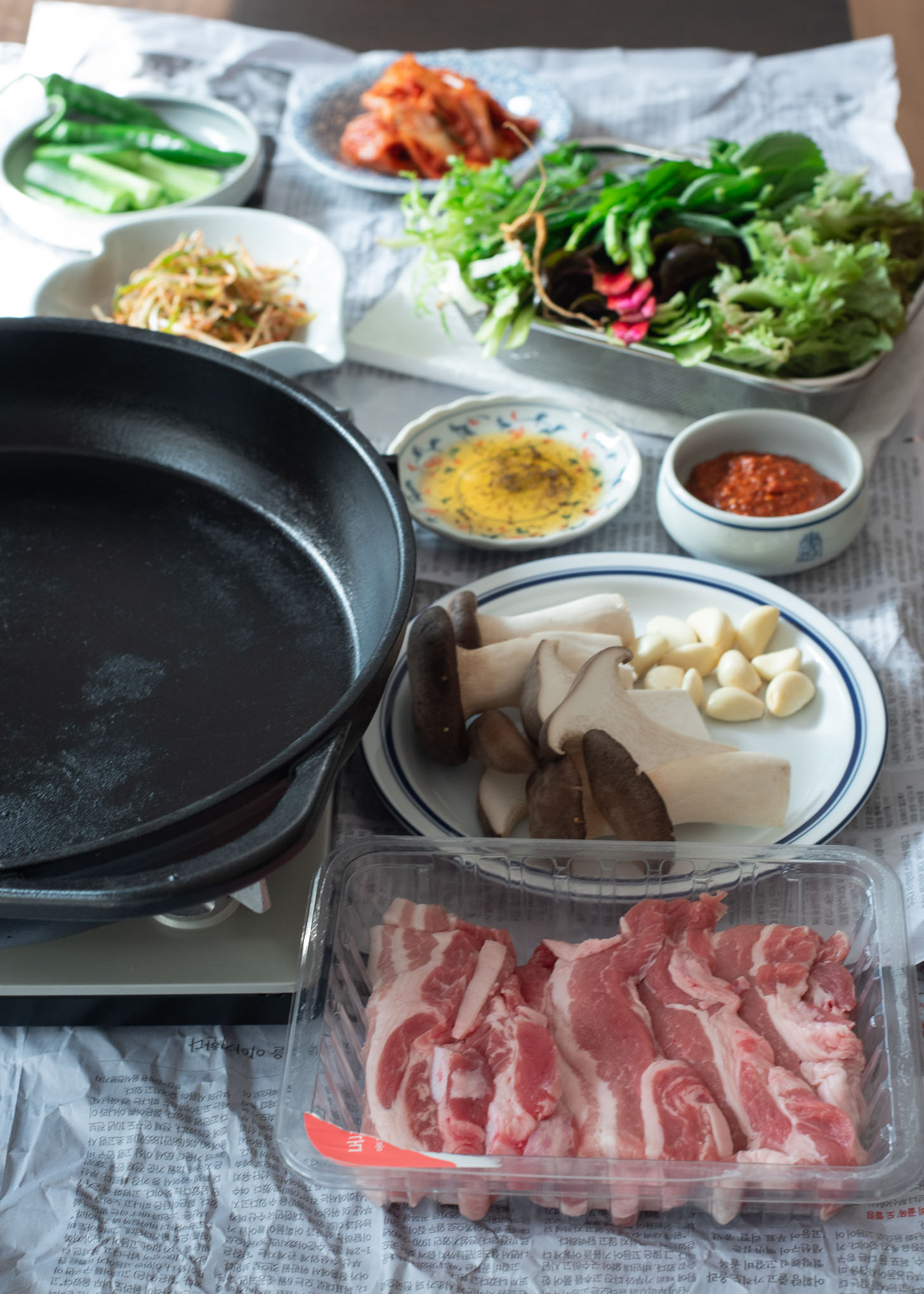 Samgyupsal grill
When preparing Korean BBQ at home, portable gas burner or electric grills are commonly used for table-side cooking, while an outdoor grill can be fired up. Although wood charcoal (sootbul) is traditionally considered the best heat source for Korean grilling and is used by many restaurants
Korean tabletop grills usually have a built-in mechanism to allow fat to drain off to a drip pan or a plate. However, if using a regular pan, it's recommended to use a paper towel to absorb excess fat and prevent smoking.
In case you are not willing to purchase a tabletop grill, a high-quality cast iron skillet can also do an excellent job.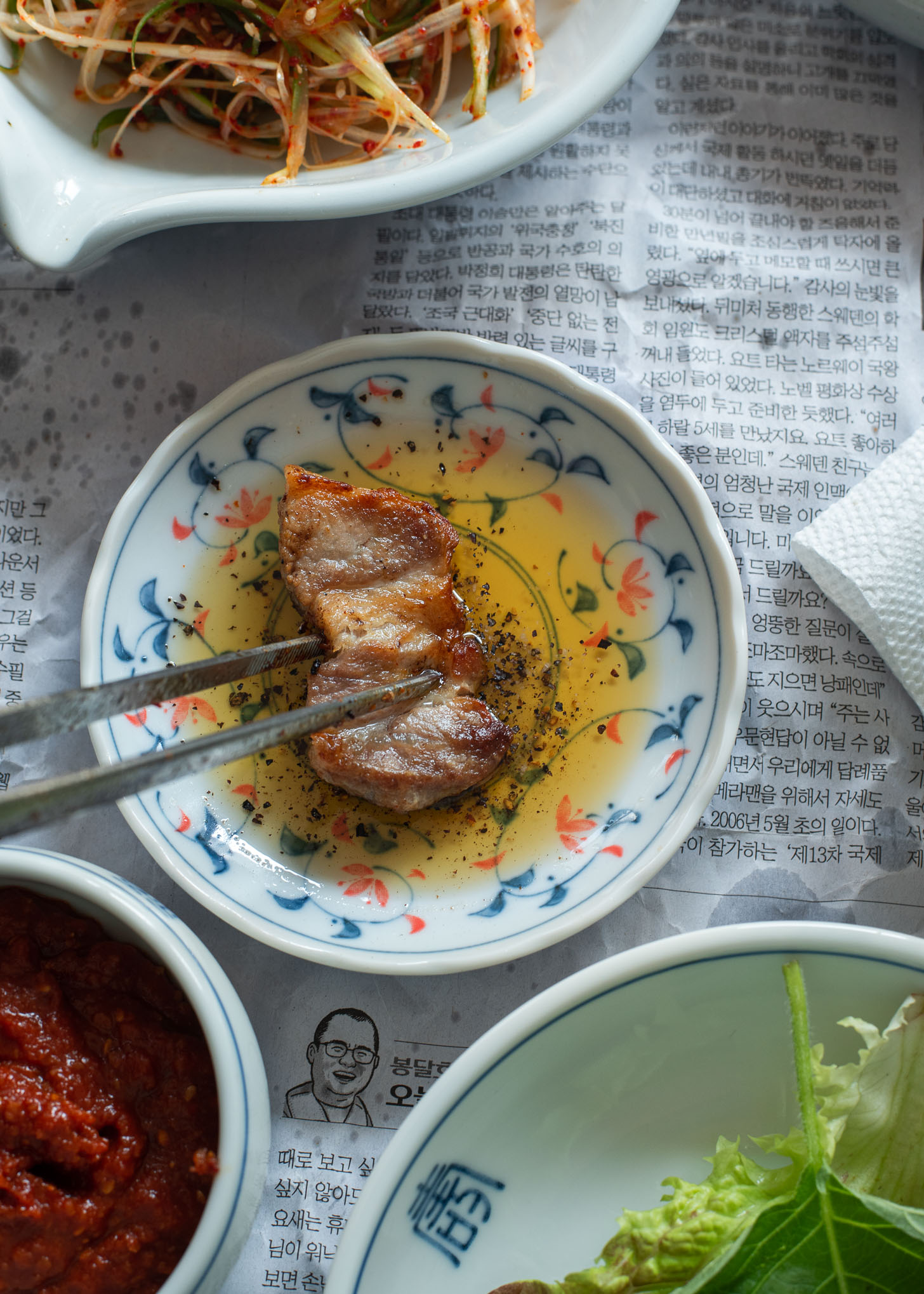 What to serve with samgyupsal?
Korean BBQ is versatile as there are various ways to prepare it depending on the side dishes you serve. Here are some essential condiments, ingredients, and other dishes you will need for Samgyupsal-gui:
(While you don't need to have all of them, the more dishes you offer, the merrier the experience.)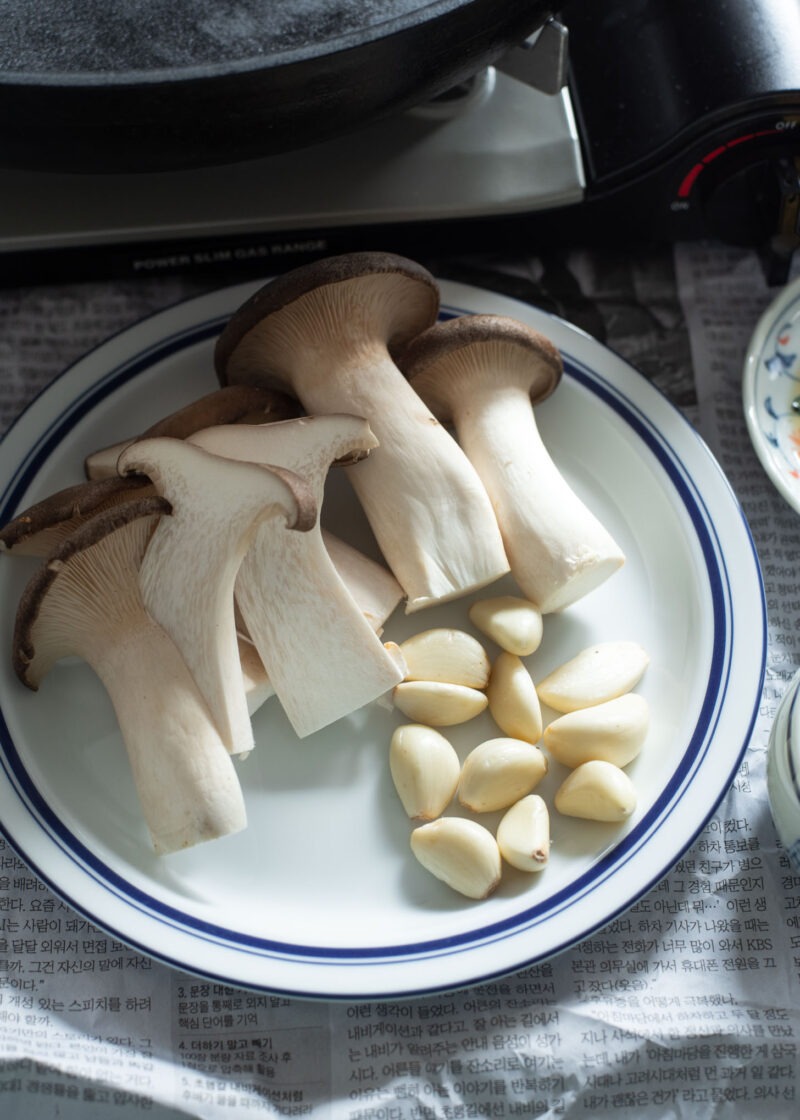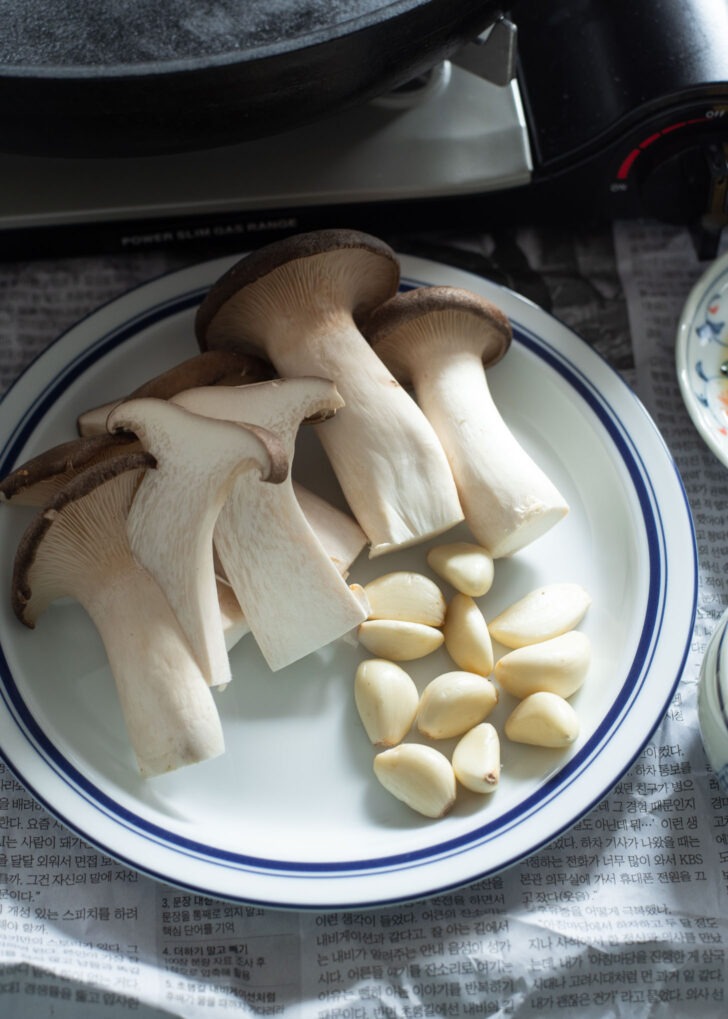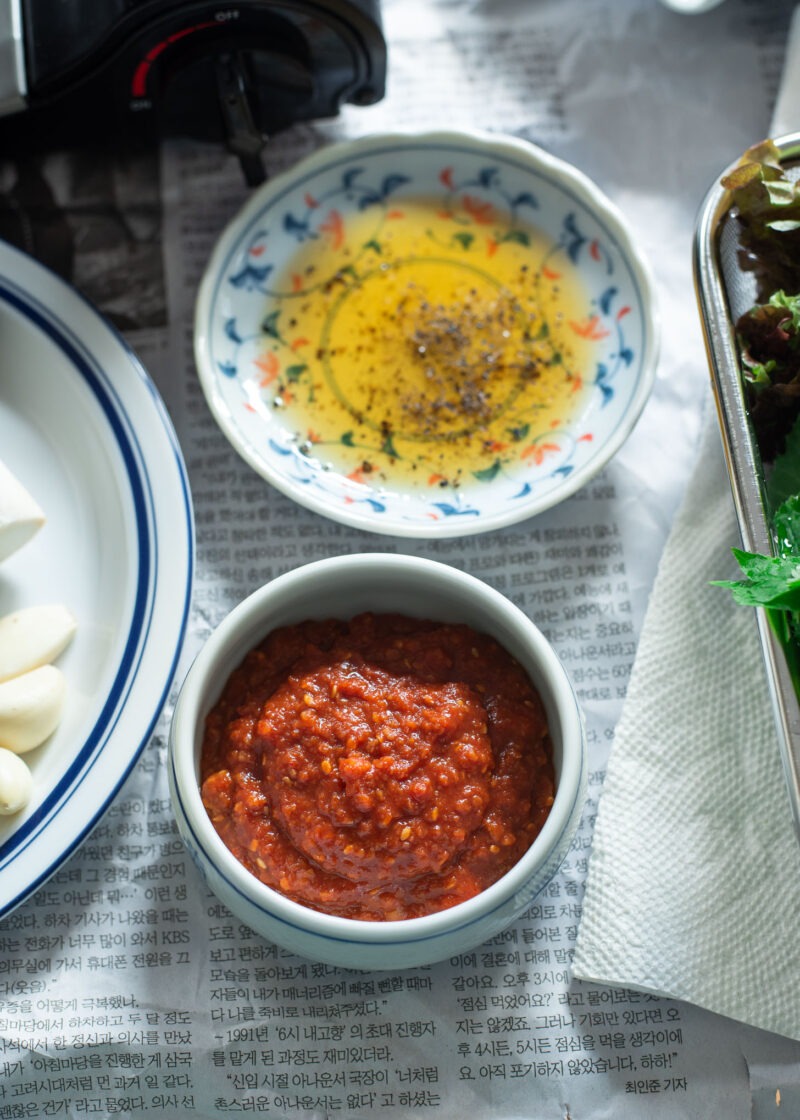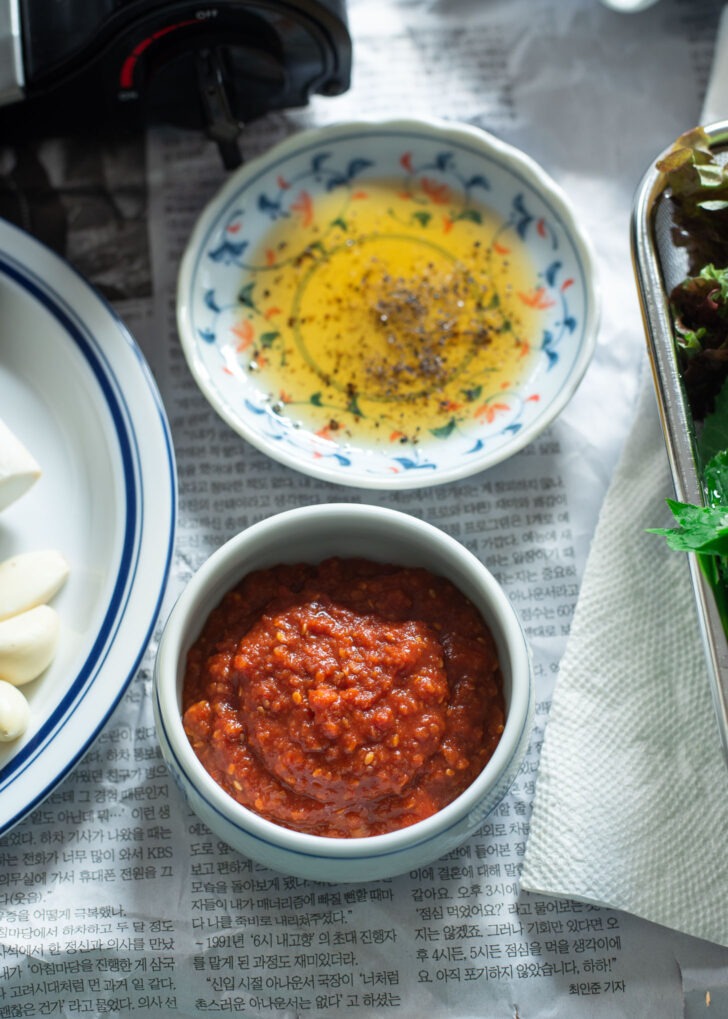 Vegetables: It is essential to have lettuce wraps for your Korean BBQ experience. Consider getting different types of lettuces and leaves, including kkaennip (perilla leaves), to add more variety to your wraps.

Some popular choices include green and red leaf lettuce, other types of salad greens, green chili peppers, cucumbers, and mushrooms.

Garlic: Garlic is popular addition for grilling alongside the pork belly. The combination of samgyupsal and garlic is an ideal pairing, and they complement each other perfectly in terms of flavor.
Sesame oil can be used alone or seasoned with salt and/or pepper as a dipping sauce for the grilled meat. Personally, I prefer it with just pepper and no salt.
Ssamjang: The condiment for any Korean wraps. There are numerous options available in stores, but making your own ssamjang is effortless, and it tastes even better than store-bought ones!
Green onion salad (Pa-muchim): This savory salad is another must-have topping. It is a spicy and savory salad that can be easily and quickly made with common green onions or Asian leeks.
Other dishes: As with bossam (boiled pork belly), salted shrimps and spicy radish salad are great additions, too.
How to Prepare Authentic Korean BBQ at home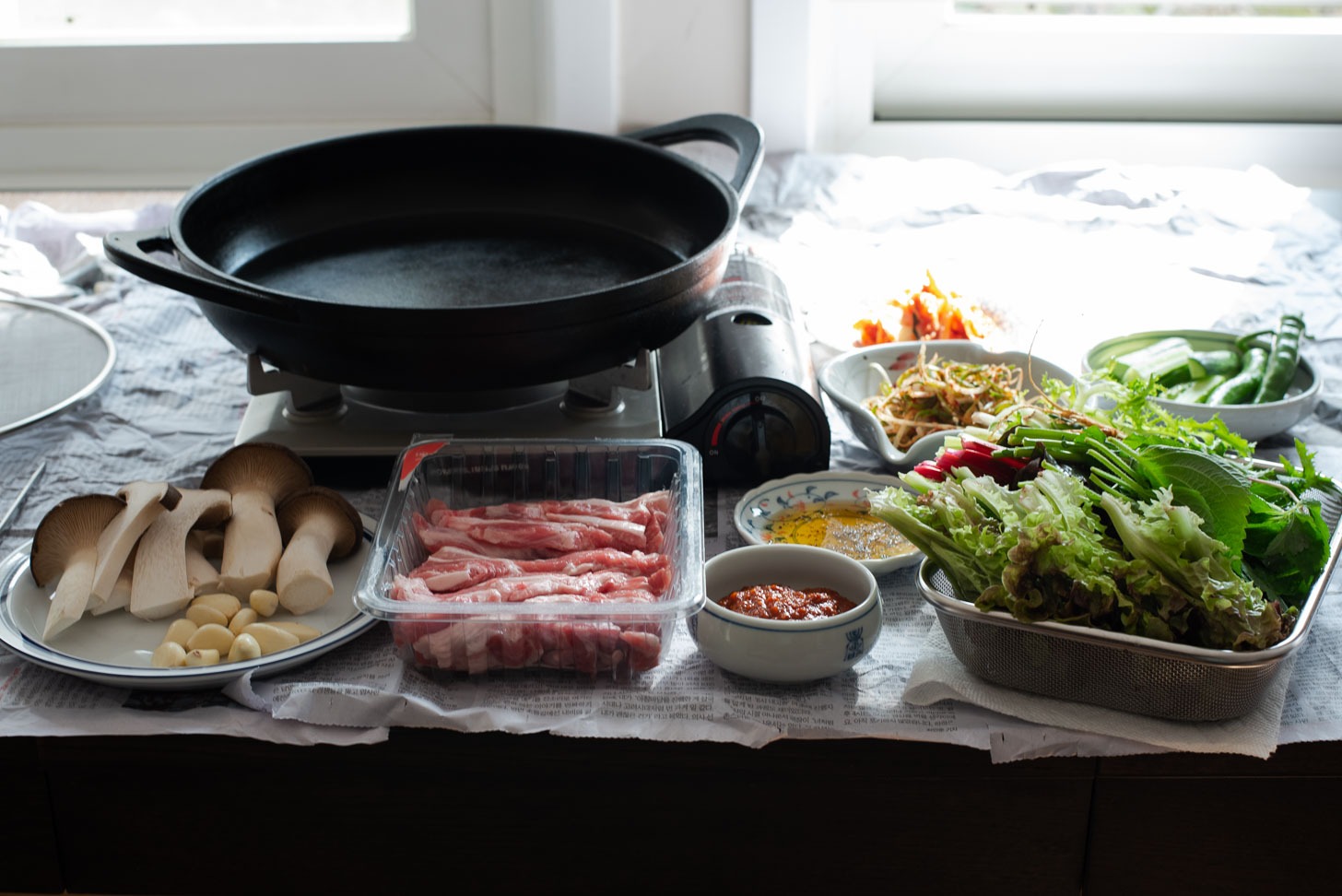 For ease of cleaning and to avoid grease splatters from the grilling pork belly, I suggest covering your table with a disposable tablecloth or a few sheets of newspaper (You can often obtain it for free from a Korean store). This will also make cleaning up after the party a breeze.
Arrange the Korean side dishes mentioned earlier to accompany the meat and make the wraps to set up your barbecue table.
Once you prepare everything, simply place a large grill pan on a portable stove, and you're all set to start cooking.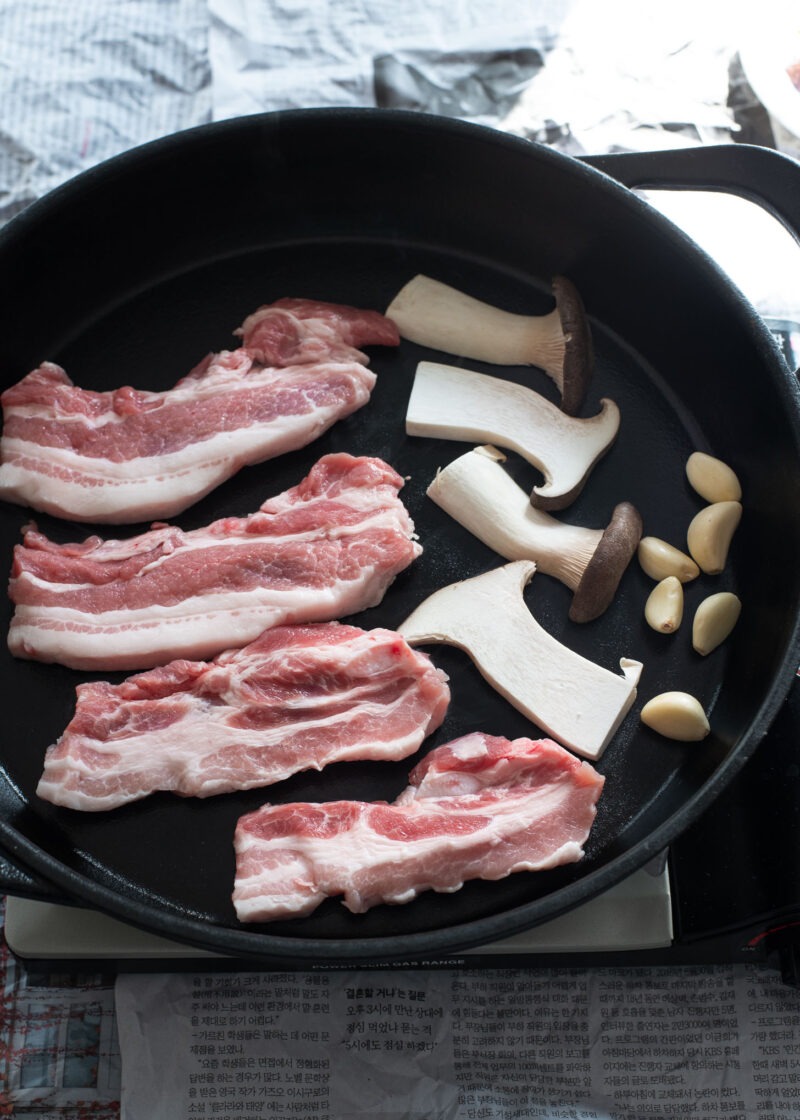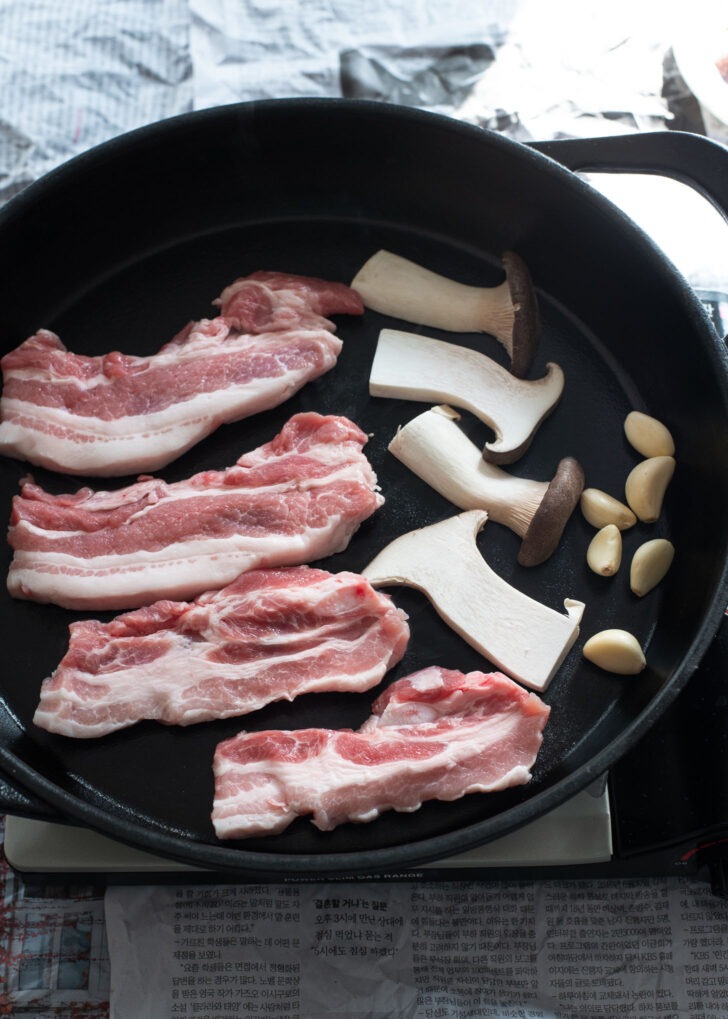 To begin grilling:
Heat the grill to medium heat and lightly grease the surface. Lay the pork belly strips, mushrooms, and garlic cloves on the grill and cook for approximately 2-3 minutes before flipping them over to the other side.
After flipping, let the meat sear for 30 seconds before cutting the pork belly into bite-sized chunks with a pair of scissors. Continue cooking until the pork belly is golden brown and crispy, adjusting the heat if it browns too quickly.
Avoid flipping the meat too often to prevent loss of flavor, and keep an eye on the mushrooms and garlic to avoid burning.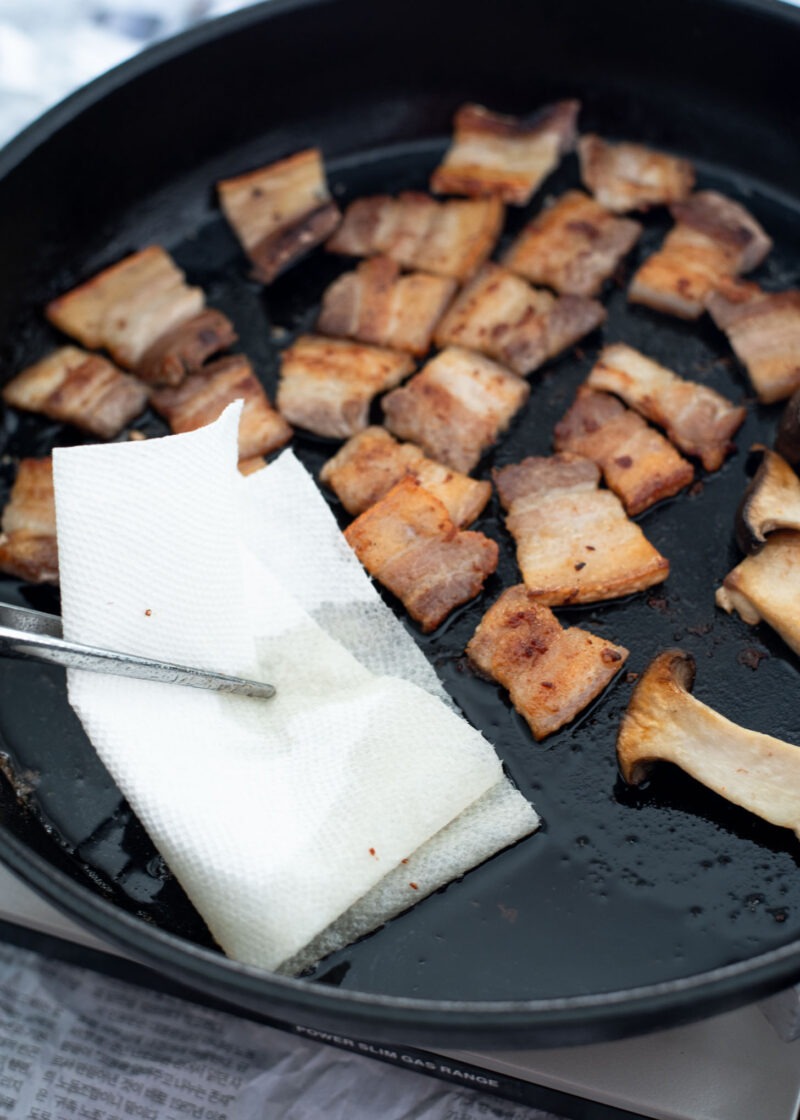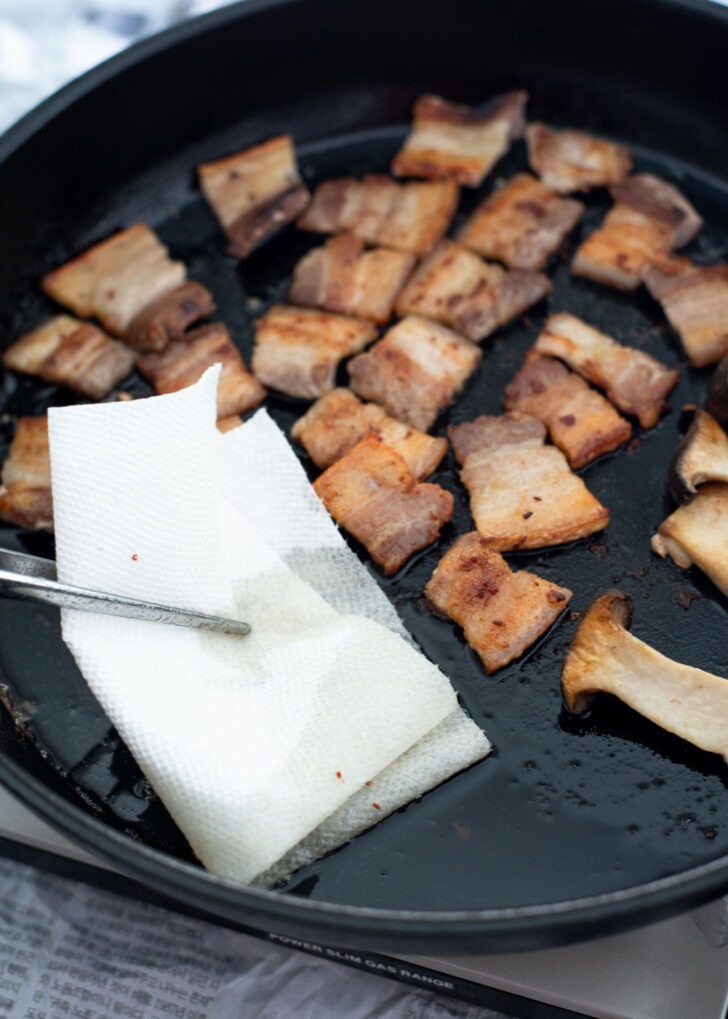 Wipe off excess fat or cook kimchi in the pork fat
Use a paper towel to wipe away any excess oil as needed.
Additionally, you can add kimchi to the grill and cook it in the pork fat for added flavor.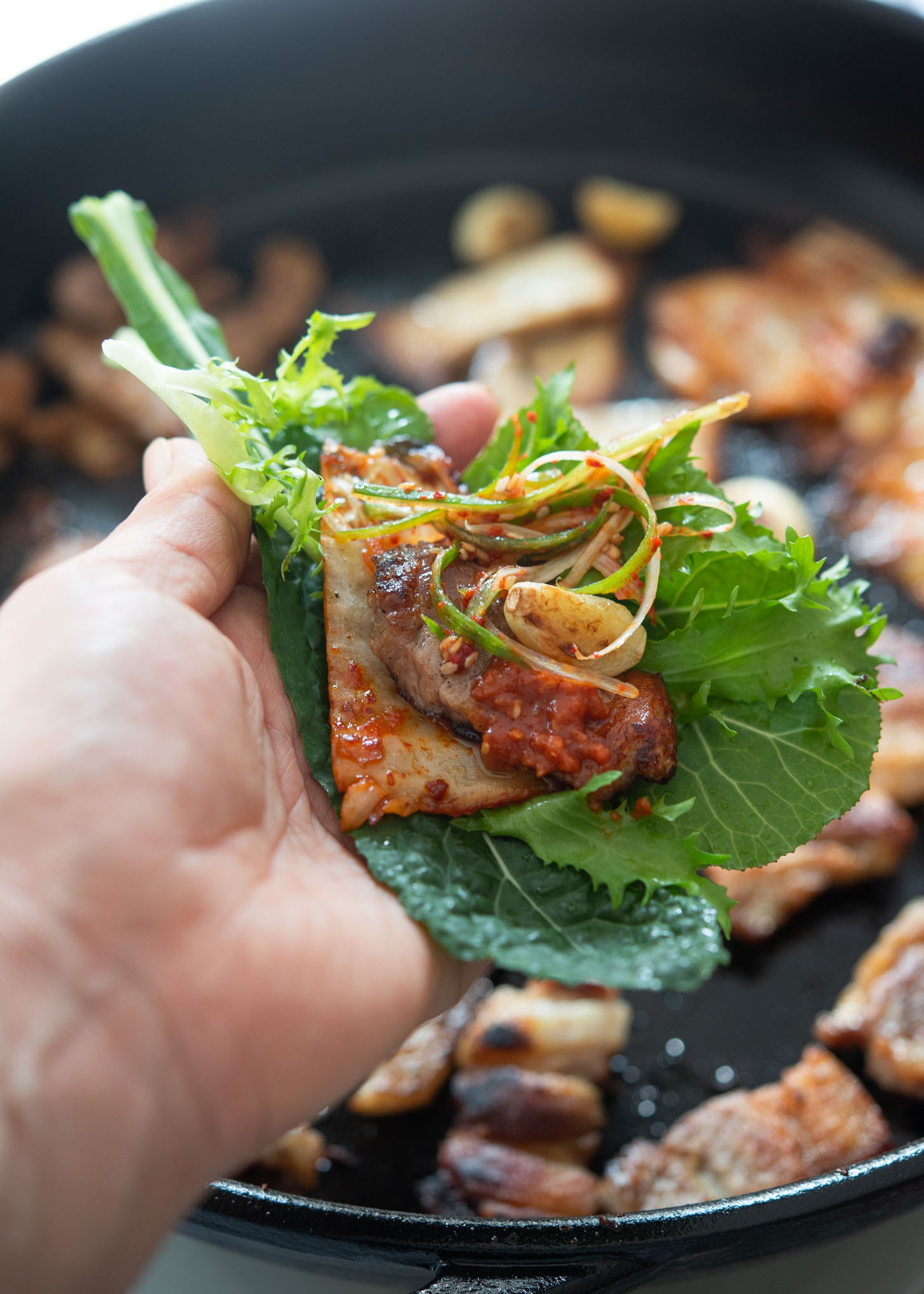 How to eat samgyupsal
To make a wrap, take a slice of lettuce and/or perilla leaf in one hand, dip a piece of cooked meat in the mixture of sesame oil and pepper, add some ssamjang sauce, green onion salad, and fried garlic to it. You may also add fried kimchi on top if you prefer. Roll it tightly and enjoy the scrumptious flavors!
Get creative with your toppings and customize your wraps to your liking. There are endless possibilities, and every bite will bring you pure joy!
Korean BBQ etiquette
When you're enjoying Korean BBQ at a home table party, it's important to keep in mind that someone has to grill the meat while others are eating. It's polite to take turns grilling, so that everyone can put in some effort and enjoy eating together.
It's customary to share the side dishes and to offer to cook meat for others. If someone looks like they're struggling to cook their meat or having difficulty reaching the grill, offer to help out.
Congratulations! You now have all the essential information to make delicious Korean BBQ pork belly (samgyupsal) using this guide. Enjoy cooking and have fun!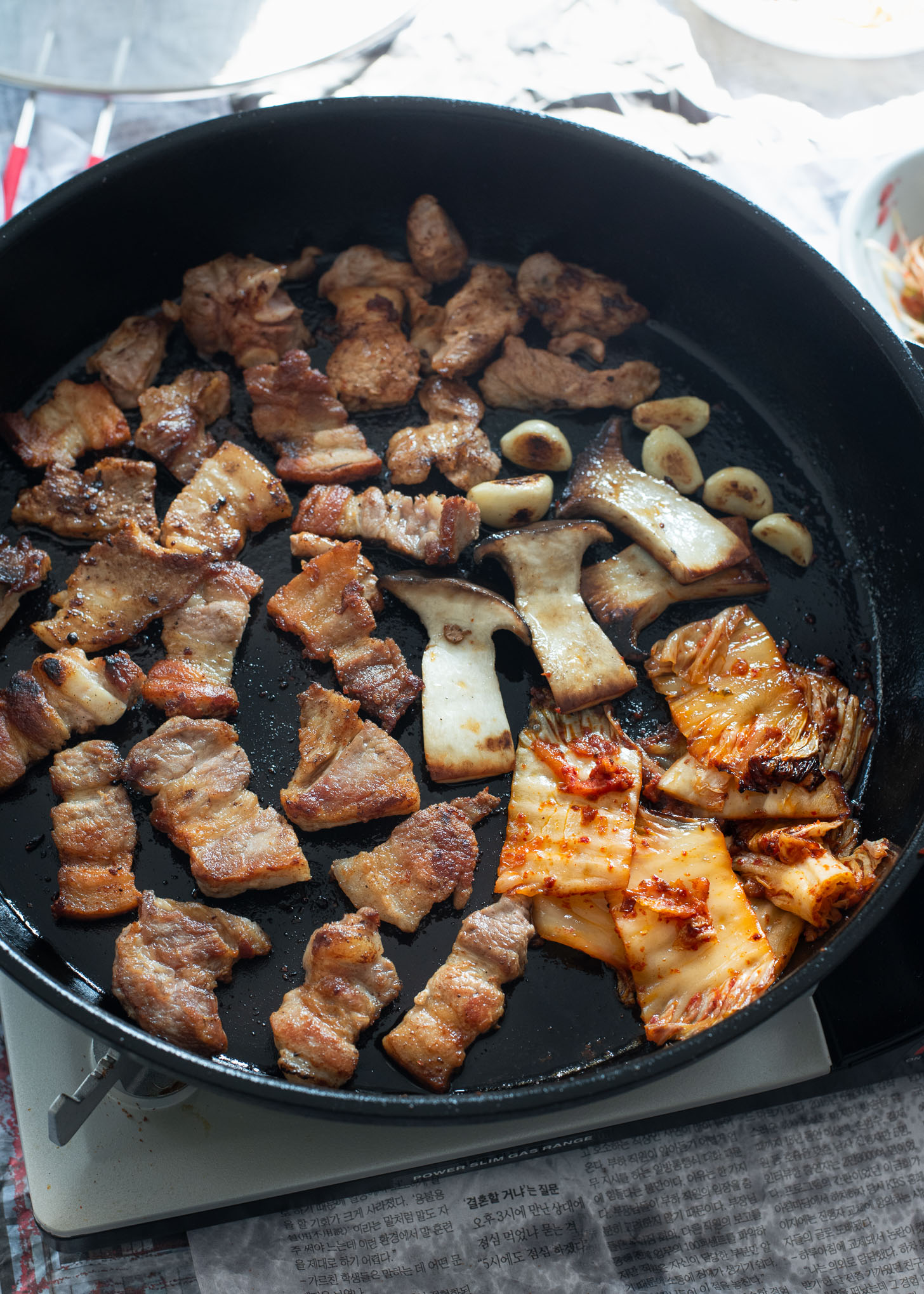 More authentic Korean recipes
If you love Korean food, why not give these popular Korean recipes a try in your own kitchen? They're sure to satisfy your cravings and add some fun to your cooking routine!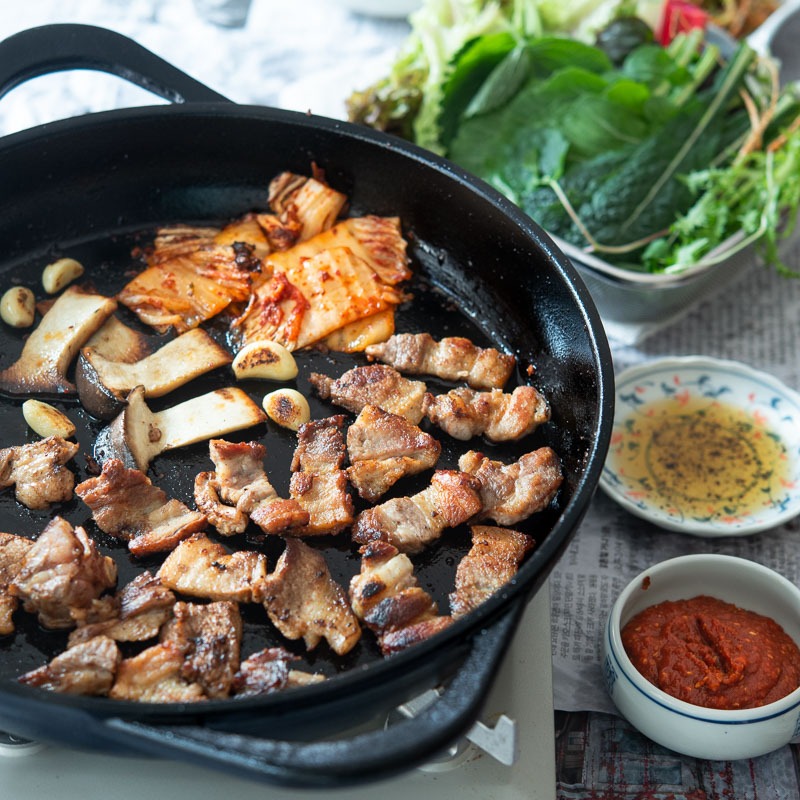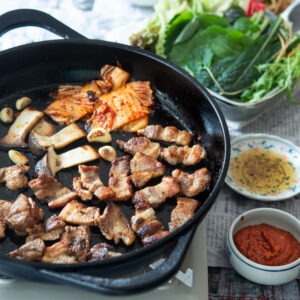 Samgyupsal (Korean BBQ pork Belly)
Make Korean BBQ at home with this Samgyupsal recipe guide. Enjoy succulent pork belly wrapped in veggies and homemade dipping sauce for a happy meal.
Did you make this recipe?
Tag @beyondkimchee on Instagram. I love to see your masterpiece.