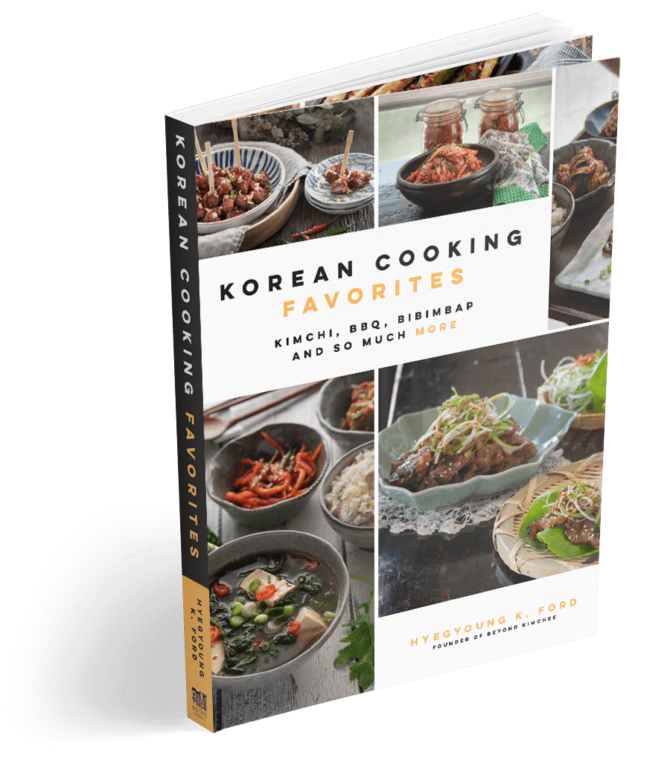 Korean Cooking Favorites
Kimchi, BBQ, Bibimbap and so much more
About The Book
Spicy, Salty, Sour, Sweet Create the Amazing Flavors of Korean Home Cooking
This books has 75 authentic home-style Korean recipes that everyone can easily make at home. Not only the scrumptious recipe itself, you will also find numerous Korean cooking techniques and tips with detailed instructions to make your Korean cooking more authentic and enjoyable.
Step into the kitchen of Hyegyoung K. Ford, founder of the blog Beyond Kimchee, and discover the delicious, fail-safe meals she ate growing up in South Korea and now cooks for her own busy family.
Perfected through generations, classics like Korean Sweet & Sour Pork are quick and comforting, and popular dishes like Spicy Korean Fried Chicken are surprisingly easy to make at home.
Authentic flavors are simple to create with special tips for sourcing and working with key ingredients;
Feast on an impressive spread of soups, stews, noodles and stir-fries. Dig into a delectable selection of sweet and salty snacks and appetizers.
No Korean meal is complete without an array of banchan, or sides. Options such as Pan-fried Tofu with Soy Chili Sauce, Spicy Cucumber Salad, Addictive Soy Sauce Eggs and more make it impossible to try just one.
And don't forget the kimchi! Learn to make seven different varieties of this healthy Korean staple. With so many combinations to choose from, these meals will quickly become favorites in your own kitchen.
End your Korean meal with sweet treats and drinks.
Reviews
"This book is a great companion for anyone who wishes to learn about Korean cooking. You'll be able to produce amazing results with easy-to-follow recipes!"


―Namiko Chen, founder and author of Just One Cookbook
"Hyegyoung has been a great source of authentic Korean recipes for nearly a decade. In this book, she brings you easy Korean recipes from her childhood as well as many delicious modern recipes with her own insight and personality!"


―Hyosun Ro, creator of the blog Korean Bapsang
"Hyegyoung's recipe for Steamed Buns with Pork & Vegetables perfectly captures the taste and feeling of pure happiness that I experienced as a young girl making steamed buns with my mother. This cookbook truly renews many precious memories for me!"


―Jennifer Lee, publisher of S.CASA; Korean-American life, culture, & art magazine of New York
Korean cooking has always been somewhat unfamiliar and mysterious to me, but Holly's Korean Cooking Favorites makes it accessible and intuitive to both novice and experienced cooks. Love the clear, logically written recipes (including the "Cook's Tips" provided in many of them — these are real gems) and the wide variety of dishes from snacks to mains to sides to desserts (including many noodle dishes — my favorites — and of course a variety of kimchi recipes). To top it off, beautiful photos illustrate each recipe, making this both a fun book to read as well as cook from.


―Jon Griffin, creator of blog Kitchenriffs
Order your copy today: