Street Tteokbokki Recipe (Spicy Korean Rice Cake)
Tteokbokki (or ddukbokki) is name for the popular spicy Korean rice cake dish and it's a quintessential Korean street food. Using this best recipe, you can make sweet, spicy, and chewy rice cakes with easy homemade tteokbokki sauce. Truly satisfying and almost addictive!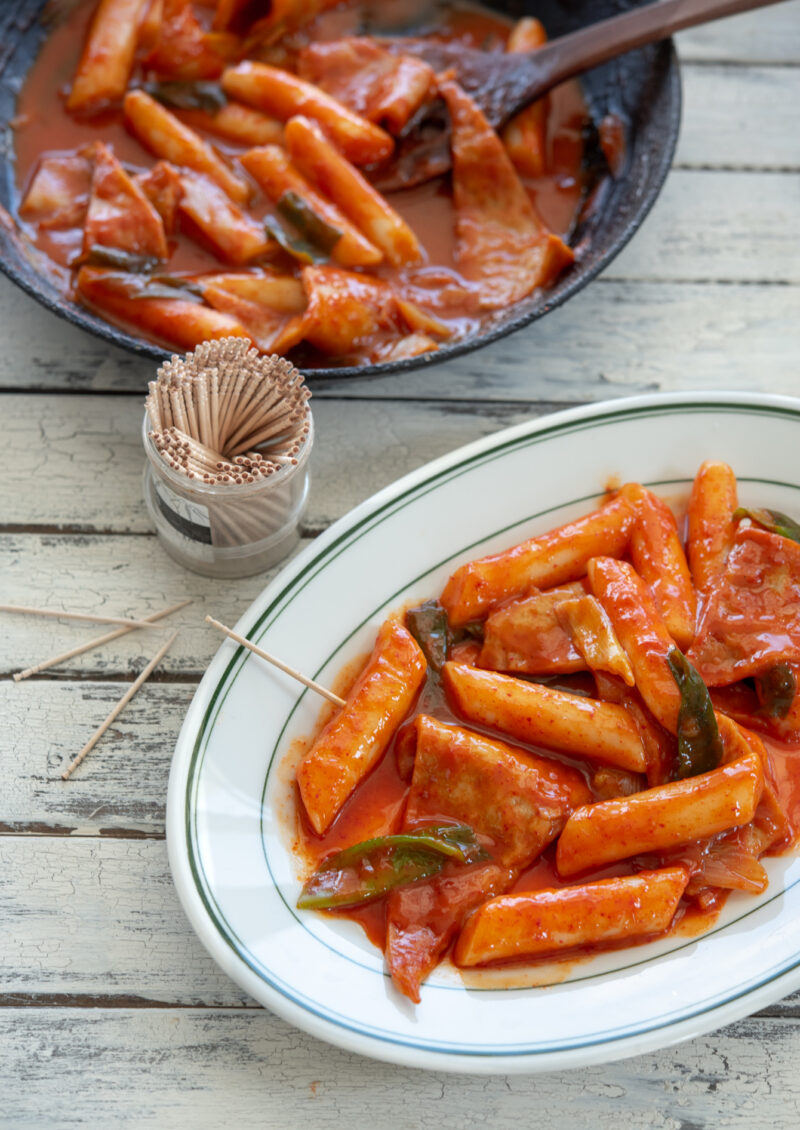 Having a dish full of spicy tteokbokki (떡볶이) recently in a busy Korean street market brought me a lot of nostalgia. The chewy rice cakes with gently sweet and spicy gochujang sauce…mmm! It was like a taste of my childhood.
I recently had a trip to Korea to visit my family. The two weeks of mandatory quarantine upon arrival was well worth the effort. After the quarantine was over, I was thrilled to go out and hit different places for meals. Enjoying Korean street food was no exception on my food adventure.
What is Tteokbokki?
Tteokbokki (떡볶이, often pronounces as topokki) is a popular Korean street food made from small cylinder-shaped rice cakes called tteokbokki-tteok. Although the literal translation of the name means rice cake stir-fry, but the actual cooking relies on a simmering method.
White rice cakes are simmered in sweet and spicy gochujang based sauce. Korean chili power is often added to enhance the spiciness. Tteokbooki is one of the most popular Korean street foods, but it is often made at home to enjoy as a snack.
Types of tteokbokki
Interestingly, people in Korea have different preferences when it comes to the tteokbokki recipe as you can see the list below. Of course, the main ingredients are pretty much the same: rice cakes!
Cheese tteokbokki – Add cheese to Korean rice cake has become a huge trend among young Korean people. You will often found tteokbokki with cheese in the menu of many tteokbokki restaurants.
Curry tteokbokki – Some people like to add a little bit of curry powder to their tteokbokki sauce to bring more flavor impact.
Buldak tteokbokki – If you like things very spicy, you can challenge this version, but be cautious! This extremely spicy version is not for everyone. The sauce is made from either the buldak instant ramen seasoning powder or adding the chili pepper extract called "capsaicin" for an extreme heat.
Goong joong tteokboki – This mild tteokbokki is made with soy sauce (no gochujnag) with added vegetables and beef. It is known as a royal palace tteokbokki where it was originally served to the royal families in an ancient time in Korea.
Girum tteokbokki – This particular ttoekbokki is pan-fried with oil and doesn't have any gravy-like sauce. I have created a spin-off recipe, spicy Korean rice cake stir-fry, from the pan-fried version to be more wholesome and meal-like with loads of vegetables.
Gukmul tteokbokki – Some like their tteokbokki to be thin, in a puddle of soupy sauce – the name literally means soupy rice cakes because it resembles a rice cake soup.
Black bean ttoekbokki – Blackbean paste (Jjajang) is added in the sauce making it dark and smoky taste.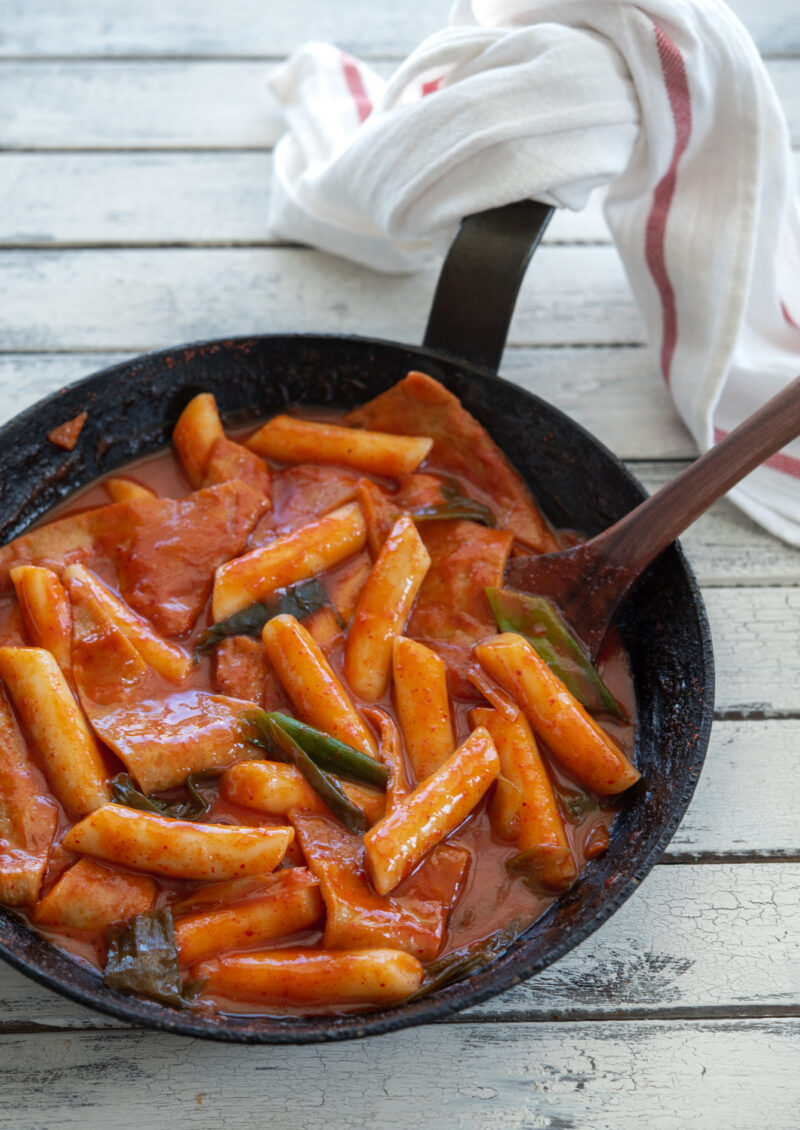 When it comes to street food in Korea, this street vendor-style tteokbokki recipe has to be the most popular and common snack you will find. They are so addictive!
Of course, they all taste slightly different from one place to another. The shape or type of rice cakes they use are different, too. You will taste the Korean street food with this tteokbokki recipe I am about to share.
If you want to know more about Korean snack dishes and foods from the street vendors, check out my cookbook, "Korean Cooking Favorites" in which I share several mouth watering recipes.
Tteokbokki Rice Cake (Tteok)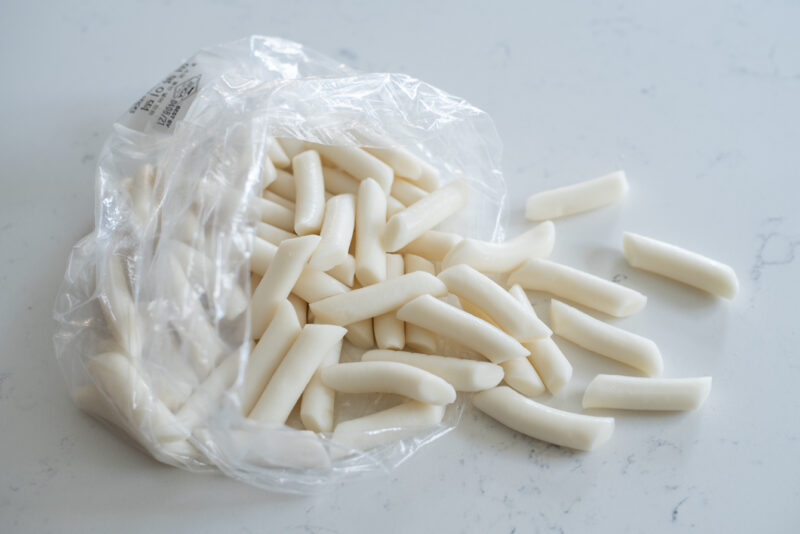 When it comes to tteokbokki rice cake (tteokbokki tteok), look for a short stick shape. A finger size is the most common. Make sure they are made with 100% rice flour.
Some rice cakes are made with wheat flour, which works okay in most tteokbokki recipes, but they won't carry the chewy texture that you are looking for.
You might find the flat and round rice cakes at the stores, too. But save those for rice cake soup or stir-fries.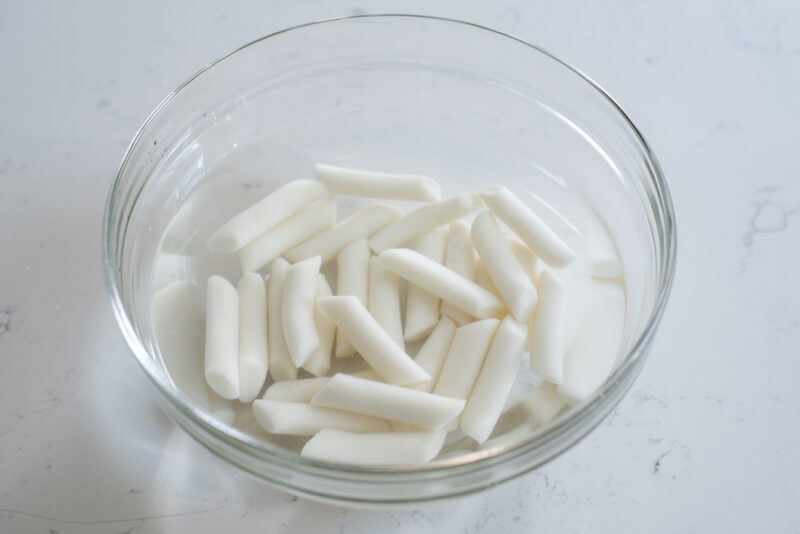 If your rice cakes have been hardened because they were stored in the refrigerator, soak them in water for 10 minute to soften them a little.
Some Korean or Asian stores carry freshly made rice cakes. Since they are very soft and ready to use, you don't need to soak them in water prior to cooking.
Recipe Tips
Use anchovy stock
Anchovy stock adds the umami flavor to the dish and I highly recommend using it. Making anchovy stock is easy and quick. I like to add a piece of dried sea kelp when I make anchovy stock, but you can omit the sea kelp if you don't have it.
Use fine chili powder instead of coarse chili flakes
If you want to replicate the Korean street vendor style spicy rice cakes, use Korean fine chili powder.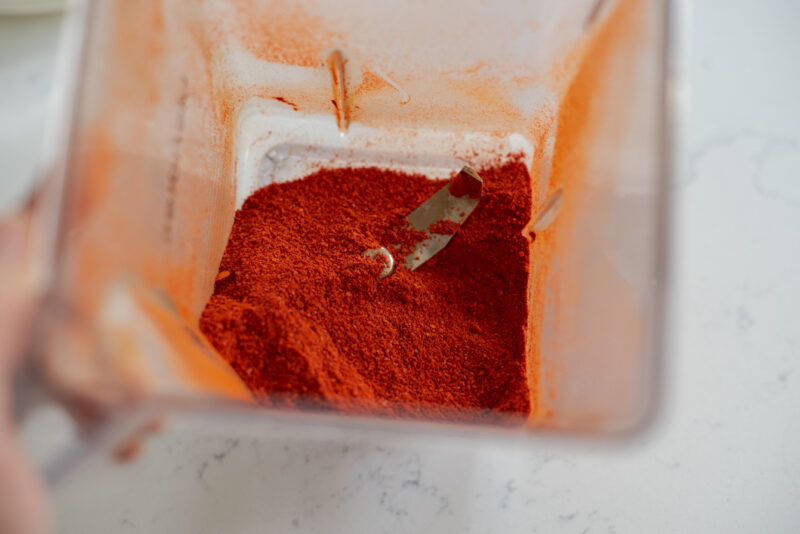 If you only have the coarse Korean chili flakes (gochugaru), process it in a blender until very smooth and finely blended. You can skip this step if you want to, but you will see speckles of chili flakes on the rice cakes.
Note: I blended 1/2 cup of chili flakes although I only need 1 tablespoon for this recipe. I want to keep the rest in the fridge to use later when I make tteokbokki again, and to spice up other dishes as well. Store the chili flakes in a glass jar and they will last for over a year if you keep them in the refrigerator.
Tteokbokki Sauce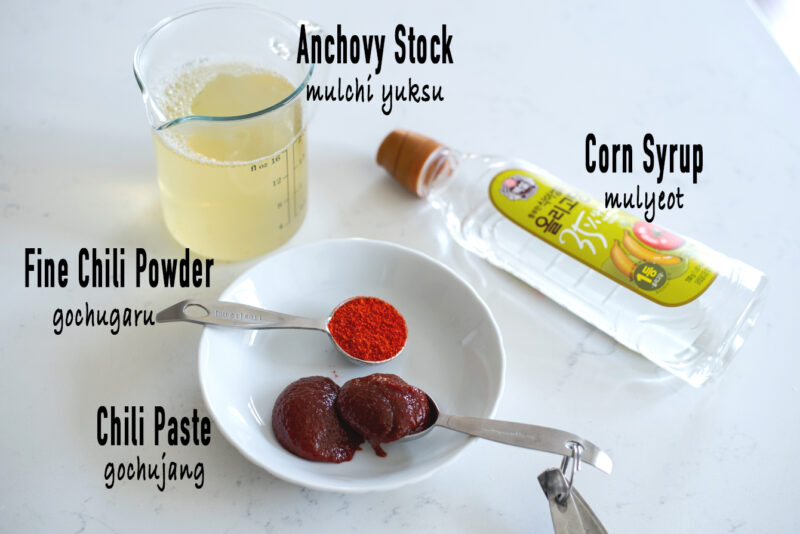 Anchovy stock: To make your spicy Korean rice cakes to be more flavorful, you MUST use anchovy stock. If you don't want to use anchovy in the recipe, the next best thing would be using a beef flavor enhancer called "sogogi dasida (소고기 다시다)".
Korean fine chili powder (gochugaru): You can use Korean chili flakes is fine powder is not available.
Corn syrup or rice syrup: Korean spicy rice cakes are a slightly sweet dish. However, you will find there's no sugar in this recipe. Instead, you will use Korean corn syrup (mulyeot) or oligo syrup (올리고당). You can also use rice syrup (jocheong, 조청).
Fish cake (eomuk): optional but recommended
Asian leek (daepa): You can replace it with green onion
Using the syrup will bring a shine to the finished dish and adds subtle sweetness without being too sweet. If you prefer not to use any syrup, then replace with 1 tablespoon of sugar.
How to make tteokbokki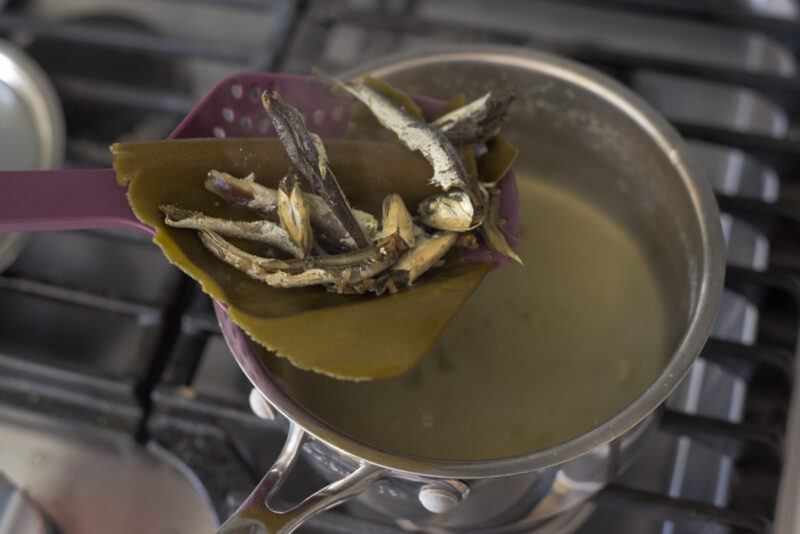 Step 1. Make anchovy stock.
Simmer large dried anchovies with a piece of dried sea kelp in water for 5 minutes. Discard the anchovy and sea kelp and reserve the stock. Check out my Korean soup stocks post to learn more about a different types of stocks for Korean cooking.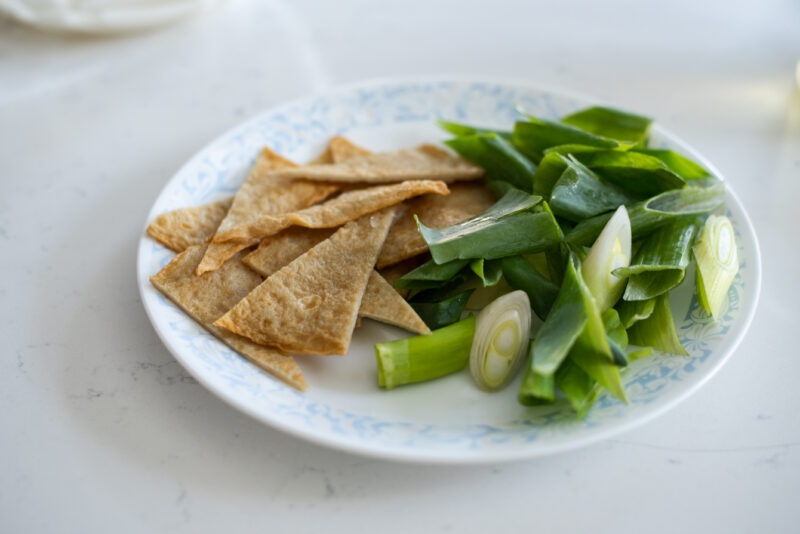 Step 2. Prepare fish cakes and leeks (or green onions)
Fish cake sheets (eomuk) and Asian leeks are commonly used in street style tteokbokki. They are optional but recommendable. You can also add diced cabbage and hard boiled eggs to make Korean rice cake dish hearty.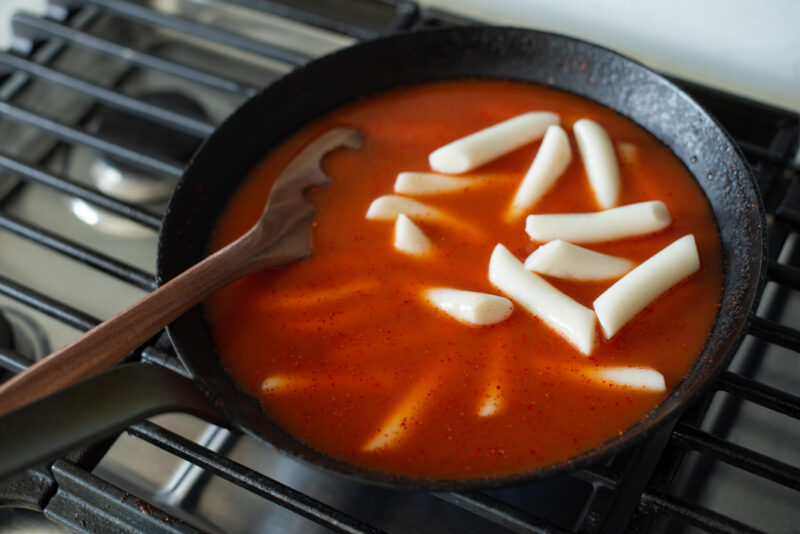 Step 3. Mix rice cakes in sweet and spicy tteokbokki sauce.
In a large skillet or wok, mix anchovy stock with chili paste, chili flakes and corn syrup. Add rice cakes that have been drained from soaking.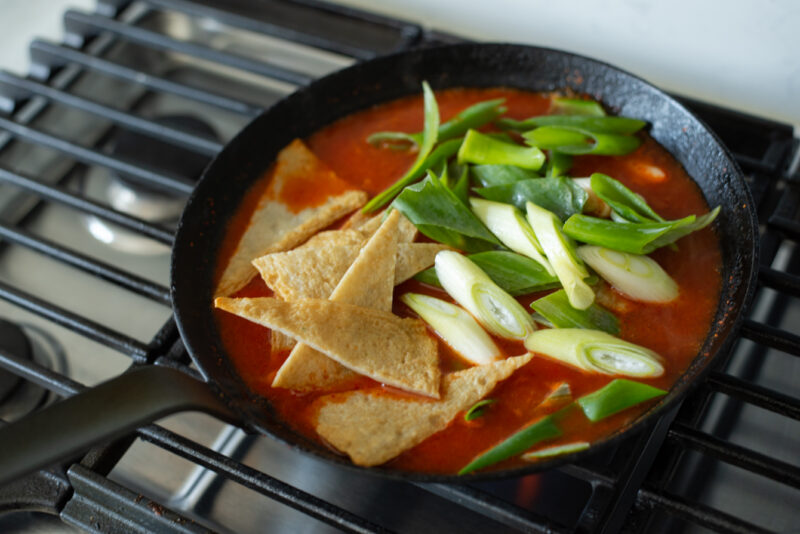 Step 4. Add fish cake and leek.
Add the fish cake and leek. Bring the whole thing to boil over medium high heat.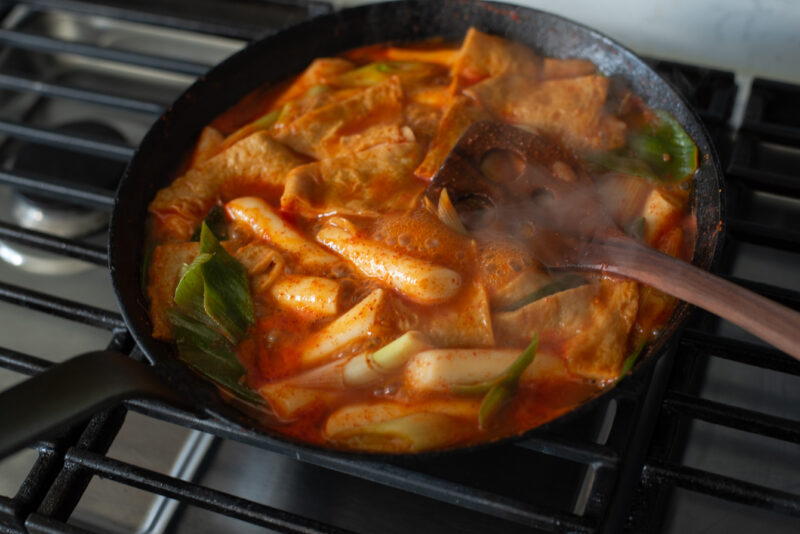 Step 5. Simmer everything until soft.
When the sauce boils up, reduce the heat to low and let the tteokbokki simmer until the rice cakes are tender and the sauce thickens. It should take about 5-7 minutes.
You will need to serve tteokbokki immediately. As it cools, the sauce will get thicken more and the rice cakes will harden.
And do you know that tteokbokki is often goes well with gimmari (Korean fried seaweed rolls)? Try it and you will see why local Korean street vendors always sell them together.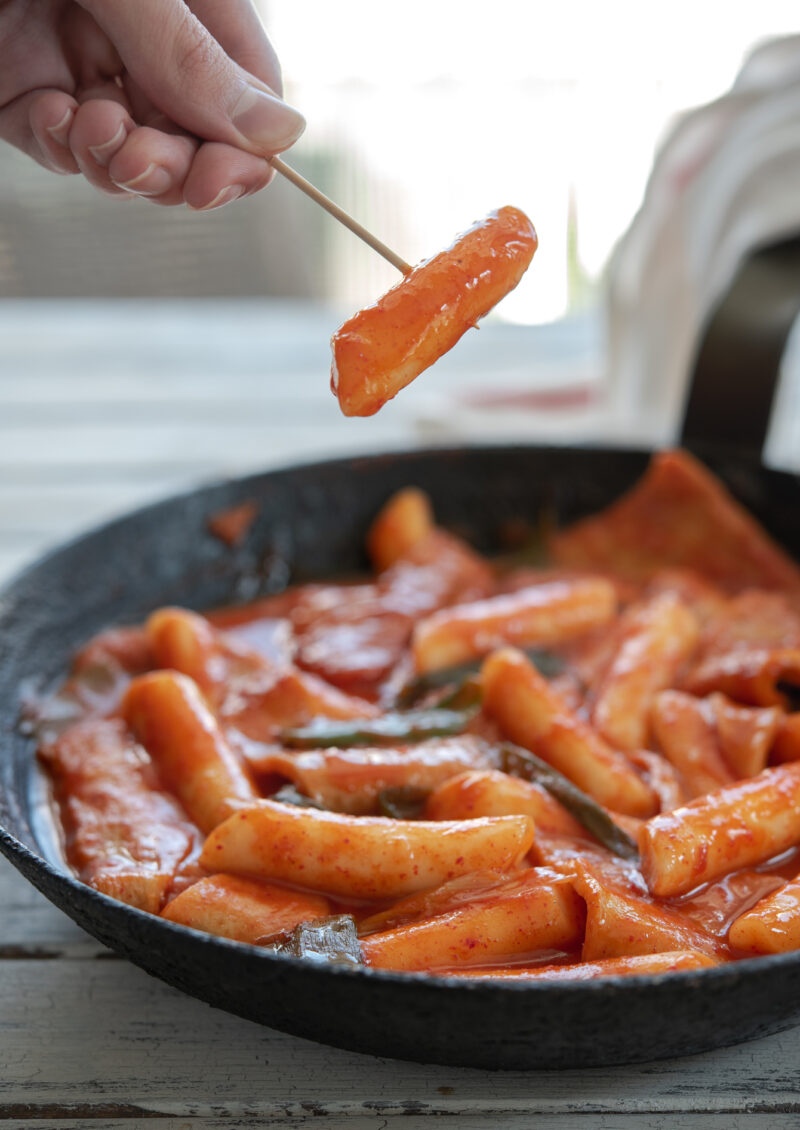 How to reheat leftover tteokbokki
I highly recommend cooking the amount you can finish at the time of serving. However, if there are any leftovers, refrigerate them. Unfortunately reheating leftover tteokbokki in a microwave won't bring the right texture. The best solution is to reheat them on a stove.
You will need extra anchovy sauce, about 1 cup, to do so. Add the stock to the leftover rice cake in a skillet and bring it to a gentle boil. Simmer until the rice cakes become tender, and the sauce has thickened again. Serve immediately.
More Korean street foods
If you love Korean street foods or Korean appetizers, you will like some of these recipes below:
This recipe was originally posted in April 2010. I've updated the recipe with a few changes, new photos, and more information.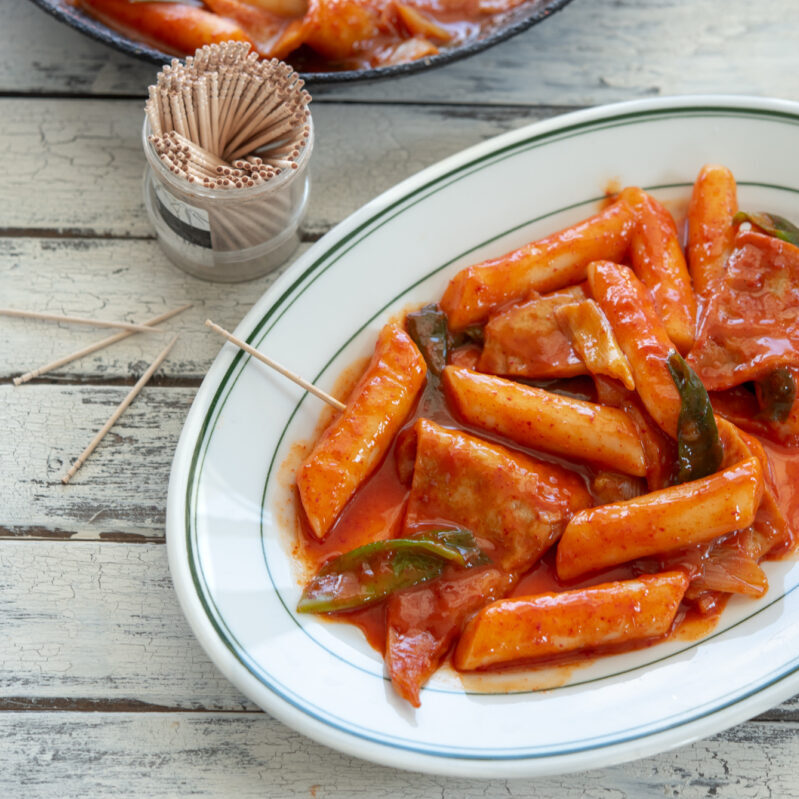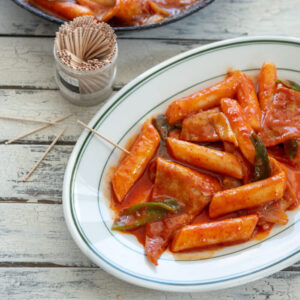 Street Tteokbokki Recipe (Spicy Korean Rice Cake)
Tteokbooki is a spicy Korean rice cake dish and it is a quintessential Korean street food. This recipe will make sweet, spicy, and chewy rice cakes with easy homemade tteokbokki sauce.
Instructions
Soak rice cakes in a bowl of water for 10 minutes.

Meanwhile make the anchovy stock. Combine dried anchovies, sea kelp, and water in a pot. Bring to a gentle boil and simmer for 4-5 minutes. Discard the anchovy and sea kelp and reserve 2-1/2 cups of stock. Save the rest of stock for a later use.

In a large skillet, combine anchovy stock, chili paste, chili powder, corn syurp, and soy sauce; mix well.

Drain the rice cakes from the soaking water and add to the stock mixture. Add the fish cake and leek slices. Bring them to boil over medium-high heat. Reduce the heat to low and simmer until the rice cakes are tender and the sauce has thickened; about 5-7 minutes. Serve immediately
Notes
*If you only have coarse Korean chili flakes instead of fine powder. You can use a blender to process the Korean chili flakes into very smooth powder. In order to do so, use about 1/2 cup of Korean chili flakes to process in a blender. Use a desired amount for the recipe, and store the rest in the refrigerator for a later use.
Calories: 493kcal, Carbohydrates: 105g, Protein: 10g, Fat: 4g, Saturated Fat: 1g, Polyunsaturated Fat: 1g, Monounsaturated Fat: 1g, Sodium: 338mg, Potassium: 420mg, Fiber: 6g, Sugar: 11g, Vitamin A: 966IU, Vitamin C: 3mg, Calcium: 43mg, Iron: 3mg
Did you make this recipe?
Tag @beyondkimchee on Instagram. I love to see your masterpiece.