20-Minute Authentic Tteokbokki (Spicy Korean Rice Cake)
Make authentic tteokbokki, the spicy Korean rice cake dish, at home in just 20 minutes! This Korean street food favorite is easy to make with a full list of ingredients and helpful tips. Chewy rice cakes coated in homemade tteokbokki sauce is truly satisfying and almost addictive.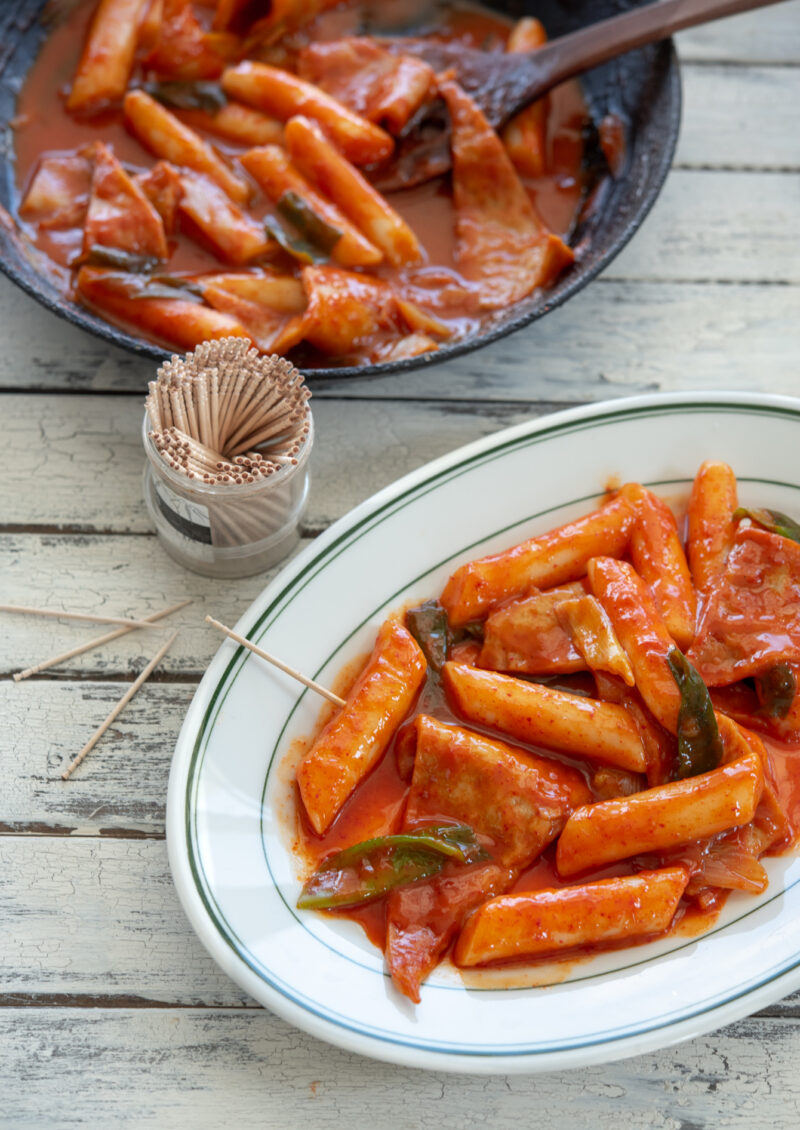 Indulging in a plate full of spicy tteokbokki (떡볶이) in a bustling Korean street market recently transported me back to the fond memories of my childhood. The chewy rice cakes, slathered in a mouthwatering spicy gochujang sauce that was both gently sweet and spicy, was like reliving my youth all over again.
I recently visited Korea to see my family. Even though I had to spend two weeks in quarantine, it was worth it. After the quarantine, I was thrilled to try out different foods, especially the Famous Korean street food (Don't forget to check out my recipe for Korean corn dogs!).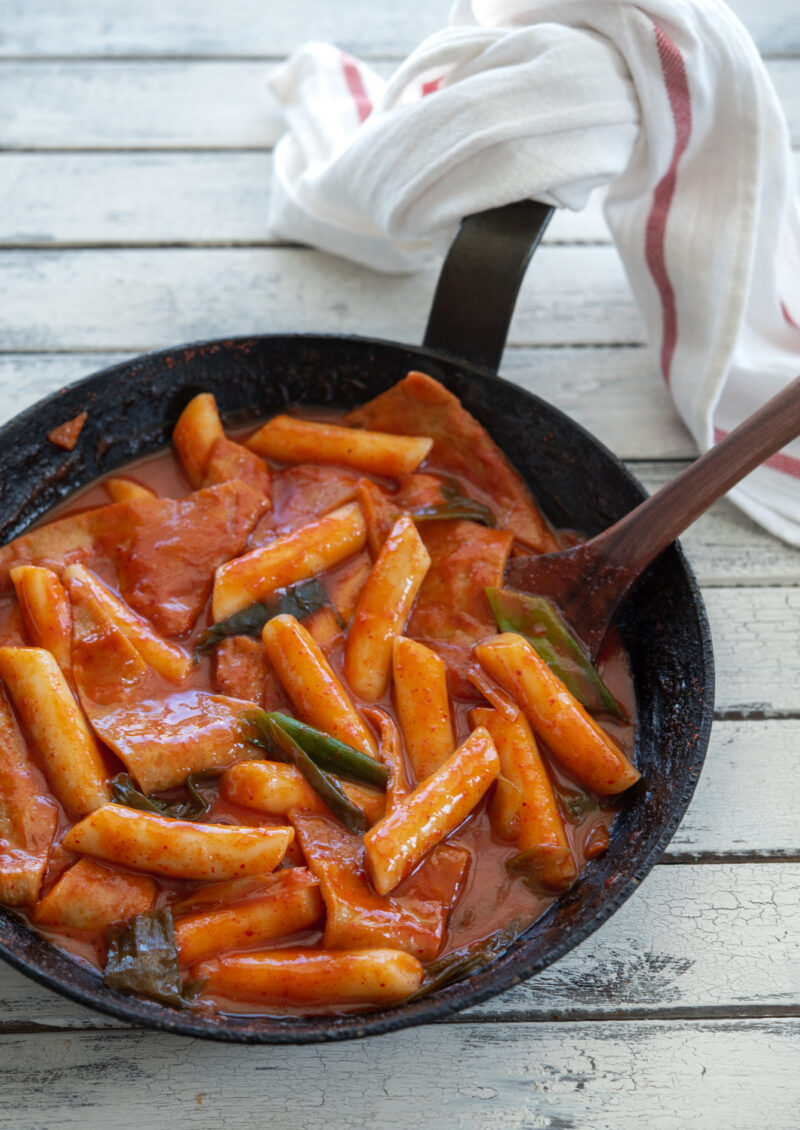 What is Tteokbokki?
Tteokbokki (떡볶이), also known as topokki or ddukbokki, is a well-known Korean dish made with small, cylindrical-shaped rice cakes.
Unlike the name's literal meaning of rice cake stir-fry, the cooking process involves simmering the white rice cakes in a sweet and spicy gochujang-based sauce. Gochugaru (Korean chili powder) is often added to make it more spicy.
For more delicious Korean snack dishes, check out my cookbook, "Korean Cooking Favorites."
Different Types of Tteokbokki
Interestingly, people in Korea have different preferences when it comes to this popular dish. Of course, the main ingredients are pretty much the same: rice cakes (tteok)!
Rose tteokbokki – Visually stunning take on the classic tteokbokki dish. Mixing gochujang with cream has become a popular trend, and many restaurants offer this option on their menus.
Buldak tteokbokki – If you like things very spicy, you can challenge this version, but be cautious! This extremely spicy version is not for everyone. The sauce is made from either the buldak instant ramen seasoning powder or adding the chili pepper extract called "capsaicin" for an extreme heat.
Goong joong tteokboki – This mild dish is made with soy sauce (no gochujnag) with added vegetables and beef. It is known as a royal palace rice cake where it was originally served to the royal families in an ancient time.
Girum tteokbokki – This particular spicy fried rice cake is with oil and doesn't have any gravy-like sauce.
Tteok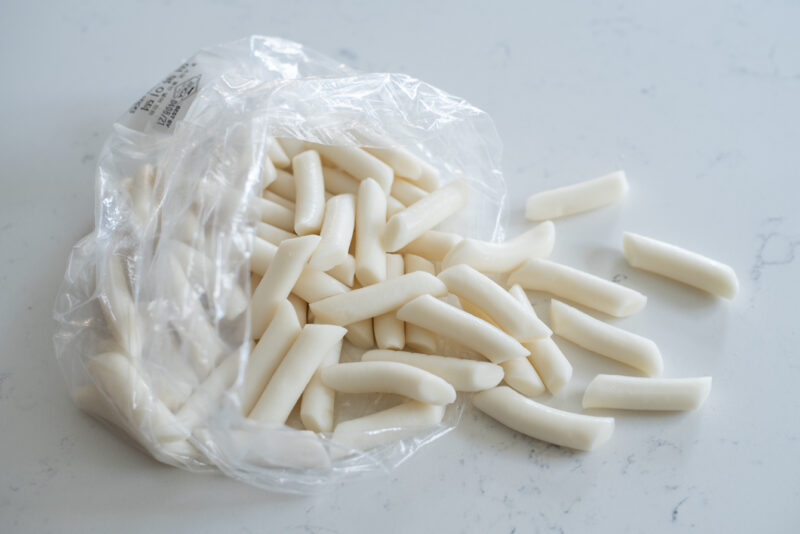 When it comes to rice cakes, also known as tteok, look for a short, stick-shaped variety that is commonly finger-sized. Make sure the rice cakes are made with 100% rice flour for the best texture and flavor.
You may also find flat and round rice cakes at the stores, but these are better suited for Korean rice cake soup or stir-fries rather than dishes that require chewy tteok.
Tteokbokki Sauce
Tteokbokki sauce is typically made of Korean red pepper paste (gochujang), Korean chili flakes (gochugaru), soy sauce, and corn syrup (or sugar). Gochugaru adds extra spiciness and red color, but can be omitted for a milder taste.
The mixture is traditionally combined with anchovy stock to add umami flavor. While water can be used as a substitute, it may result in a bland overall taste.
The use of Korean Syrup: Tteokbokki has a slightly sweet taste, but there's no sugar in the recipe. Instead, corn syrup is used to bring a shine to the finished dish and add subtle sweetness without being overpowering. If you don't have syrup, you can replace it with 1 tablespoon of sugar.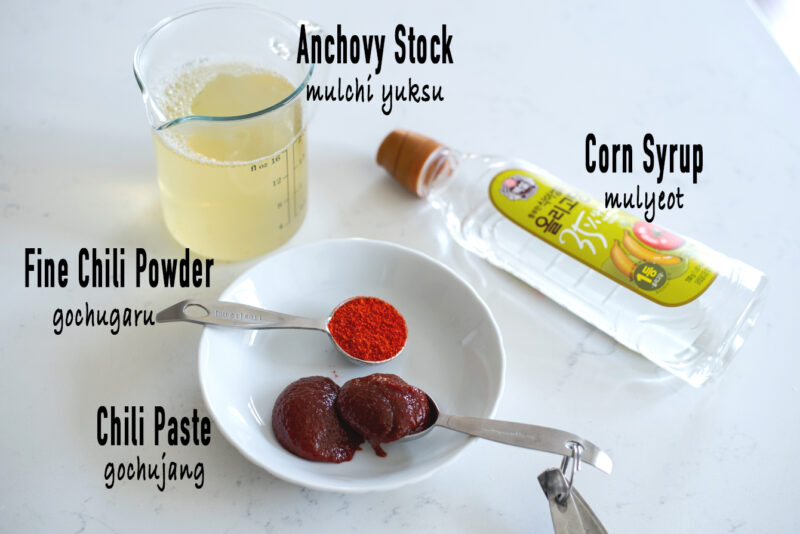 Recipe Success Tips
Use Anchovy stock: for enhanced umami flavor in the dish. Adding dried sea kelp to the stock is optional.
For a smoother and more luscious texture, use fine gochugaru (Korean fine chili powder) instead of coarse flakes in your tteokbokki sauce.
How to make find chili powder: If you only have the coarse gochugaru, process it in a blender until very smooth and finely blended. You can skip this step if you want to, but you will see speckles of chili flakes on the rice cakes.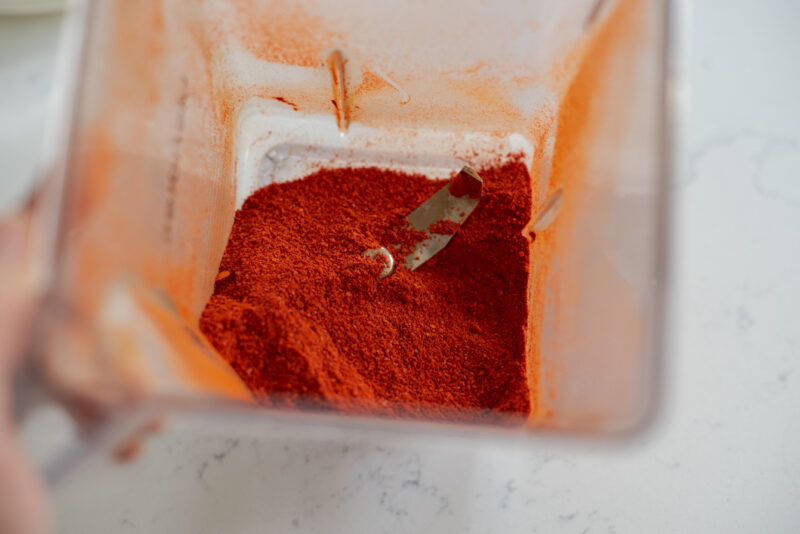 Note: I blended 1/2 cup of chili flakes although I only need 1 tablespoon for this recipe. I want to keep the rest in the fridge to use later when I make tteokbokki again, and to spice up other dishes as well. Store the chili flakes in a glass jar and they will last for over a year if you keep them in the refrigerator.
Other Additions
Fish cake (eomuk): optional but recommended
Asian leek (daepa): You can replace it with green onion
Some like to add cabbage, onion, and garlic, but I like to keep it simple for the rice cake to stand out.
How to make tteokbokki (spicy Korean rice cake)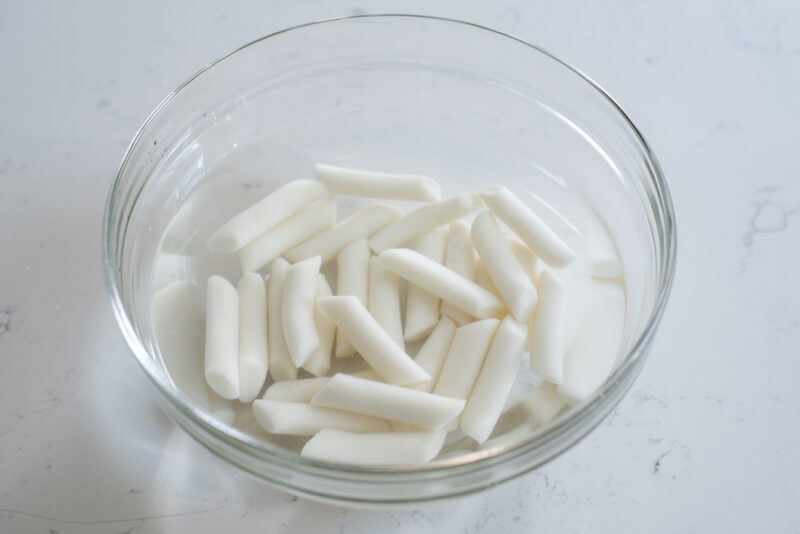 Step 1. Soak rice cakes in water
If your rice cakes have been hardened because they were stored in the refrigerator, soak them in water for 10 minute to soften them a little.
Some Korean or Asian stores carry freshly made rice cakes. Since they are very soft and ready to use, you don't need to soak them in water prior to cooking.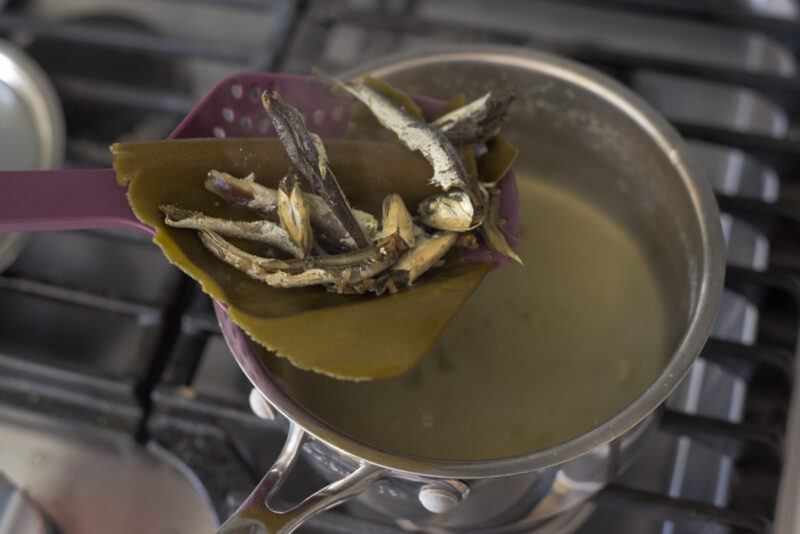 Step 2. Make anchovy stock.
Simmer large dried anchovies with a piece of dried sea kelp in water for 5 minutes. Discard the anchovy and sea kelp and reserve the stock.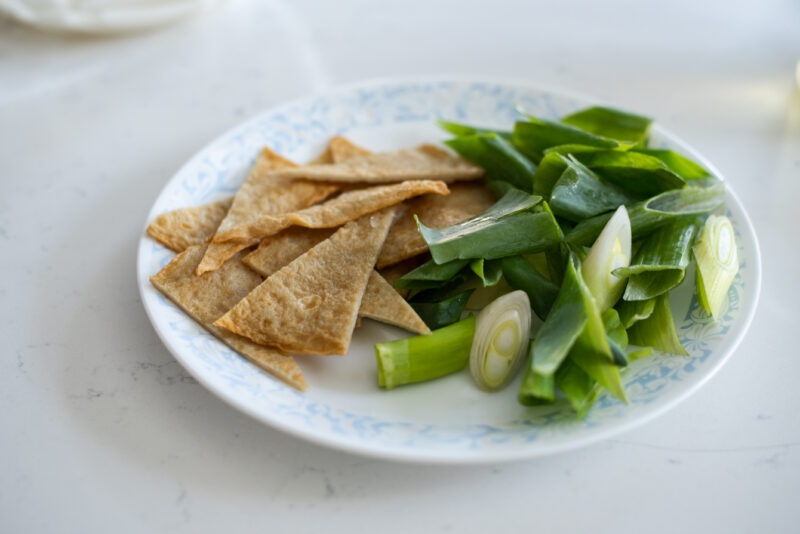 Step 3. Prepare fish cakes and leeks (or green onions)
Fish cake sheets (eomuk, 어묵) and Asian leeks are commonly used in many spicy rice cake recipes. They are optional but recommendable. You can also add diced cabbage and hard boiled eggs to make Korean rice cake dish hearty.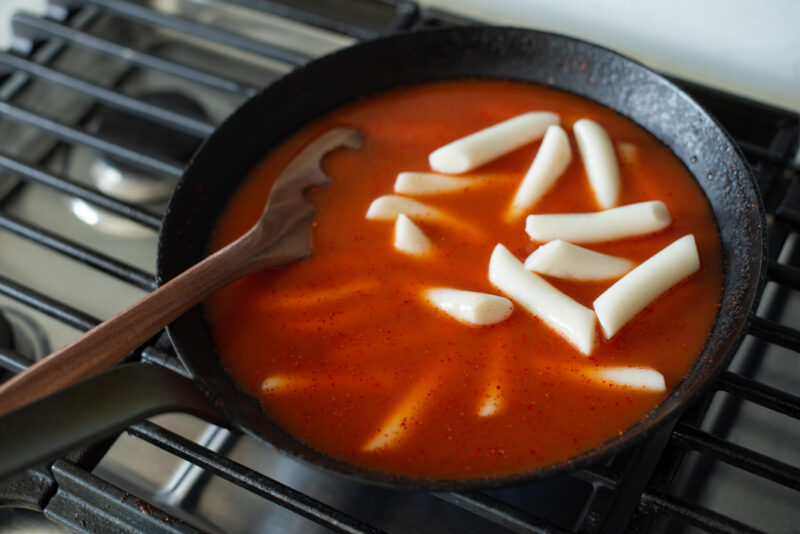 Step 4. Mix rice cakes in tteokbokki sauce.
In a large skillet or wok, mix anchovy stock with chili paste, chili flakes and corn syrup. Add tteok that have been drained from soaking.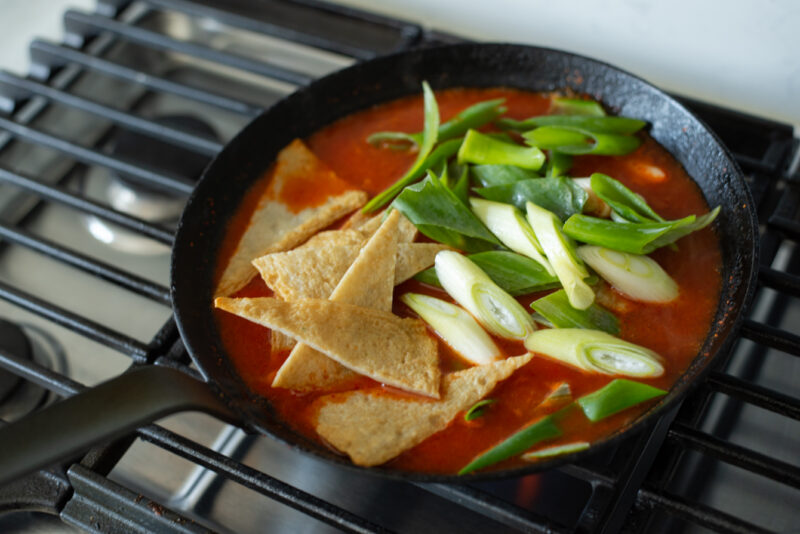 Step 5. Add fish cake and leek.
Add the fish cake and leek. Bring the whole thing to boil over medium high heat.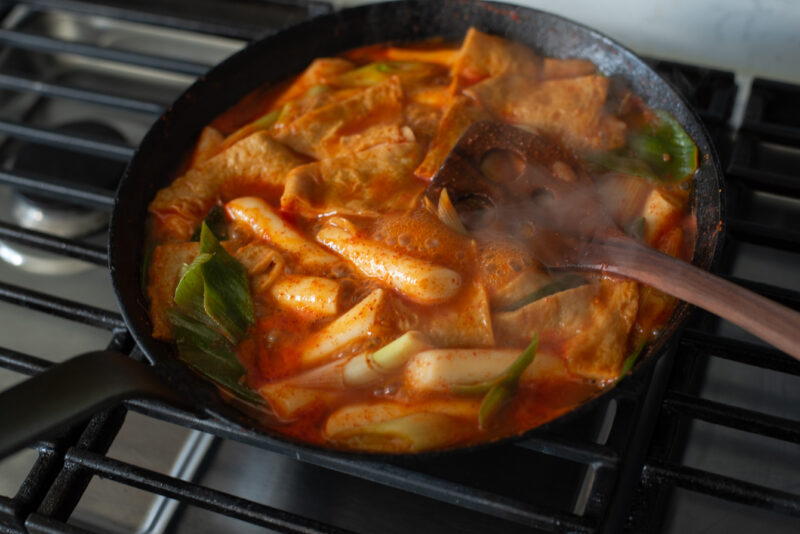 Step 6. Simmer everything until soft.
When the sauce boils up, reduce the heat to low and let it simmer until the rice cakes are tender and the sauce thickens. It should take about 5-7 minutes.
You will need to serve this immediately. As it cools, the sauce will get thicken more and the rice cakes will harden.
And do you know that tteokbokki is often goes well with gimmari (Korean fried seaweed rolls)? Try it and you will see why local Korean street vendors always sell them together.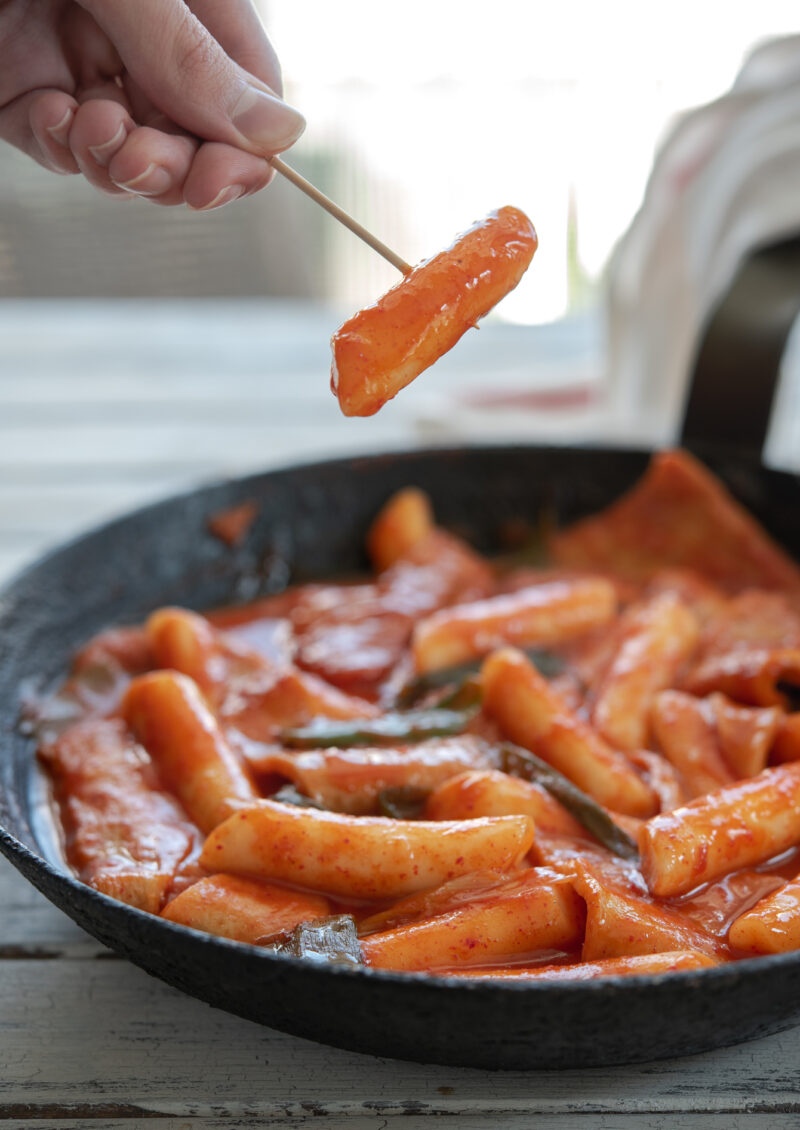 Reheating Tip
I highly recommend cooking the amount you can finish at the time of serving. However, if there are any leftovers, refrigerate them. Unfortunately reheating leftover tteokbokki in a microwave won't bring the right texture. The best solution is to reheat them on a stove.
You will need extra anchovy sauce, about 1 cup, to do so. Add the stock to the leftover rice cake in a skillet and bring it to a gentle boil. Simmer until the rice cakes become tender, and the sauce has thickened again. Serve immediately.
More popular Korean foods
Looking for more famous Korean recipes? Don't miss out these dishes below. All are easy to prepare in your home kitchen:
This recipe was originally posted in April 2010. I've updated the recipe with a few changes, new photos, and more information.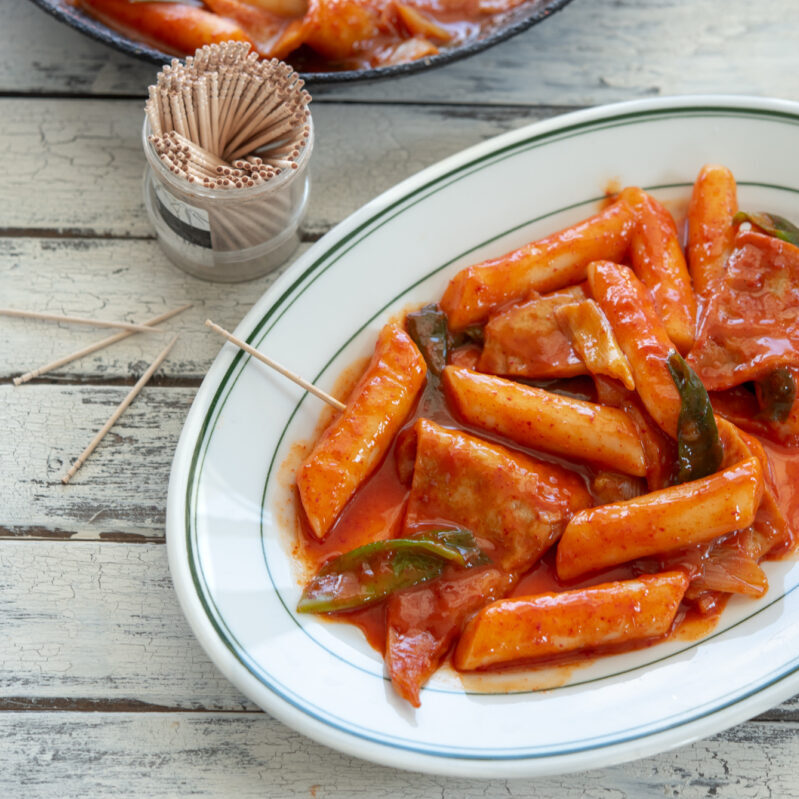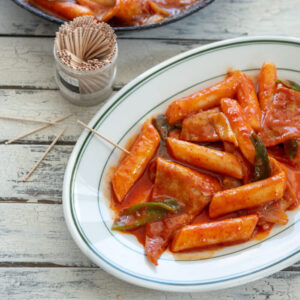 20-Minute Authentic Tteokbokki (Spicy Korean Rice Cake)
Learn how to make authentic tteokbokki (or ddukbokki) at home in 20 minutes. The detailed guide is full of tips and tricks, and a list of ingredients, to help you to be as successful as possible at making this popular Korean street food. Sweet, spicy, chewy rice cakes with homemade tteokbokki sauce—truly satisfying, and almost addictive!
Ingredients
1 lb (450 g) rice cake
1-2 sheet fish cake, sliced, optional
1 Asian leek or 3 green onion, sliced
2 heaping tbsp Korean chili paste (gochujang)
1 tbsp Korean fine chili powder (gochugaru), optional, see note below
2-3 tbsp Korean corn syrup (mulyeot) or rice syrup, or 1 tbsp sugar
1 tbsp soy sauce
Instructions
Soak rice cakes in a bowl of water for 10 minutes.

Meanwhile make the anchovy stock. Combine dried anchovies, sea kelp, and water in a pot. Bring to a gentle boil and simmer for 4-5 minutes. Discard the anchovy and sea kelp and reserve 2-1/2 cups of stock. Save the rest of stock for a later use.

In a large skillet, combine anchovy stock, chili paste, chili powder (if using), syrup, and soy sauce; mix well.

Drain the rice cakes from the soaking water and add to the stock mixture. Add the fish cake and leek slices. Bring them to boil over medium-high heat. Reduce the heat to low and simmer until the rice cakes are tender and the sauce has thickened; about 5-7 minutes. Serve immediately
Notes
Korean chili flakes: If you only have coarse Korean chili flakes instead of fine powder. You can use a blender to process the Korean chili flakes into very smooth powder. In order to do so, use about 1/2 cup of Korean chili flakes to process in a blender. Use a desired amount for the recipe, and store the rest in the refrigerator for a later use.
Calories: 493kcal, Carbohydrates: 105g, Protein: 10g, Fat: 4g, Saturated Fat: 1g, Polyunsaturated Fat: 1g, Monounsaturated Fat: 1g, Sodium: 338mg, Potassium: 420mg, Fiber: 6g, Sugar: 11g, Vitamin A: 966IU, Vitamin C: 3mg, Calcium: 43mg, Iron: 3mg
Did you make this recipe?
Tag @beyondkimchee on Instagram. I love to see your masterpiece.