5 Korean Soup Stocks For Korean Cooking
Learn how to make anchovy stock, sea kelp stock, seafood stock, vegetable stock, and kimchi stock. These Korean dashi soup stocks will help you master Korean cooking!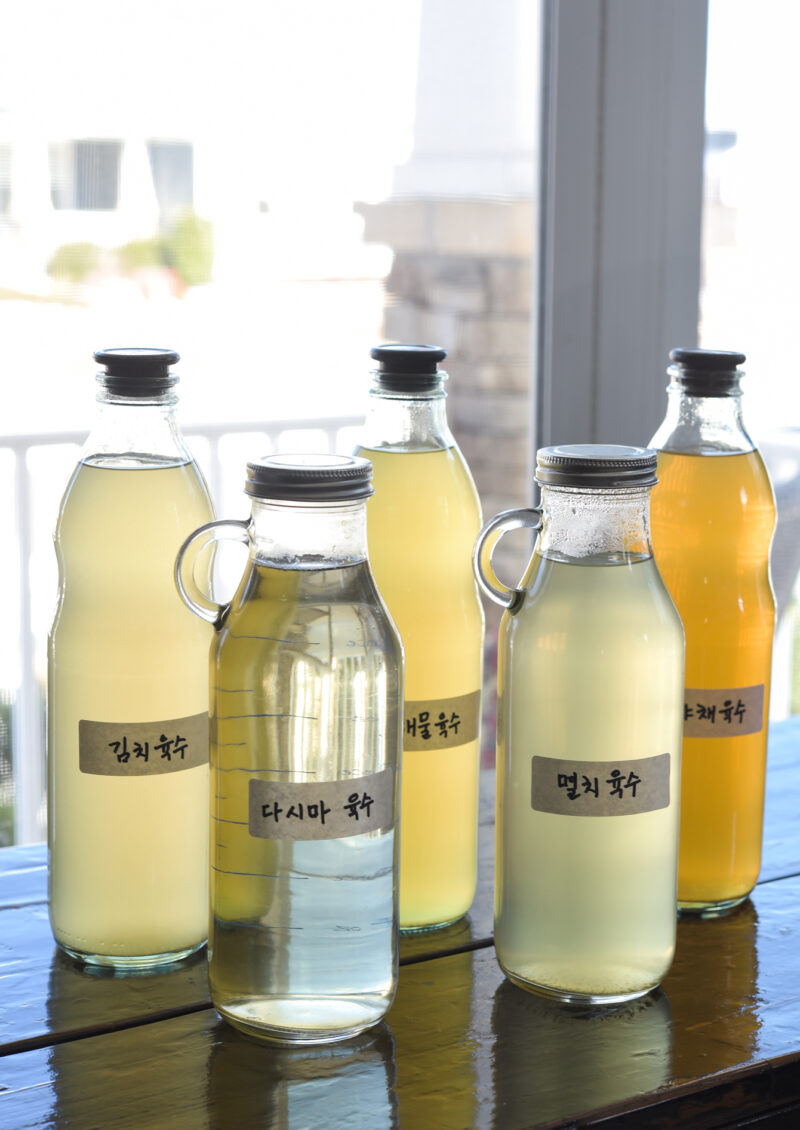 If you love authentic Korean food, you already know that Korean food is heavy on soups and stews. Soup stocks play an important role in getting the flavor of Korean soups and stews right. Have no fear–these 5 Korean soup stocks (yuksu, 육수) will help you to create authentic Korean cuisines.
There are innumerable kinds of Korean soup stocks, each with its distinctive flavor and cooking qualities. The various regions in Korea each have their own unique soup stock to flavor their soup and stew dishes.
But these dashi soup stocks are not only for making soups and stews! Koreans often use some of these stocks in making main meat dishes, side dishes, and even in making kimchi.
For example, upscale authentic Korean beef (bulgogi) should use anchovy or sea kelp stock to intensify its flavor. As a result, your bulgogi will tantalize your taste buds far more than the ordinary bulgogi that most people make. Don't worry, you won't taste the seafood, and your beef will taste amazing.
5 Korean Soup Stocks & Freezing Tips
Adding stock creates a layer of flavor in your dish and helps to "level up" your culinary creations. It is like a secret ingredient that most people won't catch. How nice is that?
In other words, you can turn your ordinary Korean dishes into extraordinary, unexpectedly delicious Korean dishes with these Korean soup stocks. Master them all, and you will be the next best Korean chef!
1. Sea Kelp Stock (dashima yuksu, 다시마 육수)
Sea kelp stock is widely used to add a flavor punch to many meat dishes. It also serves as a great base for noodle soup dishes as well. What's more, it is the simplest stock to make.
All you need is 1-2 pieces of dried sea kelp (dashima) and water, and simmer for a few minutes. Don't simmer longer than 5 minutes. If the sea kelp will starts to disintegrate and make the stock slightly slimy, then you have simmered too long.
Korean dried sea kelp (dashima) is an essential ingredient for Korean cooking and it's a good idea to stock your Korean pantry with it. It adds deep umami taste to vegan kimchi.
You can also make no-cooking sea kelp stock in the refrigerator. Add a large piece of sea kelp to a bowl or pitcher of cold water and keep it in the fridge overnight. On the next day, discard the sea kelp, and you have the stock.
If I don't have sea kelp stock on hand, I will often add a piece of dried sea kelp in my braising dishes to add deepness of flavor. See Korean potato side dish (gamja jorim).
Recipes made with sea kelp stock
How to make sea kelp stock
Combine sea kelp and water in a pot and simmer over low heat for 5 minutes. Discard the sea kelp and reserve the stock.
2. Anchovy Stock (myulchi yuksu, 멸치육수)
Anchovy stock is perhaps the most commonly used stock in Korean soups and stews. You can make anchovy stock in 2 different ways.
Anchovy with water only
Anchovy combined with sea kelp and water
Most people like to add a piece of sea kelp when making anchovy stock. It adds depth to the stock.
Korean dried anchovies come in several different sizes. Make sure to use large dried anchovies (myulchi) to make anchovy stock.
If your dried anchovies are old and have a strong fish smell, toast them in a dry skillet for a couple of minutes first before putting them in water to make stock.
Storing dried anchovies: I recommend storing dried anchovies in the freezer to avoid any possible mold if you are living in a humid climate. In dry areas, you can store them in an airtight container and keep them in a dark place.
Recipes made with anchovy stock
How to make anchovy stock
Devein anchovies but keep the heads.
Combine the anchovies, sea kelp, and water in a put and bring to boil over medium heat. Once boiling, use tongs to remove and discard the sea kelp, then simmer the anchovies over low heat for 5 minutes. Finally, discard the anchovies.
3. Seafood Stock (haemul yuksu, 해물육수)
Seafood stock is a rich stock to flavor up your Korean soups and stews where the taste of broth is a key to the dish. I love this stock and use it often to enrich my soups.
Usually, this stock is made with a combination of anything that comes from the sea, such as dried anchovies, dried shrimp, dried pollock fish (bugeo, 북어), dried herring fish (dipori, 디포리), and dried sea kelp, plus a piece of radish. You don't have to use all the dried sea food I mentioned above. Just using a combination of two or three of them still makes an incredible stock.
Another idea is to use up the fresh seafood remnants, such as shells of fresh shrimps and crabs, fish heads, etc. Those are flavor packed and should not be wasted–why not make stock with them?
Video tutorial of a stew made with simple seafood stock
Recipes made with seafood stock
How to make seafood stock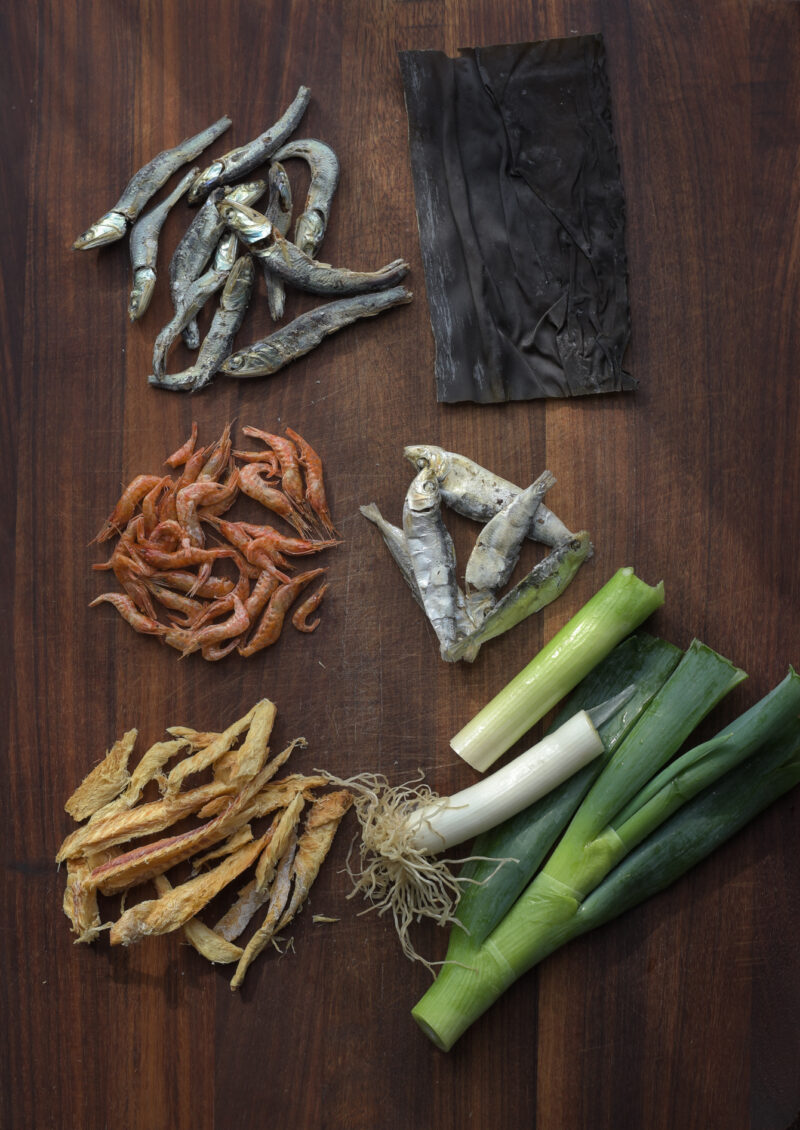 Use dried sea foods. Collect ingredients (clockwise from top left: anchovy, sea kelp, herring, leek, pollock, and shrimp) in a large pot and add water. Bring to boil.
Once the water boils, remove and discard the sea kelp. Simmer the stock over low heat for 10 minutes. Strain and cool.
4. Vegetable Stock (yachae yuksu, 야채육수)
This stock is great for people who are on a vegan or vegetarian diet. Simmering a variety of vegetables makes a flavorful stock and enriches the dishes you are making.
You can use this stock as a soup base for various soup dishes, as a braising liquid, and even in kimchi making. This is a great stock to utilize leftover vegetables you have.
Recipes you can utilize using vegetable stock
How to make vegetable stock
I don't peel the vegetables so that we can extract the full flavor from their skins and roots in our stock. Make sure to wash them clean.
Put Korean radish, sea kelp, carrot, shiitaki mushroom, onion, pumpkin and leek in a large pot and simmer until vegetables are soft, about 15-20 minutes. Discard all the vegetables and reserve the stock.
5. Kimchi Stock (kimchi yuksu, 김치육수)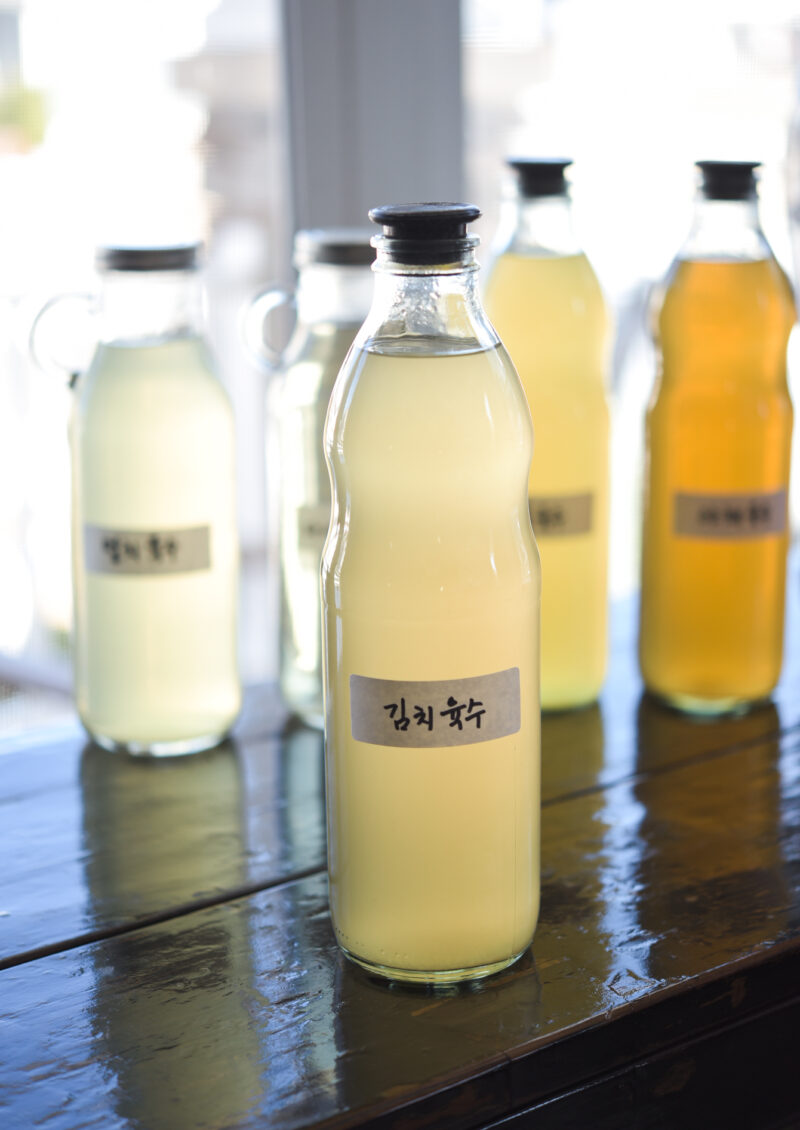 Most local Korean home cooks make kimchi stock as part of the process of making a hefty load of kimchi. It has a combination of dried seafood, vegetables, and fruits. Use whatever you have in your pantry, combining them to make a flavorful stock.
For the fruit, I recommend sweet and hard fruits; such as apple, pear, or persimmon. The sweetness of fruits and the intense flavor of dried seafood brings your kimchi to the next level. You will have very deep, robust kimchi with this stock.
However, if you are not a fan of seafood in your kimchi, you can omit them in the stock and use a variety of vegetables and fruits only. Or use the vegetable stock above. That will make a lighter tasting Seoul-style kimchi.
Please keep in mind that this stock is only intended to use in making kimchi, so I would not recommend to use this stock in other dishes.
How to make kimchi stock
Collect a head of dried pollock fish, sea kelp, herring, apple, radish, and leek. If you can't find the whole dried pollock, omit it. You can also use dried shrimp or anchovy instead.
Put them all in a large pot with water and bring to a boil. Reduce the heat to low, and simmer for 30 minutes. Strain the stock and cool.
It is a good idea to make a batch of kimchi stock if you make kimchi regularly. You can freeze the stock for a later use. It saves a lot of time every time you make kimchi.
Storage Tips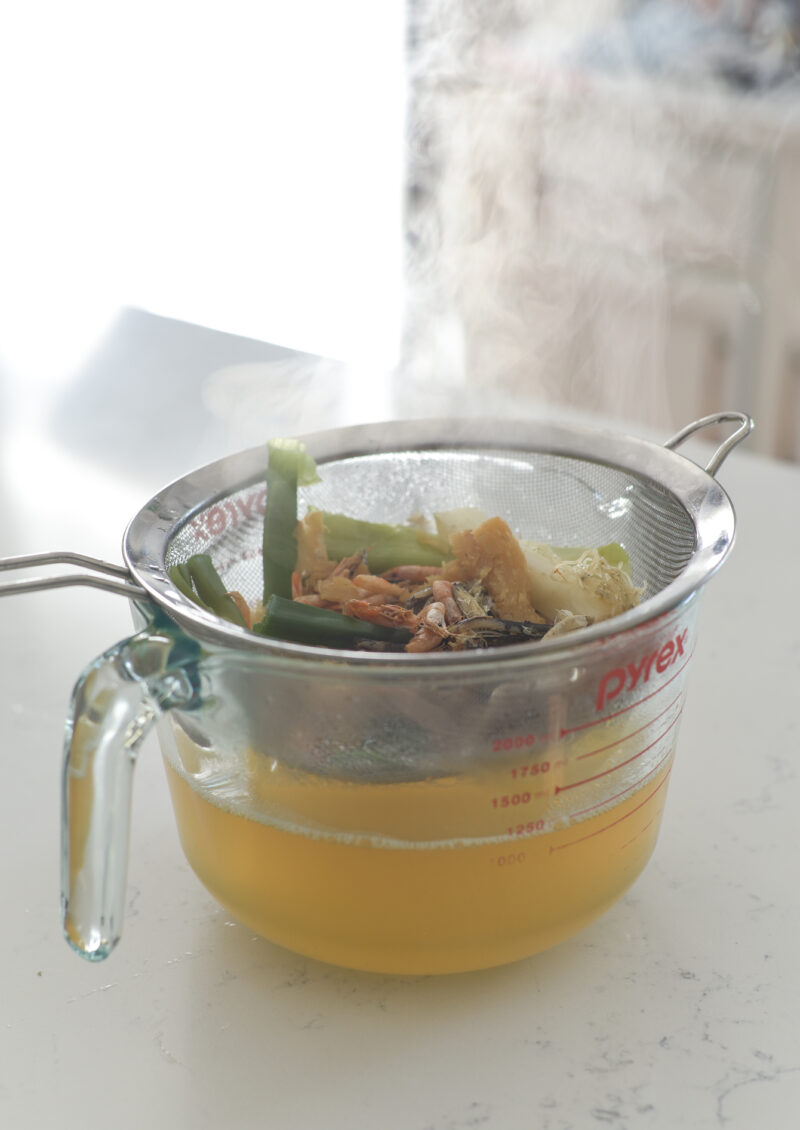 It is important to strain your stock through a fine mesh to get rid of any debris. If not using the stock immediately, cool the stock first and pour in a container. You can keep the stock in the fridge up to 10 days.
Freezing Tips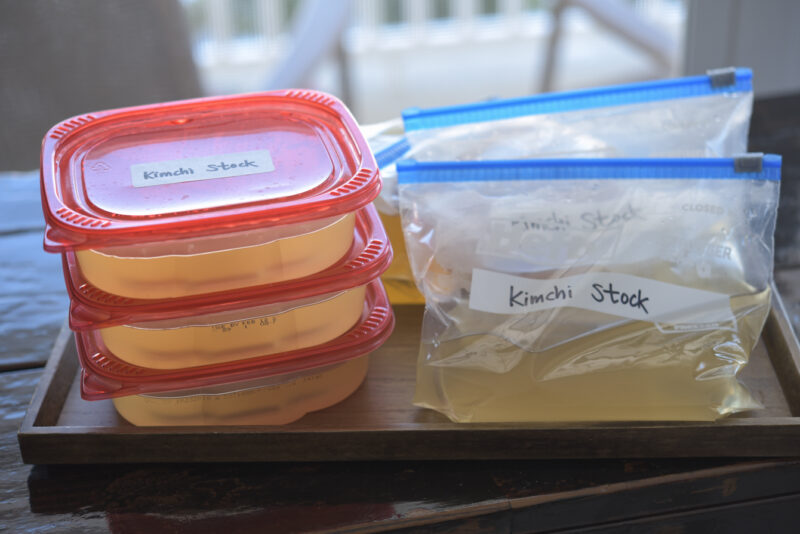 All Korean dashi stocks freeze well. Put them in a freezer-safe container or in zip bags. For Kimchi stock, rather than freeze all the stock together, I separate the stock into portions that I can use to make one batch of kimchi. They can last in the freezer up to 6 months.
To thaw, hold them under hot running water to loosen the frozen stock from the container or bag, then put the frozen stock in a pot and melt it on low heat.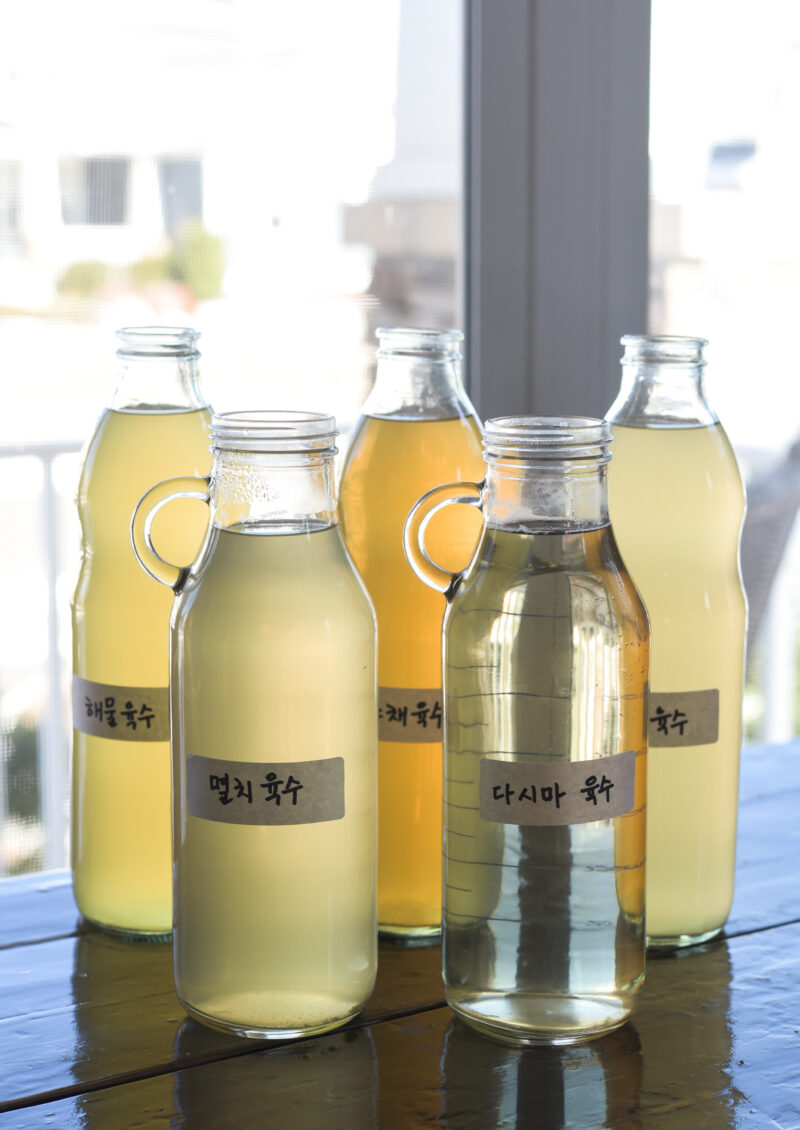 If you like this post or have tried this recipe, please rate it below by clicking stars in the comment section.