Korean Beef Radish Soup (Sogogi Muguk)
Korean beef radish soup is a mild comforting soup that is often served in winter time in Korea. It's worth to look for Korean radish to get the mellow flavor of the soup. A gluten-free soup recipe!
If you can find a Korean radish (aka mu) in your neighborhood stores, do not hesitate to purchase and make this Korean beef radish soup with it. It is one of the well known Korean comfort soups and served often during the winter time.
You can make the soup with Korean radish alone, but most Koreans like to make it with some beef. In Korea, this beef radish soup is called "sogogi mu guk". It is a quick soup that anyone can make without difficulty. With just a few ingredients, you can have a soul comforting delicious flavor packed Korean soup within 30 minutes.
Korean Radish vs Daikon Radish
Korean radish and daikon radish are both Asian radishes. They look similar but not the same. Korean radish is shorter and rounder in than Japanese daikon radish in shape. A distinctive character of Korean radish is that it has pale green hue toward the stem part of the radish while daikon is all white throughout.
How Korean radish taste different than other radish?
Korean radishes are sweeter and mellower than most other western radishes or even daikon radish. During the late fall and winter season, the sweetness is at its best. So if you see them, get one and you will find many ways to use it. Try my radish with canned clams or salmon Korean radish taco with it.
It is also very crunchy and holds its texture when you make radish kimchi with it. Even after the long fermentation period that is required in kimchi making, Korean radish will maintain its crunchiness throughout. No other radishes can hold the texture when you turn them into kimchi. My cubed radish kimchi (kkakdugi ) recipe is a great use for this radish.
Can I use other radish if Korean radish is not available?
Although I highly recommend to use Korean radish, you can still create the flavorful Korean radish soup with other radish. The best alternative would be a daikon radish. I suggest to add 1 teaspoon of sugar into the soup to compensate the sweetness of Korean radish.
How to store Korean Radish
Korean radishes will last up to 2 month if you store them correctly. Wrap the radish with newsprint paper or paper towel and keep it in the cool area. The ideal temperature is around 5˚C (41˚F). I usually keep them in the fridge and they lasted a long time.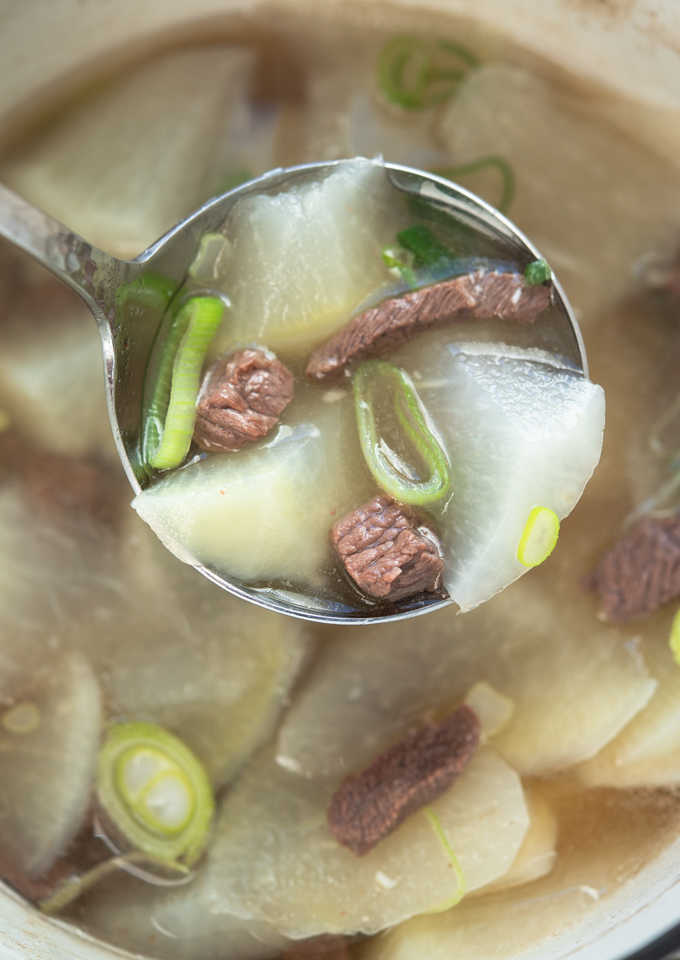 Other Recipes you can make with Korean radish
How to cook Korean Beef Radish Soup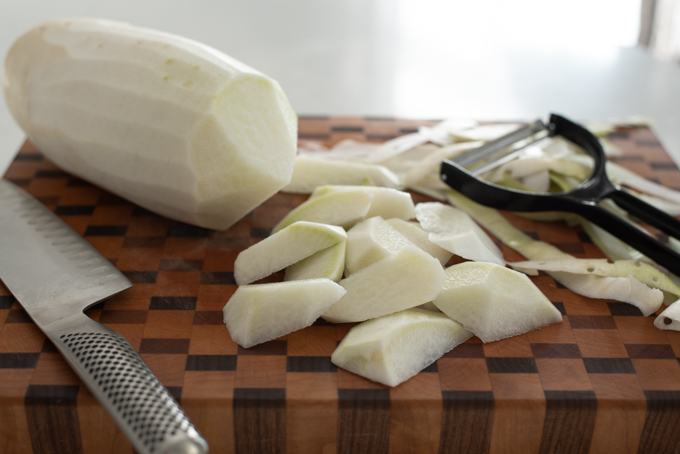 Peel radish and slice into large bite size pieces. I like to cut my radish the way my mother always did; free-form style. Just cut out irregular shaped small pieces off the radish as if you would sharpen a pencil. By doing so, the thin edges will soak up the flavorful broth easily and makes it more tasty.
However, it is perfectly fine to cut into uniform 1/4-inch thick bite sized slices if free-form cutting is not comfortable.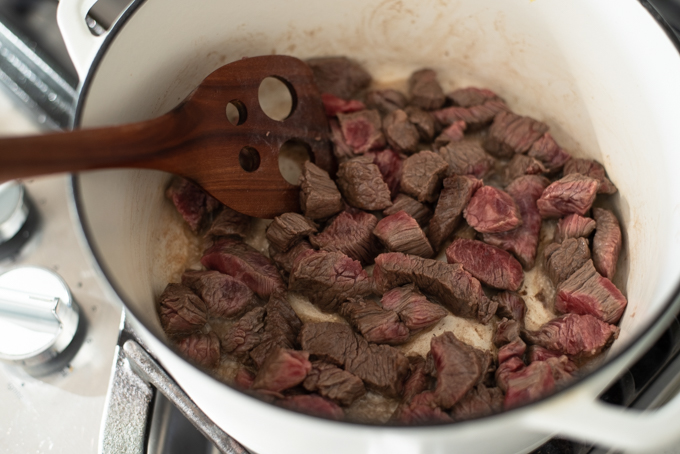 Heat oils over med-low heat and cook beef until browned. Since sesame oil has very low smoking point, I like to mix with other high smoking point oil.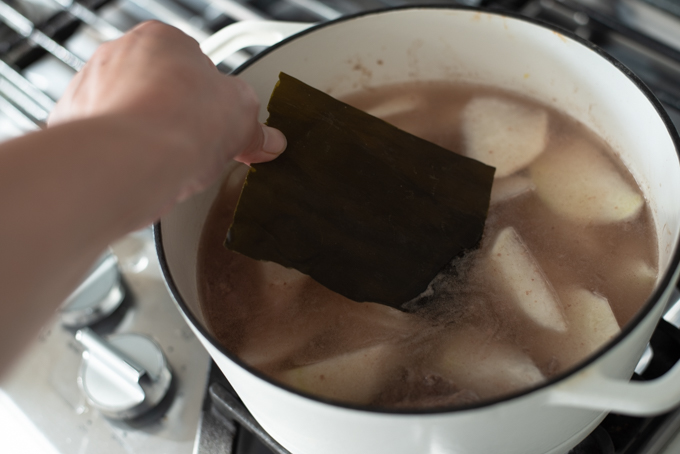 Add radish and water to the pot. Drop a piece of dried sea kelp. The sea kelp will deepen the flavor of your soup broth. Bring the soup to boil and make sure to remove the sea kelp once boiling.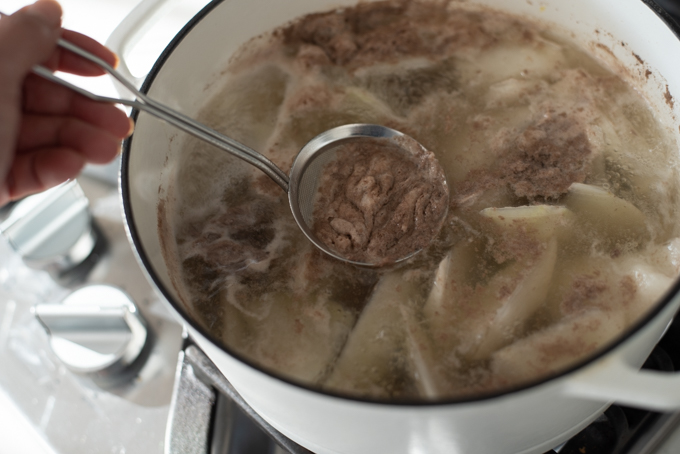 When the soup is starting to boil, you will see lots of scums floating on top. Using a fine mesh strainer, scoop out the scums to get the clear broth. Cover and simmer over low heat for 20 minutes.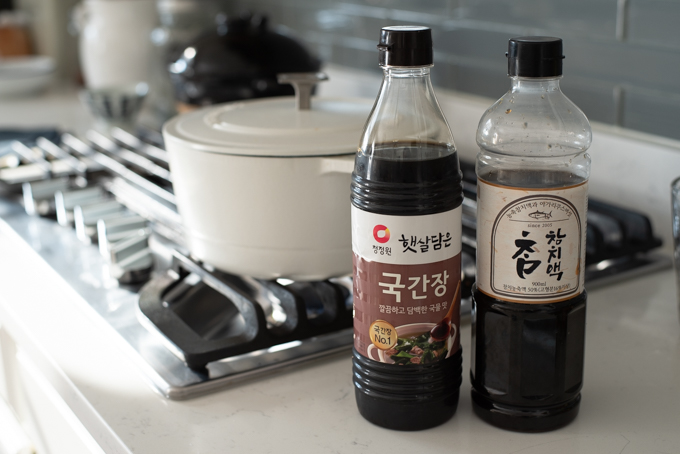 To season the soup, you can use either Korean soup soy sauce or Korean tuna sauce. Or you can use little bit of both. Use only 1 tablespoon total, so that you can retain the clear translucent color of broth. Too much of these sauces will make your soup dark and will yield an unappetizing look. Use salt for extra seasoning if needed.
Serving Suggestion
Serve this soup with rice and kimchi. I usually dunk my rice into the soup and mix it up. Kimchi is a perfect accompanying side dish to go with.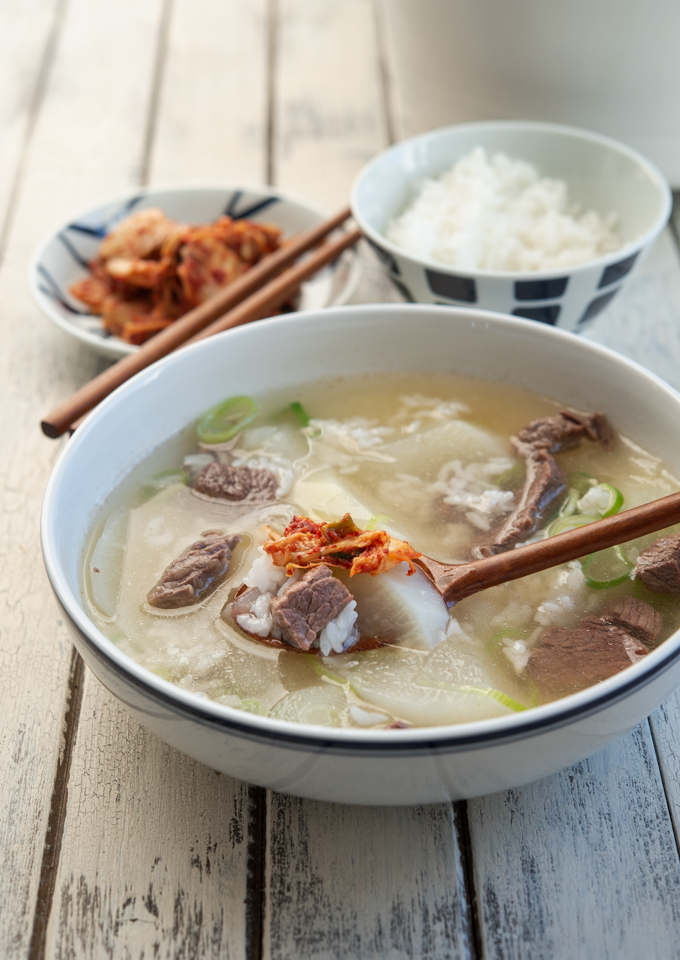 Korean Beef Radish Soup (Sogogi Muguk)
Korean beef radish soup is a comforting soup that is often served in winter time in Korea. It's worth to look for Korean radish to get the mellow flavor of the soup. Gluten-free!
Ingredients
3/4 lb beef stewing meat, small chunks
1-½ lb Korean radish, peeled and cut into ¼-inch thick bite size pieces
1 tsp oil
1 tsp sesame oil
5 cups water
1 large piece dried sea kelp (dashima)
1 tbsp minced garlic
1 handful chopped Asian leek or green onion
pinches salt to taste
dashes pepper to taste
Instructions
Heat oils in a 4 qt soup pot over med-low heat. Add the beef and cook until browned.

Add radish pieces and toss together with beef. Pour water and add dried sea kelp. Cover with a lid and bring it to boil over med-high heat. When boiling, remove the sea kelp and discard.

Using a small fine mesh strainer, scoop out scums floating on top. Reduce the heat to low and simmer for 20 minutes, covered.

Add garlic and Korean soup soy sauce or tuna sauce. Add salt to season according to your taste.

Add the Asian leek or green onion, and pepper. Remove from heat and serve hot with rice and kimchi
Notes
Korean radishes are easily found in most Korean stores. If not available, use daikon radish and add 1 teaspoon of sugar to the soup when simmering.
Did you make this recipe?
Tag @beyondkimchee on Instagram. I love to see your masterpiece.