Best Galbi Jjim (Korean Braised Short Ribs)
Galbi Jjim is a traditional Korean braised short ribs dish. This recipe showcases succulent beef short ribs, slow-cooked in a rich, flavor-packed sauce. The ribs, juicy and tender, are braised alongside a variety of vegetables, creating a hearty meal for family dinners or special occasions.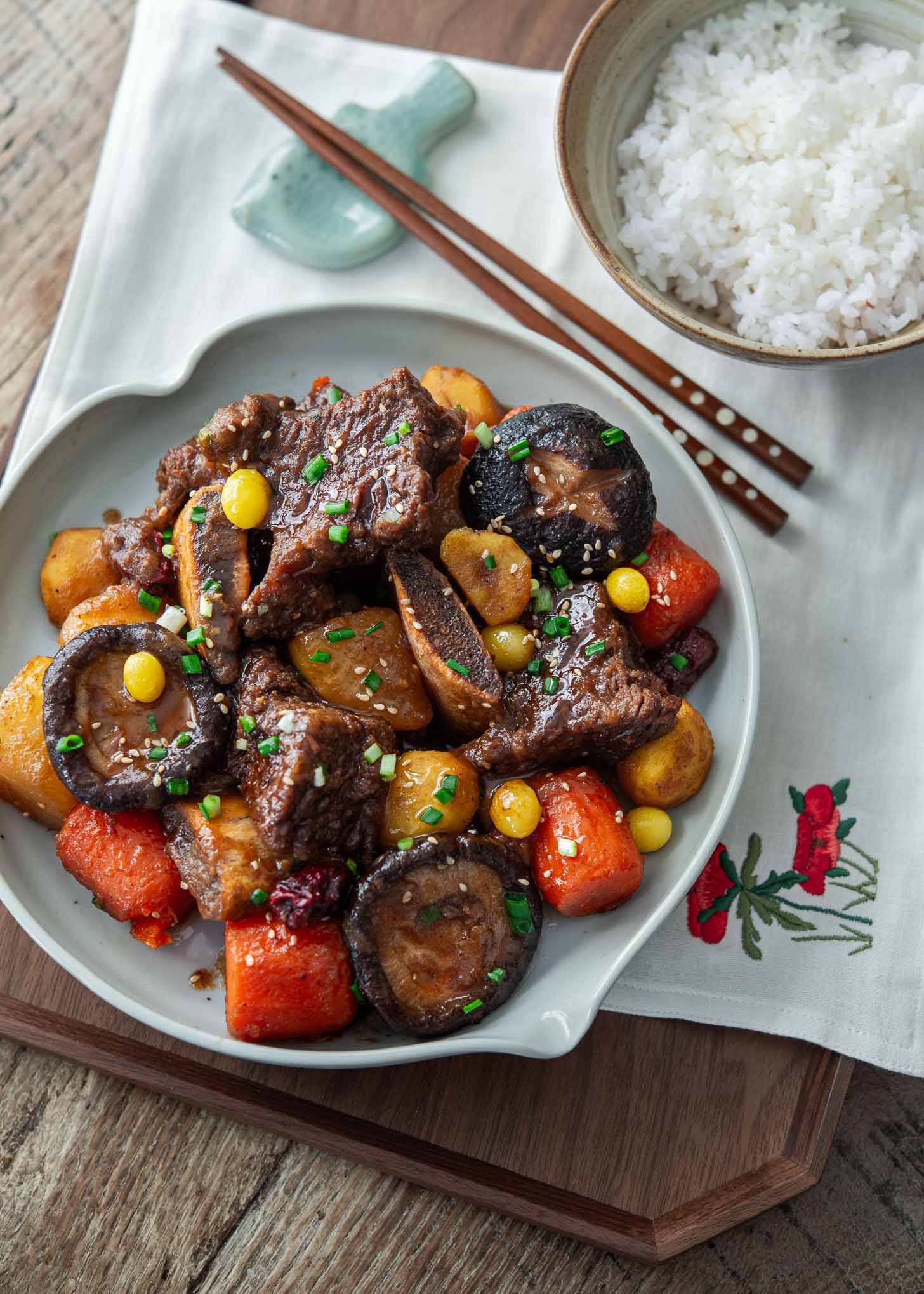 "This recipe is a keeper. I have tried making galbijim using few other recipes, but this one really easy to make and really hit the spot."

Ermin
If you're looking to celebrate a special occasion or treat someone special, try making this Galbi Jjim recipe. It's a dish of super juicy, tender beef ribs that easily fall off the bone, sure to impress your dinner guests. Everyone will be coming back for seconds—if there's any left!
Growing up, I loved the Korean beef short ribs my mother cooked. She only made them for special events like birthdays, or major holidays. This was because it took a while to prepare and the beef short ribs were a bit pricey for regular meals.
While some people might cook them in a slow cooker or Instant Pot, I've always found that stove top cooking gives the best flavor. I'm excited to share my simple and straightforward recipe with you.
It captures the authentic taste of Galbi Jjim perfectly. Serve it to your family or guests, and I promise it'll be a Korean meal they'll remember for years to come.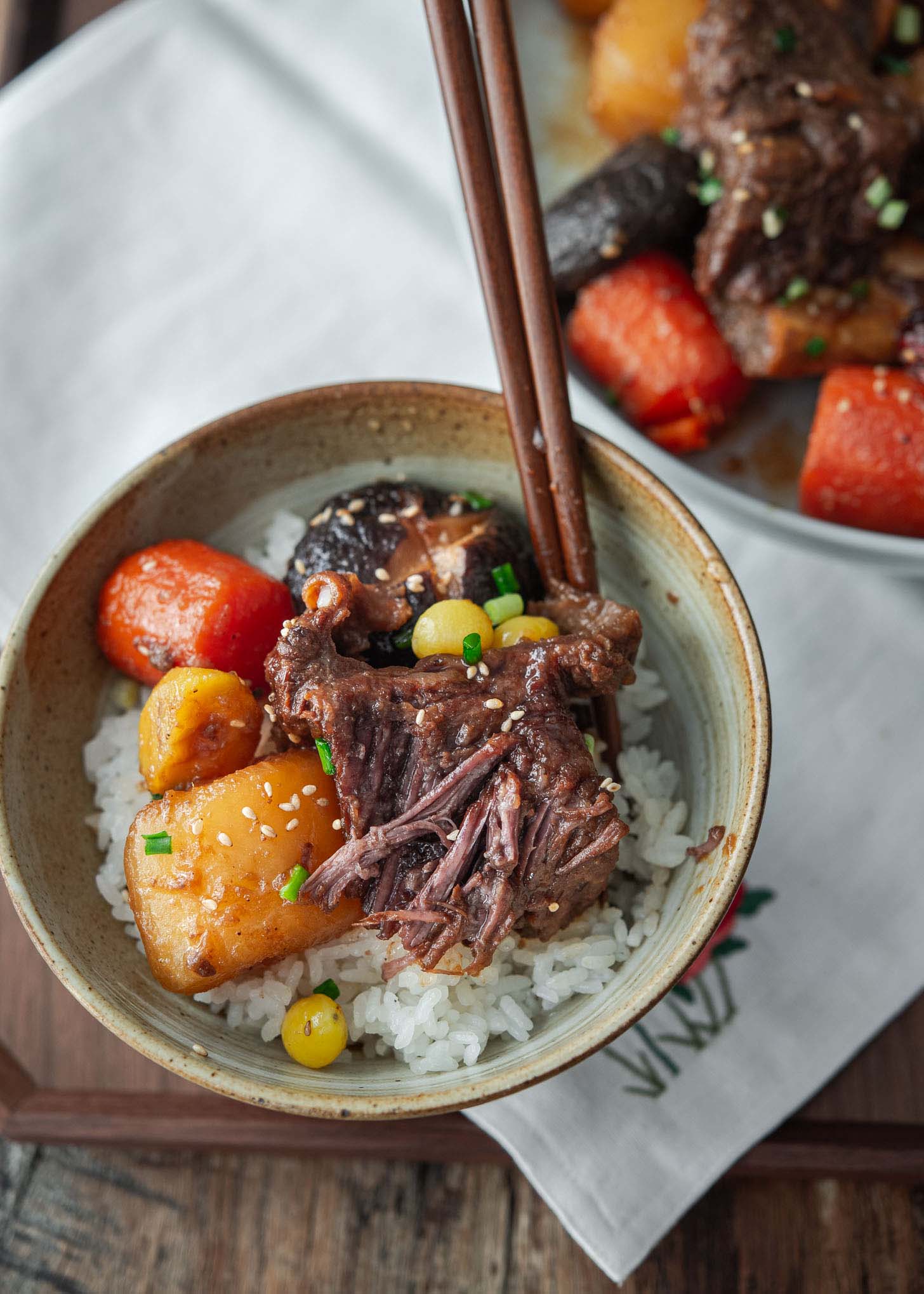 What is Galbi Jjim?
Galbi Jjim (also known as galbijjim or Kalbi-jjim, 갈비찜) is a famous dish in Korean cuisine, made with braised beef short ribs. 'Galbi' means 'ribs,' and 'jjim' refers to 'braised'.
These ribs are marinated in a tasty mix of soy sauce, sugar, garlic, and other seasonings, then braised slowly with common vegetables like carrots, radishes, onions, mushrooms.
The result is super tender beef ribs that are so soft they fall right off the bone. They taste both sweet and savory. Galbi Jjim is usually served with rice and other simple side dishes, making it a complete meal.
It's one of the top beef dishes in Korean cooking, just like Beef Bulgogi. Galbi Jjim is especially popular during big holidays in Korea, like Korean Thanksgiving (Chuseok) or New Year's Day (Seollal).
Galbijjim vs Galbitang: What's the Difference?
People often mix up Galbijjim (갈비찜) and Galbitang (갈비탕), but these two Korean dishes, though both made with beef ribs, are actually quite different
Galbijjim is a stew-like dish featuring beef short ribs that are slowly cooked in a sweet and savory sauce. This cooking method makes the ribs exceptionally tender and flavorful. Commonly, the dish includes vegetables such as carrots and radishes.
Galbitang, on the other hand, is a soup. It's made by boiling beef ribs with ingredients like onions, garlic, and radish. This creates a clear, hearty broth. The ribs in Galbitang are also tender, but the overall dish is lighter compared to the rich, saucy Galbijjim.
The Beef Short Ribs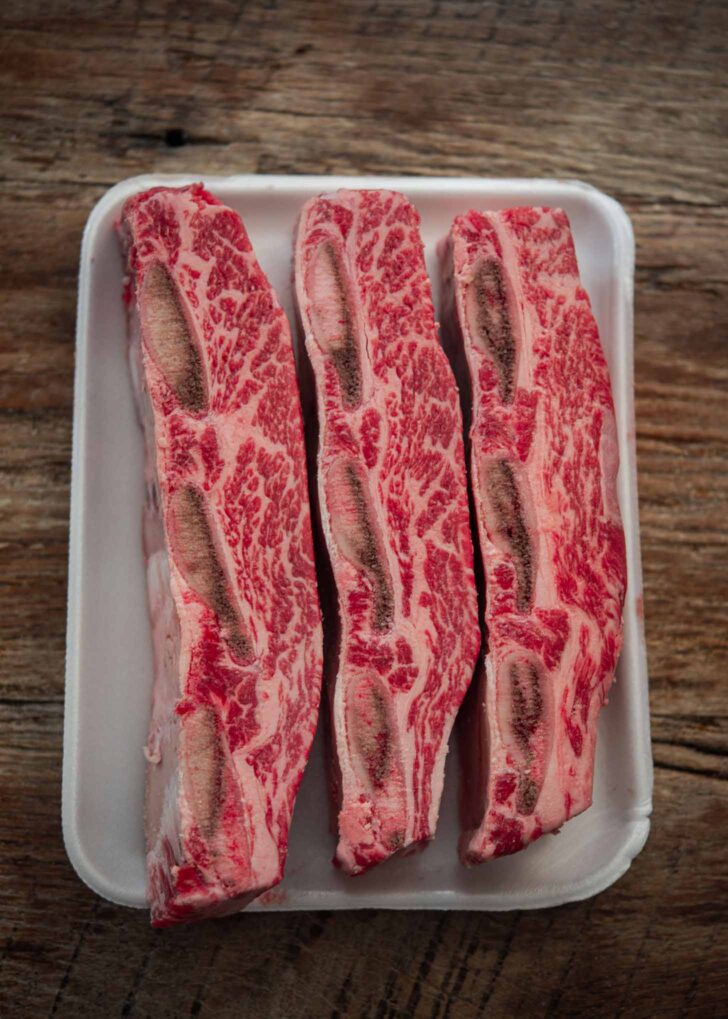 For this classic Korean short rib dish, the ideal cut of beef is the chunk cut across the bone from the chuck end of the short ribs. This cut is different from the American and European-style short ribs, which are typically a thick slice of beef on the bone.
The Korean-style cut goes through the rib bone, making it perfect for braising. These special cuts showcase a unique feature – the rib bone eye at the bottom of each piece, enhancing the visual appeal of the dish.
When shopping for beef for this recipe, look for thick, well-marbled Korean style short ribs. They are usually available in larger chunks and can be found at most Korean grocery stores or Asian markets.
Although these ribs might be pricier than other beef rib varieties, their quality and flavor make them a worthwhile choice for this dish.
Before you begin braising, I recommend trimming off any large, visible chunks of fat on the surface of the ribs. This step helps to ensure a more clean texture and flavor in your final dish.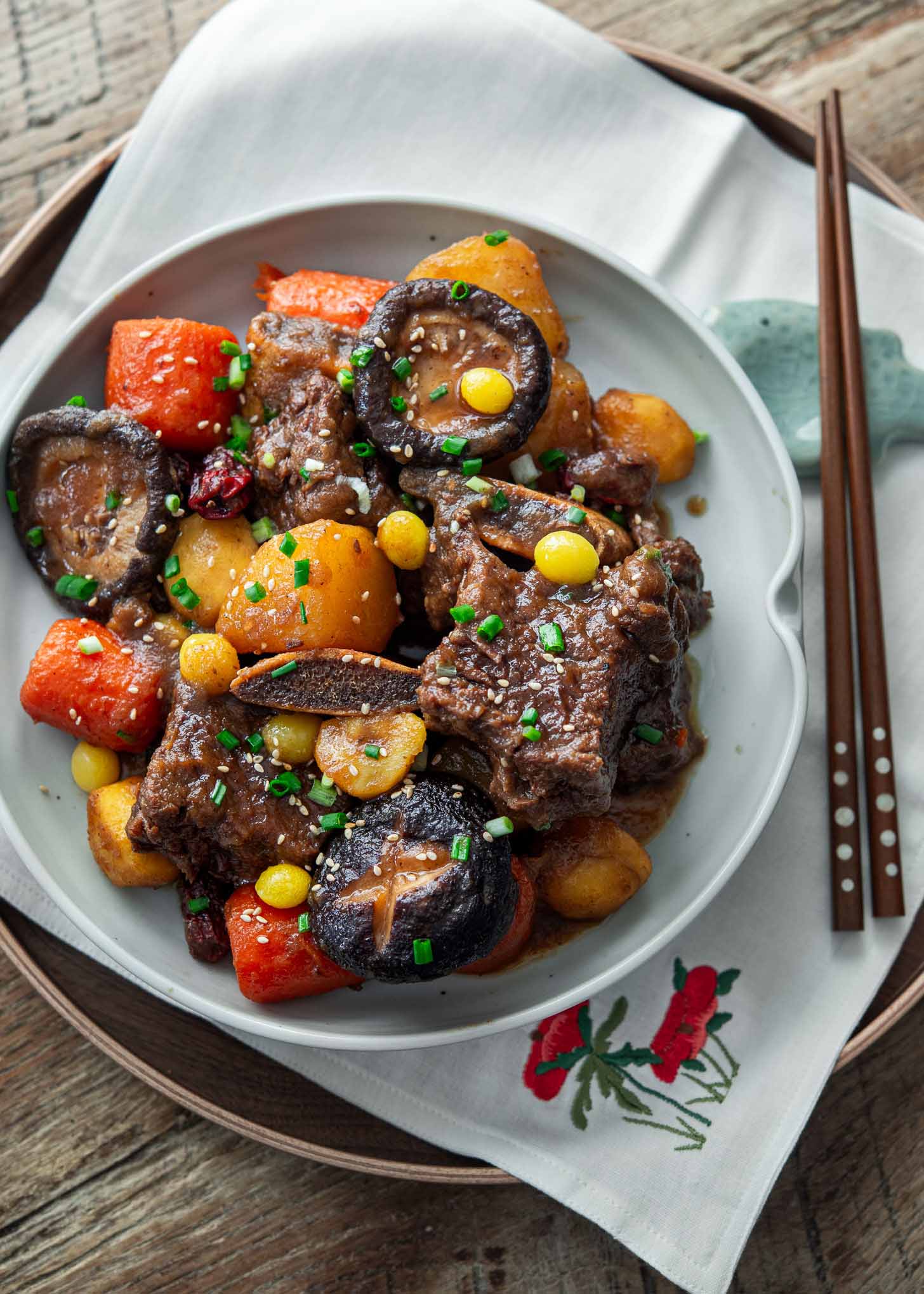 My Tips for the Best Galbi jjim
1. Avoid Soaking the Ribs in Water
There's a common practice among many Korean home cooks of soaking beef ribs in water before cooking. This tradition, believed to remove blood and impurities, potentially reducing gamey flavors, has been passed down through generations.
In olden days, when cows were butchered, the meat was often sold immediately, containing more blood and impurities. However, modern butchering methods have evolved. Today's meat, already processed to remove these elements, renders soaking unnecessary. The red liquid in beef packaging is not blood but a protein called myoglobin.
Additionally, soaking the meat can actually lead to a loss of its natural beef flavor. I personally don't soak my beef and have found that there's no gamey flavor, especially when using a fresh cut of meat.
2. Don't Skip the Sea Kelp Stock
The key to the great taste of this recipe is the sea kelp stock. It's easy and quick to make. Just simmer a big piece of dried sea kelp in water for 5 minutes.
Use this stock instead of water in your dish. The sea kelp stock adds a rich umami flavor to the beef, making your dish even more delicious.
3. Use a Heavy-Bottom Pot
While you can make Korean braised short ribs in an Instant Pot for speed and convenience, I recommend using a heavy Dutch oven. Cooking Korean beef short ribs in a Dutch oven, in my experience, yields better flavor and texture.
Using a Dutch oven also lets you add vegetables later in the braising process. This way, they become tender but not mushy.
​Recipe Ingredients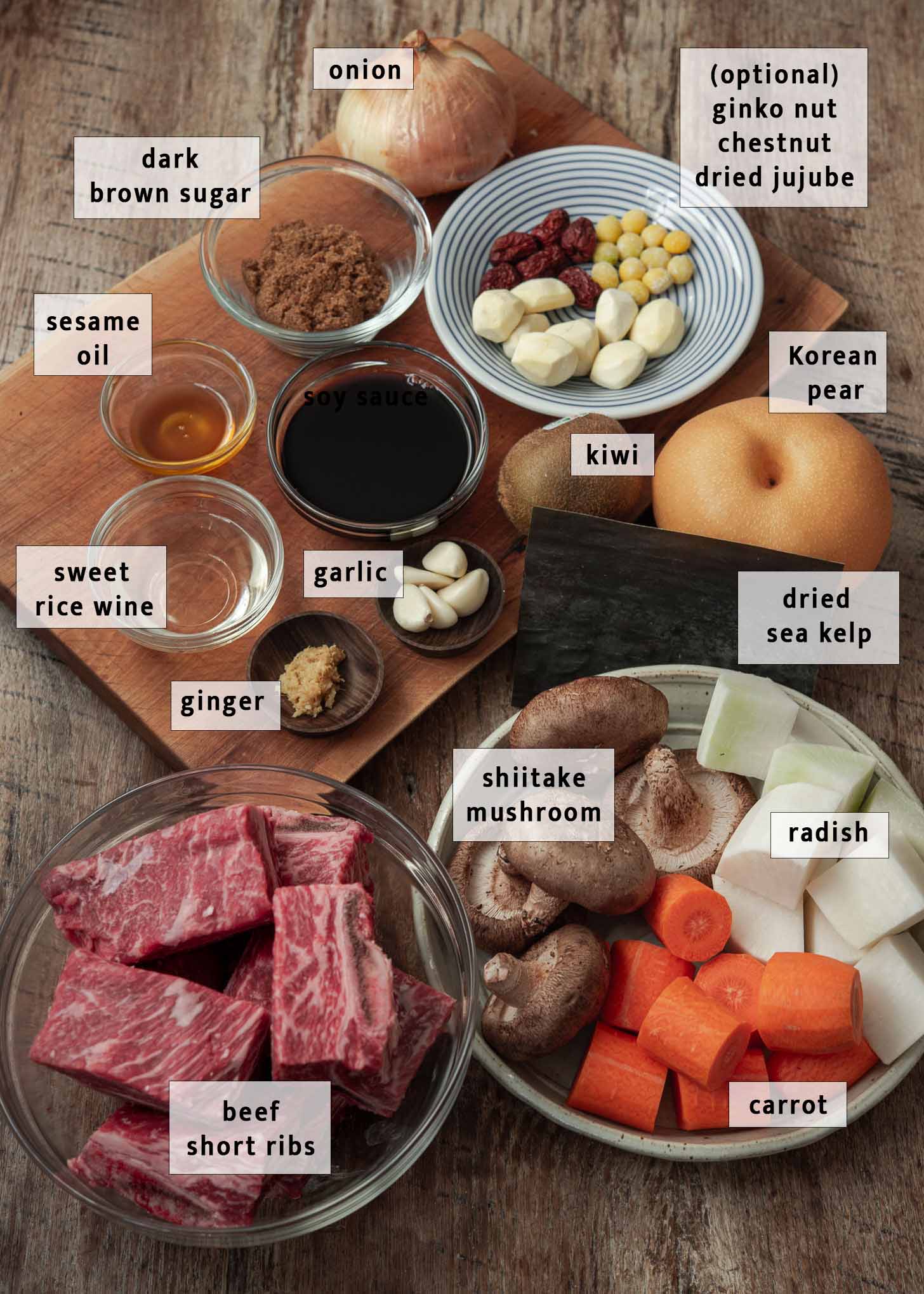 Beef short ribs: The main ingredient.
Onion, garlic, ginger: These add a savory note to the dish.
Carrot, radish, shittake mushroom: These are typical vegetables used and they are widely available. Korean radish is preferred, but daikon is a good substitute.
Sauce Ingredients:
Soy Sauce: For the base of the sauce.
Korean pear (or Asian pear) and kiwi: Unique to Korean cooking, they both provides sweetness and help tenderize the meat.

If Korean or Asian pear is not easy to locate, substitute with sweet apple or Bosc pear

Dark Brown Sugar: Adds subtle sweetness a dark color
Sweet Rice Wine: Enhances the overall flavor.
Sesame Oil: For a touch of nuttiness.
Pepper: For seasoning.
Sea Kelp Stock: A quick stock made by simmering dried sea kelp in water, adding a layer of umami flavor. You can find a packet of dried sea kelp in many Asian stores or online
Optional Additions:
These ingredients are optional, but they are commonly used in authentic Galbi Jjim recipes in Korean cuisine.
Dried Jujube: Adds a unique flavor
Chestnut: For a nutty flavor and texture. Look for frozen peeled chestnut in the freezer section of Asian markets.
Ginkgo Nut: Commonly used in authentic recipes as a garnish. Peeled frozen ginko nuts are available in Asian or Korean stores.
How to make Galbi Jjim
Parboiling the short ribs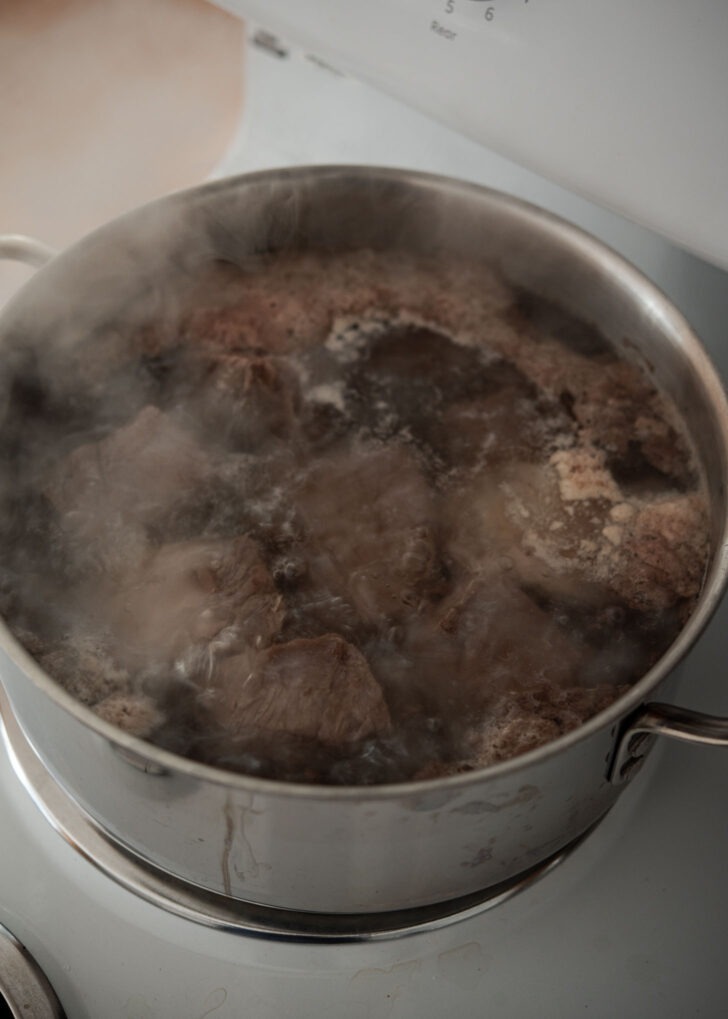 Boil the ribs in a large pot of water for about 10 minutes on medium-high heat. This removes impurities and excess fat.
Rinse the ribs under running water, scrubbing any debris off the bones.
Making sea kelp stock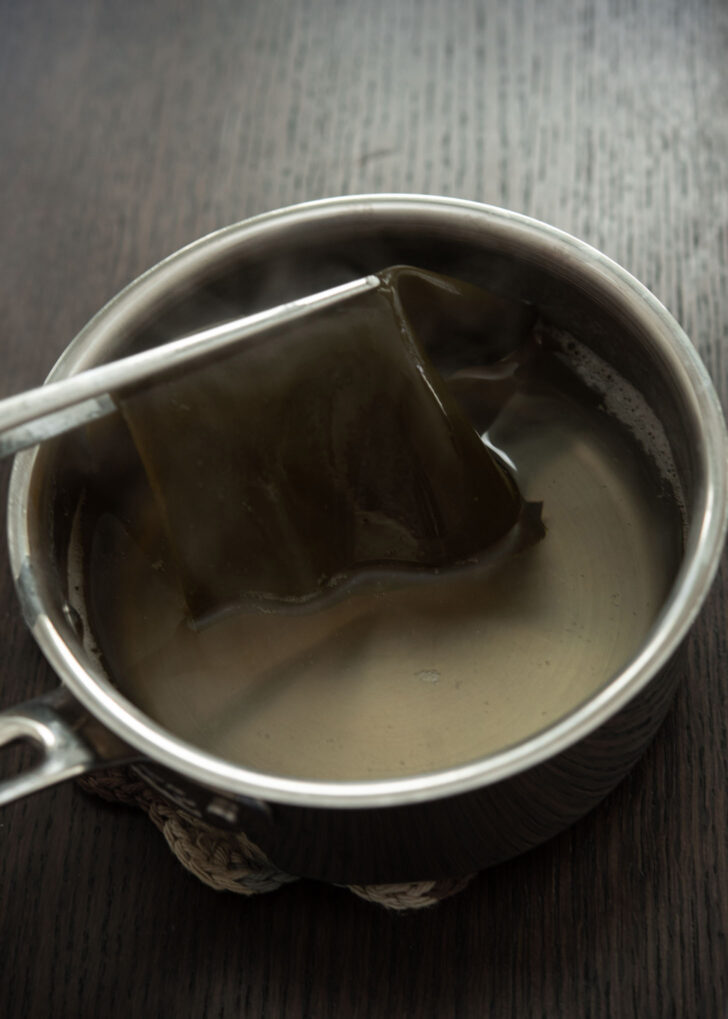 While the ribs are boiling, prepare the sea kelp stock. Simmer dried sea kelp in water over medium-low heat for 5 minutes.
Discard the kelp and reserve about 2-1/2 cups of the stock.
Braising the short ribs in sauce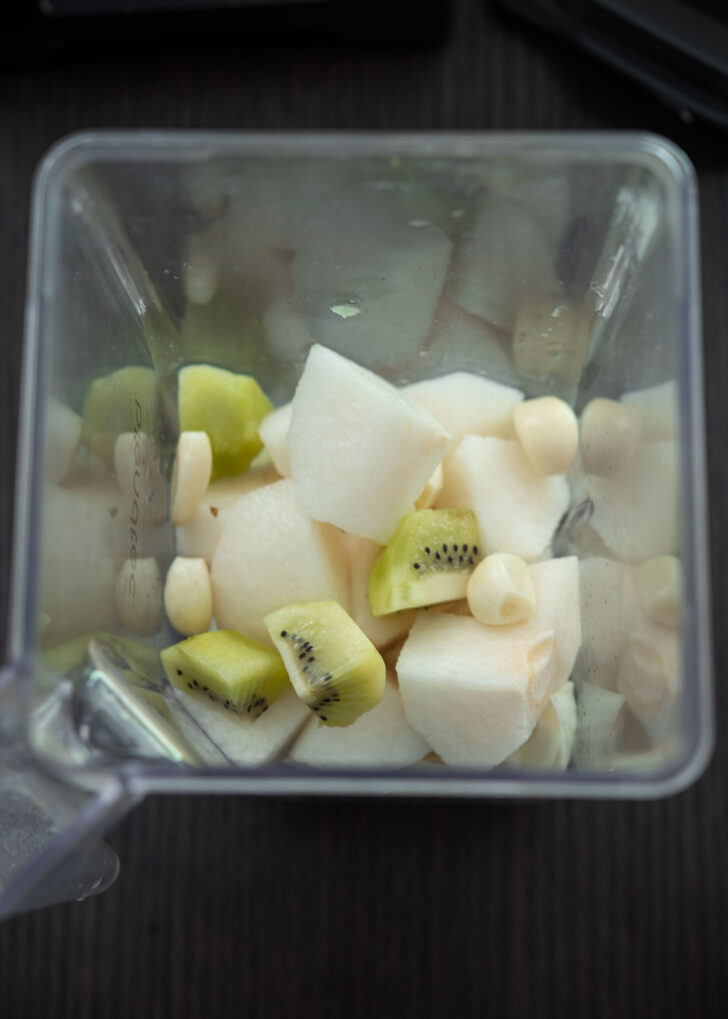 Prepare the Sauce
Combine diced onion, pear, kiwi, garlic, soy sauce, dark brown sugar, rice wine, and 1/2 cup of sea kelp stock in a blender or food processor. Process until smooth.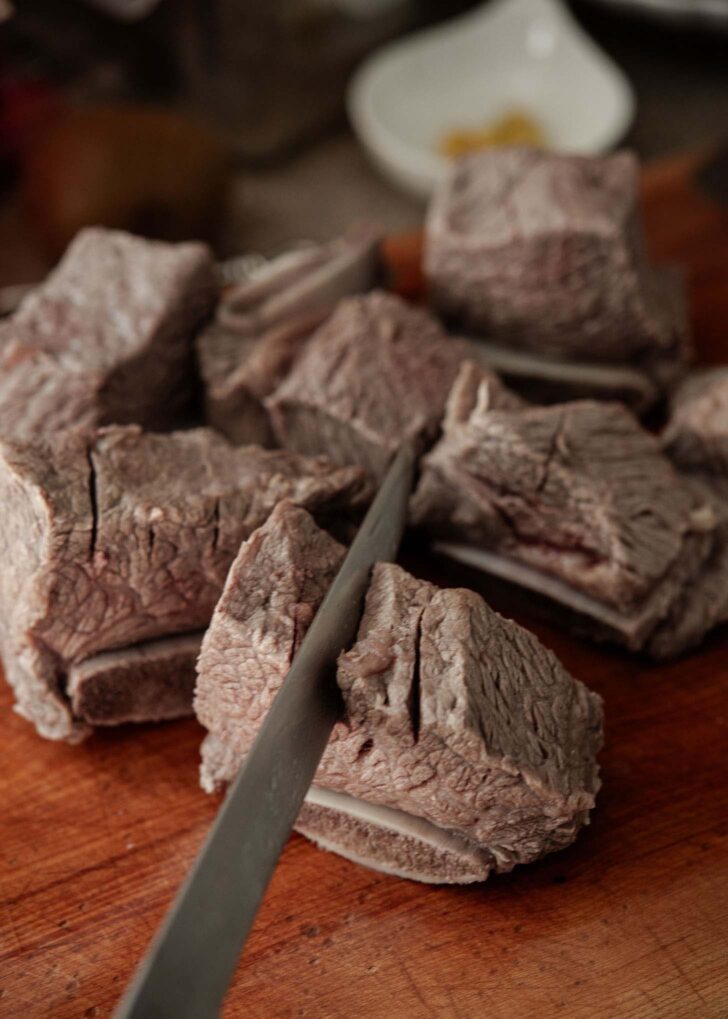 Score the ribs and combine with the sauce
Make a few 1/2-inch slits on top of the rib meat to help it absorb the sauce better during braising.
Place the prepared ribs in a large Dutch oven or heavy pot. Cover them with the sauce and add 2 cups of sea kelp stock, ginger paste, sesame oil, and black pepper.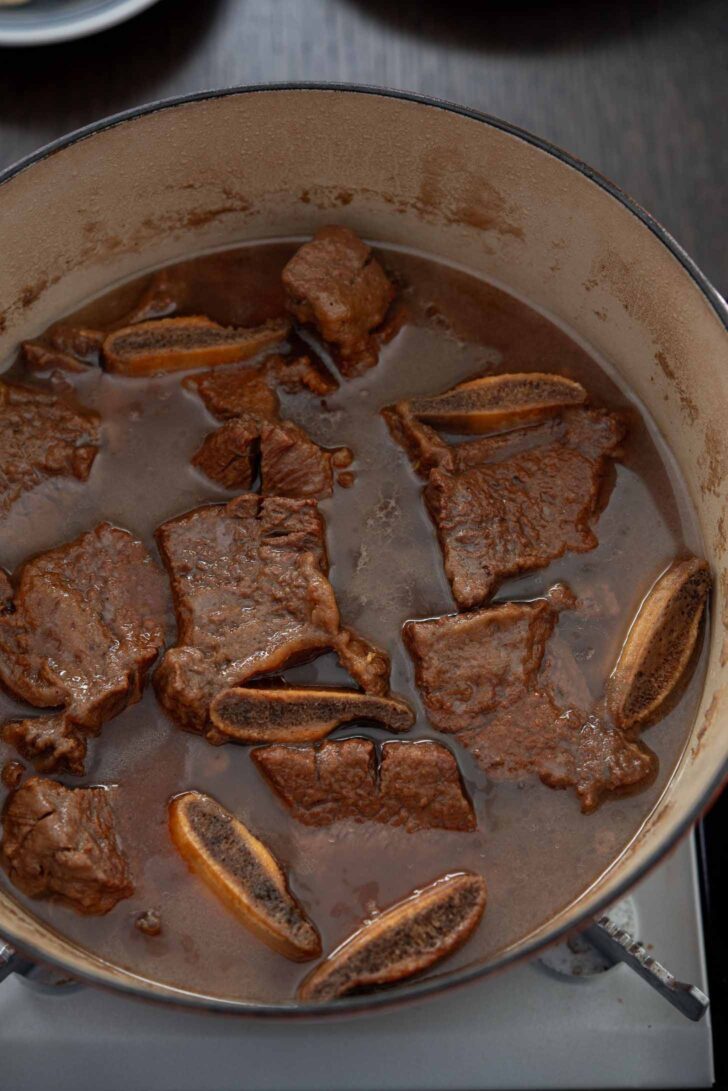 Braise the ribs in sauce
Bring to a boil, then simmer covered on low heat for 1-1/2 hours. Skim off any extra fat as needed.
Optional: Rounding the vegetables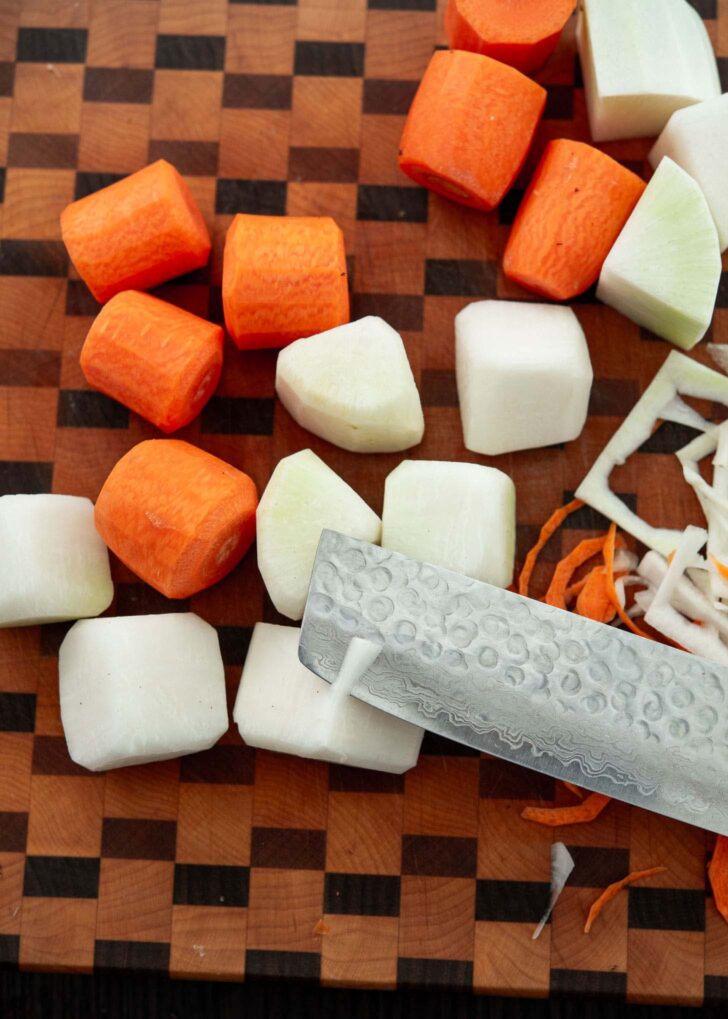 Optionally, round the sharp edges and corners of the cut carrot and radish pieces with a knife to prevent breaking during cooking.
Score the tops of fresh shiitake mushrooms for visual appeal.
Add vegetables and add-ins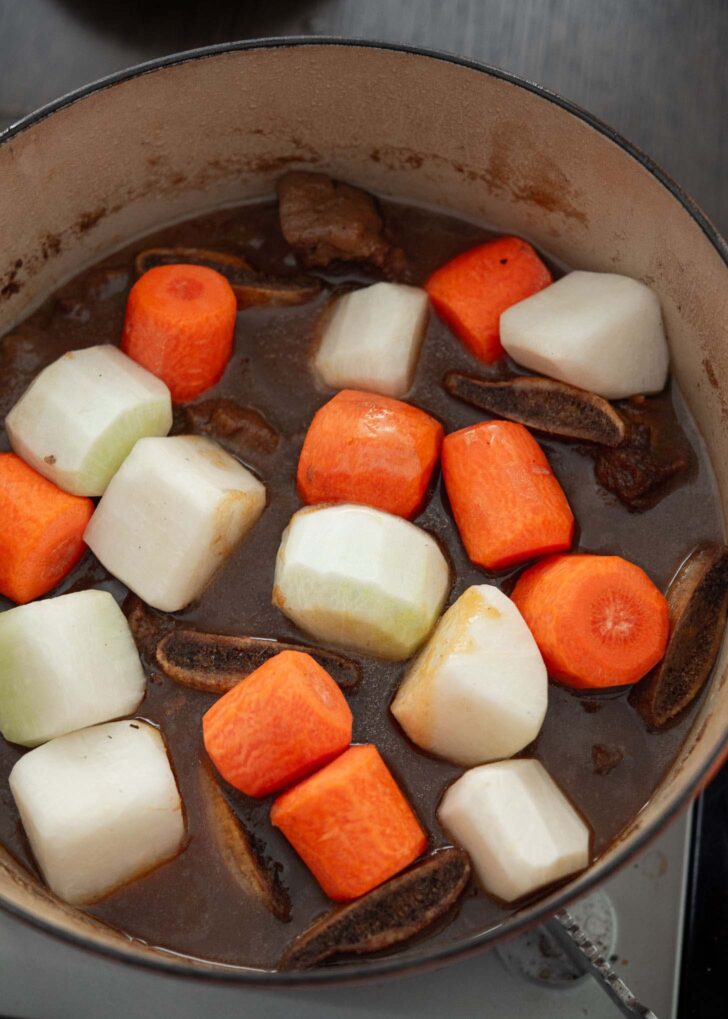 Add Vegetables and Simmer
Add the carrots and radishes to the braising liquid in a pot. Continue simmering for 20-30 minutes, or until the vegetables are mostly tender (Cooking time can vary depending on the size of the vegetables pieces).

Add rehydrated mushrooms with the vegetables if not using fresh ones.
Additional Add-Ins
Stir in fresh shiitake mushrooms, dried jujubes, chestnuts, and ginkgo nuts. Cook for an additional 10-15 minutes.
Let the stew rest for 10 minutes before serving to allow the flavors to settle.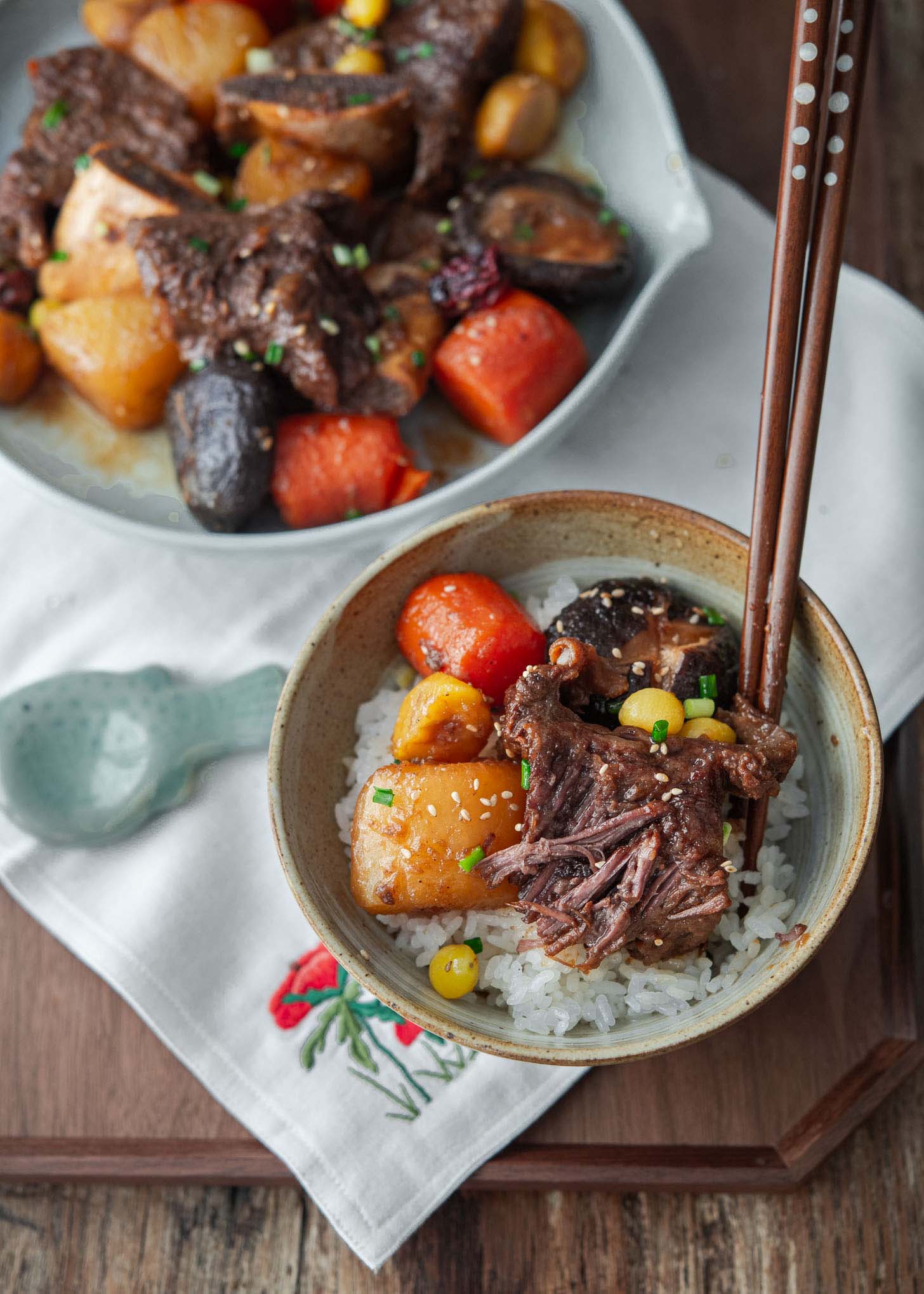 Serving Suggestions
Enjoy your Korean braised short ribs warm, paired with freshly cooked short grain rice. This dish, complete with both protein and vegetables, requires few side dishes.
However, Kimchi is an essential accompaniment. Additionally, simple Korean side dishes (banchan) can add variety and enhance the meal, making it even more enjoyable.
Leftover Storage Tip
Keep any leftover Galbi Jjim in the refrigerator, where it will stay good for up to a week. For longer storage, freeze it in an airtight container or a freezer-safe zip bag, where it can last up to three months.
To reheat, first thaw it if frozen, then gently simmer on the stove or warm it in a microwave until hot.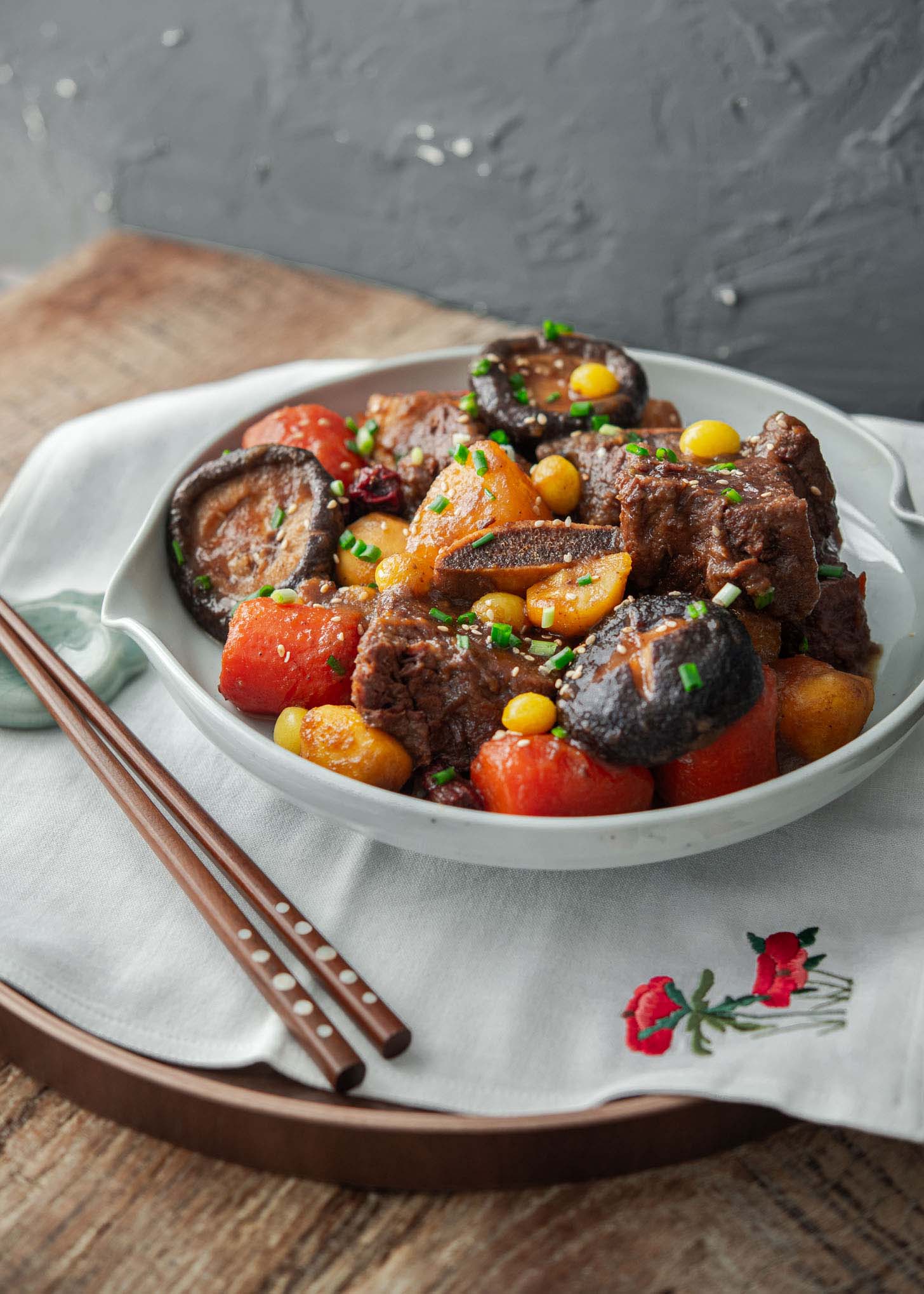 More Korean Beef Recipes
If you enjoy dishes like this Korean beef, some of these Korean dinner recipes might please you with an awesome outcome.
Love this recipe? Rate it and share your experience in the comments below! On Instagram? Tag me to showcase your creation. For more delicious recipes, subscribe to our newsletter!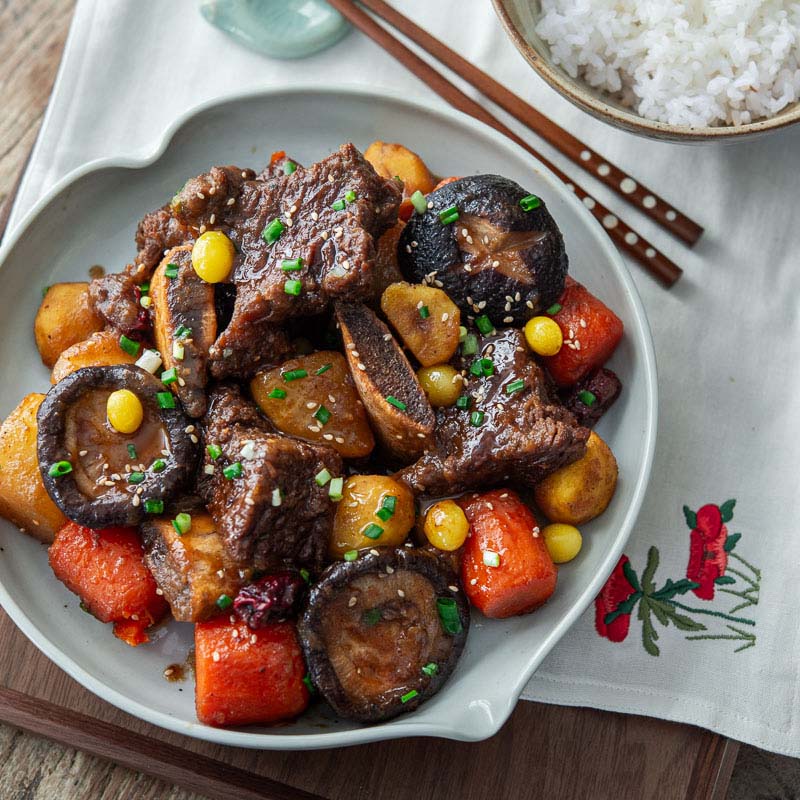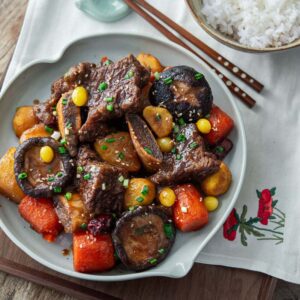 Best Galbi Jjim (Korean Braised Short Ribs)
Indulge in Galbi Jjim, a Korean braised short ribs dish, slow-cooked to tender perfection in a rich savory sauce. This recipe showcases succulent beef with a medley of vegetables, ideal for any family dinner or special occasion.
Ingredients
3-1/2 to 4 lbs (1.5-1.8 kg) beef short ribs, Korean style preferred
1/2 onion, diced
1/2 Korean pear, peeled, seeded, and diced
1/2 kiwi, peeled and diced
5 cloves garlic
1/2 cup (120 ml) soy sauce
3 tbsp dark brown sugar
3 tbsp sweet rice wine (mirim)
2-1/2 cups (600 ml) sea kelp stock, divided
1 tsp ginger paste
1 tbsp sesame oil
1 tsp pepper
2 carrots, peeled and cut into big chunks
3/4 lb Korean radish, peeled and cut into chunks
6 shiitake mushroom, see note for dried shiitake
Optional Add-Ins
8-10 chestnut, see note below
12 ginko nut, see note below
Instructions
Place the ribs in a large pot of water and boil for about 10 minutes on medium-high heat. This process helps eliminate any impurities and extra fat. Rinse the ribs under running water, cleaning off any debris from the bones. To enhance sauce absorption during braising, cut a few 1/2-inch slits on the top of the rib meat.

As the ribs are boiling, start making the sea kelp stock. Gently simmer dried sea kelp in water on medium-low heat for 5 minutes. After simmering, remove and discard the sea kelp, keeping about 2-1/2 cups of the stock aside for use.

Blend diced onion, pear, kiwi, garlic, soy sauce, dark brown sugar, rice wine, and 1/2 cup of sea kelp stock together in a blender or food processor until the mixture is smooth.

Put the pre-boiled ribs into a large Dutch oven or heavy pot. Pour the blended sauce over them and add 2 cups of sea kelp stock, ginger paste, sesame oil, and pepper. Bring the mixture to a boil, then reduce the heat and let it simmer, covered, for 1-1/2 hours. Remove any excess fat from the surface as necessary.

If you like, use a knife to smooth out the edges and corners of the carrot and radish pieces; this helps to keep them intact during cooking. For a decorative touch, make light cuts on the tops of fresh shiitake mushrooms.

Put the carrots and radishes into the pot. Keep simmering for another 20-30 minutes, or until the vegetables become tender. If you're using rehydrated mushrooms, add them to the pot along with the other vegetables.

Mix in the fresh shiitake mushrooms, dried jujubes, chestnuts, and ginkgo nuts. Continue cooking them in for an extra 10-15 minutes over medium heat. Allow the stew to sit for 10 minutes before serving, giving time for the flavors to meld together. Garnish with chopped green onions and sesame seeds. Serve warm with rice and kimchi.
Notes
If using dried shiitake mushrooms: Soak them in water for at least 30 minutes or until they are fully rehydrated. Then add the mushrooms to the pot along with the carrots and radishes during braising. For optional add-ins like chestnuts and ginkgo nuts, you can find the frozen variety in the freezer section of Asian or Korean grocery stores. These are already peeled and ready to use.
Calories: 345kcal, Carbohydrates: 22g, Protein: 26g, Fat: 18g, Saturated Fat: 6g, Polyunsaturated Fat: 3g, Monounsaturated Fat: 7g, Cholesterol: 67mg, Sodium: 1281mg, Potassium: 770mg, Fiber: 3g, Sugar: 14g, Vitamin A: 3411IU, Vitamin C: 22mg, Calcium: 61mg, Iron: 4mg
Did you make this recipe?
Tag @beyondkimchee on Instagram. I love to see your masterpiece.