Authentic Vegan Kimchi Recipe
Learn how to make vegan kimchi (vegetarian kimchi) with this authentic Korean recipe. This healthy Korean side dish offers the same tangy, flavorful kimchi taste just like the traditional cabbage kimchi would, but made without any animal product. And it's gluten-free!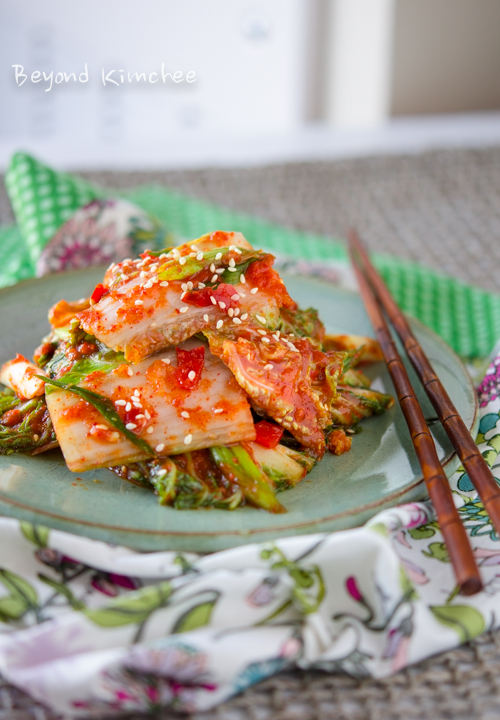 I often receive email messages from my readers regarding kimchi recipes.
I have posted several cabbage kimchi recipes with different approaches. The most authentic way of making winter cabbage kimchi, Light and Delicious Homemade Kimchi with Radish, easy and simple method kimchi, and the fastest 30 miniute kimchi are some of them.
They all use napa cabbages that we can find very easily in many stores these days. Of course there are other types of kimchi recipes, especially traditional radish kimchi recipe, posted on my site as well.
Why Vegan Kimchi (or Vegetarian Kimchi)?
Kimchi is closed to a vegetarian dish (pescatarian, more precisley) since there is no meat involved, but it contains a little bit of fish (anchovy) sauce to bring the flavor. Therefore, it is NOT a vegan.
I know there are quite a number of people who are vegans or who can not have seafood due to an allergy issue. So I gave some thoughts on making kimchi to be a complete vegan and fish free. And behold, the healthy Vegan Kimchi is born! There is no animal products used in this recipe. All is from the vegetable source.
Typically, traditional kimchi recipe uses a seafood stock to add more depth to the flavor. However, for the vegan or vegetarian kimchi, vegetable stock is used instead. Fresh fruit puree is also added to enhance the flavor and add the natural sweetness to the kimchi.
Will vegan kimchi be spicy? Yes or No. You can always adjust the amount of Korean chili flakes in the recipe to suit your spiciness level. Whether you like it spicy or mild, this delicious kimchi will offer a good amount of health benefit to your diet and it's nutritious.
Vegetable Stock and Persimmon
For the vegetable stock:
I always use a kind of fruit to sweeten the kimchi. I have shown you using a pear, apple and in the kimchi recipes. Today, I will use..
persimmon – or use Asian pear and sweet apple instead.
How to make Authentic Vegan Kimchi at Home
Step 1. Salt brine your cabbage
First, cut nap cabbage into chunks like that.
Spread the cabbage pieces in a shallow bowl or in a sink like I did. (Cover the drainage hole tightly, so it won't leak)
Pour the salt water over (1 cup salt dissolved in 8 cup water). Let the cabbage soak for 2-3 hours. Make sure you turn them around so the bottom side of cabbages go to the top halfway through.
If you don't have that 2-3 hours time, you can sprinkle about 1/4 cup of salt directly over to the cabbage and let them sit for 45-60 minute turning once, like I did in Light and Delicious Homemade Kimchi with Radish.
If you are in a big rush and don't even have the 1 hour, then see my 30 minute kimchi post to get an idea how you can salt the cabbage very quickly.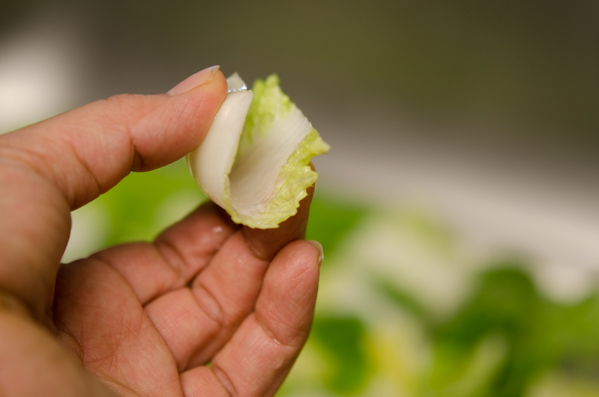 No matter what method you use, after all the soaking, your cabbage should be able to bend like your yoga master.
(If the white stem part is a little stiff, that is okay. Even you can't bend your back like that after the first free-trial yoga class, right? They will eventually bend during the fermentation process. And your back will too, after the 3 month course.)
Rinse your cabbage 2-3 times in the running water to get rid of the extra salt residue. Drain them well as you press down firmly. Set the cabbage aside.
Step 2. Simmer vegetable stock
While cabbage is soaking, you can make vegetable stock to use in this recipe.
Put pumpkin chunks, shiitake mushroom, and a piece of dried sea kelp (if you can't have sea kelp, omit it) in a pan and pour some water just to barely cover them. Bring to boil and simmer for 20 minutes.
Don't skip the stock! Since we are not using any fish sauce to make this kimchi, you will need an extra something to flavor.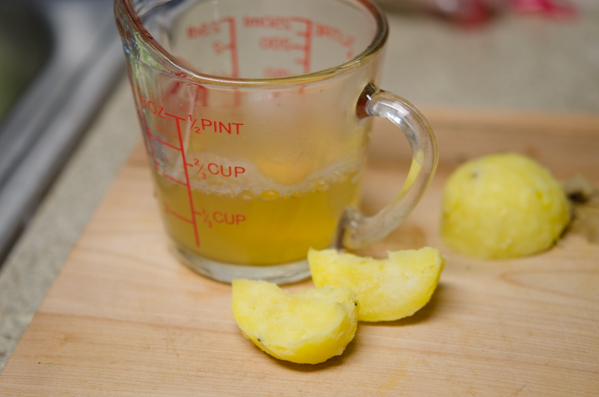 Reserve about 1/2 cup of vegetable stock. Don't throw away the rest. Pour in zip bags and freeze for a later use.
Now I bet you are wondering what the yellow thingy is in this photo. It is a potato. I cooked a small piece of potato in a microwave.
Step 3. Make Kimchi seasoning paste
In kimchi making, you will need a some sort of starch to help fermentation. I have introduced using rice glue or leftover cooked white rice as a starch component. This time I will use a little bit of cooked potato. You will only need about 2 tablespoonful.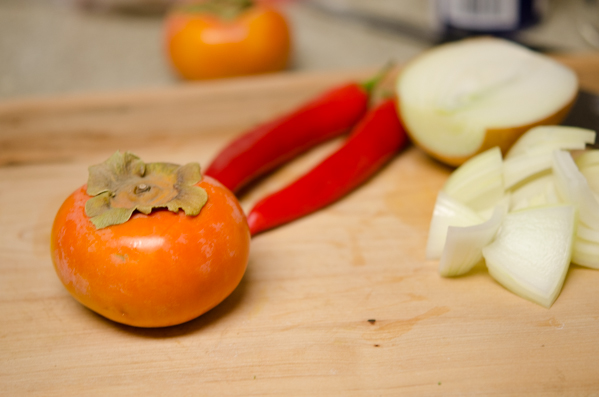 Here is the fruit I was talking about. It is a PERSIMMON! Persimmon is very common fruit in Korea but only available during late fall and winter season.
If you go to a big Korean groceries, you will find them easily these days. If you can't get the persimmon, substitute with an sweet apple or Asian pear.
Persimmon is a very sweet and meaty fruit, which is perfect to be mingled in kimchi. No need to add sugar. You will love the flavor of kimchi with persimmon in it. Just peel and core the seed and dice into chunks.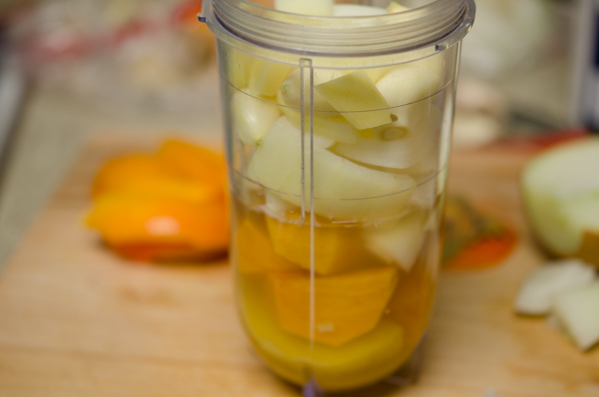 In a blender, pour the reserve the stock, and add diced onion, garlic, ginger, and the persimmon.
Puree them until very smooth. Add some diced fresh chilies and pulse a few times to chop them. You want to see small chunks of fresh chili .
I like to add fresh red chilies in my kimchi. It brings kimchi more refreshing taste. You can certainly omit if you don't want to.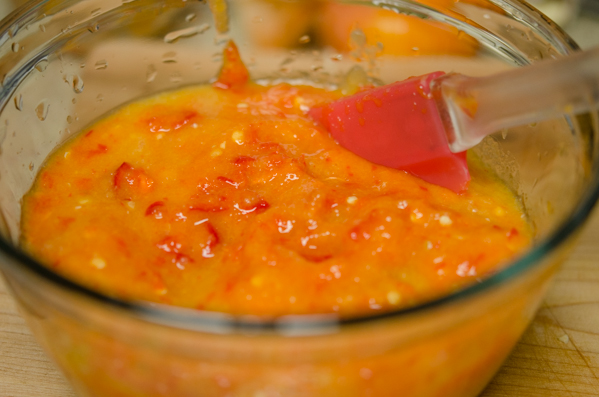 Transfer the puree in a small mixing bowl. Love, love, love the color!
Add Korean chili flakes and the Korean soup soy sauce (or soy sauce for soup).
Step 5. Add Korean soup soy sauce for the pungent flavor
This is the Korean soup soy sauce (gukganjang). It is quite different than ordinary soy sauce we all know. It is, of course, fermented soy product, but more pungent. Please, do not substitute with your regular soy sauce. It is not the same.
Since it brings the pungent flavor, Koreans use the sauce to season soups or stews, and many salad side dishes. I use it quite often in my recipes.
I think you can even substitute the fish sauce with this in many other dishes if you want to avoid fish but retain the slight pungent flavor.
BTW we call it chosun-ganjang (조선간장) or guk-ganjang (국간장). It should be marked as "soup soy sauce or soy sauce for soup" . You should be able to find it in any Korean groceries.
Mix it all up to create a scarlet beauty.
Step 6. Toss all together
In a shallow bowl (I used a cookie sheet), combine cabbages and sliced green onion, and the chili mixture. Sprinkle some toasted sesame seeds as well.
I always start with about 2/3 of the filling first, then I add more if I need to.
Wear a disposable glove to protect your hand and toss everything well. Taste! Adjust seasoning by adding a little more soup soy sauce, if needed.
Transfer to a container (airtight if possible) and let it sit in the room temperature for 1-2 days depends on the fermentation level you desire, then store in the refrigerator after that.
I like to eat freshly made kimchi on the same day I made with a bowl of rice and doenjang jjige. That is a more of genuine Korean taste bud.
I will tell you what it tastes like. It tastes like a real cabbage kimchi made with fish sauce and salted shrimps. I am quite pleased with the result and very proud that I created something that everyone can enjoy the goodness of kimchi regardless of their diet restriction.
So how do you think? Did I bring a good news to you? Hope you get to try this recipe whether you are a vegan or not. This kimchi will surely please everybody.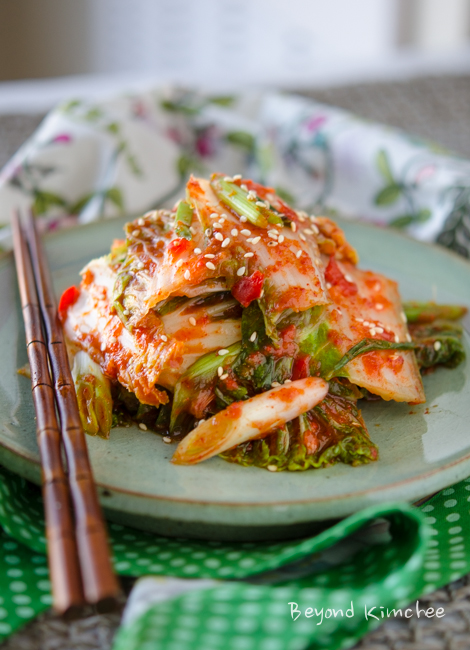 Authentic Vegan Kimchi Recipe
Learn how to make vegan kimchi with this authentic Korean recipe. This healthy Korean side dish offers the same tangy, flavorful kimchi taste just like the traditional cabbage kimchi would, but made without any animal product. And it's gluten-free!
Ingredients
For kimchi seasoning paste
2 tbsp plain cooked potato
1/2 large onion, diced
1 persimmon (Fuyu) or 1/2 sweet apple or Asian pear, peeled and cored
5 cloves garlic
1/2 inch ginger, peeled
3-4 fresh red chilies, diced, optional
4 green onion , sliced
1 tbsp toasted sesame seeds
Instructions
To salt brine cabbage
Cut off the end part of the cabbage stem and cut the cabbage into 2-inch slices.

Dissolve salt in the water in a mixing bowl. Scatter the cabbage slices in a large shallow bowl and pour the salted water over and toss. Let the cabbage soak for 1 hour. Turn the cabbage over and continue to soak for another 1-1.5 hr. When done, the stem part of cabbage slice should be bendable without breaking. Rinse the cabbages 3 times and let them drain well. Set aside.
To make the vegetable stock
Place pumpkin, mushroom, and sea kelp in a medium sauce pot and pour water just to barely cover them. Bring them to boil and let it simmer for 20 minutes. Let the stock to cool down and discard the vegetables. Reserve 1/2 cup of stock to use, and freeze the rest for later use.
To make the kimchi seasoning paste
Put potato, onion, persimmon, garlic, ginger and pour in the 1/2 cup of stock in a blender. Process them until very smooth. Add diced fresh red chilies and pulse to chop them into small pieces.

Pour the onion persimmon puree in to a medium mixing bowl, add the Korean chili flakes, and Korean soy sauce for soup; mix well.
To assemble kimchi
In a large shallow bowl (or use jelly roll pan) combine cabbages and green onion, add 2/3 of chili filling and sesame seeds. Wear disposable gloves on your hand and toss everything with your hand to make sure everything gets incorporated with the kimchi seasoning paste. Add more filling if needed.

Taste a piece and add more Korean soup soy sauce to your taste, if needed. It should be slightly saltier that you hoped for.

Transfer your kimchi in an airtight container and let it sit in the room temperature for 1-2 days, then store in the fridge after that. This kimchi should last up to 2 months in the fridge.
Did you make this recipe?
Tag @beyondkimchee on Instagram. I love to see your masterpiece.