Bacon Kimchi Fried Rice (Kimchi Bokkeumbap)
This kimchi fried rice (kimchi bokkeumbap) with bacon is a great solution for your overripe kimchi and abundant leftover rice. This home-style Korean fried rice is so delicious, it will make you rethink the meaning of "fried rice!"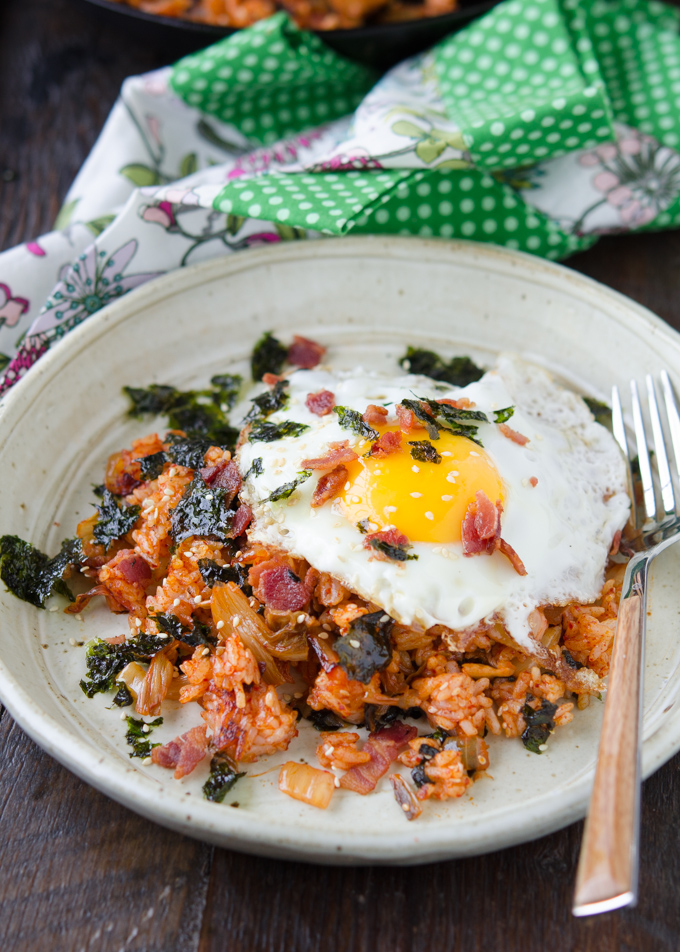 "I'm surprised there aren't more comments on this recipe. It's a great one!"

lisa
Kimchi and rice, and some crisp bacon pieces? Turn your ordinary kimchi fried rice (kimchi bokkeumbap, 김치볶음밥) into a bacon kimchi fried rice. You can't go wrong with this world famous Korean food. And this is a great recipe for leftover rice making one of the easy Korean rice bowl recipes.
What is kimchi fried rice?
It is a fried rice dish made by stir-frying kimchi and rice together with gochujang (Korean chili paste) and sesame oil. It's a common Korean comfort food that use up leftover rice and overripe kimchi. Kimchi fried rice is full of flavor with a slight tang from the sour kimchi. The rice gets nice and crispy on the bottom which offers a pleasant chewy texture.
If you like more modernized Korean fusion style with a western twist, Crispy Kimchi Fried Rice with Cheese is a great recipe for that. It's a trendy Korean dish that many young people love.
I tweaked the traditional recipe to bring out more flavor of kimchi and the crisp texture of salty bacon. This would be perhaps the best kimchi fried rice you might taste with the addition of bacon, if I can dare to say that. So good!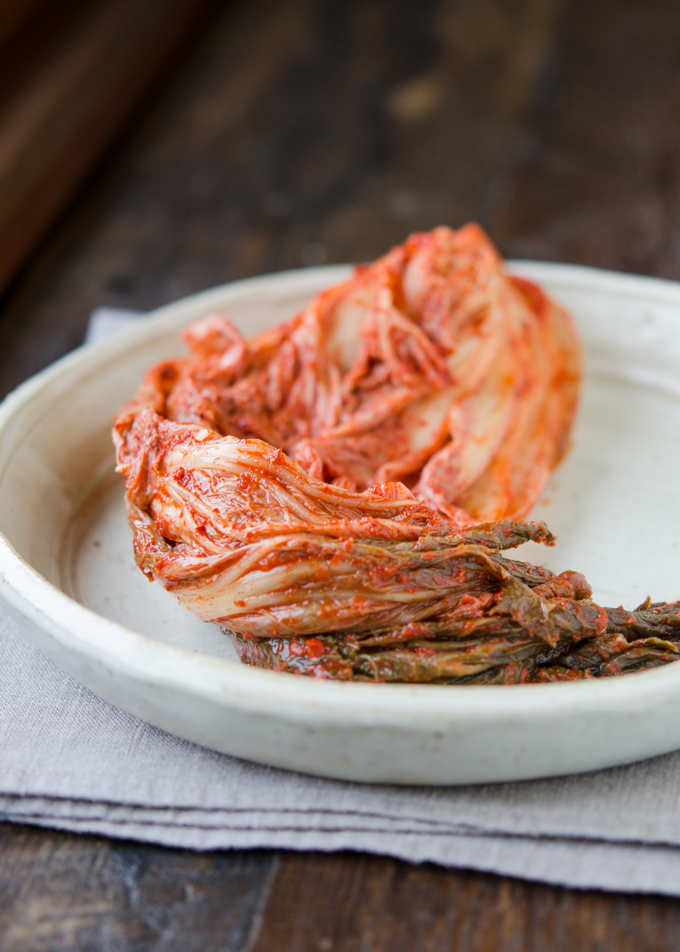 Recipe Notes
Use overripe kimchi: The sourness of deeply fermented kimchi makes a better tasting fried rice.
Add kimchi liquid: It makes kimchi fried rice more robust in flavor.
Crisp bacon: Cook you bacon to crisp texture.
Use short grain rice: Leftover white short grain rice works the best.
Toast the rice on the bottom (nurungji): At the end of cooking, gently let the bottom of rice to toast by letting it sit in a skillet over the heat.
If you kimchi is over a year old, then it might be too potent to use in the rice dishes. In that case, try my Braised Pork Short Ribs and Kimchi recipe. Your elderly kimchi might shine better there.
How to cook Kimchi Fried Rice with Bacon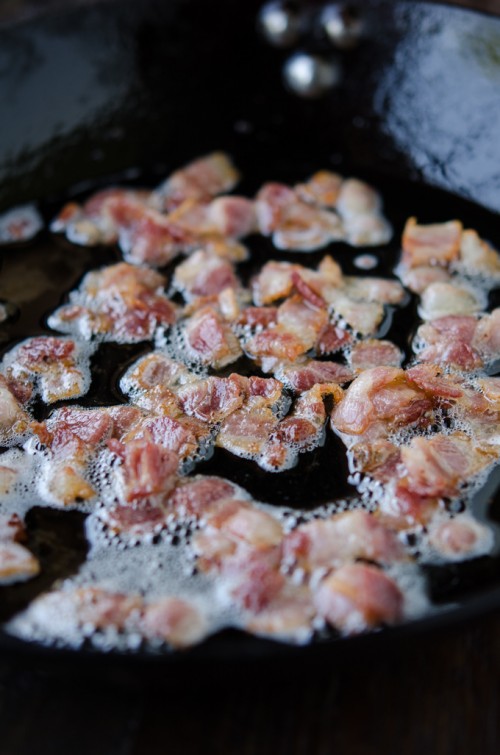 As you can imagine, salty bacon is a perfect pair with kimchi.
Cook bacon pieces until crisp. You will need to reserve 1-2 tablespoon of bacon fat to fry-up the onion and kimchi.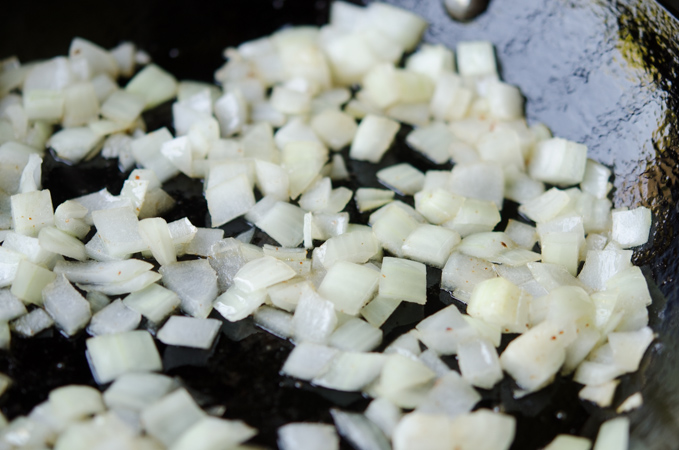 Onion is a great companion for any fried rice. When you saute them, it becomes mellow and brings sweetness, which cuts down the acidity of sourness of kimchi.
Cook onion in the reserved bacon fat over medium high heat.
Add chopped kimchi and stir-fry kimchi for 5 minutes to soften. Then add a tiny bit, about 2 teaspoons, of Korean chili paste (gochujang). Add some kimchi liquid, too.
Add the rice, mix them with kimchi and onion. Using the vertical edge of the spatula, try to cut through the chunks of rice to break up the rice grains without smashing them.
Continue to stir fry until the mixture becomes well mixed and heated.
Sesame oil and sesame seeds are must for kimchi bokkeumbap. So don't skip them, please.
Make Nurungji (Scorched Rice)
Nurungji is scorched rice made in Korean way. It has a crispy and nutty layer of golden brown rice formed in the bottom of the pan.
This is an optional step but I urge you try it though. At the end of cooking, toast the bottom side of fried rice by heating the skillet over medium heat for 2-3 minutes. I am basically making scorched rice. It creates crisp texture on the rice like Paella's Socarrat. Koreans call it Nurungji (누룽지).
Crumble 1-2 sheets of roasted and seasoned seaweed and sprinkle over your fried rice, then add the crisp bacon pieces on top.
I like my bacon to be added at last so that I can enjoy the crispness along with rice.
Here is the nuroongji part of your fried rice. Truly crusty and yummy!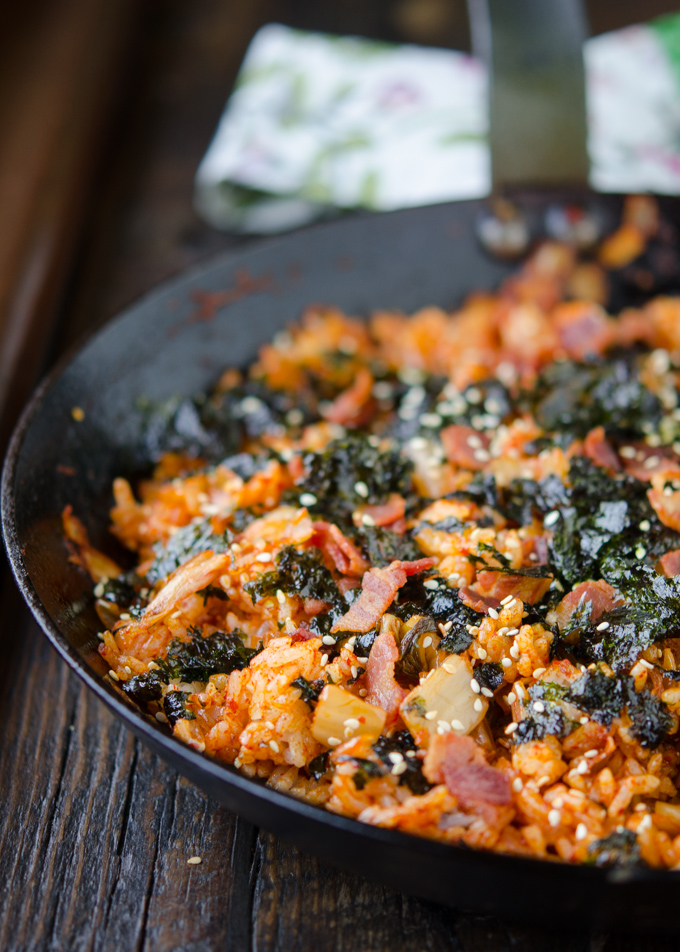 Now, I think I just gave you a good instructions on how to make the ever popular bacon kimchi fried rice in a best way you can eat.
How to eat kimchi fried rice
Enjoy this Korean rice dish when it is hot. Don't forget a fried egg on top. Without the egg, kimchi fried rice looks uncompleted for me. But the egg part is very optional choice.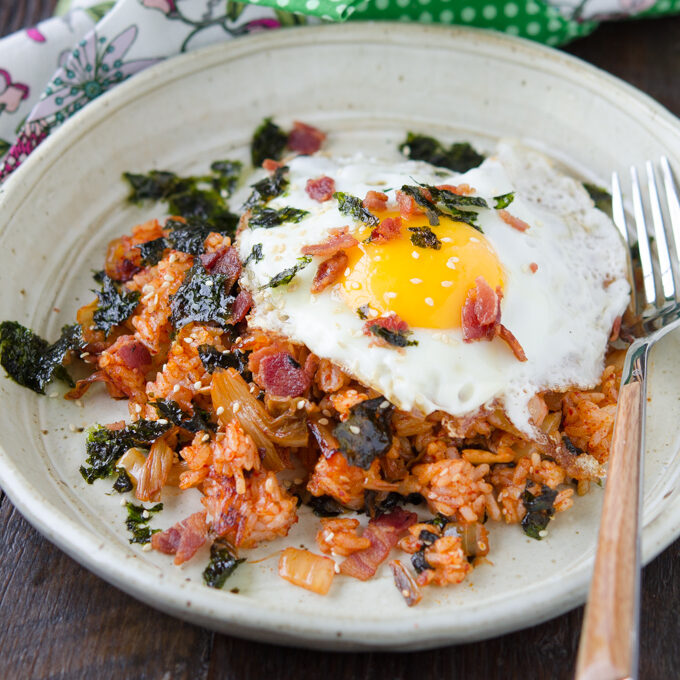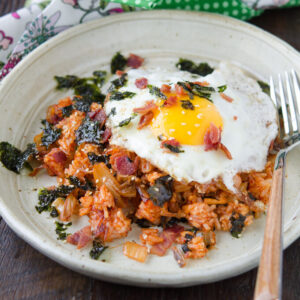 Bacon Kimchi Fried Rice (Kimchi Bokkeumbap)
Is your kimchi getting sour? Turn it into a satisfying kimchi fried rice with crisp bacon pieces. A hint of gochujang and the sour kimchi juice make this Korean classic even more delicious.
Ingredients
1 1/2 cups fermented sour cabbage kimchi, chopped
1/2 onion, chopped
4-6 bacon strips, chopped
2-3 tbsp kimchi juice
3 cups cooked rice
2 tsp sesame oil
2 tsp toasted sesame seeds
salt and pepper , to taste
1 cup roasted seaweed, crumbled
4 eggs, fried to sunny side up
Instructions
In a heavy skillet, cook bacon pieces until crisp. Transfer the bacon to a platter, and set aside.

Using a paper towel, wipe off the bacon grease remained in the skillet but leave 1 tablespoonful.

Saute onion in the reserved bacon grease until soft and tender over medium heat.

Add the kimchi and continue to saute until kimchi is soft, about 5 minutes over medium-low heat, then add Korean chili paste and kimchi juice to the skillet and mix well to incorporate with kimchi and onion.

Add the rice to the mixture and toss well. Try to separate the rice grains by using the vertical edge of spatula so that you don't smash the rice much.

Add sesame oil and sesame seeds, and toss well. Season with salt and pepper as you wish.

Raise the heat to medium heat and let the fried rice to sear for 2-3 minutes. This will help the rice on the bottom of skillet to be crisp. Adjust the heat, if needed, so that you don't burn it too much. Check the bottom of the fried rice to see it created desired crispness on the rice.

Remove the skillet from the heat and sprinkle with the reserved bacon pieces and crumbled roasted seaweed. To serve, add sunny side up fried eggs on top. Enjoy while hot!
Calories: 341kcal, Carbohydrates: 36g, Protein: 12g, Fat: 16g, Saturated Fat: 5g, Polyunsaturated Fat: 3g, Monounsaturated Fat: 7g, Trans Fat: 1g, Cholesterol: 178mg, Sodium: 211mg, Potassium: 184mg, Fiber: 1g, Sugar: 1g, Vitamin A: 316IU, Vitamin C: 2mg, Calcium: 52mg, Iron: 1mg
Did you make this recipe?
Tag @beyondkimchee on Instagram. I love to see your masterpiece.