Kimchi Fried Rice with Bacon
Discover how to transform your leftover rice into delicious kimchi fried rice with a crispy bacon twist. Our easy-to-follow guide and top recipe tips take you through this Korean classic, elevating your cooking repertoire with a savory standout.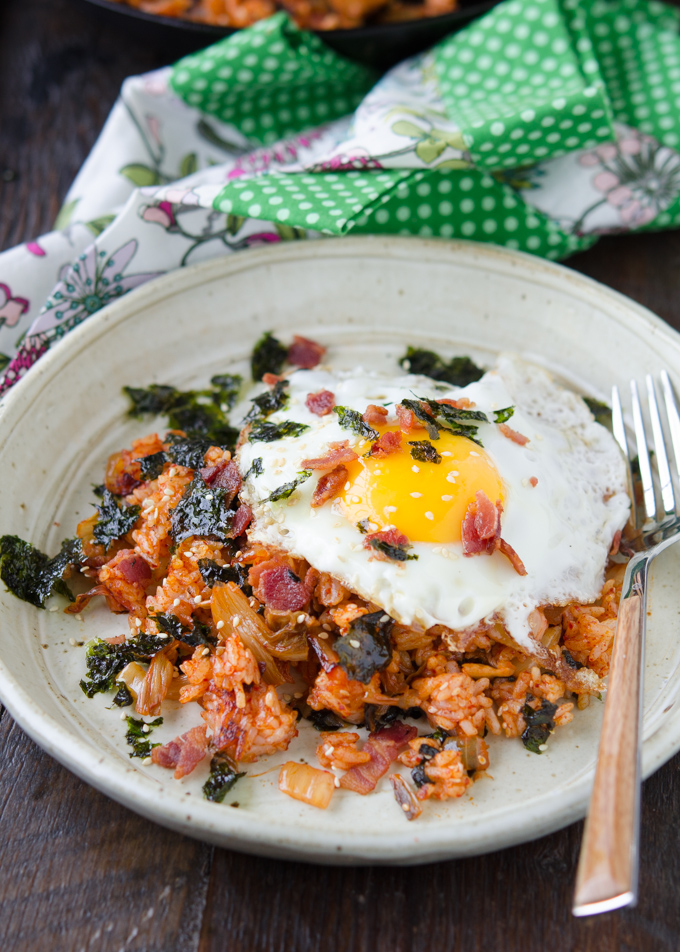 "I'm surprised there aren't more comments on this recipe. It's a great one!"

lisa
Kimchi, rice, and some crisp bacon pieces – the perfect ingredients to upgrade your ordinary kimchi fried rice (kimchi bokkeumbap, 김치볶음밥) to an extraordinary bacon-infused kimchi fried rice.
This world-renowned Korean dish is not only foolproof but also a fantastic way to utilize leftover rice. It's one of the simplest yet most satisfying Korean rice bowl recipes you can prepare at home.
Understanding the Basics: What is Kimchi Fried Rice?
Kimchi fried rice, or kimchi bokkeumbap, is a beloved Korean comfort food. Made by stir-frying rice and kimchi together with gochujang (Korean chili paste) and sesame oil, it's a perfect use for leftover rice and overripe kimchi.
With its crispy rice texture and a tangy bite from the fermented kimchi, you can't go wrong with this flavorful dish.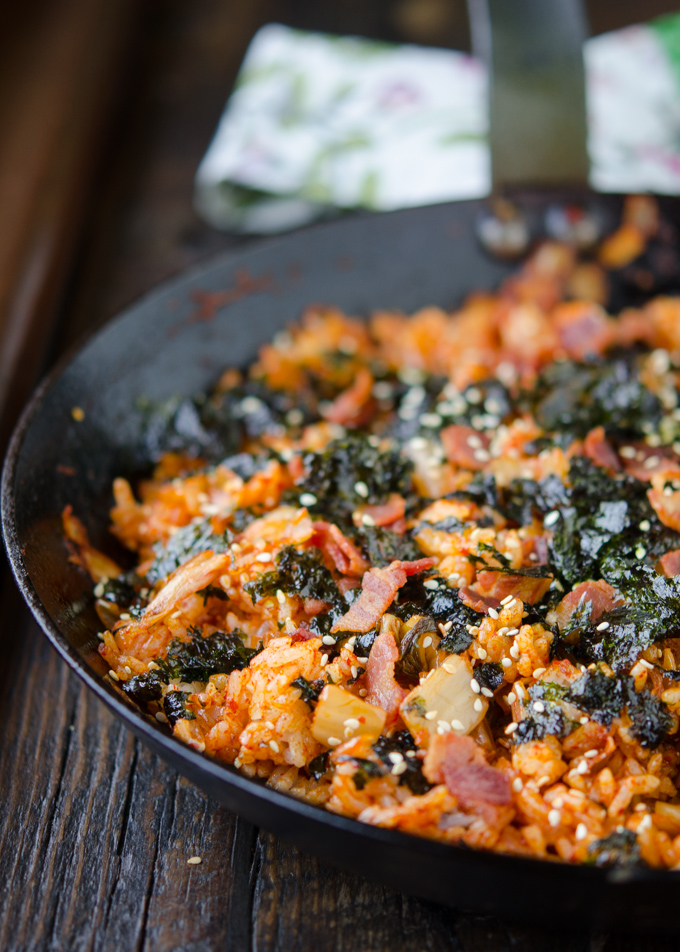 Adding Bacon to Kimchi Fried Rice
As you might imagine, the pairing of pork and kimchi is a culinary match made in heaven. Hence, salty bacon is the perfect partner for tangy kimchi. This trendy variation, where crispy bacon replaces traditional pork, adds both texture and a salty counterbalance to the dish.
I recommend first frying the bacon pieces until crisp, then sprinkling them over the kimchi fried rice rather than mixing them in. This ensures the bacon retains its delightful crunch, providing a perfect contrast to the robust flavors of the kimchi fried rice.
For a more modern twist, consider trying the Crispy Kimchi Fried Rice with Cheese recipe, a popular dish among young Koreans.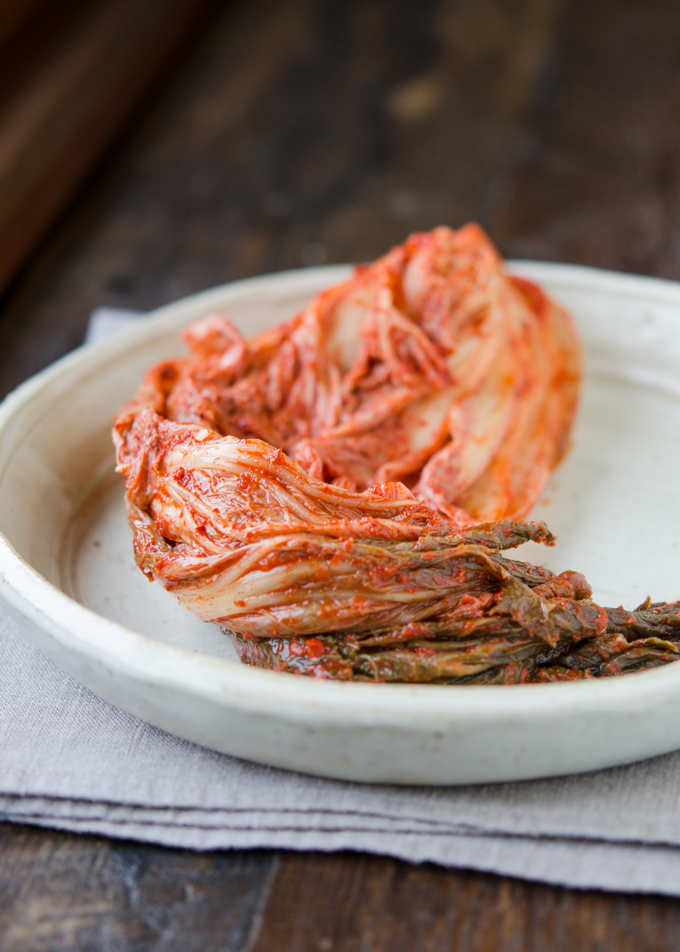 Essential Tips for Perfect Results
Use overripe kimchi
One secret to a rich and tangy kimchi fried rice lies in the state of your kimchi. Opt for overripe or well-fermented kimchi as it has developed deeper and more complex flavors over time.
This intensified taste profile infuses your fried rice with an authentic Korean flavor that's difficult to replicate with fresh kimchi.
If you kimchi is over a year old, then it might be too potent to use in the rice dishes. In that case, try my Braised Pork Short Ribs and Kimchi recipe. Your elderly kimchi might shine better there.
Add kimchi liquid
Don't discard the liquid from your kimchi jar; it's a treasure trove of flavor! Incorporating the kimchi liquid into your fried rice imparts deeper, more nuanced flavors, and heightens the overall kimchi taste. This simple trick turns good kimchi fried rice into great kimchi fried rice.
Crisp bacon
When it comes to bacon, going for a crispy texture is the key. Frying bacon until it reaches a crispy, crunchy state ensures a satisfying contrast against the tangy kimchi.
The robust flavors of the bacon and its delightful crunch add a whole new dimension to the dish, making your kimchi fried rice even more enticing.
Use leftover rice
Leftover rice that's been chilled in the fridge is the secret ingredient to perfect fried rice. Its dry and firm texture prevents clumping and allows each grain to separate easily, leading to a better-fried rice texture. It's a simple way to turn yesterday's leftover rice into today's satisfying dish.
Toast the rice on the bottom (Nurungji)
An optional but transformative final step is to let the bottom layer of rice toast in the skillet, creating a nutty and crunchy Nurungji, or scorched rice.
This simple technique imparts a desirable textural contrast, making your kimchi fried rice even more enjoyable with its delightful crunch
Ingredients Needed
Leftover rice
Bacon
Onion
Sour kimchi
Gochujang (Korean chili paste)
Sesame oil
Sesame seeds
Optional topping
Eggs
Roasted seaweed (crumbled)
Step-by-Step Guide: How to Make Kimchi Fried Rice with Bacon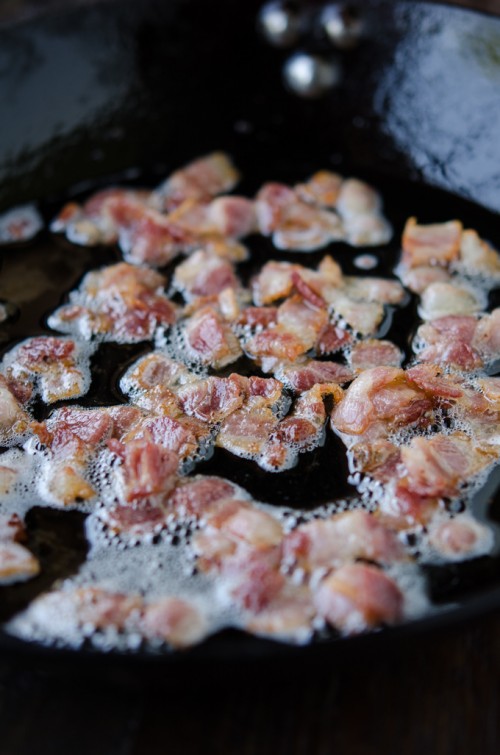 Cook bacon pieces until crisp. You will need to reserve 1-2 tablespoon of bacon fat to fry-up the onion and kimchi.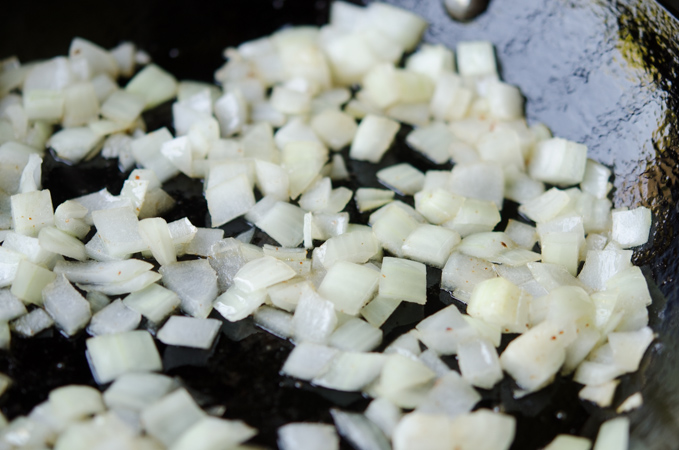 Onion is a great companion for any fried rice. When you saute them, it becomes mellow and brings sweetness, which cuts down the acidity of sourness of kimchi.
Cook onion in the reserved bacon fat over medium high heat.
Add chopped kimchi and stir-fry kimchi for 5 minutes to soften. Then add a tiny bit, about 2 teaspoons, of Korean chili paste (gochujang). Add some kimchi liquid, too.
Add the rice, mix them with kimchi and onion. Using the vertical edge of the spatula, try to cut through the chunks of rice to break up the rice grains without smashing them.
Continue to stir fry until the mixture becomes well mixed and heated.
Sesame oil and sesame seeds are must for kimchi bokkeumbap. So don't skip them, please.
The Art of Creating Nurungji (Scorched Rice) – Optional but Recommended
Nurungji, or scorched rice, refers to the golden brown layer of rice that forms at the bottom of the pan, adding a uniquely crisp texture and nutty flavor to your kimchi fried rice.
Although this step is optional, I highly recommend giving it a try.
Near the end of your cooking process, let the fried rice toast at the bottom of the skillet by leaving it on medium heat for 2-3 minutes.
This technique, which essentially creates a version of the scorched rice found in paella known as Socarrat, is a popular method in Korean cuisine where it's referred to as Nurungji (누룽지). The result is a delightful crispiness that elevates your dish to new heights
Finishing Touch
Once your dish is prepared, it's time for the finishing touches. Topping it off with a crispy fried bacon pieces over the fried rice.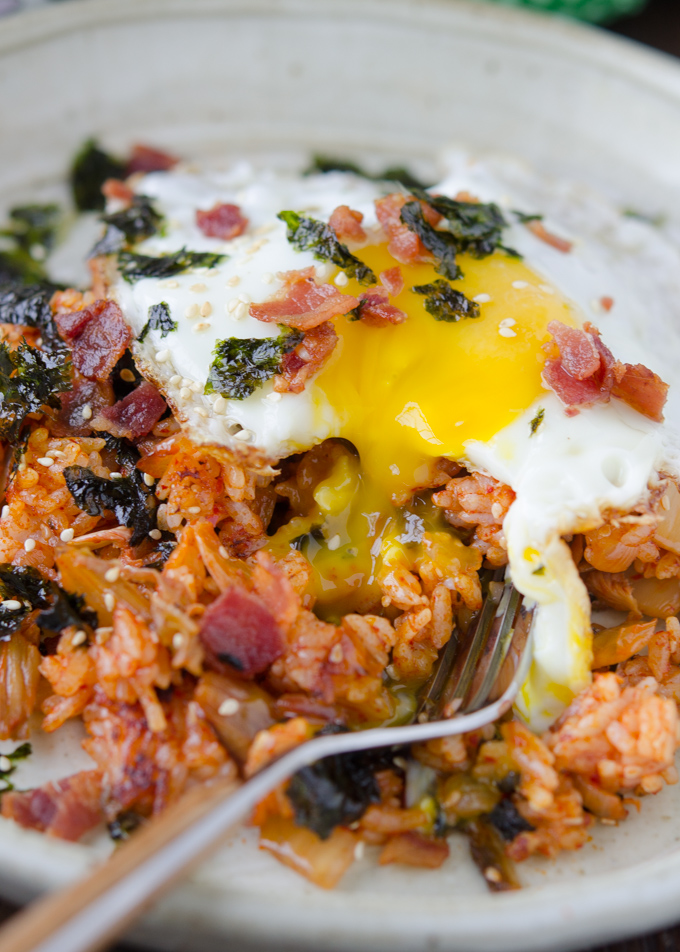 Fried egg and roasted seaweed not only adds a burst of color but also rounds out the flavors of your dish.
There's no right or wrong way to enjoy this delightful dish. Serve it as a main dish, a side, or even as a late-night snack. Whichever way you choose to eat it, you will savor every bite of this delicious Korean staple!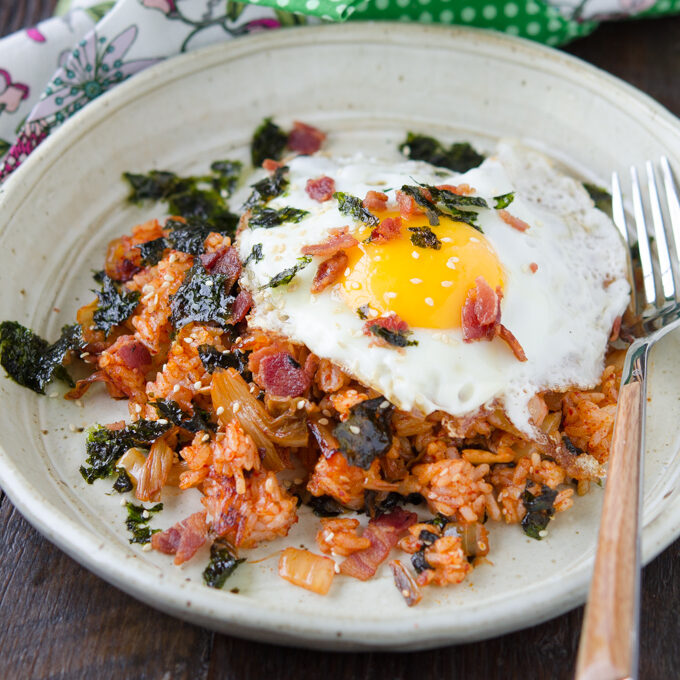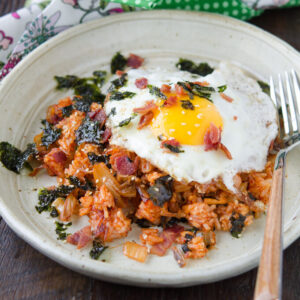 Kimchi Fried Rice with Bacon
Create an irresistible dish of kimchi fried rice with bacon using leftover rice. Following this step-by-step recipe guide and tips, you'll enjoy the robust flavors of this Korean classic, enriched with crispy bacon in every bite.
Ingredients
1 1/2 cups (360 ml) fermented sour cabbage kimchi, chopped
1/2 onion, chopped
4-6 bacon strips, chopped
2-3 tbsp kimchi juice
3 cups (720 ml) cooked rice
2 tsp sesame oil
2 tsp toasted sesame seeds
salt and pepper , to taste
1 package roasted seaweed, crumbled
4 eggs, fried to sunny side up
Instructions
In a heavy skillet, cook bacon pieces until crisp. Transfer the bacon to a platter, and set aside. Using a paper towel, wipe off the bacon grease remained in the skillet but leave 1 tablespoonful.

Saute onion in the reserved bacon grease until soft and tender over medium heat. Add the kimchi and continue to saute until kimchi is soft, about 5 minutes over medium-low heat, then add Korean chili paste and kimchi juice to the skillet and mix well to incorporate with kimchi and onion.

Add the rice to the mixture and toss well. Try to separate the rice grains by using the vertical edge of spatula so that you don't smash the rice much.

Add sesame oil and sesame seeds, and toss well. Season with salt and pepper as you wish.

Raise the heat to medium heat and let the fried rice to sear for 2-3 minutes. This will help the rice on the bottom of skillet to be crisp. Adjust the heat, if needed, so that you don't burn it too much. Check the bottom of the fried rice to see it created desired crispness on the rice.

Remove the skillet from the heat and sprinkle with the reserved bacon pieces and crumbled roasted seaweed. To serve, add sunny side up fried eggs on top. Enjoy while hot!
Calories: 341kcal, Carbohydrates: 36g, Protein: 12g, Fat: 16g, Saturated Fat: 5g, Polyunsaturated Fat: 3g, Monounsaturated Fat: 7g, Trans Fat: 1g, Cholesterol: 178mg, Sodium: 211mg, Potassium: 184mg, Fiber: 1g, Sugar: 1g, Vitamin A: 316IU, Vitamin C: 2mg, Calcium: 52mg, Iron: 1mg
Did you make this recipe?
Tag @beyondkimchee on Instagram. I love to see your masterpiece.