Gamja Jorim (Korean Braised Potatoes)
Gamja jorim is a favorite Korean braised potato dish, combining potatoes and dried sea kelp in a slightly sweet and savory soy sauce. Explore this simple, authentic side dish recipe that's vegetarian-friendly
If you like potatoes, this Korean potato side dish called "gamja jorim, 감자조림" would be something you should try. I haven't met anyone who doesn't like this gamja jorim once they tried.
Plus, this would be the one of the easiest Korean side dishes (banchan, 반찬) you can make. It is quick to make with only a few ingredients and tastes great.
By the way, don't get confused gamja jorim with gamja bokkeum, pan-fried potato, which is another Korean potato side dish.
What is Gamja Jorim?
Gamja jorim (감자조림) is a popular Korean potato side dish. The cubed potato pieces are simmered in a slightly sweetened soy sauce, resulting in a delicious and flavorful treat. Adding a piece of dried sea kelp takes the flavor to the next level.
What makes this dish so special? It's not only easy to prepare, but it's a great vegetarian option that everyone can enjoy. If you've never tried gamja jorim, you're in for a real treat!
Ingredients for Gamja Jorim
Potato: I recommend Yukon or russet potato
Dried sea kelp (dashima): Adds depth to the flavor.
Soy sauce: The base of the simmering liquid.
Corn syrup: Brings luster to the dish.
Water: For simmering.
Toasted sesame seeds: For garnishing.
Optional Ingredients: Green chili

It adds a spicy kick if desired.
How to make Gamja Jorim (Braised Potato Side Dish)
Preparing the Potato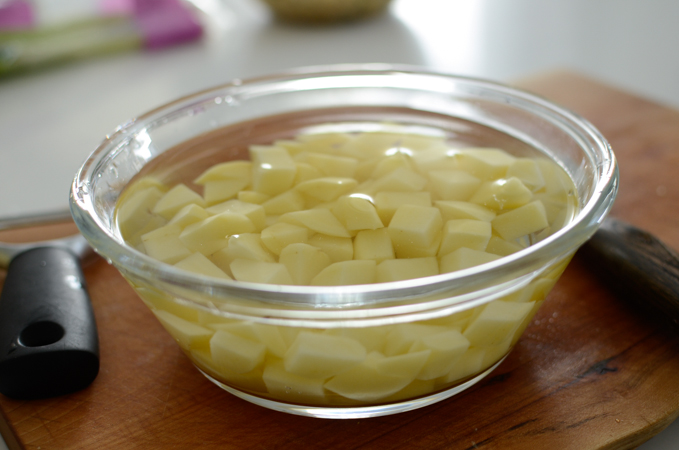 You will need to soak the cubed potato in the water to get rid of some of its starch. This process ensures the potatoes hold their shape during cooking.
Creating the Simmering Sauce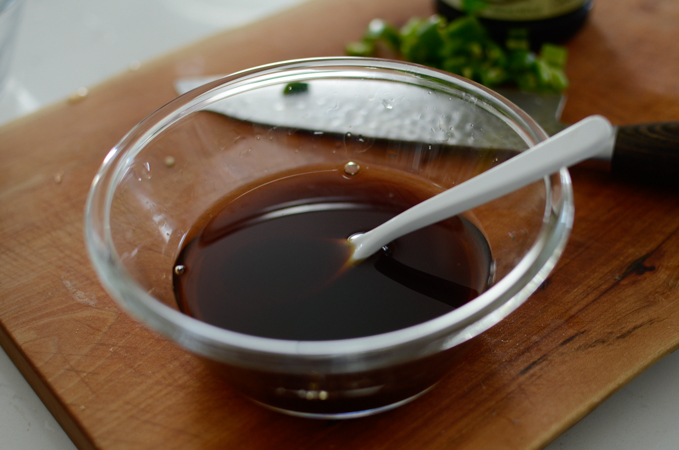 Mix soy sauce, rice syrup (or corn syrup), and water. This will form the slightly sweetened sauce that gives gamja jorim its signature taste.
If you prefer a hint of spice, consider adding a touch of gochugaru (Korean chili flakes), to give the dish a slightly different and exciting taste.
Cooking the Potatoes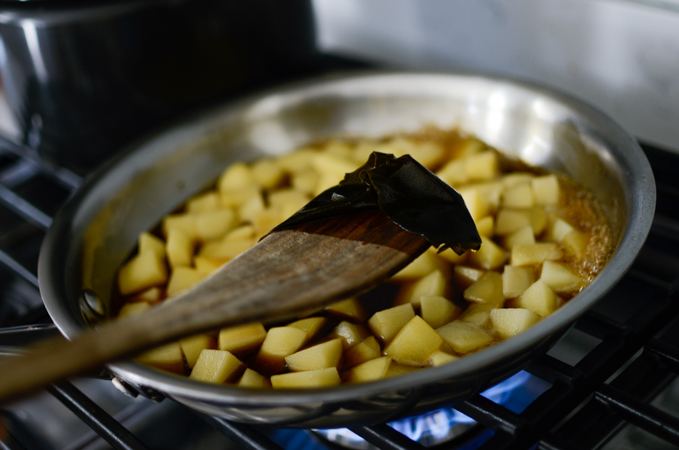 Combine the potato, sauce, and a piece of dried sea kelp. Bring to a gentle boil and cook, removing the sea kelp after 2 minutes.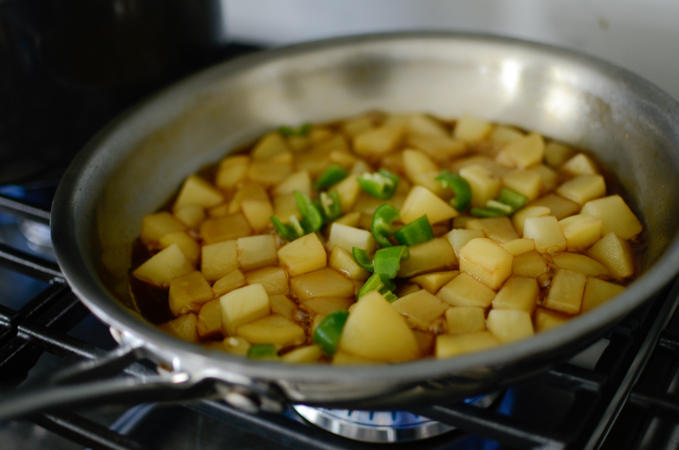 Reduce the heat to med-low, and continue to simmer to soften the potato and thicken the sauce, about 5-7 minutes. Add green chili if desired.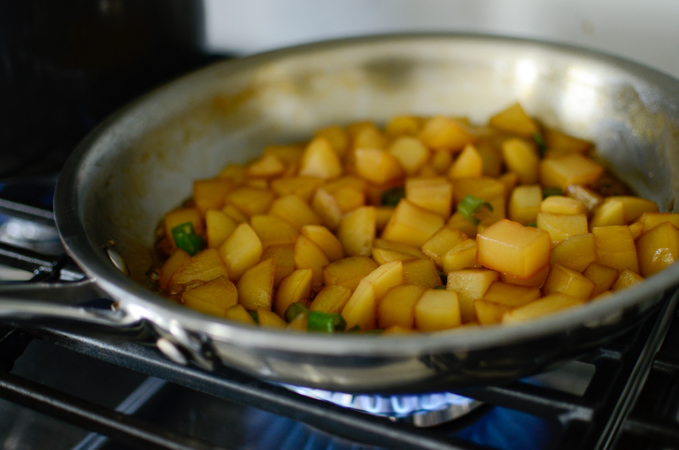 When the sauce is thickened and the potatoes are tender, remove from heat. Be cautious not to overcook the potatoes, as they may become mushy.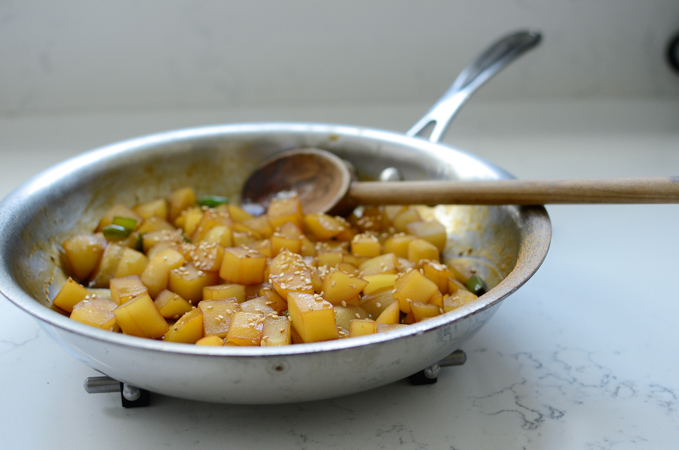 Sprinkle with toasted sesame seeds, and enjoy your homemade gamja jorim!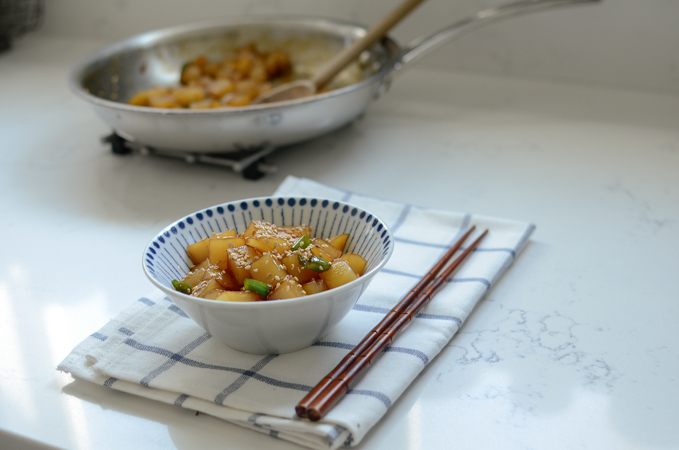 Storage Tips
Keep this Korean potato side dish in the refrigerator at all times. It will last up to 1 week. Freezing is not recommended.
Gamja jorim is more than just a side dish; it's a comforting taste of Korean home cooking. Simple to make with readily available ingredients, this delightful banchan (반찬) is pleasing to anyone who enjoys Korean food. If you like all sorts of Korean side dishes, don't hesitate to try it today!
Other Korean Side Dishes You Should Try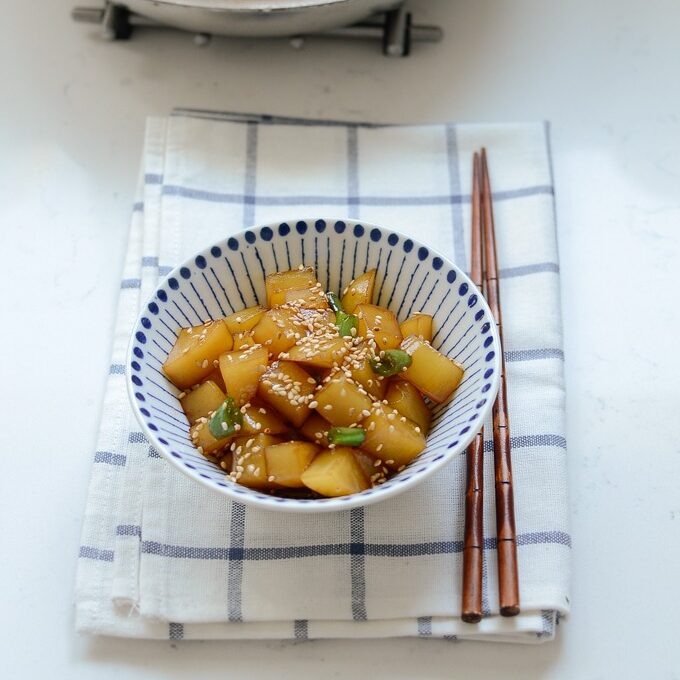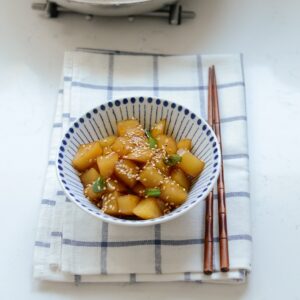 Gamja Jorim (Korean Braised Potatoes)
Gamja jorim is a favorite Korean braised potato dish made with potatoes, dried sea kelp in a slightly sweet and savory soy sauce. This simple, authentic side dish recipe is vegetarian-friendly!
Instructions
Cube the potato into 1/2-inch and soak them in the cold water for 10 minutes

In a small bowl, combine soy sauce, syrup, and water; Mix well.

Drain the potato and combine with the sauce in a skillet. Add the dried sea kelp and bring them to boil. Stir occasionally. Remove the sea kelp after 2 minutes.

Reduce the heat to med-low and continue to simmer to thicken the sauce, about 5-7 minutes. Once the sauce is thicken and potatoes are tender, remove the skillet from the heat and sprinkle the sesame seeds. Serve warm, cooled or chilled. Store in the fridge up to one week.
Calories: 136kcal, Carbohydrates: 29g, Protein: 4g, Fat: 1g, Saturated Fat: 1g, Polyunsaturated Fat: 1g, Monounsaturated Fat: 1g, Sodium: 519mg, Potassium: 507mg, Fiber: 3g, Sugar: 9g, Vitamin A: 3IU, Vitamin C: 22mg, Calcium: 38mg, Iron: 1mg
Did you make this recipe?
Tag @beyondkimchee on Instagram. I love to see your masterpiece.
Save