Beef and Tofu Stew in a Skillet
Beef tofu stew made in a skillet is a quick and and easy way of enjoying rural style Korean stew. Thinly sliced marbled beef, soft tofu, and zucchini in a spicy broth brings a Korean comfort. You can adjust the heat level accordingly.
Beef and tofu stew in a skillet is a quick and and easy way of enjoying a rural style Korean stew. It is soul-satisfying and comforting. You can adjust the heat level according to your preference if you are concerned about the spiciness.
You want your beef to be paper thin slices to get the best result. Most Korean stores sells very thinly sliced well marbled beef brisket. Otherwise use thin beef slices that has some marbling. You will need the fat to bring up the flavor. Make sure to use soft tofu rather than firm tofu.
One of the tough challenge I am facing these days in Buenos Aires has to be the grocery shopping for Korean food items. There is Korean town on the other side of the city. It takes about 1 hour to get there. I don't mind driving that far, but the obstacle is that there is absolutely no place to park no matter what time of the day I go.
Last weekend I had to take my husband to drop me off right in front of the store so that I can grab some Korean groceries as fast as I can while he drives around a few more blocks until he comes back to pick me up.
But with all the hassle and bustle of getting there and shop everything I need for a very short amount of time, I always love getting one important food item.
It is the freshly made TOFU!!!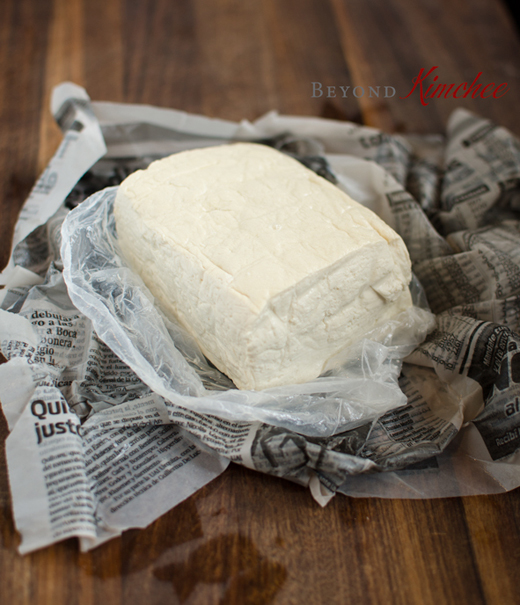 It has been such a long time since I had freshly made tofu and it tastes so much better than the packaged kind. I bought 3 blocks of them. I wanted to buy more but I don't think my family would be happy to the idea of eating tofu every single day.
This freshly made tofu will shine in the beef tofu stew recipe I am about to share.
Why Do You Cook A Stew In A Skillet?
This is a quick stew recipe that doesn't require a long simmering time. The beef slices are super thin and the seafood stock lays the foundation of flavor. So all you need to do is just to heat things up to cook.
Basically cooking this stew in a skillet makes cooking time faster and all the ingredients to cook evenly. Plus you can serve the stew right out of skillet.
How to make Beef Tofu Stew in a Skillet
Seafood Stock: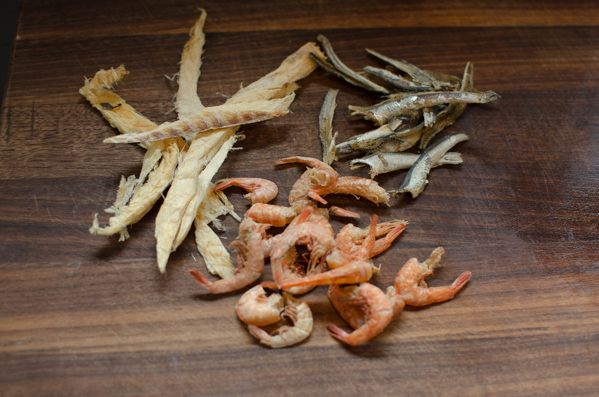 First, this beef and tofu stew needs a GOOD stock to start with. In this case, seafood stock is the best.
Don't use just plain water. I used dried anchovies, pollock fish, and shrimps. If you can't find them all, using two or even one of them is far better than just plain water.
Simmer your dried seafood in water for 5 minutes. Discard the seafood and reserve the stock.
Beef Seasoning: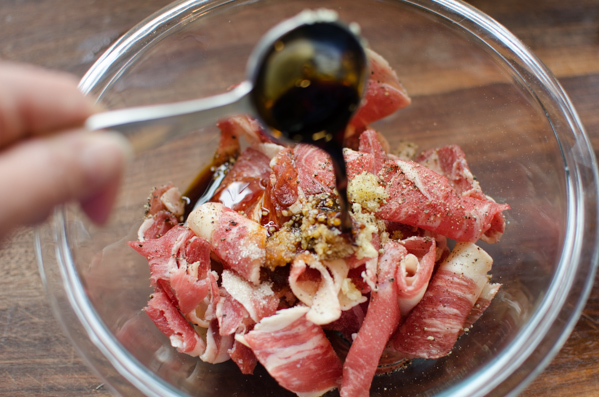 I like to use thinly sliced beef. The thinly sliced beef for Bulgogi would be just perfect. Add soy sauce, garlic, sugar, and black pepper; toss altogether to mix well. Set aside.
Make the seasoning paste by combining Korean chili flakes, garlic, Korean soy sauce for soup, and green onion. Set aside.
Slice your tofu. I also like to add some zucchinis and onion. It adds nice green to the stew and you can tell your mama that you ate your vegetables.
Cook in a skillet:
Assembly is required. Spread out the tofu, zucchini, and onion in a manner that please you.
You want something shallow to cook this stew. Any 9-10 inch skillet you have would be just fine. I use my beautiful cast iron skillet.
Add the seasoning paste you made and pour the stock over just to barely cover the tofu or vegetables. Don't fill all the way up to the rim of the skillet. Otherwise it will overflow when boiling.
Boil it up! Then simmer for 5 minutes at low heat. You want to spread the meat around to cook evenly. That's all the cooking!
Serve with rice, and indulge the goodness of tofu in the flavorful stock with the tender beef. So satisfying!
All my frustration over the grocery shopping last weekend has melted down with this stew and I felt so much better.
Was it comforting? Yes, it was. And I hope this stew can bring the Korean way of comfort to you and your family.
More Korean Stew Recipes You will Like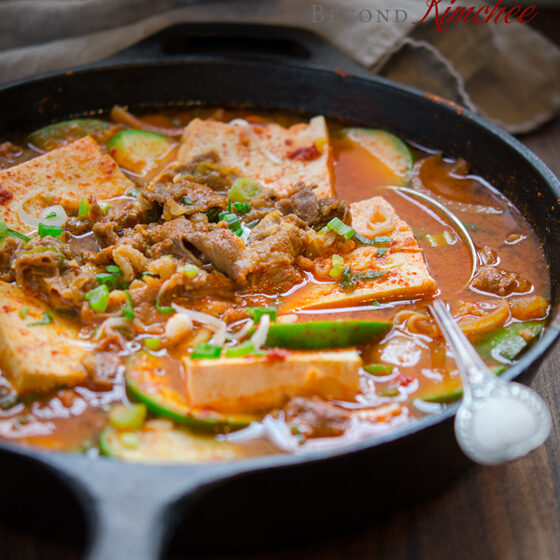 Beef and Tofu Stew in a Skillet
Beef tofu stew made in a skillet is a quick and and easy way of enjoying rural style Korean stew. Adjust the heat level according to your preference. Look for thin slices of beef that has some marbling.
Ingredients
10 dried shrimp
1/2 lb beef sirloin, very thinly sliced
16 oz soft tofu, sliced
1 zucchini , sliced
1/2 onion , sliced
1 tbsp soy sauce
1 tsp sugar
1 clove garlic , finely minced
dashes black pepper
Instructions
In a pot, pour about 4 cups of water, add the dried anchovies, shrimps and pollock pieces. Bring to boil and let them simmer over low heat for 5 minutes. Set aside to cool.

In a mixing bowl combine beef with soy sauce, sugar, 1 garlic cloves minced, and black pepper. Toss together to mix. Set aside.

In a small mixing bowl, mix all the seasoning paste ingredients.

In a 9-10 inch skillet, arrange tofu, zucchini, and onion on the bottom. Place beef and the seasoning paste on top. Pour over the stock until the the tofu slices and the zucchinis are barely covered, about 2-3 cups of stock.

Bring the stew to boil on high heat as you spread the meat and the seasoning paste around to cook evenly, then reduce the heat to low and simmer for 5-7 minutes. Season with more Korean soy sauce for soup according to your taste.

Sprinkle more green onion on top to garnish. Serve hot with rice.
Did you make this recipe?
Tag @beyondkimchee on Instagram. I love to see your masterpiece.