Broccoli Rabe Salad with Soybean Paste
Looking for broccoli rabe recipe? This vegan broccoli rabe salad gets a Korean twist with soybean paste. Robust in flavor, it makes a great side salad to serve with rice.
Seeing beautiful fresh greens at the grocery store makes me happy. I'm not a rabbit nor a deer, but taking a look at them makes me feel alive. They are appetizing to me. I know I am weird in some ways and my kids think I am crazy, but deep green vegetables, such as choy sum, are always enticing to me.
When I saw bunches of broccoli rabe, I knew I had to make broccoli rabe salad with soybean paste to add a Korean twist. The paste is called doenjang, which is commonly used for making doenjang jjigae (Korean soybean paste stew) or beef doenjang jjigae.
However, the robust and pungent flavor of the Korean soybean paste make the slightly bitter broccoli rabe more tasty, if that makes any sense. Make sure you blanch them in boiling water with some salt. That will get rid of some of the bitterness.
Korean doenjang paste is great for making other dishes like soybean paste glazed salmon and squid and shrimp stir-fry.
This is one might healthy salad with low in fat and sugar. With rice and you are good to go. Or serve it as one of the vegetable side dishes you want to pair with any main dish.
So here is a bunch of broccoli rabe.
You will want to chop off the fibrous part of stems.
Blanch them in salted boiling water for 10 seconds. Drain and rinse with cold running water. Squeeze out the excess moisture.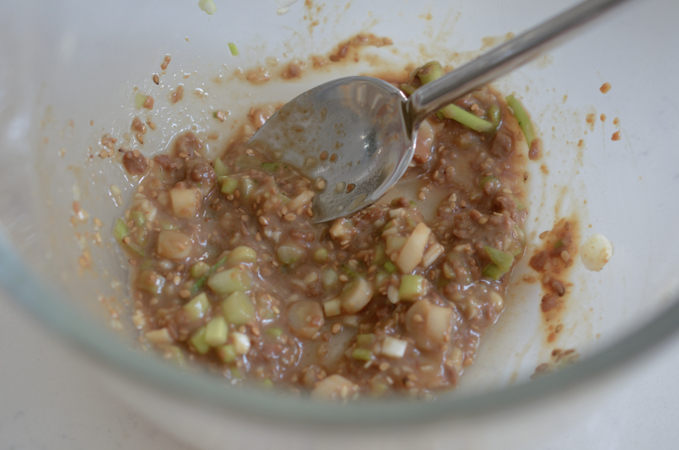 Korean soybean paste is a must condiment in Korean cuisine. While the fermented soybean offers healthy benefit of good bacteria in our body, those good bacteria can't survive in the heat. Therefore the best way to absorb the nutritional benefit is by eating it raw. Hence using in this type of salad is a great way to gain the health benefit.
Toss them together with hand incorporating the sauce and the broccoli rabe. Drizzle more sesame oil at the end if you wish.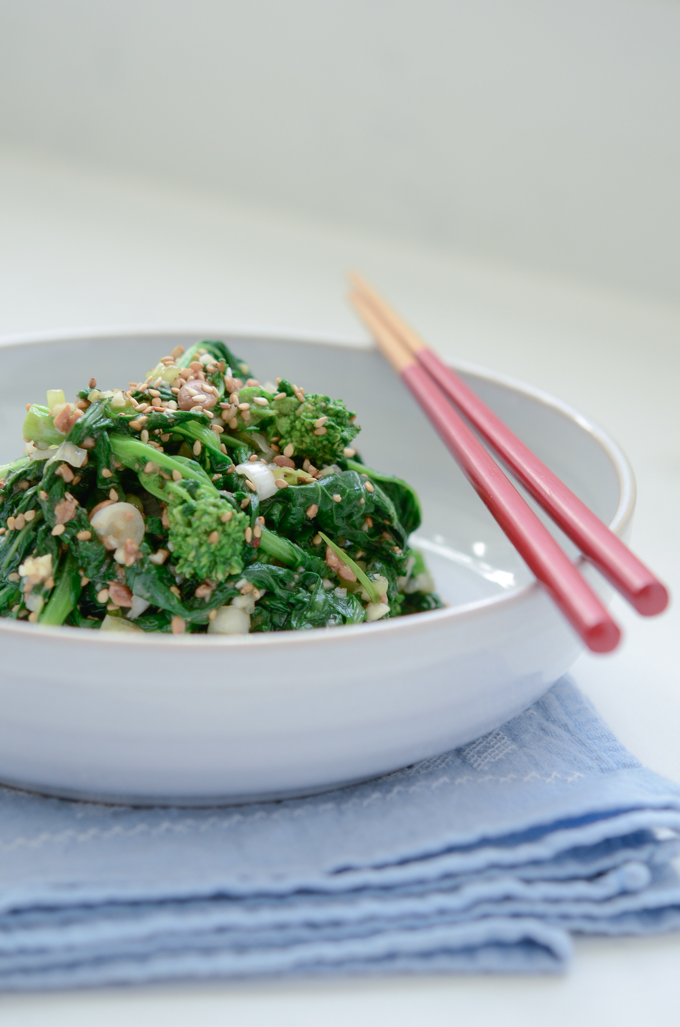 This is my green goddess salad and it is delicious. I was able to empty out a bowl of rice in no time; tasty, light, healthy, and delicious! Besides, this broccoli rabe salad is a perfect vegan/vegetarian dish. So grab a bunch and try out. It is a feel good food at its best.
Broccoli Rabe Salad with Soybean Paste
Blanched broccoli Rabe is tossed with Korean soybean paste sauce. With robust and pungent flavor of the soybean paste, this vegan salad recipe is great to serve with a bowl of rice.
Instructions
Blanch broccoli rabe in boiling water with some salt for 10 seconds. Drain and rinse under cold water. Squeeze out the excess water and set aside.

In a mixing bow, combine the rest of the ingredients and mix well. Add the broccoli rabe and toss with had to incorporate the sauce with the greens. Serve at room temperature or chilled.
Did you make this recipe?
Tag @beyondkimchee on Instagram. I love to see your masterpiece.