Mac-Jeok, the Royal Korean Pork
Mac-jeok is an ancient royal style Korean pork dish seasoned with Korean soybean paste (doenjang). Serve it over a bed of onion salad.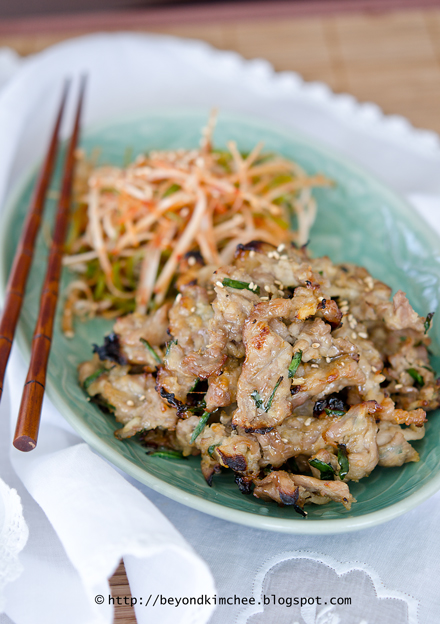 I am a Korean, 100% inside and out, but I hardly watch Korean dramas nor listen to K-pop. I guess I must be a mutant or something. Well, I just don't have time and patience to sit and watch 50+ episodes of much complicated human relationship.
Then, one day about 3 years ago my sister, who is another mutant in the family, told me about a drama called "Daejanggum (a jewel in palace)" and said I must watch that since I am a foodie.
It is about a palace girl in an olden time in Korea who was a cook, then became a first female doctor to the king. The drama was made over 10 years ago and became a huge hit all over in Asia.
I finished the entire 54 episodes (which is very unusual) not only because of the great story line, but also the many interesting palace foods that I've never heard of.
This recipe is one of them. It's called "Mac-jeok (맥적)". It is a grilled pork coated with "doenjang (soy bean paste)" sauce. Mac-jeok was the original form of Bulgogi according to the Korean food history. Somehow people, except a few, had forgotten about the dish for a several hundred years.
Now the secret is out and many Koreans make this divine pork in their home. The taste? Out of this world! My husband, a serious food critic and not so much of pork-lover, complimented.
You would think a dish served to the king will be quite difficult or complicated to make but this is NOT. It is amazingly easy and quick to make.  Unlike Bulgogi, which requires many hours of marinating, this royal pork can be cooked right away. It is a winner of all Korean pork. Who knew a pig can return to the palace with a crown on his head?
This is the pork cut I used. It is thinly sliced pork neck meat called, "mokssal". You can find this paper thin pork slices as frozen in Korean grocery stores.
Here is a 30 second lesson on the marbling in pork. Unlike beef you won't find any marbling in pork cuts. You only see a thick layer fat attached to the side that you can slice off. No offense but pigs simply have too much fat.
However, there is only one part of pig that has some marbling in.  It is on between the neck and shoulder. Very tender and juicy, it is perfect to grill or broil.
If samgyupssal (Korean pork belly) was more for the commoners, this mokssal was for the royals. Now you understand why this cut was served to the king. I used very thinly sliced cuts for this recipe but you can use thicker slices (up to 1cm).
Here is how: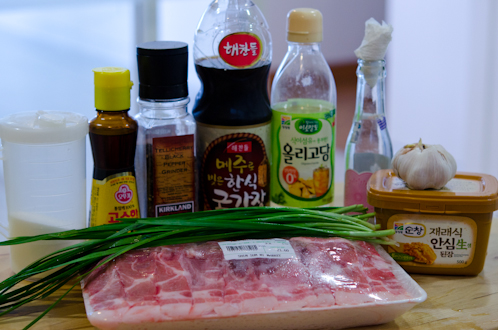 The royal ingredients of this recipe! Pork, Asian chives, doenjang paste, rice wine, Korean corn syrup, Korean soy sauce for soup, pepper, sesame oil, and sugar.
Chop up your Asian chives or green onion.
Here is doenjang paste made of fermented soybeans. Very earthy! If you never smelled it before, don't try it. It will turn you off. Just saying…
Mix doenjang and all the rest of the ingredients in a large mixing bowl.
Add the chopped chives and mix well.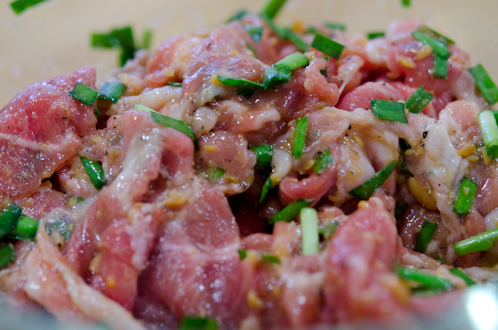 Dump your pigs in and toss all together with your hand so that the meat gets covered with the sauce evenly.Hint: If you take out the meat (thawed) from the fridge just before you toss in, you will want to let this mixture sit for 10-15 minutes so the meat can come up to a room temperature. Meanwhile, preheat your broiler in the oven.
Place a cookie rack over your pan and spray with grease so the meat won't stick to the rack.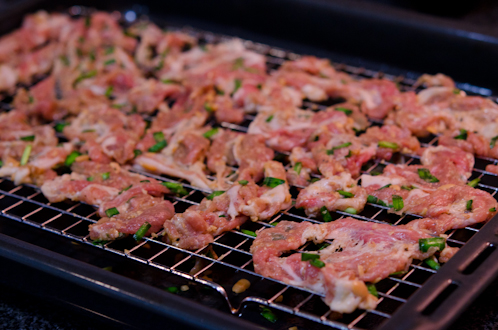 Spread your meat whatever way they let you.
Place your pan in the oven about 3-4″ below your heat source. Set the timer for 6 minutes. You need to check often to make sure you don't burn them. ADJUST the time according to your oven.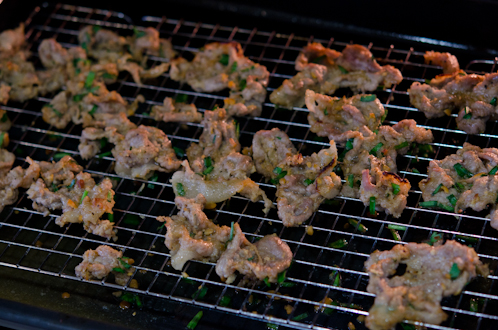 After about 6 minutes, flip the meat to the other side so they cook evenly.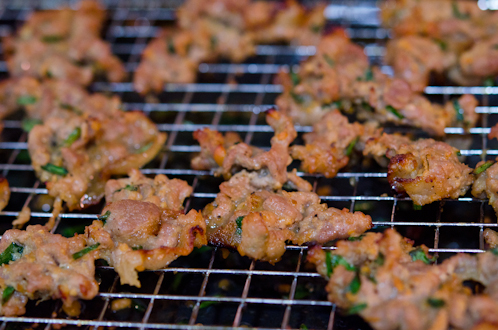 Broil for another 5-6 minutes. When you see the edges of the meat gets browned and crisp, they are done.
They are soooooo tender and moist, flavorful and whatever words that can describe. You can eat them alone with some rice but try pairing with this side dish below.
Here is an optional side dish you can serve with, a spicy Asian leek salad. Cut Asian leek into 3″ long and give a slit on one side to remove the cores.Note: Asian leek is far tender than regular leek. If you can't find them, substitute with green onion and slice them diagonally very thin.
Flatten the leek pieces and slice into very thin (1/8″) matchsticks. You will need a very sharp knife to slice them thinly.
Soak them in ice cold water with 1 tsp vinegar for 10 minutes or longer.
This will add crispness to the leek.
Combine the dressing ingredients and mix well.
Take them out of water and drain thoroughly.
Use chopsticks or a tong to toss briefly together with the dressing. DO NOT use your hand. The very first Korean vegetable in my blog that I am telling you NOT to mix by hand!This salad needs to be tossed together just before serving. They get soggy soon. Do you have some royal blood in you? Do you deserve this dish? I do.Although mine is diluted to 0.0001% over the past few thousand years. But, I am a queen of my household and my people call me, "your highness". That's good enough to deserve this majestic pork.
More Korean Pork Dishes
Mac-Jeok, the Royal Korean Pork
Mac-Jeok is Korean pork seasoned with Korean soybean paste and served with green onion salad
Ingredients
For the Korean leek salad
Instructions
Preheat your broiler. Bring your pork to a room temperature.

In a mixing bowl, combine the rest of ingredients. Add the pork and mix with your hand so that the pork gets seasoned evenly.

Spray a rack (such as cookie rack) with oil and place on a broiler pan. Spread the meat evenly in single layer. You might need to do this in two batches.

Place the rack in the oven about 3-4" below the heat source. Broil for about 6 minutes or so. Turn the meat over and broil another 4-5 minutes or until the edges gets nicely browned.

Make sure you watch closely to not to burn them. Serve hot with rice and Korean leek salad as you wish.
For the Korean leek salad
Soak leek slices in the cold water with 1 teaspoon vinegar for 10 minutes. Drain well.

In a mixing bowl combine Korean chili flakes, soy sauce, sugar vinegar, sesame oil and sesame seeds. Add the leek and toss gently with chopsticks or a kitchen tong.
Serving: 3g
Did you make this recipe?
Tag @beyondkimchee on Instagram. I love to see your masterpiece.