Tofu Broccoli Salad
This tofu broccoli salad is an easy Korean broccoli side dish made with crumbled tofu and steamed broccoli. Seasoned with Korean soup soy sauce and sesame oil, it's delicious to accompany many Korean meals or eat alone as a light salad.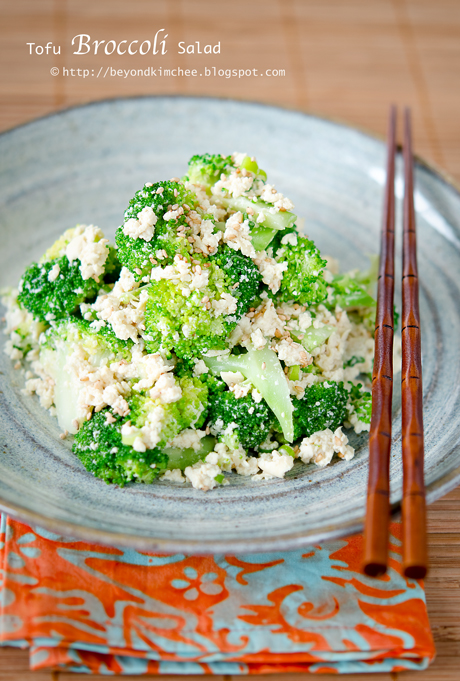 If you are looking for Tofu recipes that are gluten-free, low-carb, vegetarian & vegan dish all together, this tofu broccoli salad will fit all the requirements. Korean broccoli side dish is always popular in many Korean restaurants.
Last month I drove over 4 hours to Singapore with my family to watch "Wicked," the famous Broadway show. It was undoubtedly a great show and my kids just loved it.
But for some very WICKED reason, I kept thinking of "broccoli" while I was watching. How bizarre!
It could be Elphaba's green face or the green emerald city in the land of Oz on the stage. Or it could simply be that I'd gone mad, which happens from time to time. Whatever the reason was, I was inspired with broccoli and happy to present it today.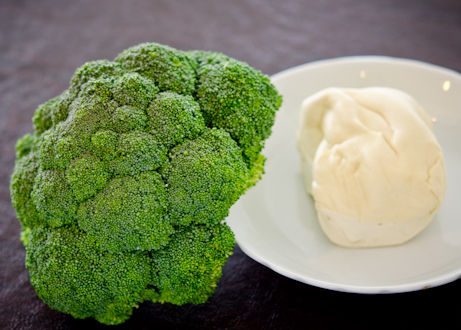 I never had broccoli as I was growing up in Korea, nor I have seen it until I came to U.S over 20 years ago. Although broccoli wasn't widely available for my childhood, which some of you might think that as "lucky", you can find them very easily anywhere in Korea these days.
My first encounter to broccoli was "scary"! I thought I was eating a wicked moss ball. After a few attempts, I began to enjoy their green beauty! I love them.., I love them to death now.
Here is one dish that you can fuse this glorious vegetable with tofu. It is easy and delicious, not to mention of their super healthy power. You just need to know a simple technique to bring out the true radiance of Ms. Broccoli.
How to make Tofu Broccoli Salad
Cut up the broccoli florets into small pieces.
Place broccoli and tofu in a hot steamer and steam for 2-3 minutes until the broccoli is tender yet retains their green beauty.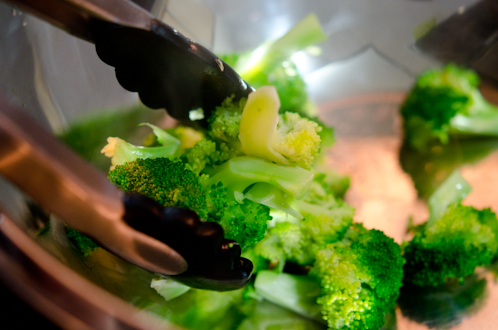 Tender yet green…,  hard to achieve, isn't it?
Rinse them in the cold water to stop cooking further.
Wrap tofu with fine cotton cloth (or cheese cloth) and squeeze out to remove some water.
Then, crumble your tofu.
Place them in a shallow bowl but don't combine yet.
Get these stuff. Sesame seeds, Korean soy sauce for soup, sesame oil and garlic (minced).
Sprinkle 1 teaspoon of this "Korean soy sauce for soup" to tofu and the other 1 teaspoon to broccoli
Oh, don't forget to add chopped garlic and green onion, sesame oil and sesame seeds .
Start massaging around your tofu with seasoning… because you love him so much.
This step will season the bland tofu without bruising the broccoli.
Now, gently toss all together. Taste and season with salt if you need.
Done! Lovely!
Easy, pretty, delicious, healthy, vegetarian/.vegan worthy, gluten-free and low-carb! This salad has it all. So, please, don't miss out.
More Vegetarian & Vegan Salad Recipes