Blanched Choy Sum with Garlic Sauce
Blanched choy sum with a homemade garlic sauce is one of the best ways to enjoy Chinese vegetables. This choy sum recipe takes less than 2-3 minutes once the green is blanched in water. Simple, quick and delicious.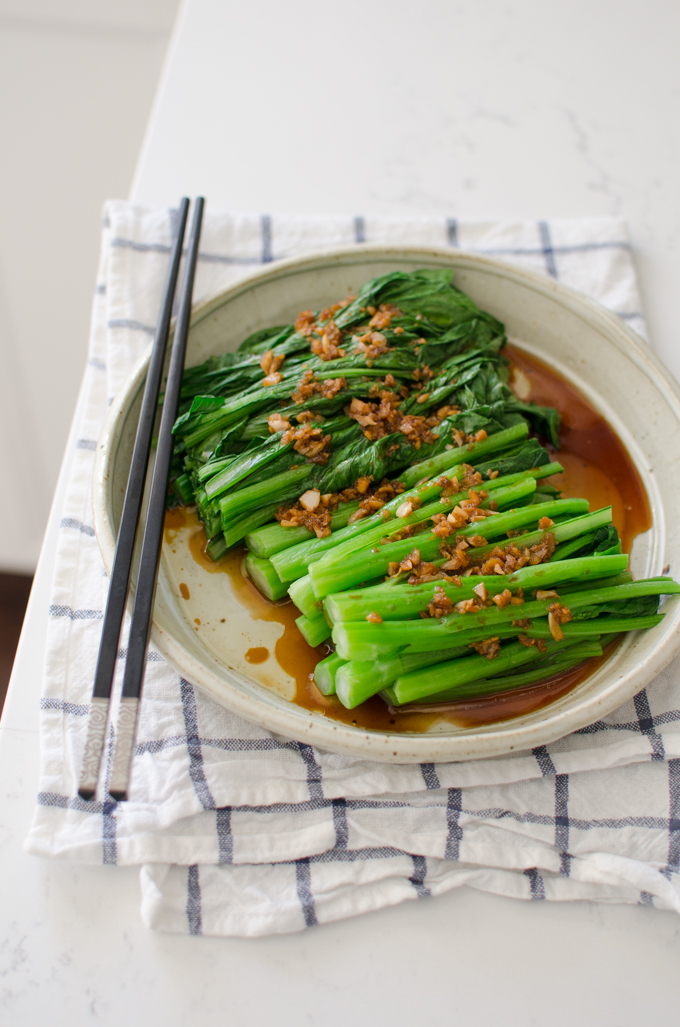 Blanched choy sum with garlic sauce always reminds me of Hong Kong, Singapore, and Malaysia where I used to live many years ago. There I used to eat it at Chinese restaurants all the time. I am so glad that I found this beautiful Chinese vegetable at the Asian grocery store in my neighborhood here in the U.S.A.
What is Choy Sum?
It is a leafy green vegetables commonly seen in Chinese cuisine and one of the most popular vegetable side dishes. It is often known as a Chinese flowering cabbage or Yu Choy. When choy sum is fully grown, it will start to bloom yellow flowers in the center.
Some people think Choy Sum (菜心) is same as Chinese broccoli called, "Gai Lan (芥兰)". They are different. While choy sum is from the cabbage family, gai lan is from the broccoli plant.
Choy sum is one of the healthy Asian greens packed with nutrition. It is a good source of folate, vitamin B6, and it provides fiber, calcium and iron.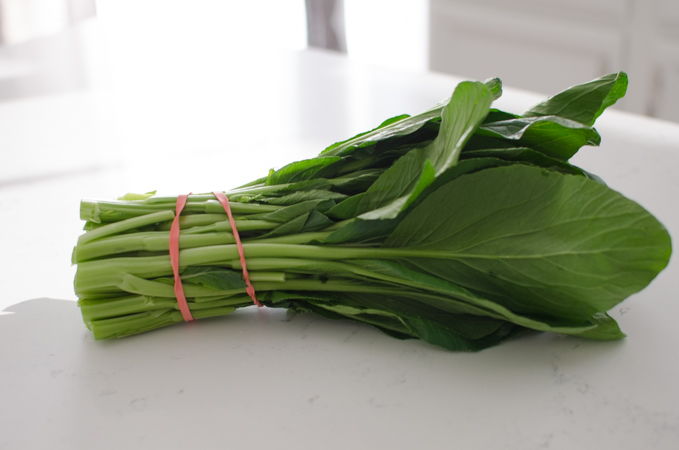 How to cook choy sum?
Simply, blanching is perhaps the best way to prepare the fresh choy sum to a dish. By using this method, it gets rid of the bitter taste that many deep green vegetables often have.
My family like to eat it with garlic sauce. Once you blanch the vegetable to tender, the sauce only takes less than 2-3 minutes. Simple yet delicious, you can enjoy this nutrition packed green vegetable in the best way you can taste.
Choy sum recipe with garlic sauce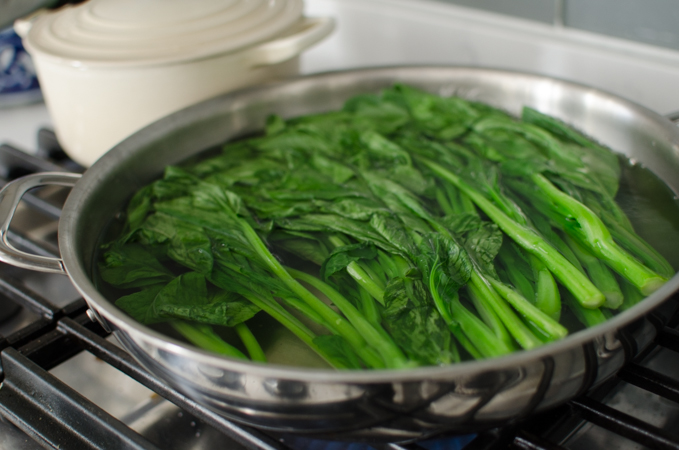 You will need to blanch the greens in the boiling water for about 2 minutes. Add a couple pinches of salt to retain its green color.
Blanch the stem side first, then immerse the leafy part of green into the water. That way you will have evenly blanched choy sum to enjoy.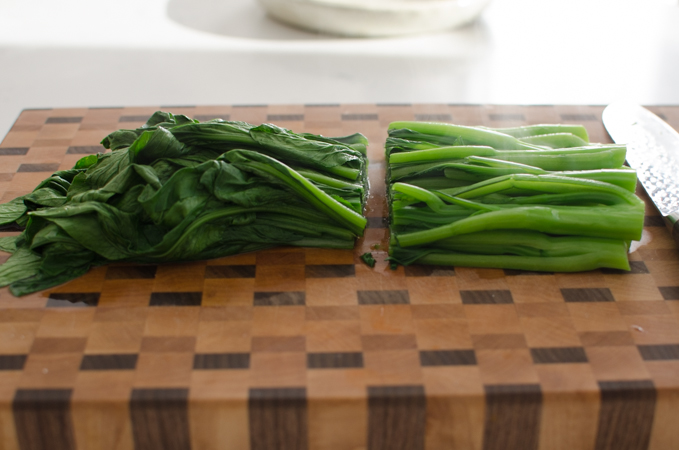 I like to cut them in half when they are too long. This makes it easier to serve.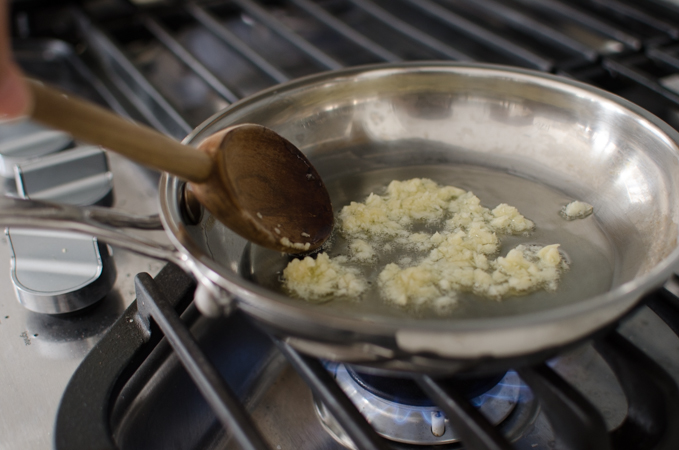 Meanwhile, make the garlic sauce. Saute minced garlic in oil until fragrant.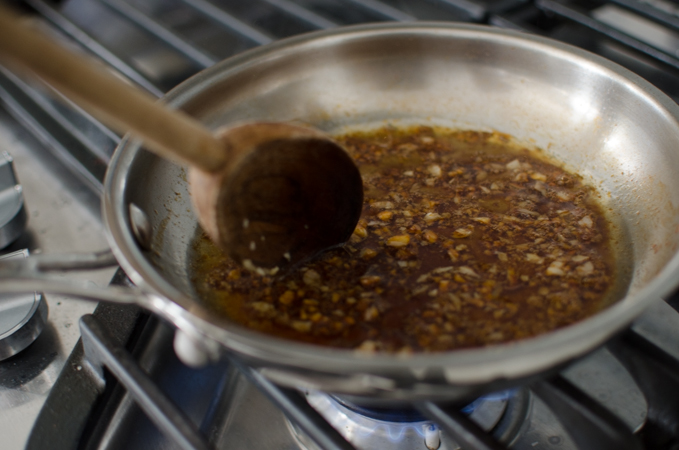 Add soy sauce, a little bit of water, and sesame oil.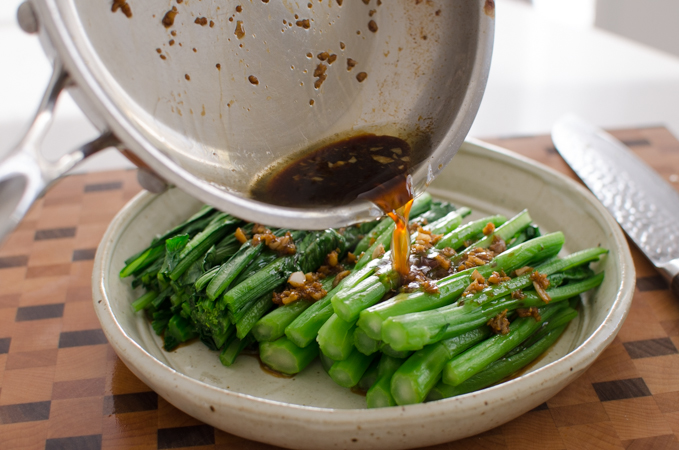 Then, quickly pour over the greens. That's it. How simple is that?
The garlicky fragrant sauce is irresistible and I can't help keep adding the greens into my mouth. Now that is very good thing.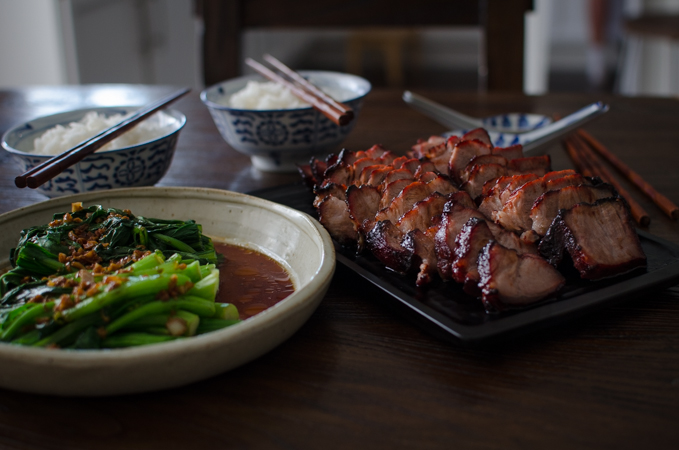 Choy sum can go with many Chinese dishes. To go with, I made Char Siu, the Chinese BBQ pork. I can assure that this ultimate Chinese (Cantonese) dinner was deeply appreciated by my family. Delicious~!!!
Chinese dishes to go with choy sum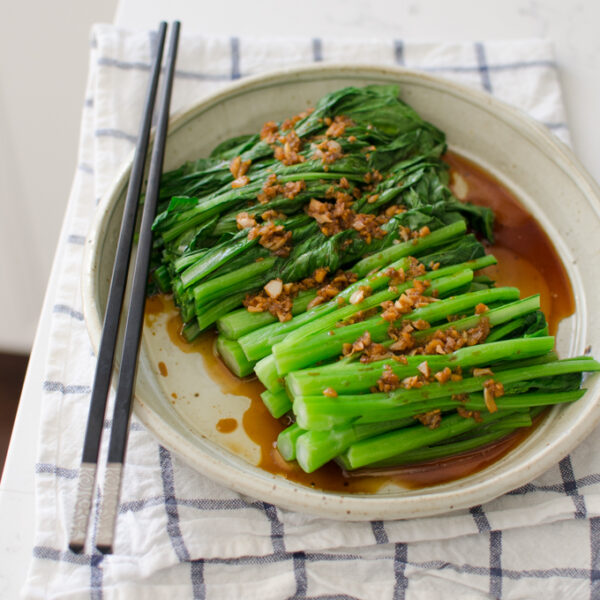 Blanched Choy Sum with Garlic Sauce
Blanched choy sum with gallic sauce is an easy recipe to enjoy Chinese vegetables. Once your greens are blanched to tender, the garlic sauce takes less than 2-3 minutes to prepare.
Ingredients
1 bunch choy sum
2 tablespoons peanut or grape seed oil
2-3 cloves garlic, minced
1-1/2 tablespoons soy sauce
2 teaspoon water
1 teaspoon sesame oil
Instructions
Bring a pot of water to boil and add some salt.

Add the stem part of choy sum first into the boiling water, wait for 30 seconds, then add the rest of leafy parts into the water. Blanch the greens for about 2 minutes or until crisp soft.

Drain choy sum to the strainer. Arrange it on the cutting board and cut them in half lengthwise. Transfer the greens in a serving dish.

Heat oil in a small skillet over medium heat. Saute garlic until fragrant. Add soy sauce, water and sesame oil; stir well.

Remove the skillet from the heat and pour the sauce over choy sum. Serve warm.
Calories: 2kcal, Carbohydrates: 1g, Protein: 1g, Fat: 1g, Saturated Fat: 1g, Polyunsaturated Fat: 1g, Monounsaturated Fat: 1g, Trans Fat: 1g, Sodium: 126mg, Potassium: 5mg, Fiber: 1g, Sugar: 1g, Vitamin A: 25IU, Vitamin C: 1mg, Calcium: 1mg, Iron: 1mg
Did you make this recipe?
Tag @beyondkimchee on Instagram. I love to see your masterpiece.