Pork Belly Rice Bowl Recipe (Butadon)
Butadon is a delicious Japanese pork rice bowl. This recipe uses pork belly and glazed with easy homemade teriyaki sauce.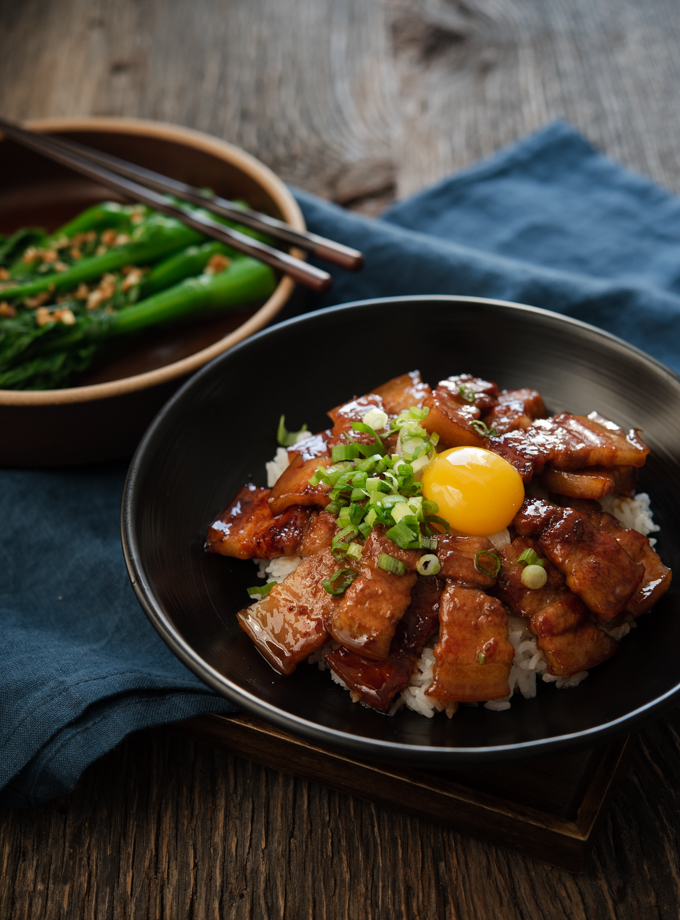 Although pork belly is widely eaten in the Eastern Asia, I used to not like the pork belly that much and didn't bothered to use it in creating a recipe. Time flows and your taste changes. I began to appreciate the flavor and the texture of pork belly.
This Japanese pork rice bowl recipe uses pork belly and glazed with homemade teriyaki sauce. It is served with sauteed onion and fresh egg yolk and you got a quick rice bowl is ready for dinner (or lunch).
What is Butadon?
Butadon is Japanese pork and rice bowl. Thinly sliced pork butt is most commonly used in Butadon dishes. The pork slices pan fried, then coated with the delicious teriyaki sauce. Pork belly makes great Butadon as well. You will love the crisp outside yet soft meaty texture inside. Some likes to add sliced onions to the pork during the cooking. I prefer to cook mine separately.
It is so nice to serve Butadon bowl with an poached egg on top, although I used just a fresh egg yolk on mine to make my life easier. You can serve as is, and that would be the one dish meal itself. Or serve it with deep green vegetable on the side, and you've got a lovely combo meal to indulge.
Homemade Teriyaki Sauce
Homemade Teriyaki sauce is not difficult at all and it is so much better and tastier than the store bought. You will need the following ingredients .
Soy sauce
Honey
Garlic
Ginger
Sake is an alcoholic beverage made by fermenting rice that has been polished to remove the bran. The alcohol content is about 14-16%. Mirin is similar to sake, but has more sugar and a lower alcohol content (14% or below)
How to Cook Pork Belly Butadon
Heat oil in a skillet and saute onion until soft, and remove to another plate.
Cook pork belly slices in a skillet until they are golden and slightly crisp.
Pour the homemade teriyaki sauce and let it thicken, about 2-3 minutes.
Japanese Pork Rice Bowl Serving Suggestion
Put individual serving of rice in a rice bowl, top with sauteed onion and glazed pork belly. Garnish with chopped green onion and a fresh egg yolk (optional). The creaminess of egg yolk will enhance the flavor the glazed pork belly and it's delicious.
Try serve the pork rice bowl with Blanched Choy Sum with Garlic Sauce. It is a tasty vegetable side dish to go with.
More Japanese Recipes
Here a few of my favorite Japanese Recipes.
Pork Belly Rice Bowl Recipe (Butadon)
A delicious pork belly recipe to create Butadon (Japanese pork and rice bowl) with a quick and easy homemade Teriyaki sauce.
Ingredients
1 lb (450 g) pork belly, cut into bite size pieces
1 tbsp oil
1 onion, sliced
Homemade Teriyaki Sauce
3 tbsp soy sauce
1 tbsp tsuyu
3 tbsp sake
3 tbsp sweet rice wine (mirim)
2 tbsp honey
3 cloves garlic, smashed
3 thin slices of ginger
4 servings cooked white rice
2 green onion, finely chopped
4 egg yolks for serving, optional
Instructions
For the teriyaki sauce, mix together soy sauce, tsuyu, sake, sweet rice wine, and honey in a small pot. Add the garlic, ginger and bring the sauce to boil. Reduce the heat to low and simmer for 5 minutes. Discard the garlic and ginger; set aside.

Heat oil in a large heavy bottom skillet over med-high heat. Add the onion and cook until they are just softened, about 2-3 minutes. Transfer to another plate; set aside.

Add the pork belly to the hot skillet and let them sear for 2-3 minute, then turn to the other side and cook for another 1 minute.

Pour the sauce over pork belly and let the sauce bubble. Reduce the sauce until it thickens, about 2-3 minutes. Remove from the heat.

To serve, put individual serving amount of rice in each bowl, put onion over the rice and top with pork belly slices. Sprinkle chopped green onion and top with an egg yolk. Serve immediately.
Notes
To make sure this recipe to be gluten-free, use gluten-free soy sauce and tsuyu.
Calories: 769kcal, Carbohydrates: 20g, Protein: 16g, Fat: 68g, Saturated Fat: 24g, Polyunsaturated Fat: 8g, Monounsaturated Fat: 32g, Trans Fat: 0.01g, Cholesterol: 276mg, Sodium: 1151mg, Potassium: 342mg, Fiber: 1g, Sugar: 13g, Vitamin A: 331IU, Vitamin C: 4mg, Calcium: 48mg, Iron: 2mg
Did you make this recipe?
Tag @beyondkimchee on Instagram. I love to see your masterpiece.