Czech Kolaches Recipe
Sweet tender pastry-like bread topped with creamy cheese filling and variety of fruit jam, this Czech Kolaches recipe makes beautiful sweet buns. They are perfect for a breakfast treat on a special occasion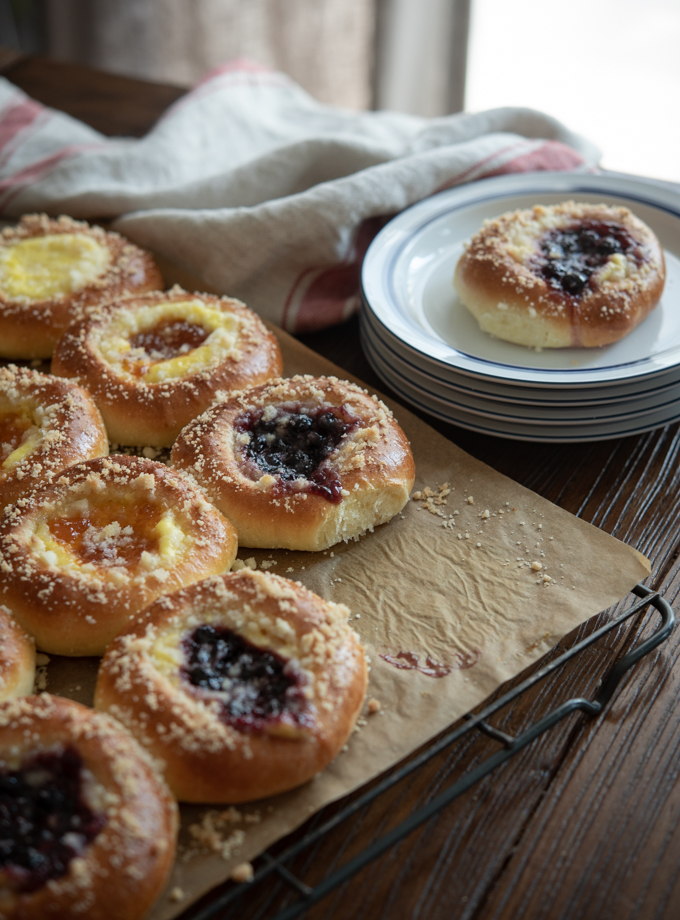 Gently sweet tender pastry-like bread topped with creamy cheese filling and fruit jams, I always love these lovely Kolaches for their soft texture with the combination of velvety cheese filling and the fragrant fruit jam.
Every Czech household has their own Kolaches recipe and it varies. As a Kolache lover, here is my Kolaches recipe. (Even though I am not a Czech descendant)
What is Kolaches?
If you have traveled to Czech republic, you will see the lovely pastries named Kolaches (koláče) in many local bakeries. Kolaches are pastry-like soft sweet bread filled with cheese and fruit jams.
The traditional flavors include poppy seed, prune, and farmer's cheese. These pastries are traced back to Eastern Europe origin.
In late 1800's many of Czech immigrants settled in Texas, Nebrasaka, and other Midwest area of U.S. Eventually the traditional Czech Kolaches expands their filling to pineapple, blueberry, peach, cream cheese, and etc – flavors that are available in this country.
Ingredients for Czech Kolaches
all-purpose flour
powdered sugar
instant yeast
butter
milk
egg yolks
cottage cheese + cream cheese
fruit jams of your choice
The traditional Kolaches use farmer's cheese (equivalent to cottage cheese in U.S.), you can mix with cream cheese or use cream cheese only. For the jams, I like to use apricot jam and black currant jams. You can use any type of jams you like.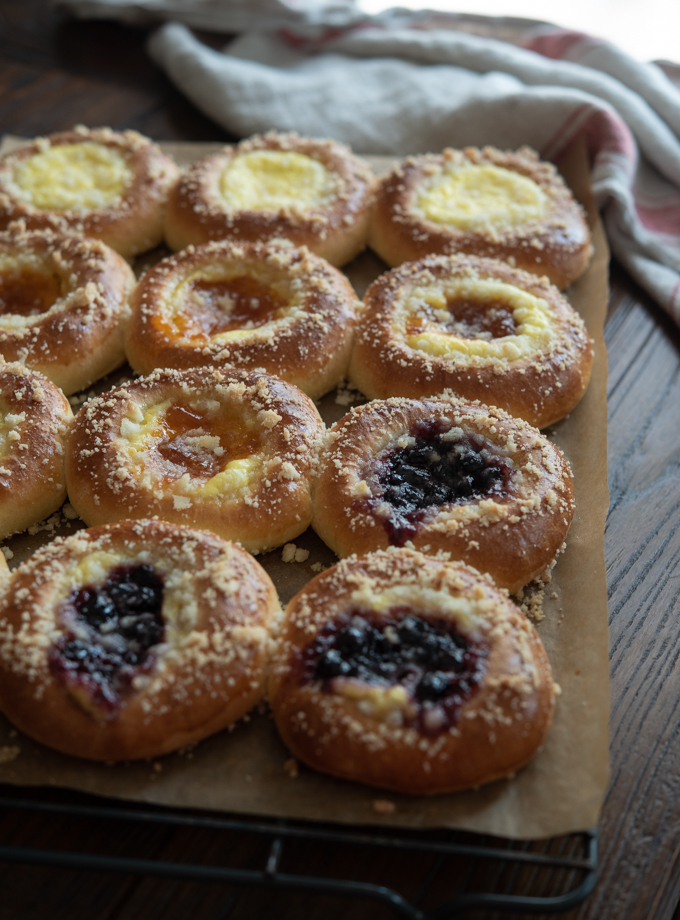 Storing Kolaches
Just like any other sweet treats, Kolaches are always best on the day you made. However they store nicely in the refrigerator, too. Keep any leftovers tightly covered in the refrigerator, and then reheat in a low temperature oven for a few minutes or even in the microwave for about 10 seconds.
Watch Kolaches Recipe Video
More Sweet Treat Ideas
If you love Kolaches, try my other sweet bread recipes. You might find them very tempting to make. I recommend the following;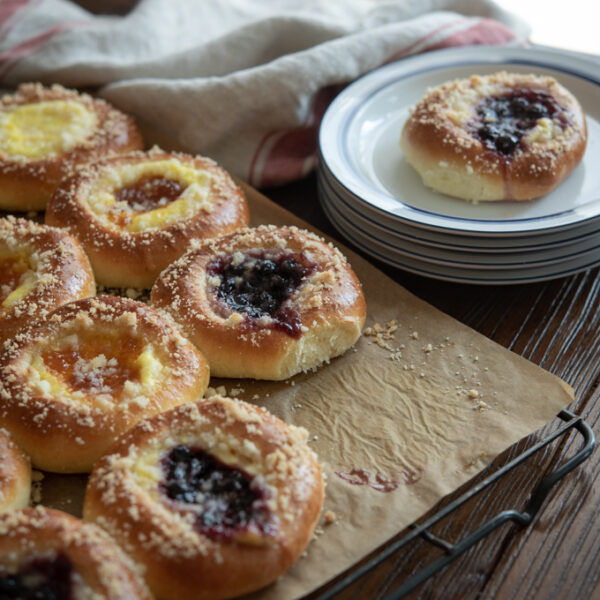 Czech Kolaches Recipe
This recipe for Czech Kolaches makes beautiful sweet buns filled with cheese filling and fruit jam. They are perfect for a breakfast treat on a special occasion
Ingredients
3 cups all-purpose flour
1/4 cup powdered sugar
2 tsp instant yeast
1 tsp salt
1/3 cup butter, melted
1 cup lukewarm milk
2 egg yolks
Egg wash for brushing
For the cheese filling
4 oz cottage filling
2 oz cream cheese
2 tbsp powdered sugar
1 egg yolk
For the Fruit jam filling
4 Tbsp any fruit jam
2 tsp water
For the streusel topping
2 tbsp flour
2 tbsp sugar
1 tbsp butter, melted
pinch salt
Instructions
In a bowl for the electric mixer, stir together flour, powdered sugar, yeast, and salt. Add the egg yolks, melted butter and milk, and stir with a wooden spoon to combine. Attach a dough hook to the mixer and knead the dough for 3 minutes.

Transfer the dough into a lightly greased bowl and cover tightly with a plastic wrap. Punch a hole for ventilation and cover with a towel. Let the dough rise in a warm place until double in volume, about 1 hr.

Punch the dough to remove the gas. Form the dough into a log and cut into 12 equal pieces. Form each dough piece into a ball shape and place in a half sheet pan lined with a parchment paper, place them apart. You should be able to fit all 12 pieces in a pan.

Flatten down each dough balls with your fingers, then using a glass bottom or anything that has 2.5-inch diameter on a flat surface, press down to leave an indentation. Cover them with a towel and let it rise second time until double in volume.

Meanwhile prepare the cheese filling by mixing all the ingredients in a bowl; set aside.

To make the streusel, mix flour, sugar and salt in a small mixing bowl. Add the melted butter and combine together with your fingers until it forms fine crumbs; set aside.

For the fruit jam filling, mix jam and water and microwave for 7-10 seconds to loosen; Set aside.

Preheat the oven to 375˚F.

When the dough pieces are risen again, press again with a glass bottom to leave deeper indentation. Be careful not to deflate the dough. Brush with egg wash.

Fill each piece with 1 tablespoonful of cheese filling, and 2 teaspoonful of jam filling and sprinkle with streusel topping all over. Bake in the preheated oven for 20 minutes or until the edges are golden brown. Let them rest in a pan for 5 minutes, then transfer on to a cooling rack. Serve warm or at room temperature.
Did you make this recipe?
Tag @beyondkimchee on Instagram. I love to see your masterpiece.