Apple Cinnamon Bundt Cake
Filled with grated apples and cinnamon walnut filling, this warm spiced apple cinnamon bundt cake is tender and moist. It is a perfect fall dessert or any season when you are in the mood for an apple cake.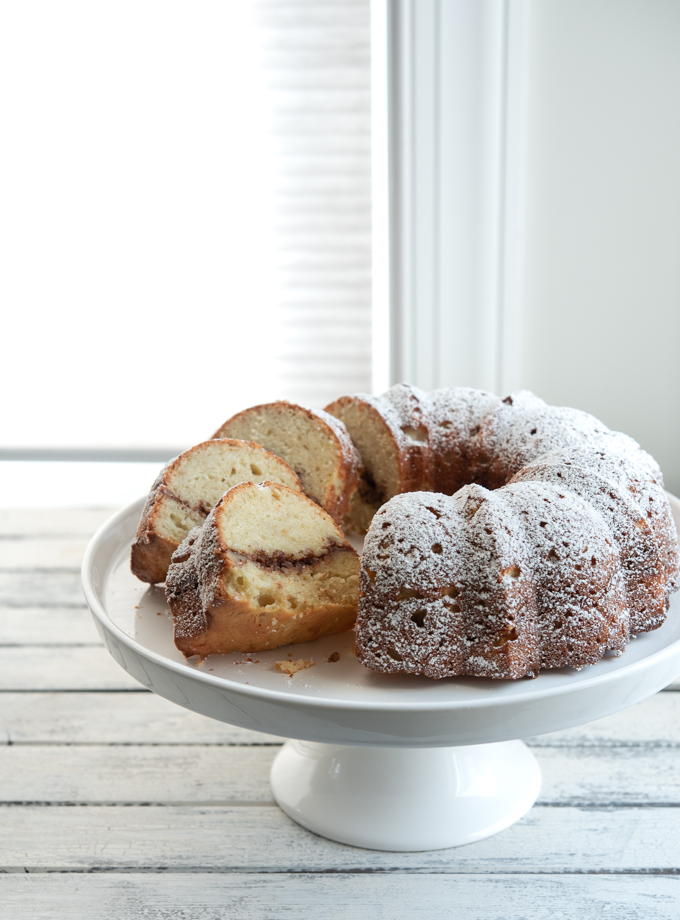 Baking with fresh apples in Autumn is one of my favorite things to do. Who wouldn't love this homemade apple cinnamon bundt cake for a fall treat! This is a beautiful apple cake recipe fit for your easy apple dessert craving any time of the year.
There are so many different recipes for a simple apple cake, but I have to tell you that this apple cinnamon bundt cake has to be my favorite. You will love the fragrant cinnamon with bites of walnut pieces in this cake. If you like apple cinnamon cake and own a nice bundt pan, try this recipe. It will bake up beautifully.
For more decadent apple recipes, try my Apple Strudel made with puff pastry, or Crustless Apple Pie. You won't regret making them.
Ingredients You'll Need
butter – use unsalted softened butter
sugar
eggs
vanilla extract
all-purpose flour
baking soda
baking powder
salt
sour cream – it makes cake very soft and moist
apple – any baking apples, such as Granny Smith or golden delicious,
sugar
cinnamon
walnut
Watch Apple Bundt Cake Recipe Video
Apple Cinnamon Bundt Cake Recipe Tips
Apple Bundt Cake Batter
I used Granny Smith because I love the crisp tartness and they are wonderful to bake with. You can certainly use other types of apples that are suitable for baking; such as Golden Delicious, Gala, Honey Crisps, Fuji, Jonathan, & etc.
You can adjust the amount of sugar depends on the sweetness of the apple of your choice.
I also like to grate the apples into the cake batter. It makes the cake moist and tender. You can dice the apples into small pieces, instead, if you prefer small chunks of apple showing in the cake.
This is a forgiving recipe. The addition of sour cream ensures that your cake comes out very soft, moist, and tender.
Cinnamon Walnut Filling
The filling is simple as it can be; granulated white sugar, cinnamon powder, and chopped walnut. Just mix it up and sprinkle in between the divided batter. That's all.
Bundt Cake Baking Tips
Baking a bundt cake is fun and rewarding. Make sure you grease and flour the 12-cup bundt pan thoroughly to ensure your cake comes out clean.
I used a baking spray that you can easily find in any grocery stores these days. That makes the greasing job so easy.
Bundt cake doesn't need a fancy job of decoration. I simply dusted my cake with a little bit of powdered sugar.
You can also drizzle with basic white glaze if you like, that would look lovely as well. Present you cake on a nice round cake platter or cake stand.
More Apple Dessert Recipes
Apple Cinnamon Bundt Cake
Filled with grated apples and cinnamon walnut filling, this buttery apple cinnamon bundt cake has tender soft crumbs. It makes a perfect fall dessert.
Recipe Video
Ingredients
3/4 cup unsalted butter, softened
1-1/4 cup sugar
3 eggs
2 tsp vanilla extract
2-1/2 cup all-purpose flour
1/2 tsp baking soda
2 tsp baking powder
1/4 tsp salt
2/3 cup sour cream
3 cup grated apple
Cinnamon Walnut Filling
1/4 cup sugar
1 tbsp cinnamon
1/2 cup chopped walnut
Instructions
Preheat the oven to 350˚F. Grease and flour a 10-12 cup bundt pan; set aside.

In an electric mixer with a paddle attachment, cream butter and sugar until fluffy.

Add eggs 1 at a time and continue to beat well. Add the vanilla and mix well.

Add the sour cream and mix well. Add the grated apple and mix well.

Whisk together the flour, baking soda, baking powder, and salt in a mixing bowl. Add the dry ingredients to the butter mixture, stir well.

To make cinnamon walnut filling, mix the sugar, cinnamon and chopped walnut in a small mixing bowl; set aside.

In a prepared bundt pan, put half the cake batter on the bottom. Using a folk, spread the batter to even out. Sprinkle the cinnamon walnut filling on top. Put the remaining cake batter on top and even out with a folk.

Bake the cake in the preheated oven for 50-60 minutes. Let the cake rest in a pan for 10 minmutes. Invert the cake to a cooling rack and cool completely. Dust the cake with powdered sugar, if desired.
Did you make this recipe?
Tag @beyondkimchee on Instagram. I love to see your masterpiece.