Classic Italian Ragu Bolognese Sauce
Ragù alla Bolognese is one the most beloved Italian pasta sauce. This authentic Italian recipe is great with Tagliatelle pasta. Learn a few recipe tips to make this sauce more authentic.
I like to cook a dish that requires a slow cooking when the weather is calling for something warm. This Ragu Bolognese (aka Ragu alla Bolognese) sauce is the one I enjoy cooking often. The long simmering of pasta sauce makes my heart rich and full as I prepare. That is to say, this would be one comfort food that everyone would love.
Ragu bolognese sauce is hearty Italian meat sauce originated from Bologna, Italy. It is a family of Ragu sauce, which is a meat based pasta sauce. There are so many different version of Bolognese sauce when it comes to its authenticity. Here, I throw my interpretation of the classic pasta sauce.
How to make Italian Ragu Bolognese Sauce
Firstly, Prepare Soffritto; onion, carrot, & celery. Make sure your vegetables are minced very finely.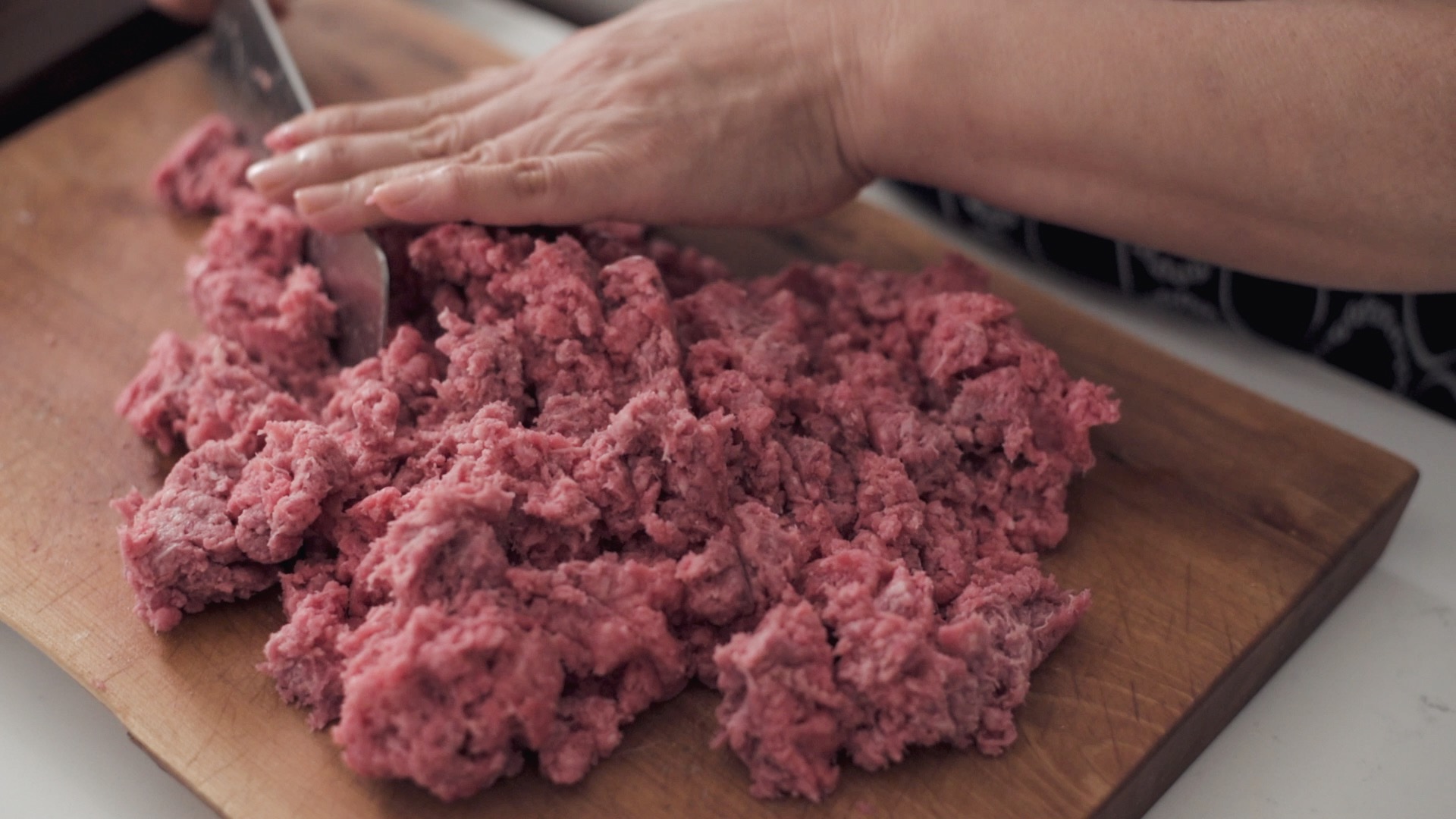 Secondly, I recommend you to try ground brisket or skirt steak for your meat choice. The tough beefy cut will soften up during the long simmering and offer deep flavor and better texture than ordinary ground beef. Make sure to break it up before you add to the pot.
Cook diced Pancetta in a little butter until crispy.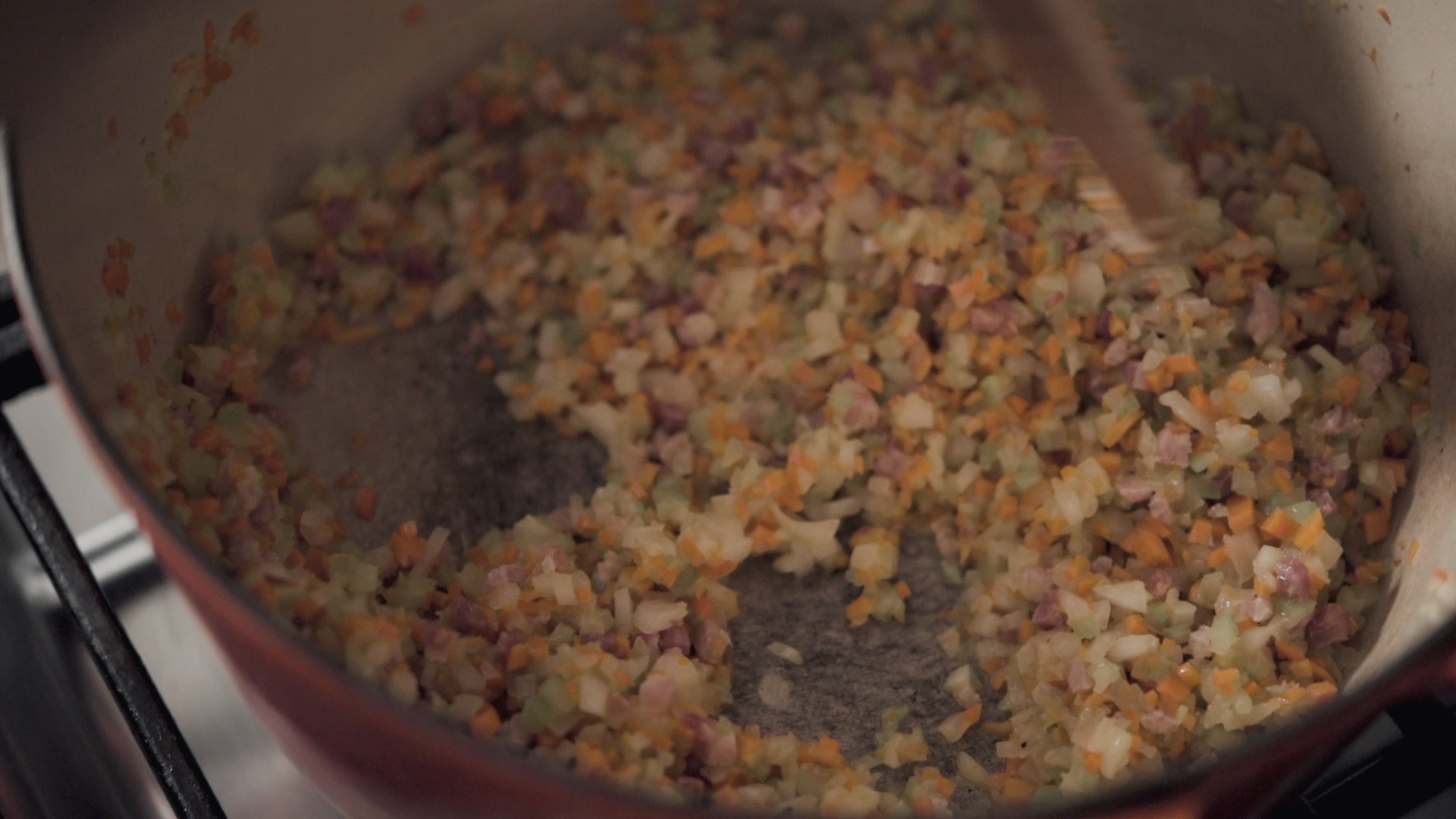 Add the minced vegetables and cook until they are softened.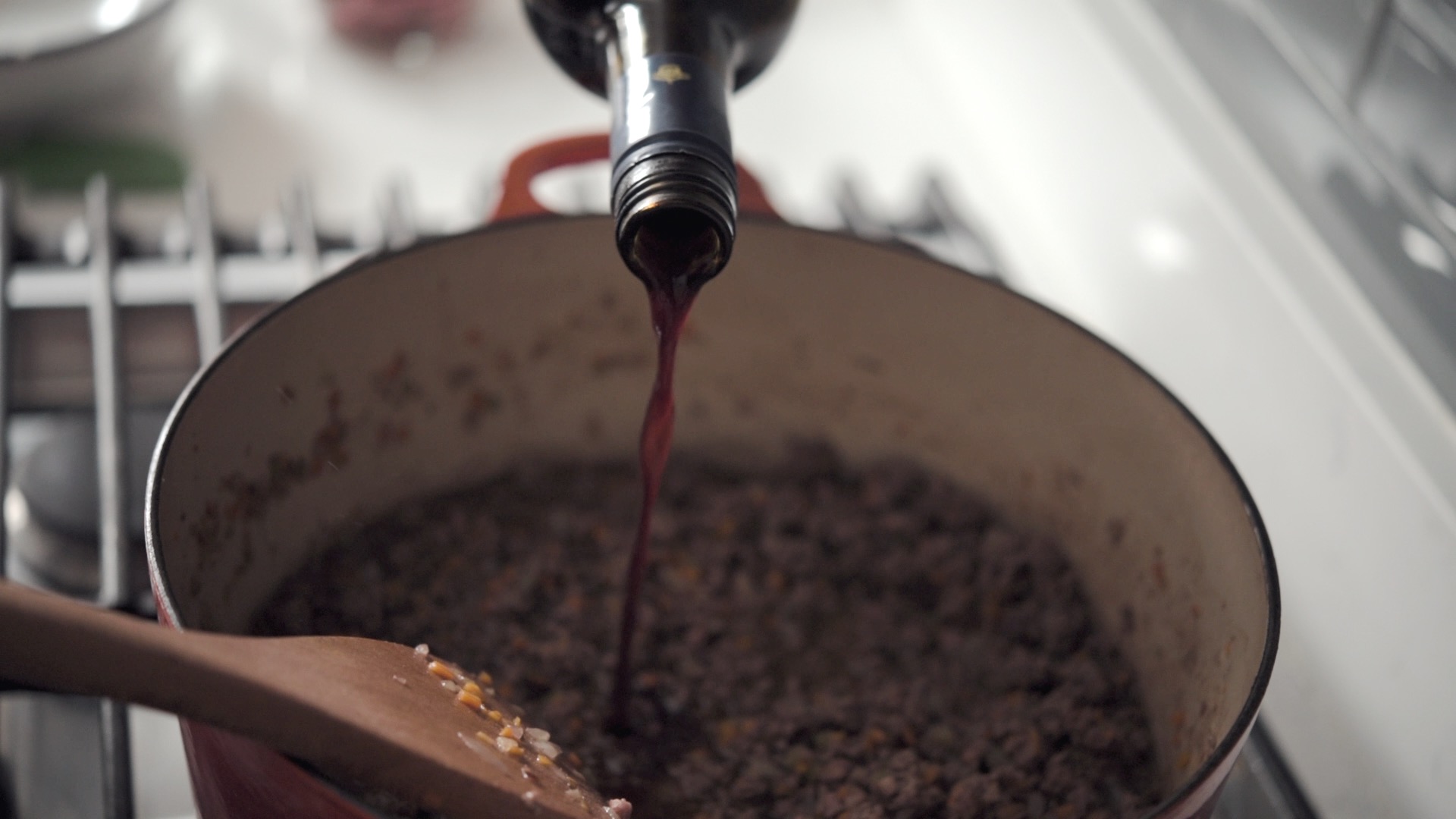 Add the beef and cook until they are browned. Splash with either white or red wine and let it evaporate. ( I used red wine this time)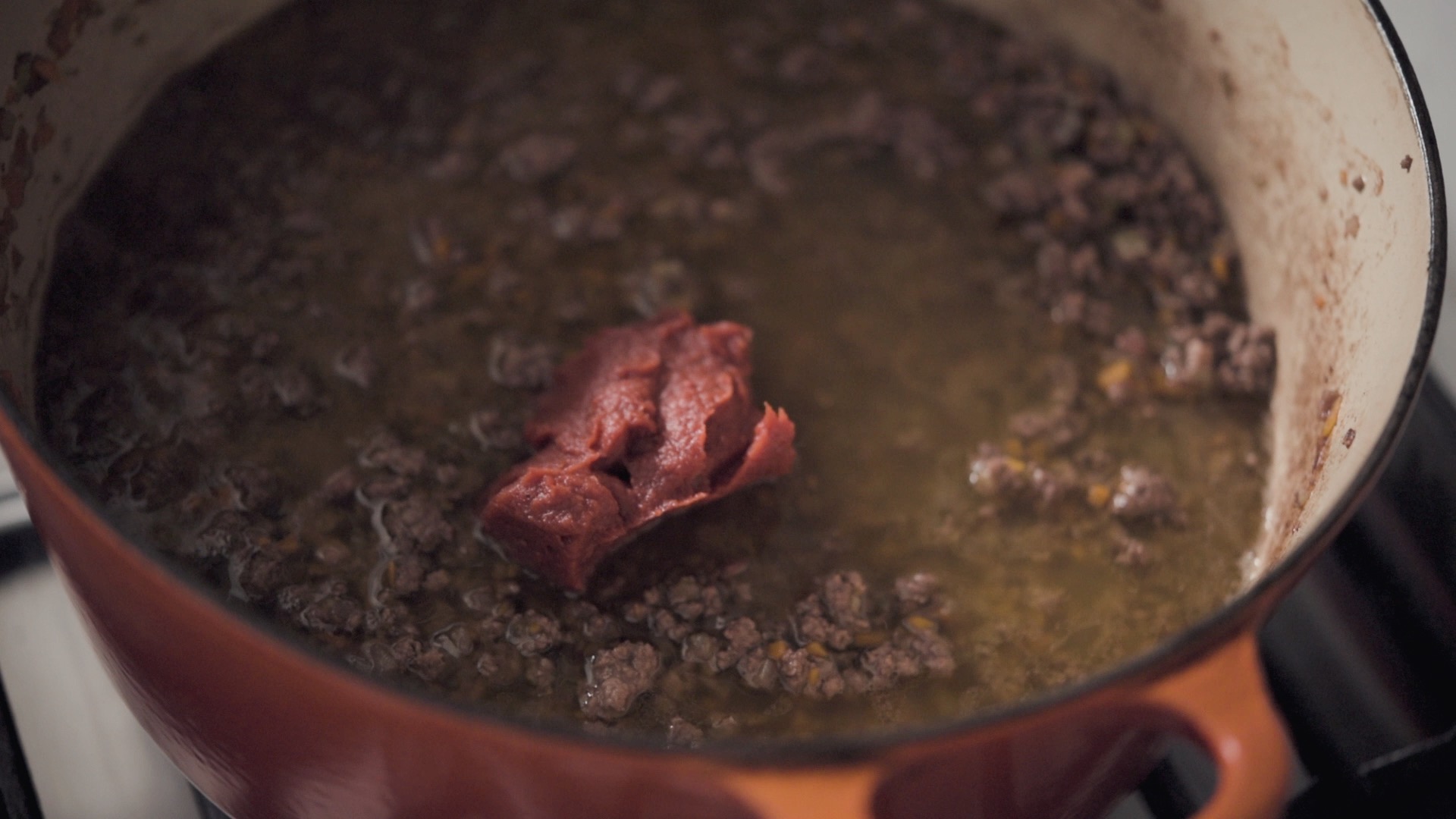 Add the beef stock and tomato paste; stir well.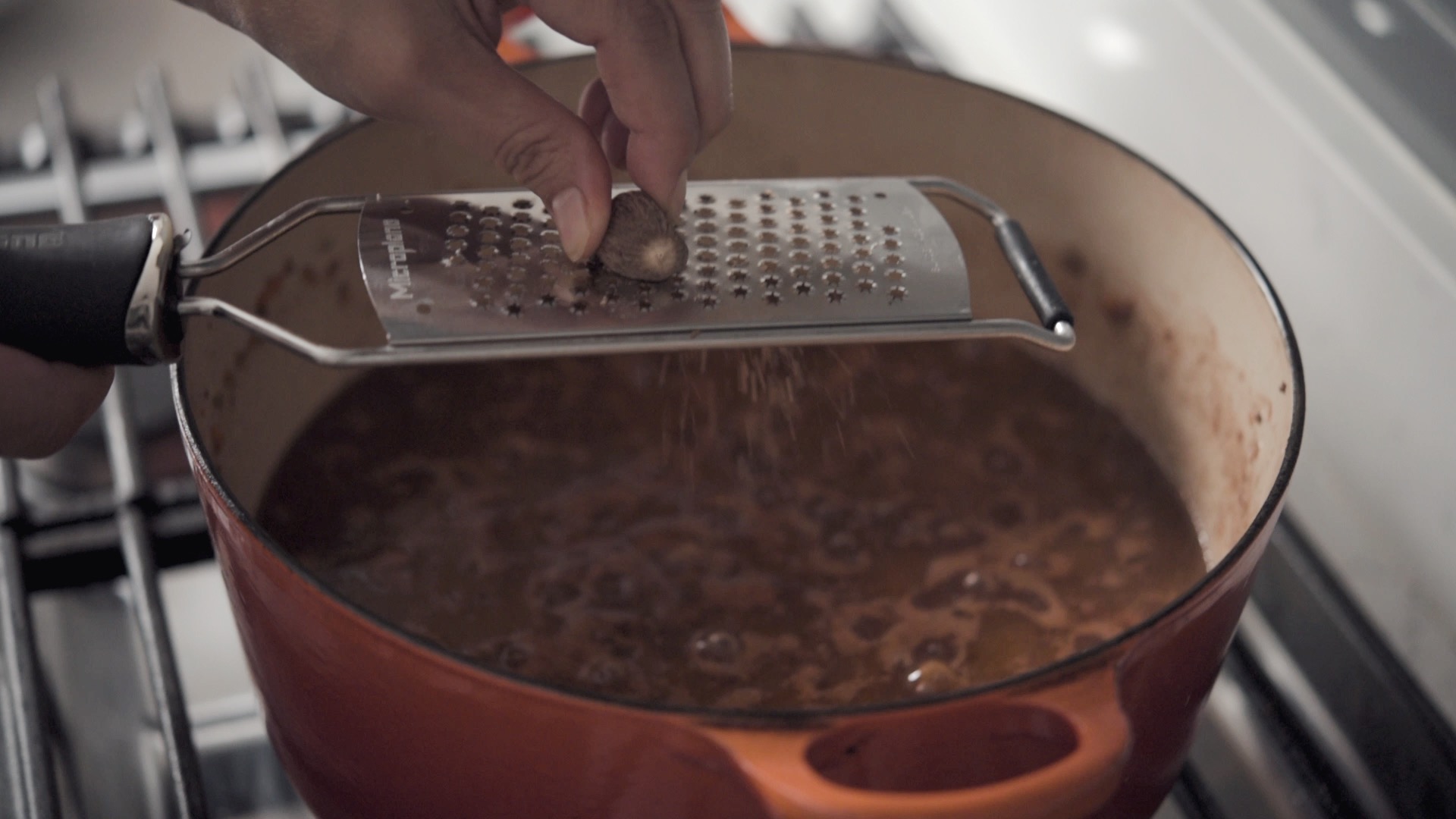 I noticed that many of old-fashioned Italian recipes were using spices in their meaty pasta sauce. Try adding a little bit of nutmeg to your Bolognese sauce. Your sauce will have more depth in the flavor.
I also like to add a small piece of Parmesan rind. It adds richness to the sauce. Cover and simmer for 2 hours; stirring occasionally.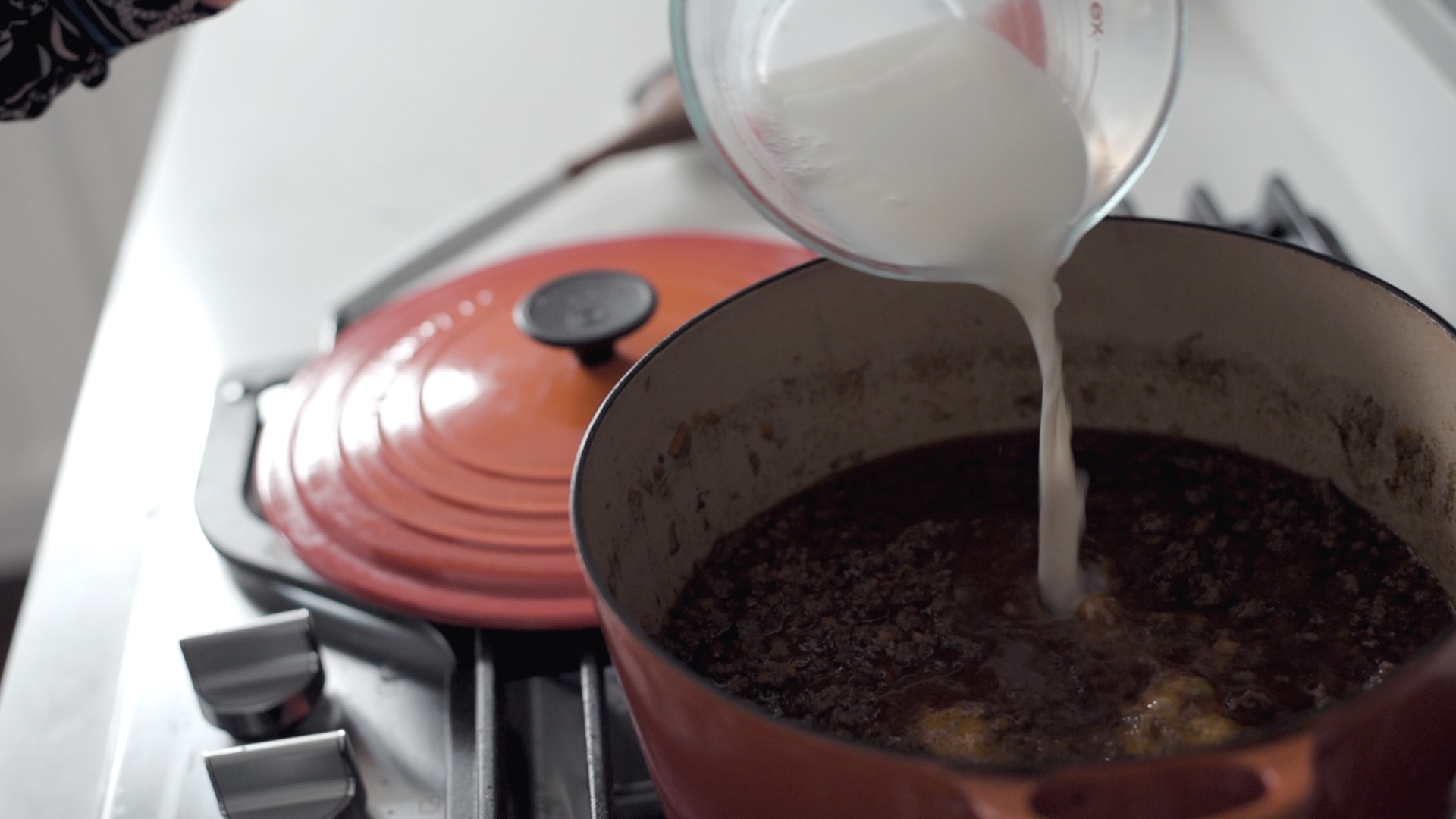 Add milk, and simmer for another 30-45 minutes over low heat.
Lastly, add about 1 tbsp of fish sauce. It sounds weird to add Asian style fish sauce to Italian pasta sauce, but the pungent flavor of fish sauce do add a punch to the overall flavor of this meat sauce.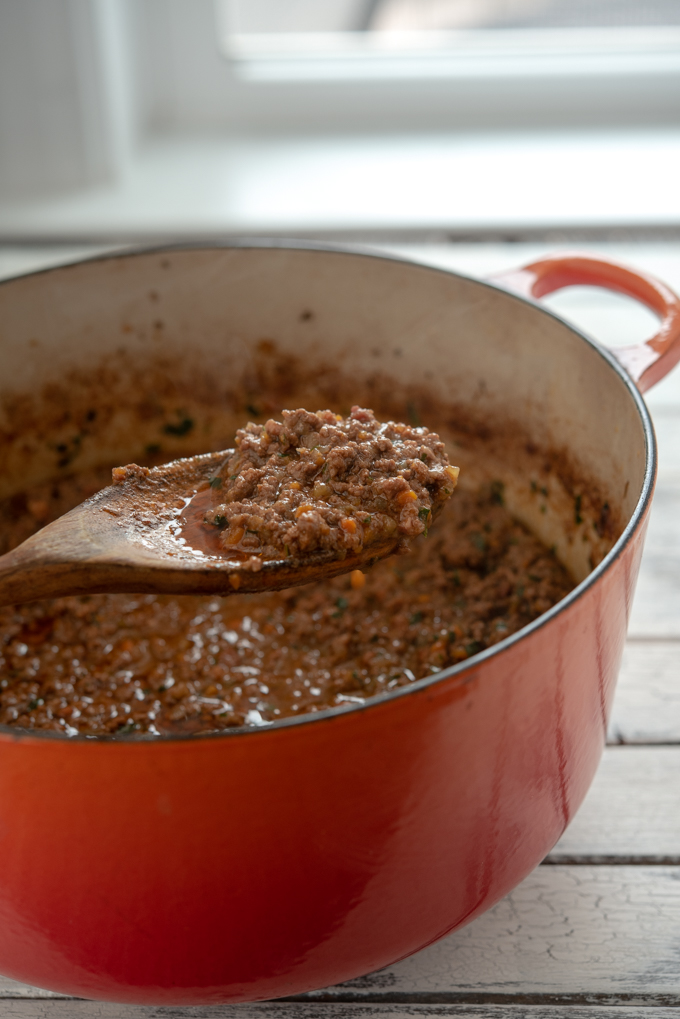 Here is the outcome. The beef is literally melt in your mouth soft but still retains its chewy-able texture that is so pleasant. It is truly the best Ragu Bolognese sauce I have tasted so far.
Served with Tagliatelle, Fettucini, or Pappardelle pasta. All you need is extra Parmesan cheese to complete the dish. Or use it for making Lasagna.
Watch Ragu Bolognese Recipe Video
Delicious Pasta Recipes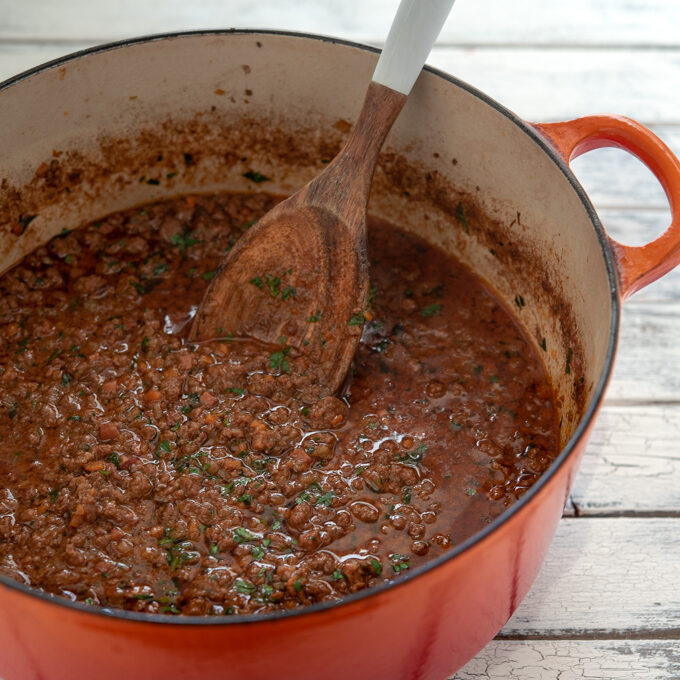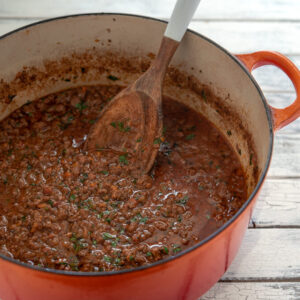 Classic Italian Ragu Bolognese Sauce
This authentic Ragu bolognese sauce (aka Ragu alla Bolognese) is a classic Italian recipe. It's perfect for Lasagna or Tagliatelle pasta.
Ingredients
5 oz pancetta, diced
1 tbsp butter
1 cup finely minced onion
1 cup finely minced carrot
1 cup finely minced celery
2 lb ground brisket or skirt steak
1 cup red or white wine
2 cups beef stock
3 tbsp tomato paste
2 pinches nutmeg
1 inch Parmesan rind
salt and pepper, to taste
1 cup milk
1 tbsp fish sauce
4 tbsp chopped parsley, optional
handful grated Parmesan cheese
Instructions
Heat a heavy bottom pot over medium heat, add butter. Add pancetta and cook until crisp.

When the pancetta release some fat and turn crisp, add the minced onion, carrot, and celery; cook until soft, about 3-4 minutes. Add the ground beef and cook until browned.

Splash with wine and let it evaporate. Pour the beef stock and stir. Add the tomato paste, nutmeg, and Parmesan rind; stir well. Season lightly with salt and pepper. Cover with lid and simmer over low heat for 2 hours, stirring occationally.

Add the milk and continue to simmer for another 30-45 minutes. Skim off the fat floating on top, if you desire. Add the fish sauce and adjust the seasoning according to your taste. Add parsley, and grated Parmesan cheese at last. Serve warm over Tagliatelle pasta.
Calories: 326kcal, Carbohydrates: 8g, Protein: 29g, Fat: 17g, Saturated Fat: 6g, Polyunsaturated Fat: 1g, Monounsaturated Fat: 7g, Trans Fat: 1g, Cholesterol: 86mg, Sodium: 588mg, Potassium: 799mg, Fiber: 1g, Sugar: 5g, Vitamin A: 3050IU, Vitamin C: 7mg, Calcium: 75mg, Iron: 3mg
Did you make this recipe?
Tag @beyondkimchee on Instagram. I love to see your masterpiece.