Best Toffee Chocolate Chip Cookies
Crispy on the outside and chewy inside, these toffee chocolate chip cookies are bakery quality delicious. Use mini chocolate chips for the best result. Chill the dough up to two days for the best result.
Toffee Chocolate Chip Cookies
Who wouldn't love freshly baked cookies that are crispy on the outside and chewy inside? These toffee chocolate chip cookies are the best and bakery quality delicious!
The deep golden crust on the cookies is assuring the texture that everyone is looking for when it comes to chocolate chip cookies.
I bake chocolate chip cookies on the regular bases since my family is literally addicted to them. Although I love every kind of chocolate chip cookie recipes under the moon, these toffee chocolate chip surprised me more than I expected.
Not only the crisp chewy texture that I always long for chocolate chip cookies, the flavor of cookies are fantastic. There are a few details I need to share how these toffee chocolate chip cookies are made differently.
Ingredients You'll Need
all-purpose flour
baking powder
baking soda
salt
unsalted butter
sugar
dark brown sugar
egg + egg yolk
vanilla extract
mini chocolate chips
Heath English toffee bits
Toffee Chocolate Chip Cookies Recipe Tips
I used dark brown sugar and I used a lot more than white sugar. That brings the delectable toffee flavor into these cookies. They also stay fresh longer due to the amount of molasses in the dark brown sugar.
These cookies are made with mini chocolate chips. I love how the little morsels of chocolate chips are distributed evenly in every cookie.
I let them chill in the fridge for two days. If you don't have the time to wait, chilling for just one hour still yields better texture than no chilling at all.
When you chill, the moisture of the eggs incorporates withe flour and creates the crisp texture on the outside. I highly recommend the chilling, but no longer than two days, though.
Try making your your toffee chocolate chip cookies big. A 1/4 cup amount per each cookie is a good size. (I used 1/4 cup cookie scoop). They will surely brings a smile to people.
Cookie Storage Tips
Store the cooled cookies in an airtight cookie jar up to 2 days. To freeze, put cookies in an airtight zip bag and store in the freeze for up to 3 months. To thaw, bring them out to a room temperature, about 45 minutes.
More Chocolate Chip Cookie Recipes
Love cookies? Here are some of my favorite cookie recipes.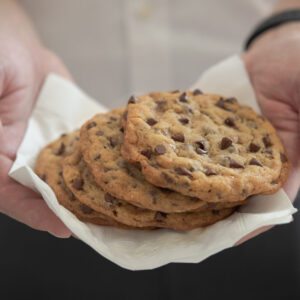 Best Toffee Chocolate Chip Cookies
Crispy on the outside and chewy inside, these toffee chocolate chip cookies are the best. Make the cookie dough up to 2 days in advance.
Ingredients
2-1/4 cup all-purpose flour
3/4 tsp baking powder
1/2 tsp baking soda
1/2 tsp salt
1 cup butter, softened
1/3 cup sugar
1 cup dark brown sugar
1 egg
1 egg yolk
2 tsp vanilla extract
1-1/2 cup mini chocolate chips
1 cup Heath English toffee bits
Instructions
Whisk together flour, baking powder, baking soda, salt and set aside.

Beat butter and sugars until creamy. Add the egg, egg yolk, and beat until light and fluffy. Add the vanilla extract and beat.

Add the flour mixture to the butter mixture and mix until just combined.

Add the chocolate chips and toffee bits and stir until combined. Using a 1/4 cup amount cookie scoop as a guide, scoop the dough into a ball and place them on a platter. Cover with a piece of plastic wrap and chill for 1 hour to 2 days. I recommend to chill 2 days for the best texture.

Preheat the oven to 375˚F. Line a cookie sheet with a parchment paper.

Place chilled cookie dough balls on a cookie sheet, placing apart. Bake for 12-14 minutes or until the edges of cookies turn light golden. Rest the cookies in a sheet for 2-3 minutes, then transfer them to a cooling rack and cool completely.
Did you make this recipe?
Tag @beyondkimchee on Instagram. I love to see your masterpiece.