Easy Ground Beef Curry Recipe (Beef Keema Curry)
Beef Keema curry is a simple Indian ground beef curry recipe. It is quick and easy curry to make with just a few everyday ingredients – perfect for a busy weeknight dinner!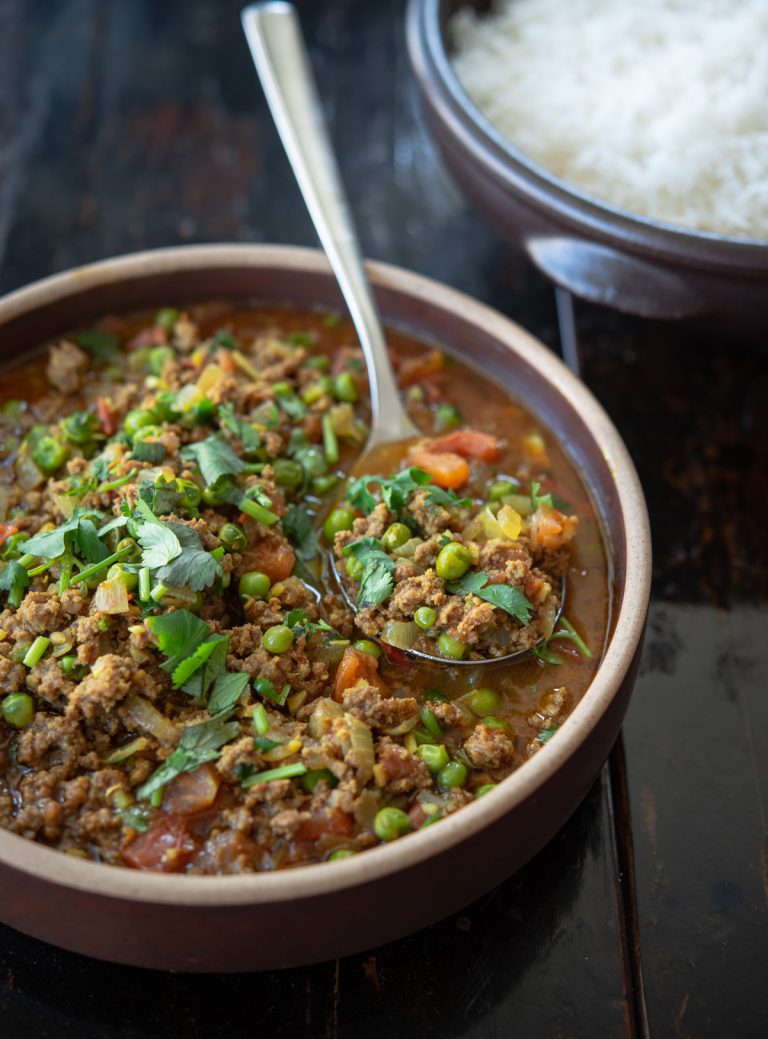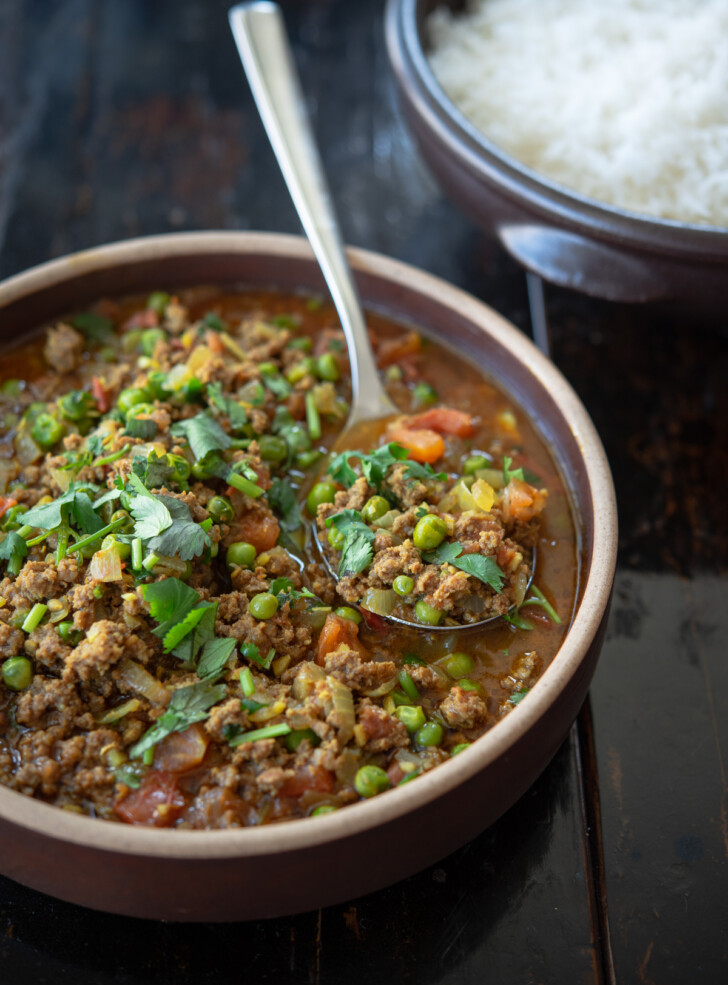 Ground Beef Curry (Indian Beef Keema Curry)
Do you have a pound of ground beef and looking for an easy weeknight dinner idea? If you like curries of all kinds, here is an easy ground beef curry recipe (aka beef Keema curry) you can try for a weeknight dinner. You can create a quick curry in less than 30 minutes.
This homey Indian curry is simple, easy and quick to prepare. You don't need to be an Indian food expert to try this curry recipe. Therefore, this is a perfect curry that anyone can try out, even if you are a novice in Indian cooking.
Ground beef is simmered in chicken broth flavored with tomatoes and basic Indian spices that most of us already have in our pantry. Which means, there is no need to run to the Indian food specialty store to get the exotic spices.
Another easy ground beef idea? Try my Korean ground beef recipe. You will taste delicious beef bulgogi with hardly any effort.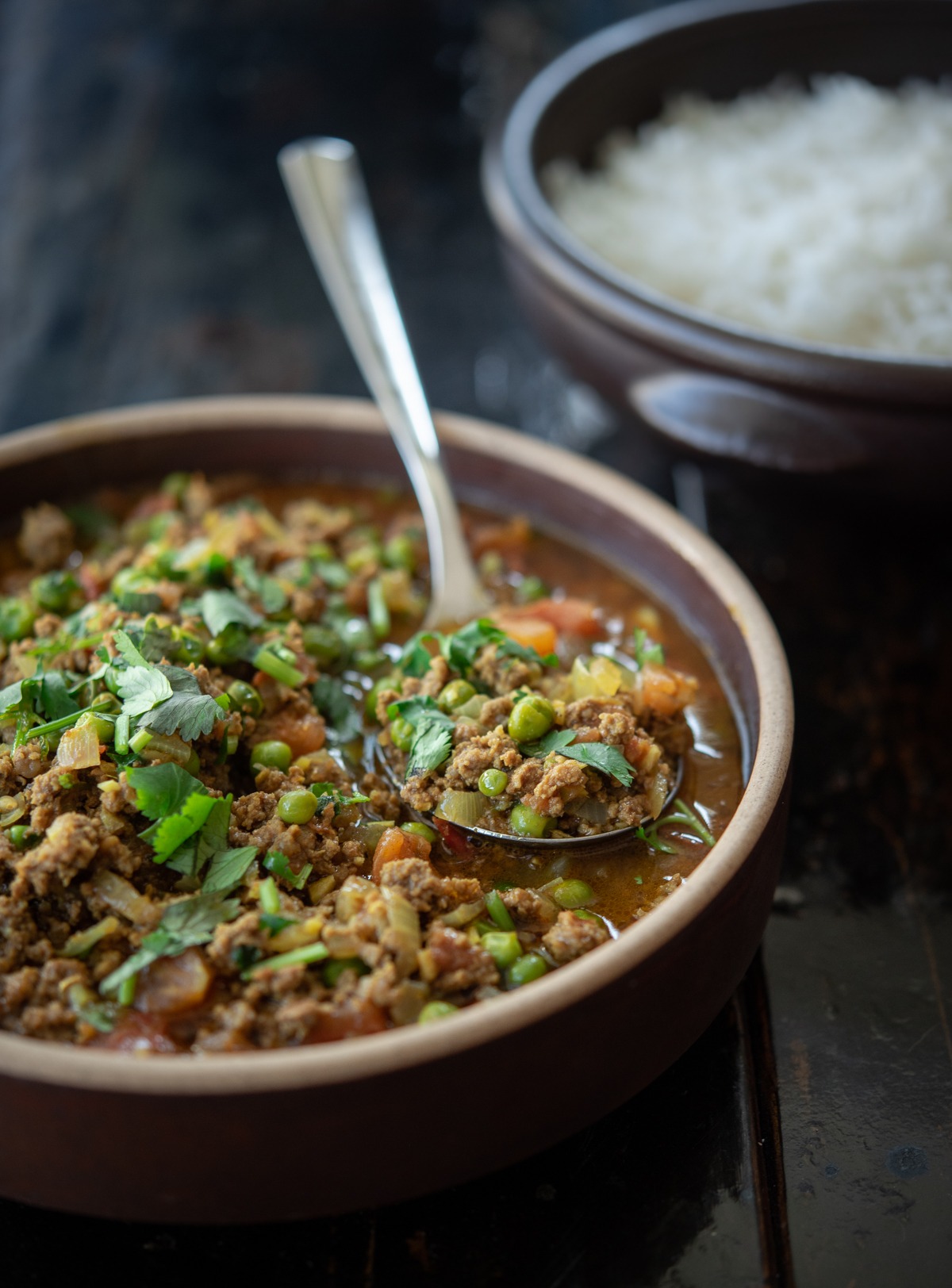 Ingredients for Ground Beef Curry
All you need to make this curry is:
a pound of ground beef
onion, ginger
garlic
tomatoes
peas (I used frozen peas)
chicken stock
a handful of fresh cilantro
A secret ingredient to make this more tasty?:
Spices you need
cumin powder
curry powder
cayenne pepper
If you don't want this curry to be too spicy, you can omit the cayenne pepper, and that is perfectly fine.
Cooking and Serving Tips
Enjoy the nice aroma coming out of a pot of simmering curry filling in your kitchen as you wait. That is to say, the simmering time is only for 10-15 minutes total.
Serve this simple ground beef curry with fluffy Basmati rice or Naan bread and you are good to go.
Watch Ground Beef Curry Recipe Video
More Delicious Curry Recipes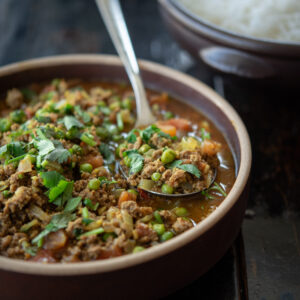 Ground Beef Curry (Beef Keema Curry)
Beef Keema curry is a simple Indian ground beef curry. With a few everyday ingredients, you can make a delicious Indian curry in no time – perfect for a busy weeknight dinner!
Ingredients
1 lb ground beef
1 tbsp oil
1 onion, chopped
2 tomatoes, chopped
1 tbsp minced ginger
4 cloves garlic, minced
1 tsp cumin powder
1 tbsp curry powder
1/2 tsp cayenne pepper, optional
pinches salt & pepper , to taste
1 cup chicken stock
1 tbsp soy sauce
1 cup frozen peas
1 handful cilantro, chopped
Instructions
Heat oil in a pot over medium heat, add the onion, garlic, ginger and cook until soft.

Add the spices and stir for a few seconds. Add the ground beef and cook until browned. Season lightly with salt and pepper.

Add the tomatoes and stir. Pour the chicken stock and stir to combine. Cover with a lid and simmer for 10 minutes over med-low heat.

Add the soy sauce and stir. Season more with salt and pepper if needed. Add the peas and simmer for 5 more minutes

Lastly add the cilantro and serve with basmati rice or naan bread.
Calories: 408kcal, Carbohydrates: 15g, Protein: 25g, Fat: 28g, Saturated Fat: 9g, Polyunsaturated Fat: 2g, Monounsaturated Fat: 13g, Trans Fat: 1g, Cholesterol: 82mg, Sodium: 422mg, Potassium: 715mg, Fiber: 4g, Sugar: 6g, Vitamin A: 985IU, Vitamin C: 27mg, Calcium: 63mg, Iron: 4mg
Did you make this recipe?
Tag @beyondkimchee on Instagram. I love to see your masterpiece.