Easy Beef Massaman Curry
Make a simple Thai beef Massaman curry at home with store-bought Massaman curry paste. There's no need to make your own curry paste to enjoy delicious curry flavor in every bite.
When you are in the mood for a curry, but afraid of making the fresh curry paste from scratch, try this Beef Massaman curry with store-bought Massaman curry paste. This is an easy and delicious Thai curry that anyone can make at home without the fuss. Beef Massaman curry is rich and slightly tangy but not too spicy.
What is Massaman curry?
Massaman curry is one of the famous Thai curries. It originated in the south of Thailand near the border of Malaysia and is a thick sauce with a mild, slightly sweet flavor.
All though the curry itself is originated from the Muslim trade in Siam around 17th century (Massaman curry means the curry of Muslim), it was quickly adapted to the Thai cuisine.
With the spices and aromatics like cinnamon, cloves, lemongrass and galangal are mixed with slightly sour tamarind to create an incredible base for a meat or vegetarian dish.
Chicken is the most commonly used in Massaman curry, but beef, mutton, goat is also widely used as well.
Ingredients for Beef Massaman Curry
beef stew meat
potato
coconut milk
roasted peanuts
palm sugar, coconut sugar or brown sugar
extra spices: cinnamon sticks, cardamom pods, whole cloves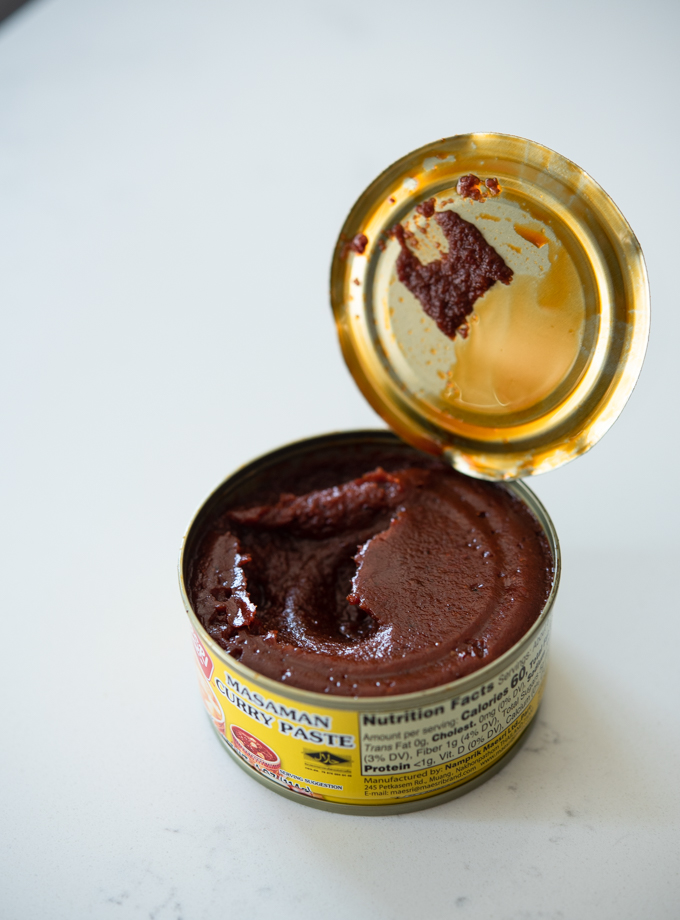 Massaman curry paste
Massaman curry paste is typically made with the combination of lemongrass, red chili, shallot, cinnamon, cloves, cardamom, coriander (cilantro), cumin, garlic, galangal, shrimp paste, etc.
Traditionally all the spices are pounded in a mortar to incorporated flavor. Freshly made curry paste is always the best, but a store-bought canned paste will do a good job.
It is so much more convenient when you don't have all the ingredients handy. You don't need as much of canned curry paste than the freshly pounded. Use about 3-4 tablespoon for this recipe.
Beef Massaman curry is a perfect comfort food. You can make a batch of curry ahead of time and keep in the fridge up to a week or freeze for later use.
More Thai Recipes
Easy Beef Massaman Curry
Cook this easy and delicious Thai beef Massaman curry with potato and a store-bought Massaman curry paste. You can have a rich flavorful curry without much effort.
Ingredients
Extra spice
2 cinnamon sticks, optional
10 cardamom pods, optional
2 whole cloves, optional
Instructions
If using the extra spice, toast cinnamon sticks, cardamom, and cloves in a dry pot over medium heat for 2-3 minutes. Remove the spice and set aside.

Heat oil in the pot, add the curry paste and stir for 1-2 minutes adding 1-2 tablespoons of the creamy top of coconut milk.

Add the beef and stir-fry for 4-5 minutes until the beef is browned.

Pour the coconut milk, peanuts, tamarind puree, sugar, and fish sauce. Return the toasted spices to the mixture, and stir well. Cover with the lid and simmer over low heat for 45 minutes

Add the potato and cook for another 10 minutes or until the potatoes are tender. Taste and adjust the seasoning according to your taste.

Garnish with chopped peanuts and cilantro at the end. Serve hot with rice.
Did you make this recipe?
Tag @beyondkimchee on Instagram. I love to see your masterpiece.