Basque Burnt Cheesecake (La Viña Style Cheesecake)
This La Viña style Basque burnt cheesecake is a no crust cheesecake. It's a gluten-free adaptable recipe. Make this cake a day ahead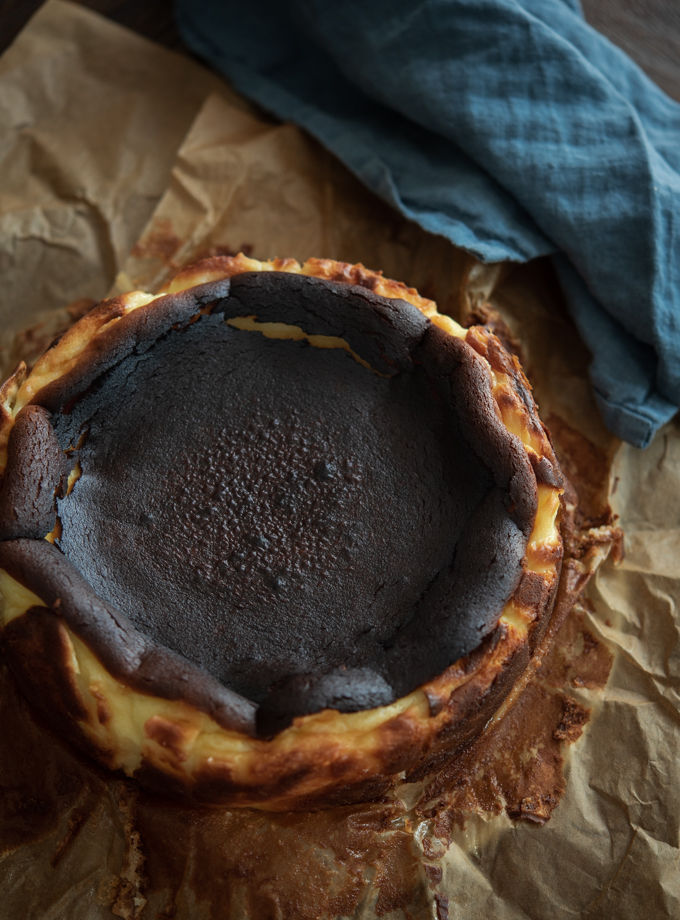 I finally had a chance to make this world-famous La Viña style Basque burnt cheesecake, and I am so glad I did. It is so much easier than I thought and the outcome is just gorgeous, as you can see.
If you love cheesecake but don't want to fuss over making it, this Basque burnt cheesecake is a way to go. The burnt top makes this cheesecake look unique and charming.
Since you don't need to make the base crust, this is the easiest and delicious way of enjoying the rich, velvety, and fluffy cheesecake.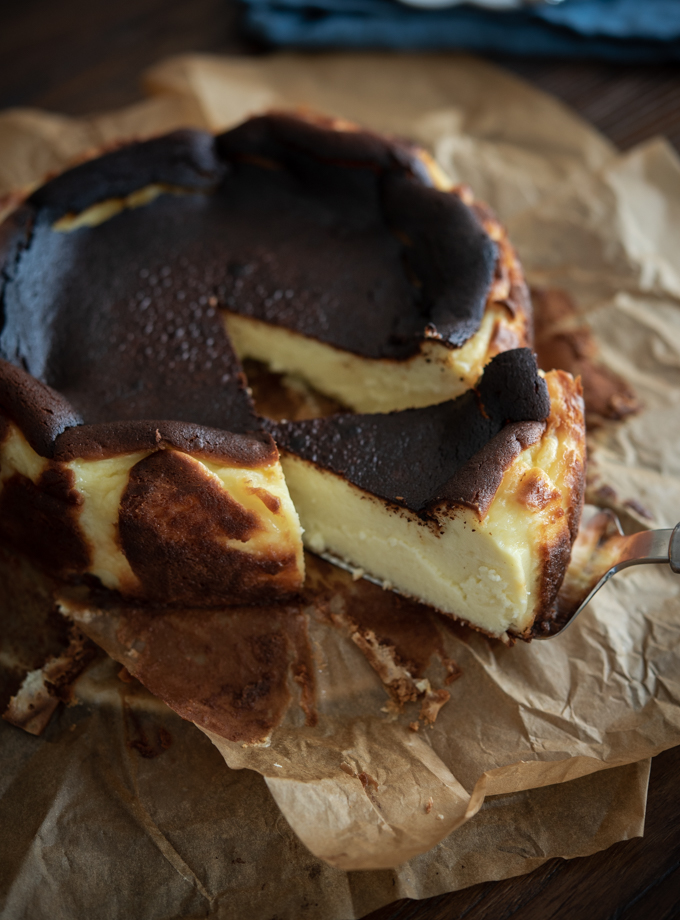 What is Basque Burnt Cheesecake?
This cake originated from Basque country in Spain, a bar named La Viña in San Sebastián. Unlike American style cheesecake, Basque-style cheesecakes are crustless. They are baked in a hot oven so the batter's edges caramelize into a natural crust.
It is not as dense and rich as American style cheese cake, but not as cake-like Japanese style, either. The flavor lands somewhere between a New York style cheesecake and a flan.
What ingredients do you need to make this cake?
24 oz Cream cheese (Philadelphia brand recommended in U.S)
1 cup Sugar
1/4 tsp salt
4 Eggs
1-1/3 cups Heavy whipping cream
3 Tbsp All-purpose flour or Almond flour
Equipment
8-inch springform pan
parchment paper(s)
If you don't have a springform pan, you can use a round cake pan instead. The springform pan makes it easy to lift the cake out.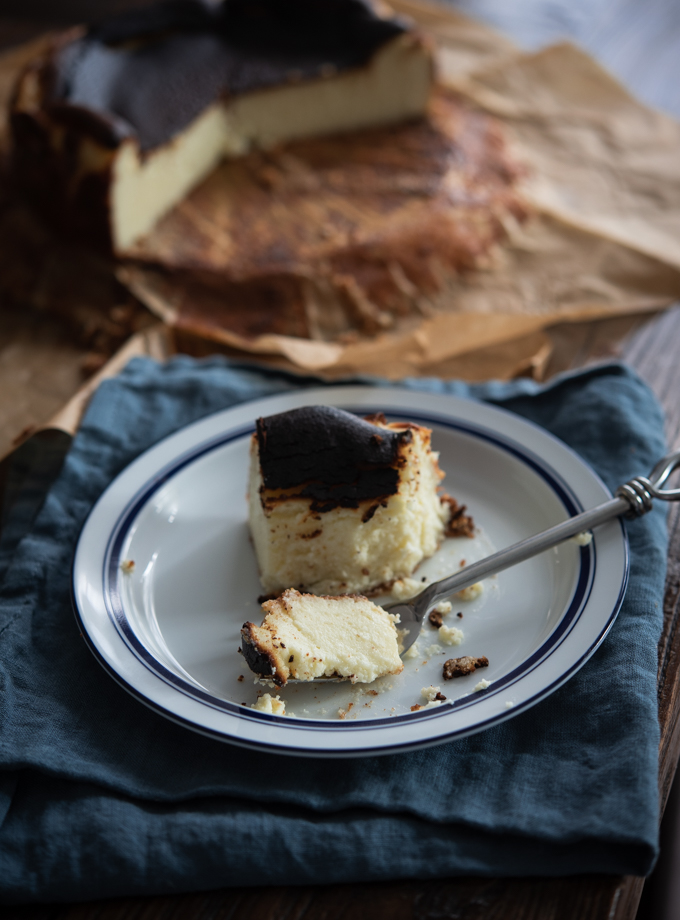 Refrigerating Basque Burnt Cheesecake
It is important to cool the cake completely and refrigerate until chilled. The cake will be puffed and slightly cracked on the top when you take out from the oven.
The center of the cake should jiggle. As you let it cool, the cake will sink down. You can certainly enjoy the cake at room temperature, but the flavor and the texture deepens as it chills.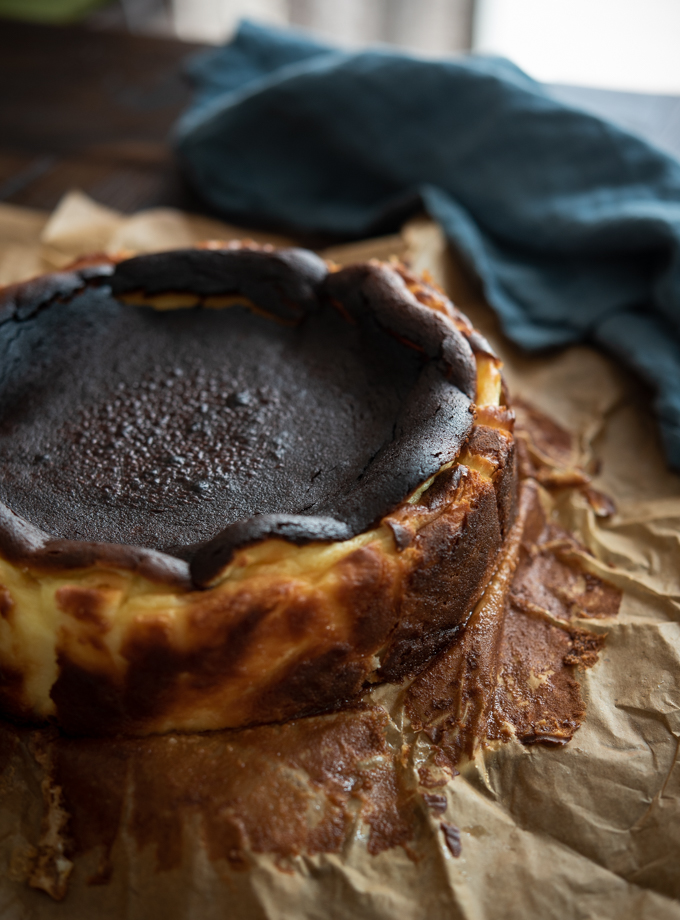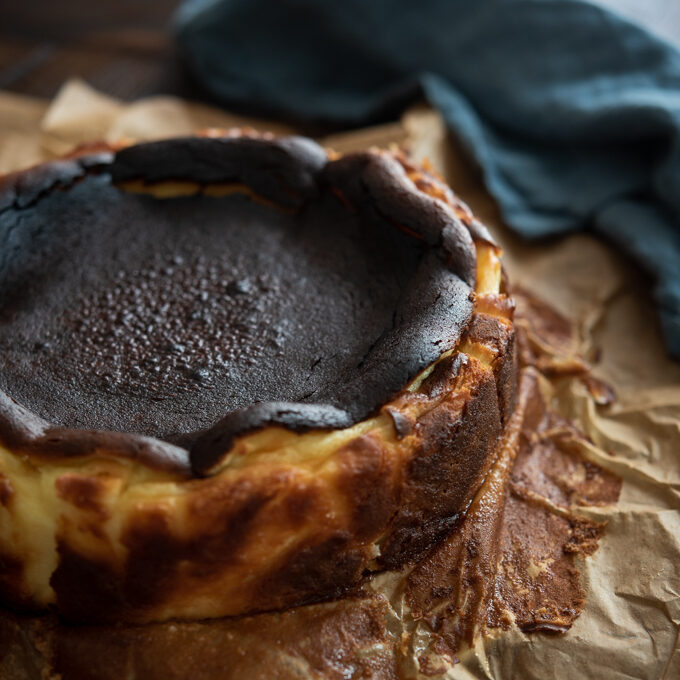 Basque Burnt Cheesecake (La Viña Style)
This La Viña style Basque burnt cheesecake is a no crust cheesecake. It's a gluten-free adaptable recipe. Make this cake a day ahead
Ingredients
24 oz cream cheese , Philadelphia brand, softened
1 cup sugar
4 eggs, room temeprature
1 1/3 cup heavy whipping cream
1/2 tsp salt
3 tbsp all-purpose flour or almond flour
Instructions
Preheat the oven to 400˚F. Grease an 8-inch springform pan with a baking spray lightly. Line the pan with parchment paper on both bottom and the side of the pan. Make sure the side extends above the cake pan. If one sheet is not enough to cover the pan entirely, over wrap with two sheets; set aside.

In a mixing bowl, beat the cream cheese, sugar and salt until creamy. Add the eggs, one at a time, until the batter becomes smooth and creamy.

Add the cream and mix well. Put a sifter over the mixing bowl and sift the flour through. Fold the flour into the mixture until smooth.

Pour the cake batter into a prepared pan, smooth the top, and tap the pan a few times to remove the air bubbles.

Bake the cake in a hot oven for 60-65 minutes until the top gets dark and look almost burnt. The center should jiggle when you shake it gently.

Cool the cake completely. Then refrigerate the cake for at least 2 hours to overnight. Serve chilled.
Notes
To make this cheesecake gluten-free, use almond flour instead or wheat flour.
Did you make this recipe?
Tag @beyondkimchee on Instagram. I love to see your masterpiece.