Apricot Glazed Chicken Breast
Sticky apricot glazed chicken is made with a apricot preserve. You can make this sweet and savory chicken dish very quickly. Serve with rice or noodles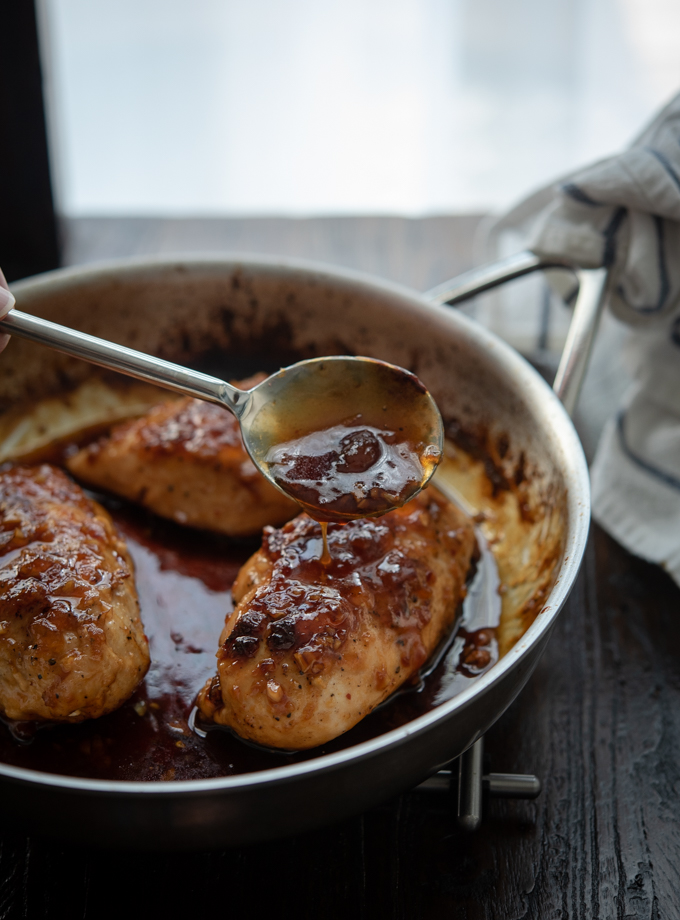 Apricot Glazed Chicken Breast
If you are looking for an easy chicken breast recipe for dinner, here is apricot glazed chicken breast you should try.
I like all kinds of sticky glazed chicken dishes, such as sweet & sour chicken, lemon chicken, orange chicken, General Tso, and etc. Those sweet and salty tasting sauce makes the chicken somehow alive. 
However all the dishes I mentioned are deep-fried, which I don't mind but try not to consume it too often.
This apricot glazed chicken breast is not deep-fried and sticky delicious over rice. Furthermore, it is so easy and quick to make. Who wouldn't love that?
More Glazed Chicken or Beef Dishes
I think the apricot goes so well with chicken breast and the apricot preserve adds the right amount of sweetness to the glaze. Compared to other fruit jams or preserves, its mild flavor accompany the chicken breasts without overtaking the flavor.
The good thing about this apricot glazed chicken breast is that you can make this within 30 minutes with ingredients you might already have in your pantry. Serve this sticky, sweet and tangy apricot glazed chicken breasts over rice.
Ingredients for apricot glazed chicken
chicken breasts
apricot preserve or jam
soy sauce
rice vinegar or white vinegar
garlic
ginger puree
red chili flakes (optional)
olive oil + butter
How to make Apricot Glazed Chicken
I used lean chicken breasts, season with salt and pepper, then saute in olive oil + butter until golden brown crust forms.
Make the glaze sauce by simply combining the apricot preserve, soy sauce, vinegar, ginger, and a little bit of red chili flakes for some kick.
You pour the sauce over chicken and let it bubble. Cover with a lid and let the chicken cook, about 10-15 minutes depends on the thickness.
Uncover and let the sauce thicken over high heat, about 2-3 minutes, drizzling the sauce over the chicken. The sauce will thicken even more while you are letting it cool.
More Chicken Recipes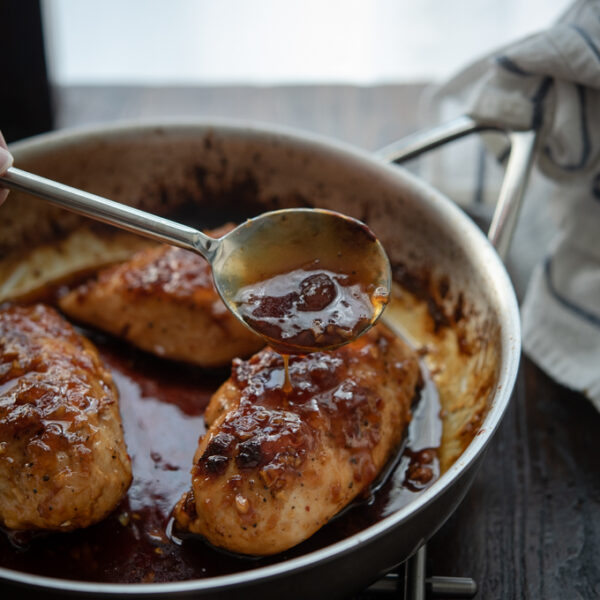 Apricot Glazed Chicken Breast
Sticky apricot glazed chicken with a apricot preserve. You can make this sweet and savory chicken dish very quickly.
Ingredients
3 chicken breasts
salt and pepper
1 tbsp olive oil
1 tbsp butter
3/4 cup apricot preserve
1/3 cup rice vinegar , or white vinegar
2 tbsp soy sauce
2 tsp ginger paste
2 cloves garlic , minced
a few dashes red chili flakes
Instructions
Season chicken breasts with salt and pepper lightly.

Heat olive oil and butter in a skillet over medium heat. Saute chicken until the golden crust forms on each side.

Meanwhile mix preserve, vinegar, soy sauce, garlic, ginger, and chili flakes in a small mixing bowl. Pour the sauce over the chicken and let it bubble. Cover with lid and cook for 10-15 minutes over med-low heat until chicken breasts are fully cooked. Uncover and raise the heat to high. Boil up the sauce again and let it thickens, about 3-4 minutes spooning the sauce over the chicken occasionally.

When the sauce reduces to half, remove the skillet from the heat and let the chicken cool slightly. The sauce will thicken even more and turn into a glaze. Serve the chicken over rice.
Did you make this recipe?
Tag @beyondkimchee on Instagram. I love to see your masterpiece.