Best Deep Dish Apple Pie
This American classic deep dish apple pie recipe has a mildly spiced apple pie filling. Using 2-3 different apples makes this pie the best apple pie you've ever tried. Also find tips on creating a perfect flaky pie crust!
I went to two Thanksgiving parties last weekend. I brought a homemade pumpkin pie and my signature deep dish apple pie to the parties and they were a huge hit!
Apple pies are one of my favorite pies to make. There is nothing like the aroma of apple pie coming out of oven and the beauty of its look can steal many hearts of apple lovers. To me, this classic American apple pie along with the pumpkin pie shouldn't be left out for Thanksgiving desserts.
What apples are good for apple pies?
I like to use variety of baking apples to make my deep dish apple pies. Here is a list of apples you can mix and match to create a better tasting apple pie.
Granny Smith
Golden Delicious
Gala
Braeburn
Jonathan
McIntosh
Cortland
Honey Crisp
Pick about 3 different types of baking apples to give extra flavor and texture to the pie.
But living in Argentina, I can only find two kinds in the market these days; Granny Smith and Gala. It still came out wonderful and it tasted amazing.
Don't try to make an apple pie if you are in a hurry. Peeling and slicing apples can takes some time and I would like to enjoy my time with apples without the pressure of a time crunch.
Well, any cooking can be frustrating if you have to hurry. So make sure you find a day for yourself to prepare for this old fashioned classic dessert!
How to make a flaky pie crust
There is nothing like a good homemade pie crust. Don't you think?
I use both butter and shortening. I also add egg and vinegar, too. Egg is 75% water and the addition of egg will cut down the amount of water in the dough. The vinegar will cut off the gluten, which helps to create a flaky crust.
Make sure your butter, shortening, egg and water is cold. Ice water is even better.
Making pie dough with a dough blender (pastry cutter):
Whisk together flour, salt and sugar in a large mixing bowl.
Add cubed butter and shorting. Using a pastry cutter, blend the butter and shortening into the flour. Do not over work. Cut until the mixture turns unevenly crumbly.
Beat the egg in a small bowl, add vinegar and water (4 tbsp); mix well.
Add the egg mixture to the dough and mix until the dough starts to form large clumps. If not moist enough add a little more water.
Dump the dough onto a lightly floured surface. Gather up and cut the dough in half
Form each dough half into disks. Wrap disks with plastic wraps and chill for 30 minutes.
Making pie dough in a food processor:
Pulse together flour, salt and sugar.
Add the butter and shortening and pulse a few more times until the mixture becomes coarse crumbs.
Add the egg mixture and pulse until the dough comes together.
Tip #1: I would roll my pie dough in between the waxed papers so that I don't have to add extra flour to the dough to prevent from sticking. This will help pie crust to maintain the light and flaky texture.
Tip #2: Coat the bottom of the crust with egg white to prevent the bottom of pie crust becoming soggy. I, then, store the pie crust in the fridge while I am getting the filling ready.
Deep Dish Apple Pie Filling
Mix apple slices with only a little amount of cinnamon, because I don't want the cinnamon to overpower the flavor of apples. I also use both white and brown sugars. It adds a little more flavor.
Tip #3: Cooking apples prior to baking makes softer filling and maintain the even look of your pie.
I have tried baking pies without cooking the apples, and it always created a big hollow space between the crust and apple filling no matter how big I slit the top of the crust for the steam to escape.
It won't happen if you cook the apples before you add to the pie crust.
Put the cooled pie filling into the pie pan. I used 12 cups of sliced apples and they cooked down a lot.
Pie Assembly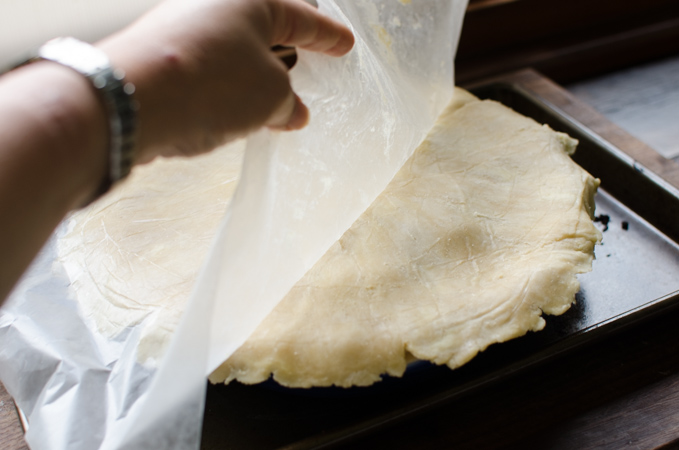 Cover with top crust on top.
Flute the edge with whatever pattern you like.
Brush with egg wash, cut 4 long slit for the steam to escape, and sprinkle with granulated sugar on top.
Place pie pan in a large baking sheet and bake in the preheated 400˚F oven for 60 minutes.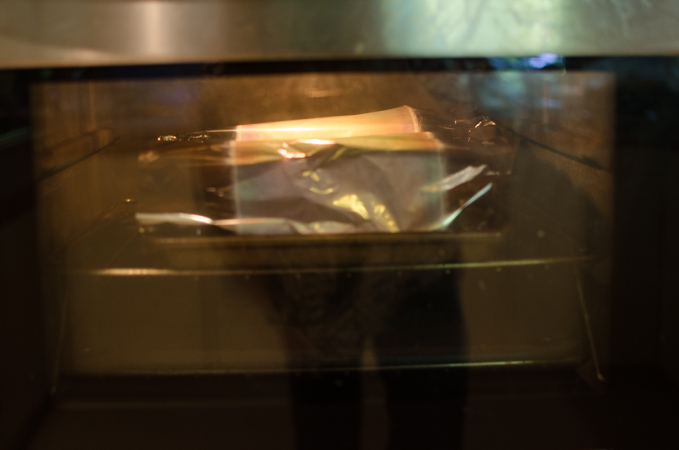 Tip #4: In order to prevent for the crust from burning during the long period of baking, Place a loose foil tent on top of pie about the half way through baking time. I positioned the rack in the lower third of the oven.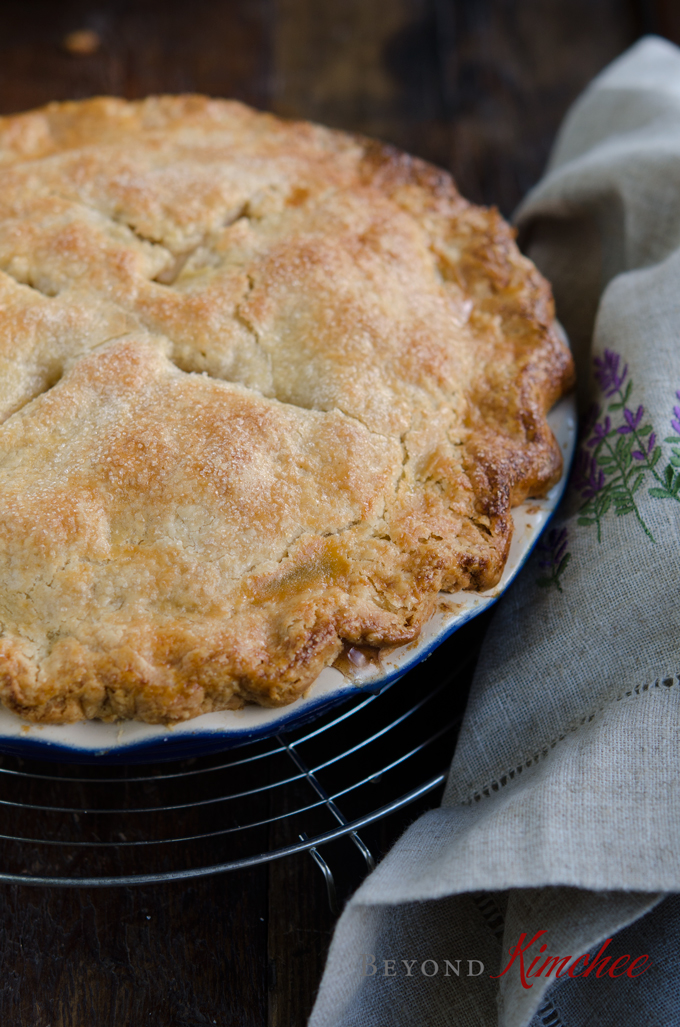 I wish I can show you a slice but I had to take this pie to the party. But let me tell you that I've got rave reviews from the people who tried my pie.
The crust was soft and flaky, and the mildly spiced apple filling was tender with just right amount of sweetness. With a dollop of of cream or vanilla ice cream, this pie will melt your heart.
Pie making is a labor of love. It did require a good half day for me to complete from start to finish including chilling and baking time. But it is so worth the time and effort for a special day like Thanksgiving to share with my loved ones.
My Deep Dish Apple Pie
Flaky pie crust with mildly spiced apple pie filling makes this deep dish apple pie a memorable dessert. Using 2-3 different apples make this pie a top notch!
Ingredients
For Pie Crust:
3 cup all purpose flour
3/4 cup butter, chilled and cut into small chunks
8 tbsp shortening, chilled
1 tsp salt
1 tbsp sugar
1 egg , beaten
1 tbsp vinegar
4-5 tbsp ice water
1 egg white, well beaten
egg wash, 1 beaten egg + 2 teaspoon water
For Apple Filling:
12 cups thinly sliced apples , Use 3 different varieties of apples such as Granny Smith, Golden Delicious, Gala, Jonathan, McIntosh, Cortland, Honey Crisp, Braeburn, and York)
1 tbsp fresh lemon juice
3/4 cup sugar
1/4 tsp salt
1/3 cup light brown sugar
4-5 tbsp cornstarch
3/4 tsp cinnamon
granulated sugar , for sprinkling
Instructions
For the pie crust:
Whisk together flour, salt and sugar in a large mixing bowl, add butter and shortening pieces. Using a dough blender (or pastry cutter), cut the fats in the flour mixture until it looks like coarse crumbs with a few bits remaining (the size of small peas).

Beat egg in a small bowl, add vinegar and 4 tablespoon water; mix well.

Add egg mixture to the flour mixture and toss together with a fork until it forms large clumps. If the dough seems too dry, add a little more water. A few strokes should be enough and make sure you reach down to the bottom of the bowl with fork to moisten. Check the consistency by pinching a small amount of dough between your fingertips. If it is holds together smoothly, it should be ready.

Turn the dough onto lightly floured board. Gather up the dough and flatten down a little. Cut the dough in half and form each half into a disk again. Wrap both dough disks with a piece of plastic and refrigerate for at least 30 minutes .
For the apple filling:
Put apples in a large skillet and toss with the lemon juice. Add the flour, sugars, salt, cinnamon, and cornstarch. If your apples seem to be very juicy, use larger amount of the cornstarch.

Mix well and let it cook over medium-high heat. Boil for 3 minutes stirring and scraping the bottom of the skillet. The apples should be cooked down. Let the filling cool.
To assemble the pie
Position the rack in the lower third of oven and preheat to 400˚F.

When ready to make a pie, take the first dough out of refrigerator and hammer with rolling pin 2-3 times to loosen up the hardened fat.

Place the dough in between 2 pieces of waxed paper and roll into a 13-14 inch round.

Remove one side of waxed paper and face it down onto a bottom of deep dish pie pan. Peel off the the remaining paper on top. Smooth the dough and trim the overhang.

Brush the bottom of the pie pan with the beaten egg white and keep in the fridge while you roll out the second dough in the same manner.

Put the pie filling into the prepared pie pan. Peel off one side of waxed paper from the second crust and place it over the apple filling in the pan. Peel off the other paper and trim the overhang to 1/2 inch extension. Fold the overhang under the bottom crust and press the layers together firmly. Flute with your fingers as your desire.

Brush the top with egg wash and cut a few generous slashes for the steam to escape. Sprinkle top crust with sugar.

Set the pie pan on a baking sheet and bake for 60 minutes.

If the top crust turns too dark during the baking, make a foil tent and loosly cover the top of pie. Continue to bake to finish until the top is nicely browned and the filling is bubbly. Transfer the pie on a wire rack. Let it cool before serving.

Serve a pie with a dollop of whipped cream or vanilla ice cream. Enjoy!
Notes
Pie crust dough can be made ahead and refrigerate up to 2 days, or keep in the freezer up to 3 months.
Did you make this recipe?
Tag @beyondkimchee on Instagram. I love to see your masterpiece.