Korean Sweet and Sour Beef
Try this Korean style sweet and sour beef recipe. The addition of sweet rice flour and potato starch will make the classic sweet and sour beef more special.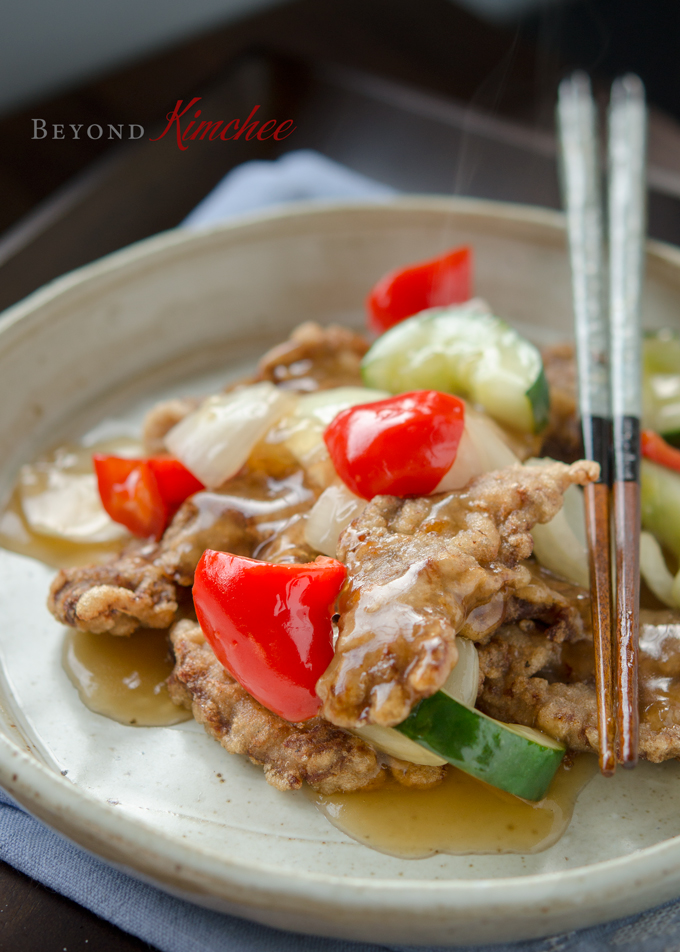 Most people think of Sweet and Sour dish with either chicken or pork. It's one of the most popular Chinese dishes everywhere around the world. But, have you ever tried it with BEEF?
Koreans have made this famous Chinese originated dish 탕수육, Tangsuyook (糖醋肉) into something unique and different. The choice of beef, instead of chicken or pork, coated with the crispy batter makes your ordinary sweet and sour into something extra ordinary, and you will soon think beef CAN go with sweet and sour.
This particular recipe is called  소고기 찹쌀 탕수육 (sogogi chapssal tangsuyook), which means it is made with beef and sweet rice flour.
The addition of sweet rice flour (glutenous rice flour), makes the batter not only extra crispy but subtly chewy that is so pleasant.
I have tried this sweet and sour beef numerous times in Korea. Interestingly the best sweet and sour beef I had was in Hawaii, though. 
When I visited my sister who lives in Aiea, Hawaii a few years ago, she took me to one of her favorite place for Tangsuyook. I wish I can remember the name of that place. It was a teeny-tiny Korean style Chinese restaurant located right behind one of the building full of Korean shops. Boy, was it good or what? Since then, I was converted to sweet and sour WITH BEEF!
Hope you try this variation. You might prefer this over your ordinary sweet and sour pork (or chicken).
How to make Korean Sweet and Sour Beef
Choice of beef…
Use a good quality tender cut of beef such as striploin, ribeye or sirloin. Slice thinly against grain.
Season with soy sauce, rice wine, ginger powder, and pepper. Then add the glutenous rice flour and toss. Set aside.
You will also need another kind of starch for the coating. I recommend to use potato starch for crisp tender texture for the beef.
You want to mix potato starch with water first, then let it sit in the refrigerator for at least 30 minutes (The longer, the better). The starch will sink and the water will float to the top. Drain the most water off from the starch and you will get paste-like pure starch which is called 앙금 (anggum in Korean) sitting in the bottom.
Mix your beef with the potato starch paste and well beaten egg white. Your beef is ready to dive into hot frying oil.
Deep fry your beef. You will want to deep fry twice to get the crispy texture.
Some people might ask, "Can I bake them instead?"…
My answer is, "No!" Baking method won't work here.
The sweet and sour sauce is simple to put together. Just mix all the ingredients together and set it aside.
Saute your vegetables in a tiny bit of oil for 60 seconds, then pour the sauce and the potato starch. The sauce will thicken very soon and turn into a glaze.
Drizzle over your deep fried crisp beef and serve immediately. Take a bite and enjoy the irresistible texture balance of crispness, chewiness, and the tenderness which has been all put together on the beef. The mouthwatering sweet and sour glaze will top it off with flavor burst in your mouth. Succulent!
Now, it is your turn to make. You will find the printable recipe below. Enjoy!
More Chinese Recipes You might like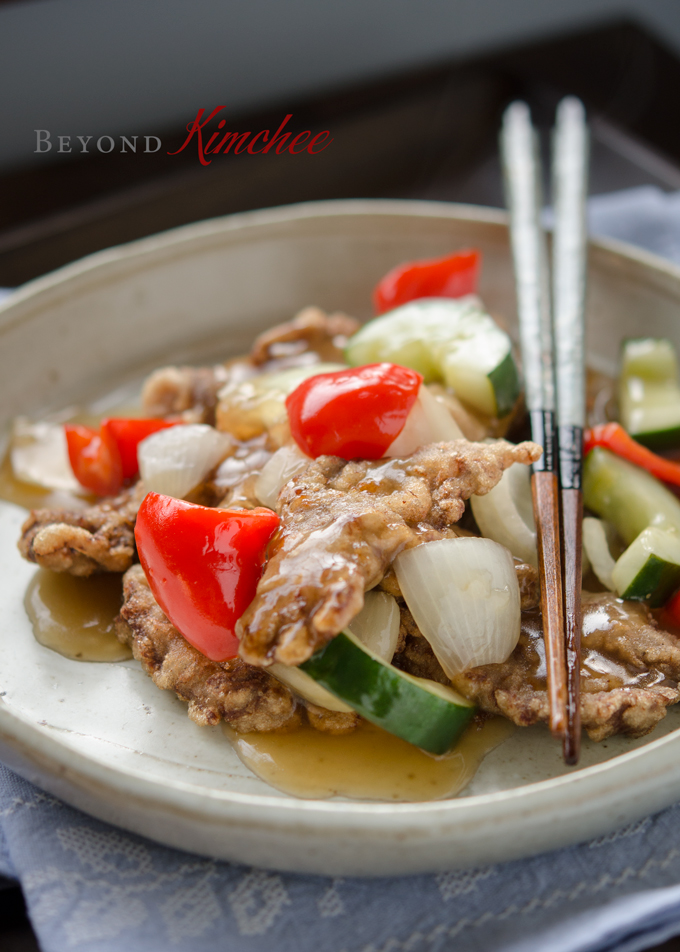 Korean Sweet and Sour Beef
the classic sweet and sour beef more special.
Ingredients
1 lb beef striploin, ribeye, or sirloin
1 tablespoon soy sauce
1/2 teaspoon salt
dashes pepper
1/4 teaspoon ginger powder
4 tablespoon sweet rice flour (chapssal-garu), glutenous rice flour
3/4 cup potato starch
3/4 cup water
1 egg white
1/2 onion diced
1/2 red bell pepper, seeded and diced
1/2 cucumber, seeded and diced
oil for frying
Fors sweet and sour sauce
1 cup water
3 tablespoon vinegar
2 tablespoon lemon juice
4-5 tablespoon sugar
1 tablespoon soy sauce
1/4 teaspoon salt
1-1/2 tablespoon potato starch
3 tablespoon water
Instructions
Mix potato starch and water in a bowl. Place the bowl in the refrigerator for 30 minutes or longer and you will see the starch sinking to the bottom and the water on top. Drain the most of water off the bowl. Now you have the paste-like potato starch.

Meanwhile slice the beef very thinly against grain and put in a large mixing bowl. Season the beef with the soy sauce, salt, black pepper, ginger, and toss well. Sprinkle sweet rice flour over the beef and toss to coat them. Set aside.

Beat the egg white until the soft peak forms.

Add the potato starch paste and the beaten egg white to the beef; mix all together.

Heat oil in a wok or a skillet over medium heat, drop the beef slices and deep fry until golden. You want to do this with small batches at a time. Transfer the beef to a plate lined with paper towel. When all the beef slices are fried, repeat the deep frying again for the second time. Deep frying twice will create crispier texture. Drain off the oil on the paper towel.

For the sweet and sour sauce, combine water, vinegar, lemon juice, sugar, soy sauce, and salt in a small mixing bowl; mix well and set aside. Mix potato starch and water in a small cup and set aside.

In a skillet, heat a couple of teaspoonful of oil over medium-high heat. Stir-fry the onion, pepper, and cucumber for 60 seconds. Pour the sauce over the vegetables and let it boil, about 30 seconds. Add the potato starch water to the skillet and let the sauce thicken, about 30-60 seconds.

Place the beef on the serving plate and pour the sauce over. Serve immediately.
Did you make this recipe?
Tag @beyondkimchee on Instagram. I love to see your masterpiece.