Garlic Chives Kimchi (Buchu Kimchi)
Garlic chives kimchi (buchu kimchi) is an easy and quick kimchi you can make in any season. Slender and slim garlic chives produce the best result. It only takes 30 minutes to make.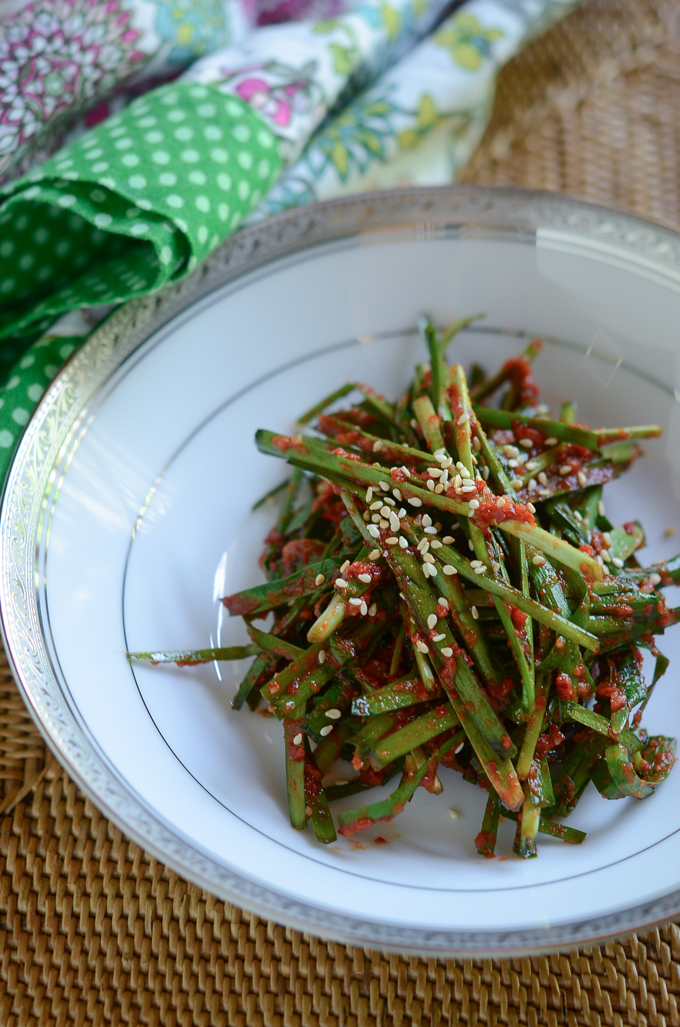 When the season turns into spring in Korea, many housewives are busy making spring kimchi. Garlic Chives Kimchi (Buchu kimchi, 부추김치) is one of the well known kimchi recipes during spring.
However, don't let yourself limit on the season. You can make it any time of the year as long as you can get fresh garlic chives.
Garlic Chives, aka Chinese or Asian chives, have unique flavor that is different from most western chives we know. The leaves are tender and fragrant at this stage, which makes perfect to make kimchi with.
And did you know that garlic chives are known for relieving heat in our body? That's another reason we love using garlic chives in various summer dishes in Korea. Yellow chives are another variety you can use for this recipe, too.
Asian Garlic Chives (Buchu)
Garlic chives are widely used in many Korean recipes from savory pancakes to kimchi. It is super easy and quick to make kimchi with these lovely skinny herbs. You don't need to brine with salt like cabbage prior to add kimchi seasoning. It is perhaps one of the easiest and quickest kimchi recipes you can make.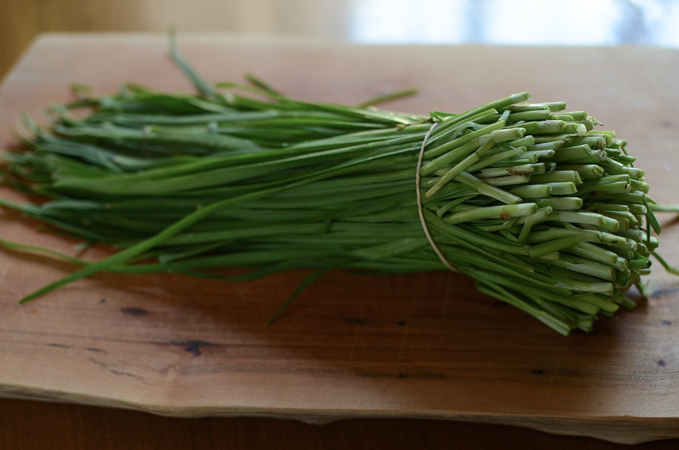 Garlic chives leaves are flat unlike round and hollow-centered western chives. Look for the chives with slender leaves. They are more tender and mellow.
Kimchi Stock for Gallic Chives Kimchi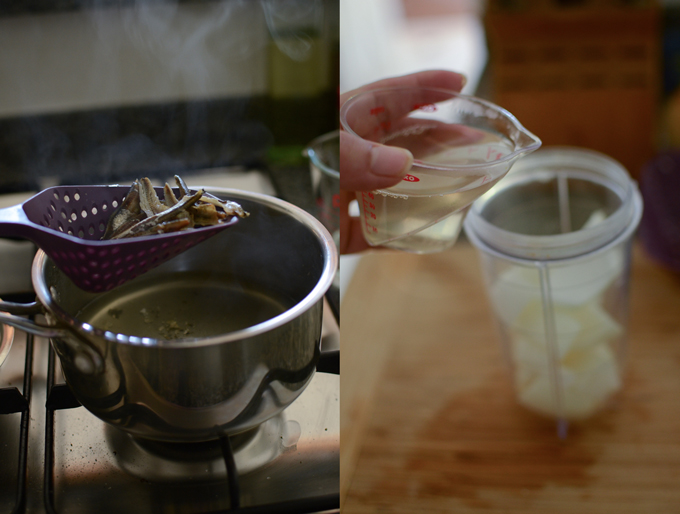 Adding a flavorful kimchi stock is a key point to make flavorful kimchi. For this kimchi, I used anchovy stock. Although you won't taste the fishiness of anchovy once it is made into kimchi, you can use vegetable stock if you can't have anchovies for a diet restriction.
Kimchi Filling Paste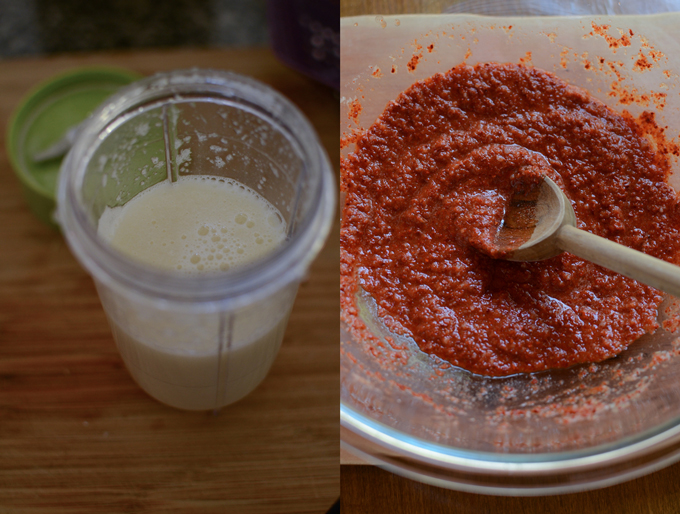 You will need to blend onion, garlic, ginger with the stock until smooth. Then mix with chili flakes, salted shrimps, fish sauce, and a little bit of sugar. This is the kimchi seasoning.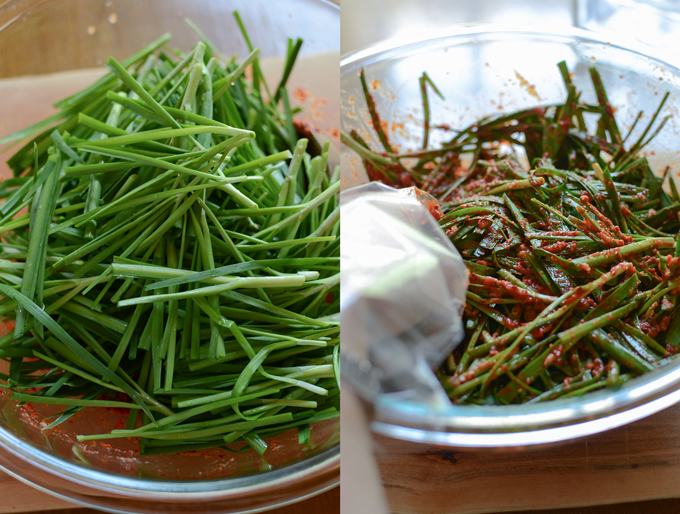 I like to slice the chives, but you can leave it as a whole if you prefer. Add to the kimchi seasoning and toss well to coat evenly. Taste and add more fish sauce if needed. That's all the cooking.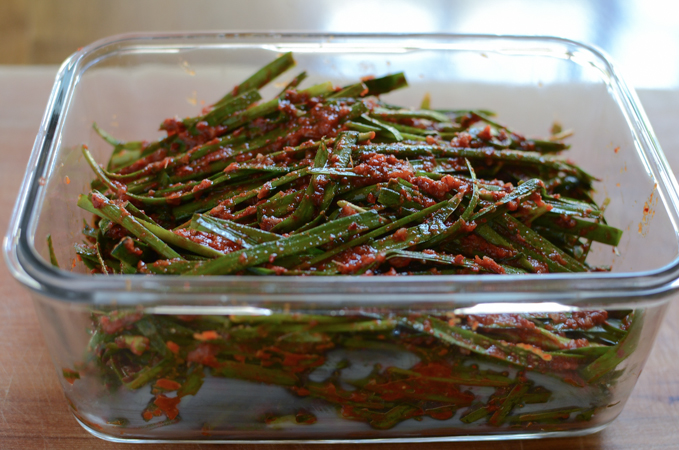 Fermentation and Storage
You can serve the freshly made garlic chives kimchi right away. But if you prefer fermented, transfer into a airtight container and let it ferment in a room temperature for 1-2 days. Then store in the fridge for another 2 days and your garlic chives kimchi should be ready to serve.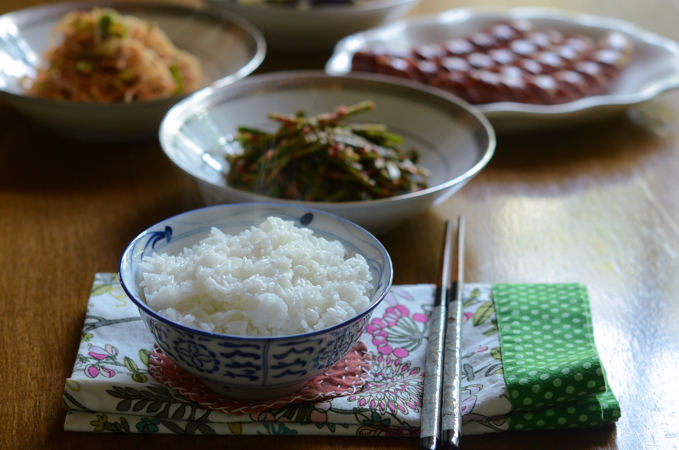 There is nothing like smelling the freshly cooked rice. Scoop a bowlful of rice and serve with your kimchi and other Korean dishes.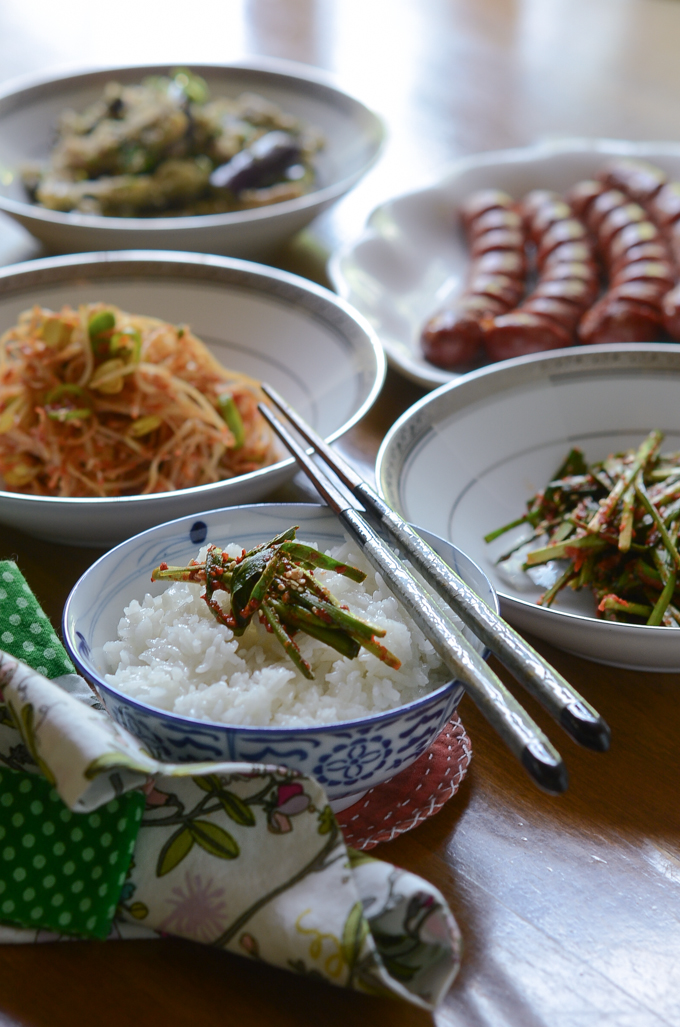 You will taste a country style rustic homemade Korean meal. I enjoyed it and I hope you do, too.
Kimchi making doesn't have to be a huge ordeal and I hope you give this recipe a try if you find some fresh garlic chives. You will get a successful result even if you are a novice in kimchi making. The satisfying reward will follow you.
Garlic Chives Kimchi (Buchu Kimchi)
Tender Korean garlic chives (aka Chinese chives or Asian chives) makes an easy and tasty kimchi within 30 minutes. Look for slim garlic chives in your local Asian market.
Instructions
In a small pot, add water and dried anchovies, bring to gentle boil and simmer for 5-7 minutes. Reserve 1/2 cup of stock and discard the rest.

Combine onion, garlic, ginger and the anchovy stock in a blender and process until smooth.

In a large mixing bowl, combine the puree above, chili flakes, salted shrimps, 2 tablespoons anchovy sauce (or fish sauce), and sugar. Mix well.

Add the chives and toss well to coat. Taste the kimchi and adjust the seasoning according to your taste.

Transfer the chive kimchi into an airtight container and let it ferment in a room temperature for 1-2 days, then store in the fridge for 2 more days before you serve. Serve with rice and other Korean dishes.
Did you make this recipe?
Tag @beyondkimchee on Instagram. I love to see your masterpiece.