Grilled Fish with Soy Lime Chili Sauce
Enjoy grilled fish with soy lime chili sauce. A hint of Korean flavor, using Korean chili flakes, in the sauce makes it delicious. Find out what fishes are best for grilling for this recipe.
What fish do you think this is? Would you believe if I say this is an anchovy?
There is one seafood shop at my neighborhood in Argentina where I go to buy fresh seafood. I found a fish which looked quite similar to mackerel. I asked the name, and "Anchoa" was the answer I got. Since my memory in Spanish is quite limited, I had to ask him to write the name on the wrapping package so that I don't forget. I came home and looked for the name in English.
Try Mackerel Fish grilled in parchment paper for another delicious fish recipe.
Anchoa (Anchovy)
To my surprise, Anchoa is a Spanish word for the anchovy. I have seen fresh anchovies many times in my life since I am from a town where the anchovy production ranks #1 in Korea. I literally grow up eating fresh anchovies in my childhood, but I've never seen anything like this big. Wow!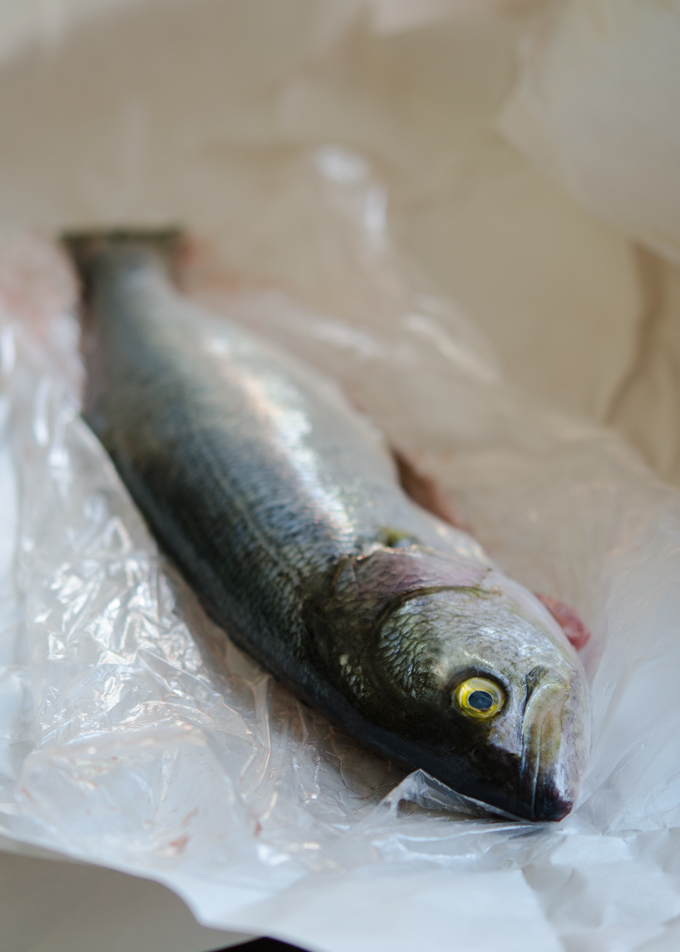 I learned that some large anchovies can measure up to 40 cm (15 inch). This guy was measured about 13 inch. By looking at his appearance, who would have thought that this big guy would be a cousin to my usual 3-inch Korean anchovies? Funny!
The Best Fish to Grill for this Recipe
You don't have to use the giant anchovy fish like I did to enjoy this recipe. There are many other fishes that are great for grilling. Use one of the following;
sardines
snapper
mackerel
croaker
mahi-mahi
swordfish
salmon steak
sea bass
trout
How to Grill Fish
Grease the grate of the grill with some oil so that the fish skin won't stick. I recommend oiling the skin of fish as well, and season with salt. Give a few slits on the fish for even cooking and prevent the skin from exploding. Place the fish on top.
Grill your fish until it is fully cooked and skin turns golden brown and crisp. The flesh will be firm to touch when you gently press. Turn the fish carefully to the other side and continue grilling until it is fully cooked.
How to make Soy Lime Chili Sauce
Mix soy sauce with a little bit of lime juice, garlic, and Korean chili flakes (gochugaru) in a small mixing bowl. This soy lime chili sauce is good with any fish.
When the fish is all done grilled, place it on a serving dish. Sprinkle chopped cilantro on top and garnish with extra lime wedges.
What to Serve with
Drizzle the sauce over the fish and serve with rice. If you like to add a simple side dish to serve with, try one or two of the following Korean side dishes:
Grilled Fish with Soy Lime Chili Sauce
Enjoy grilled fish with soy lime chili sauce. A hint of Korean flavor, using Korean chili flakes, in the sauce makes it delicious. Use any grilling fish you like.
Instructions
Heat the grill until very hot. Oil the grates of grill.

Give a few slits to the fish and brush with oil. Sprinkle a few pinches salt on top. Place the fish on a hot grill and cook until one side is cooked and frim to touch. Turn your fish to the other side carefully and continue grilling until the fish is fully cooked.

To make the sauce, mix Korean soy sauce for soup, lime juice (or lemon juice), garlic, chili flakes, and water in a small bowl.

Sprinkle cilantro over the grilled fish, and spoon half the amount of sauce on top. You can also dip the fish with the sauce as you eat, if you wish. Serve hot with rice.
Did you make this recipe?
Tag @beyondkimchee on Instagram. I love to see your masterpiece.