Korean Cabbage with Soybean Paste
This Korean cabbage side dish is using a young cabbage and Korean soybean paste. It is easy and simple, and best to serve with rice – makes a perfect Korean vegetarian and vegan recipe.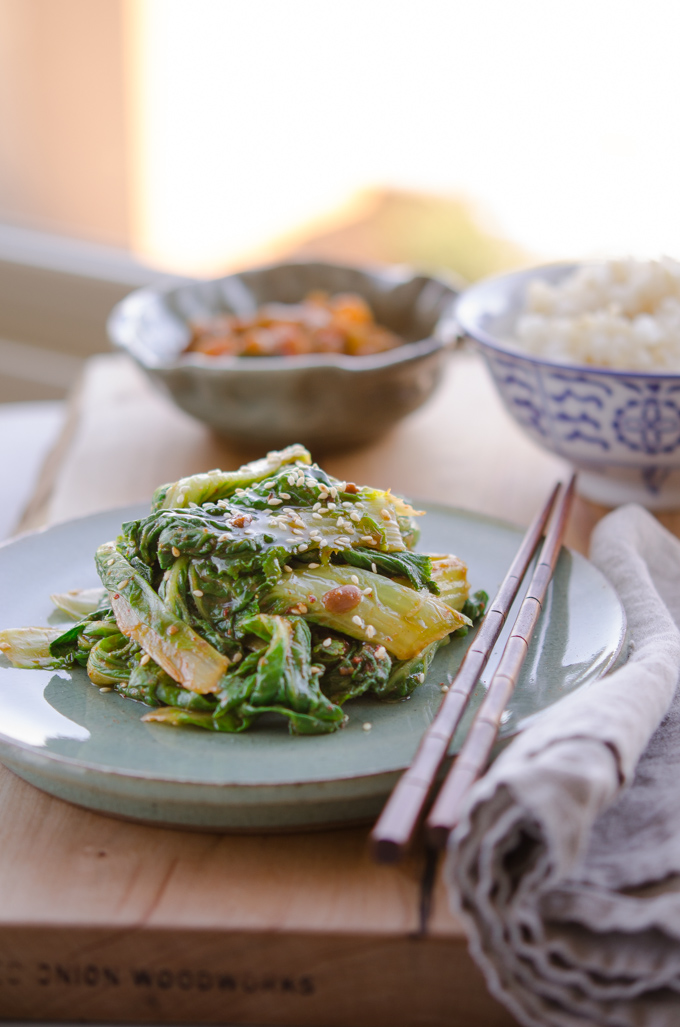 Korean cabbage with soybean paste is one of the common side dishes in Korea. Korean soybean Paste (된장, doenjang) goes really well with cabbage or other type of leafy vegetables.
The salty pungent flavor of fermented soybean is not for everyone, but once you are used to the flavor it quickly becomes your comfort flavor and you will crave for it. Koreans use this paste for not just in soups and stews, we use it in many salad type dishes as well.
Fermented soybean offers a lot of health benefits. If you like Korean food, I hope you try using doenjang more often in variety of dishes.
This Korean cabbage side dish is a great example of Korean vegetarian or vegan recipes.
Young Korean Cabbage (Bomdong)
I found this tender green spring Korean cabbage called bomdong (봄동) and made a quick side dish to eat with rice. We call this cabbage with soybean paste "bomdong namool (봄동 나물)" and it is perfect vegetarian/vegan dish that you can enjoy.
Korean Bomdong Cabbage Substitution
Bomdong is a young Korean cabbage and it is available in major Korean stores only during early spring season. You don't have to have this bomdong for this recipe. You can use baby kale, Swiss chard, napa cabbage, or even spinach would be great to go with.
How to make Korean Cabbage with Soybean Paste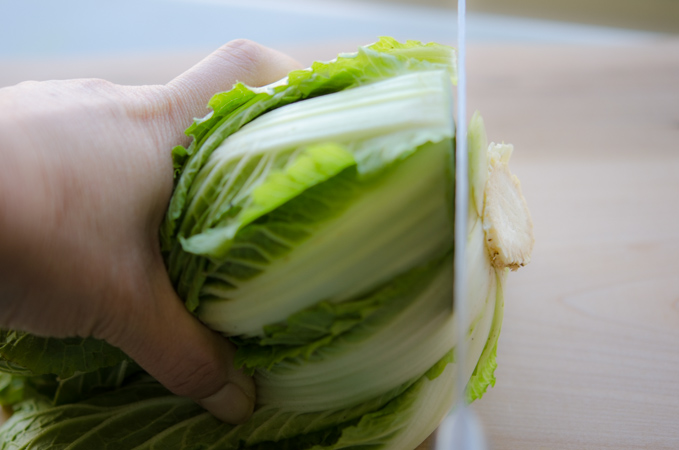 Cut the cabbage into chunks. Since the leaves are small in size I left them in whole without cutting into pieces.
Blanch them in salted boiling water for 1-2 minutes depends on their thickness. You want them to be somewhat soft. Drain and rinse with cold water. Squeeze out the extra moisture.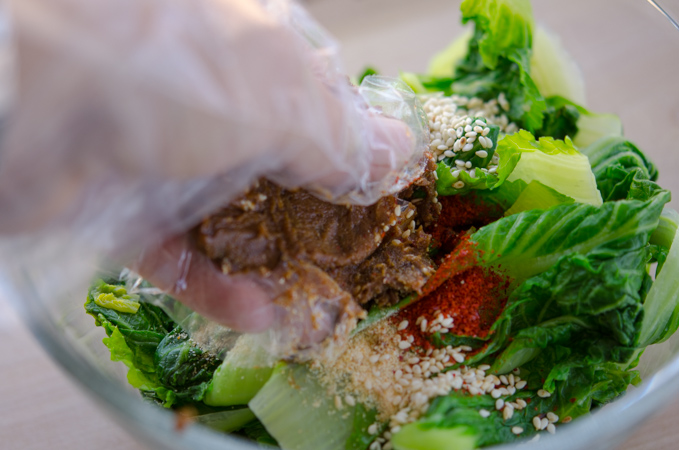 Add Korean soybean paste, Korean chili flakes, sesame oil, toasted sesame seeds, and minced garlic (or garlic powder).
Rub the paste between your fingers and try to toss everything to incorporate with seasonings as if you are massaging them.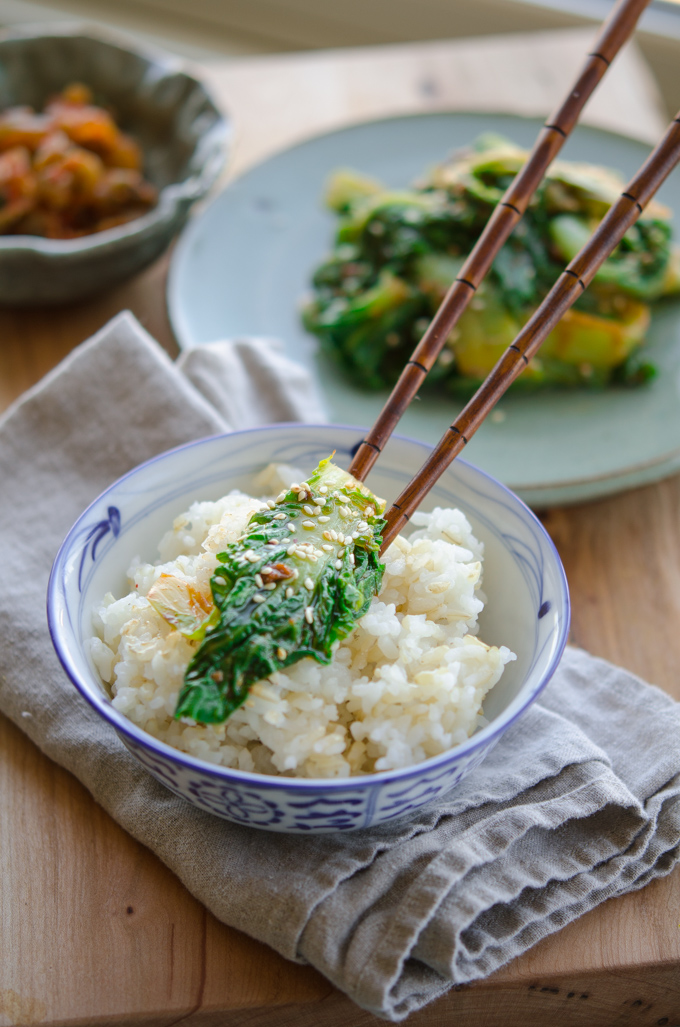 Serve with rice. This bomdong namool is one of the gazillion Korean side dishes that people like to eat in the spring time. As you can tell, it is robust in flavor, and perfect to eat with rice. I emptied out a bowl of rice with this side dish and I didn't miss any meat to go with. Hope you can give this a try!
Storage Tip
Store this side dish in the refrigerator at all times. It should last up to 1 week. You can eat it as chilled or at room temperature. Freezing is not recommended.
Other Korean Side Dishes to Try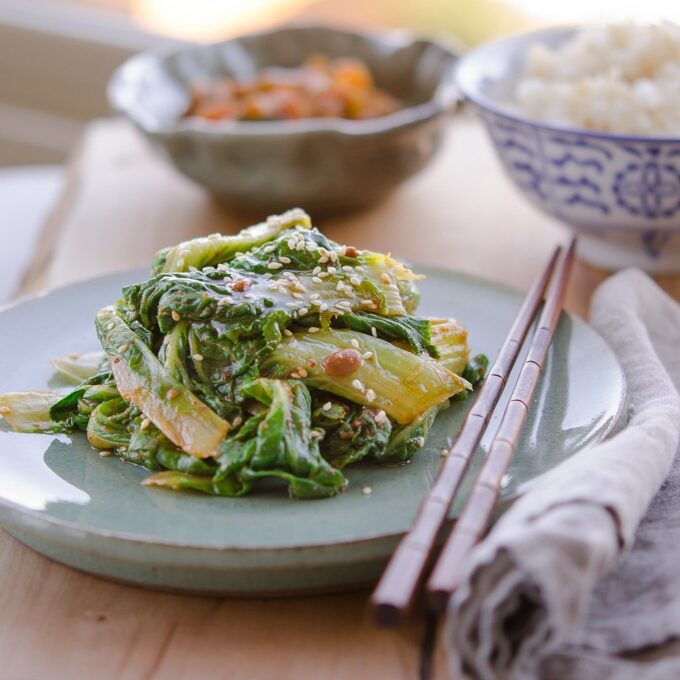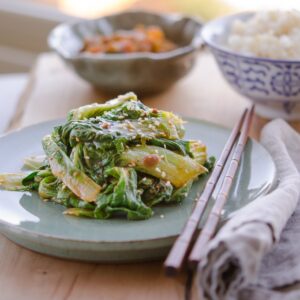 Korean Cabbage with Soybean Paste
A tender young spring Korean cabbage is tossed in Korean soybean paste. Any leafy vegetables can be used and perfect to serve with rice.
Instructions
Boil pot of water with some salt, add the cabbage and blanch for 1-2 minutes. Drain the cabbage and rinse with cold water. Squeeze out the extra moisture from the cabbage.

Place the cabbage in a mixing bowl, add the rest of the ingredients. Smear the soybean paste between your fingers to loosed, and rub with the cabbage along with the other ingredients as you toss around to incorporate everything so the flavor will soak into the cabbage.

Serve with rice or use as a side dish.
Did you make this recipe?
Tag @beyondkimchee on Instagram. I love to see your masterpiece.