Easy Lemon Rice with Sausage and Peas
Turn your leftover rice into a dazzling delicious stir-fried lemon rice with sausage and peas. It takes less than 20 minutes and makes a simple meal. Or serve as aside dish for a main course.
Do you have some leftover rice in your fridge? How would you like to turn your rice that nobody cares for into something pretty and delicious that your family would enjoy?
Let's dress up you plain rice with a touch of make-over. Here is very simple sausage pea lemon rice. It can be a simple one dish meal on it own or serve as a side dish. You will love the lemony fragrance. I used Chorizo sausage but any fresh sausage will do the job.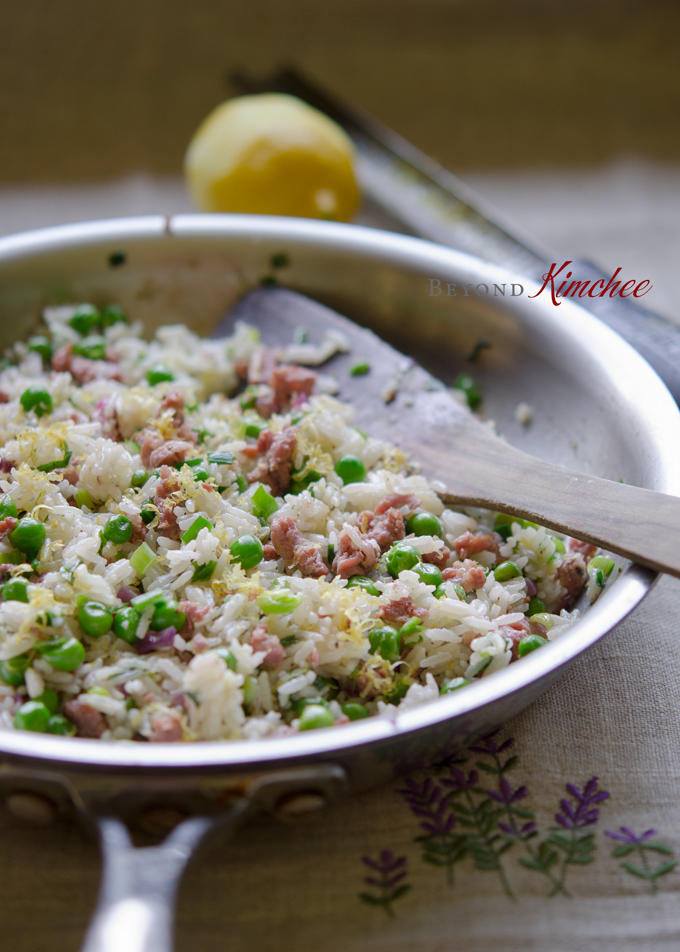 All you need to make this delicious rice is sausage, peas, lemon, green onion, garlic, and a little bit of oil to cook together.
How to make Lemon Rice with Sausage and Peas
Remove the casing from the sausage and reveal its true beauty…
…and crumble them as you brown them on a skillet.
Add lots of chopped green onion and a little bit of minced garlic to give a flavor.
Add the green peas and rice, and continue to stir-fry. Season the rice with salt and pepper according to your taste bud. Remove from the heat and add the zest of one lemon…
… and about 1 tablespoon of lemon juice. Mix well and you are good to go. You can add more lemon juice if you like. I won't stop you.
Quick, easy, and refreshingly tasty…, I love how beautifully they presents on the table, too. Don't you just love when things turn out so well even though you only used just a few ingredients?
Simply delicious!
Easy Lemon Rice with Sausage and Pea
This lemon rice made with sausage and pea is a great way to use up leftover rice. It's easy and quick to make under 20 minutes, and so satisfying to serve as a simple meal.
Ingredients
1/2 lb Chorizo or Italian sausage, casing removed and crumbled
1 tablespoon oil
1/2 cup chopped green onion
2 cloves garlic , minced
3/4 cup frozen peas, thawed
2 1/2 to 3 cup cooked white rice
zest of 1 lemon
1 tablespoon lemon juice
salt and pepper , to taste
Instructions
Heat oil in a skillet over medium heat. Add the crumbled sausage to the skillet and brown them until they are fully cooked, about 2-3 minutes.

Add the green onion and garlic, and continue to cook until the green onion is wilted, about 1 minute. Add the green peas and rice. Toss to heat through. Season with salt and pepper according to your taste.

Remove the skillet from heat, add the zest of one lemon and 1 tablespoon of freshly squeezed lemon juice. Toss well to mix everything well. Serve warm or at room temperature.
Did you make this recipe?
Tag @beyondkimchee on Instagram. I love to see your masterpiece.