Korean Steamed Shishito Peppers
Looking for a shishito pepper recipe? Try using Korean steamed shishito peppers to create a delicious and easy vegetable dish. Coat the mild peppers in flour and steam them, then toss them in a Korean chili flake sauce. This flavorful Korean banchan makes a great accompaniment to many Korean or Asian main dishes.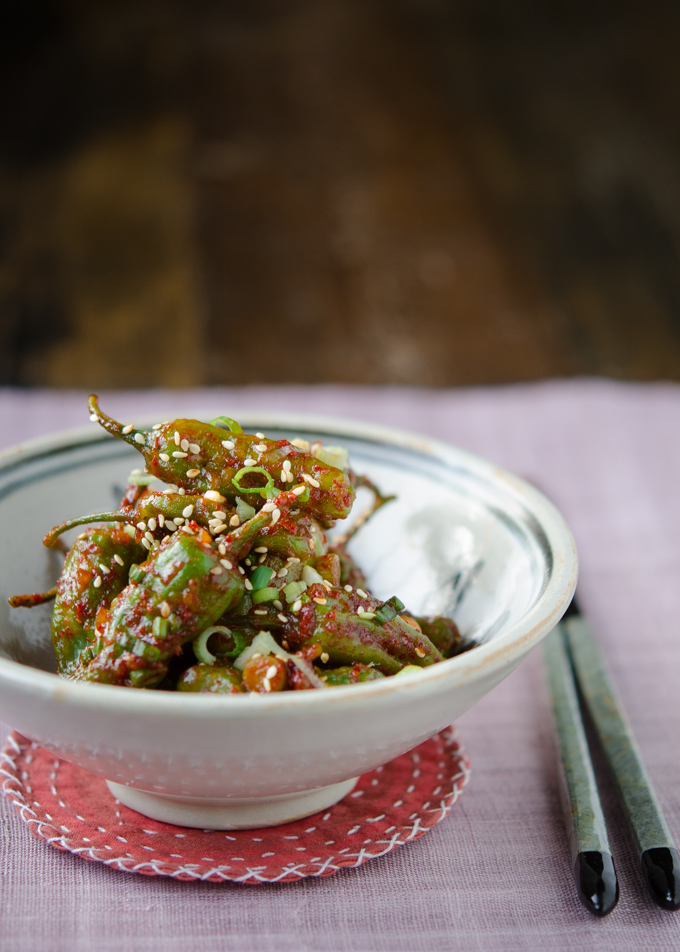 One of my favorite Korean banchan dishes made with seasonal summer produce is Kkari-gochu jjim (꽈리고추찜), a savory steamed chili recipe using shishito peppers. Whenever there was an abundance of these little wrinkled chilies at our local market, my mother used to prepare this dish quite often.
This dish is so delicious that I could easily finish a bowl of rice with it alone. The shishito peppers are tender, flavorful, and not too spicy.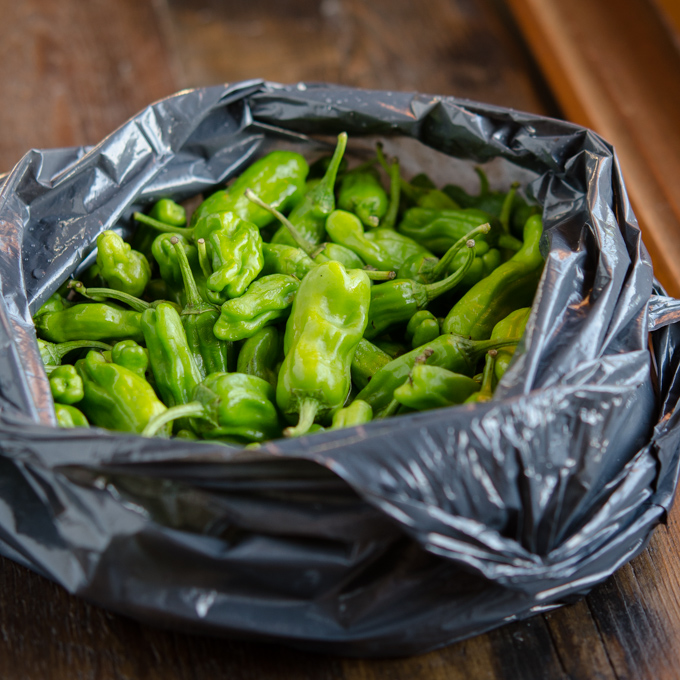 What is Shishito Peppers?
These are the shishito peppers, known as Kkawri-gochu (꽈리고추) in Korean, that you will need for this recipe. Shishito peppers are a type of small, thin-walled pepper commonly used in Korean cuisine.
They are typically green, slightly wrinkled, and have a mild, sweet flavor with a touch of heat. These peppers are often served grilled or blistered as a side dish or appetizer and can be eaten whole, including the seeds.
They also pair well as a side dish for many Korean main dishes. Shishito peppers are a popular ingredient in many Korean dishes and can be found in Asian grocery stores or farmer's markets.
How to Make Korean Steamed Shishito Peppers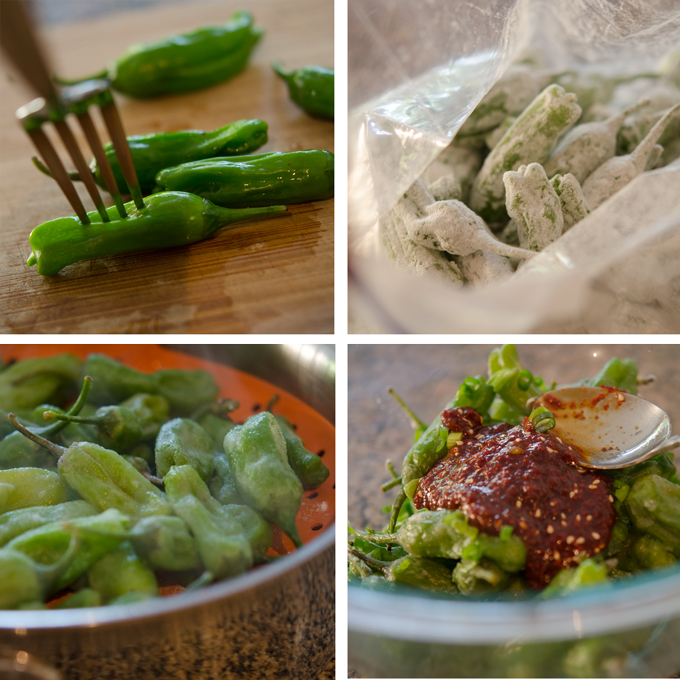 Steamed chilies are a breeze to make with just a few simple steps.
Start by poking each chili with a fork to ensure even cooking during steaming.
Then, toss the chilies with plain or rice flour, depending on your preference.
Steam them in a hot steamer for about 3-4 minutes until they're soft.
To make the chili sauce, use Korean condiments and chili flakes, then toss the steamed chilies in the sauce. That's all there is to it!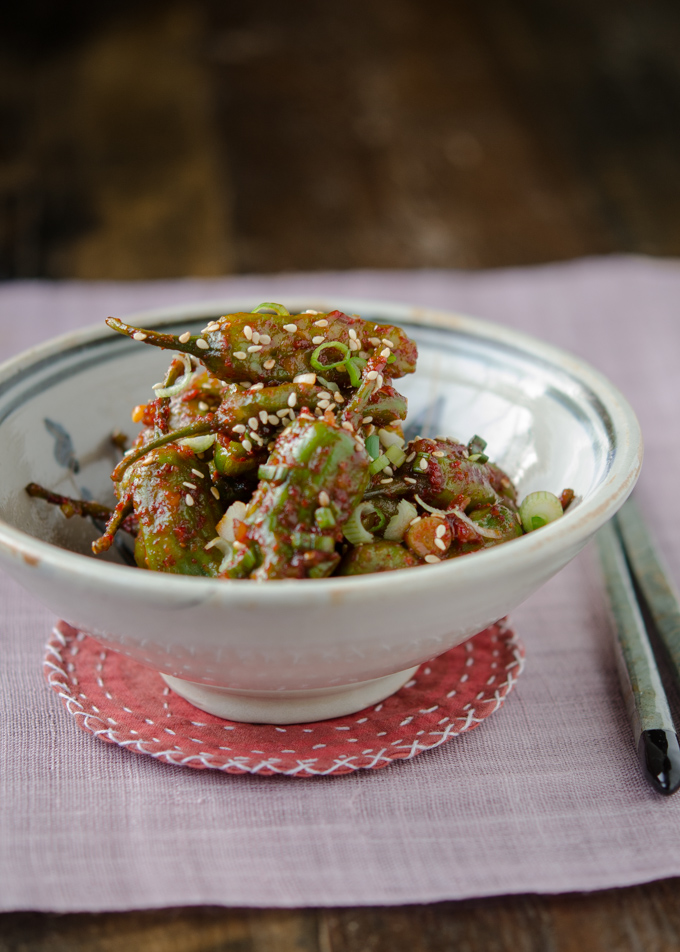 They can be somewhat spicy due to the Korean chili flakes but not overwhelmingly, though. You can always adjust the amount of chili flakes depends on your liking. You will love the gentle yet chewy texture of these steamed chilies.
Storage Tip
Store the leftover steamed chili in a covered container and keep it in the refrigerator for up to 1 week. To serve you can enjoy cold as is or microwave it for 30 seconds to warm it up slightly.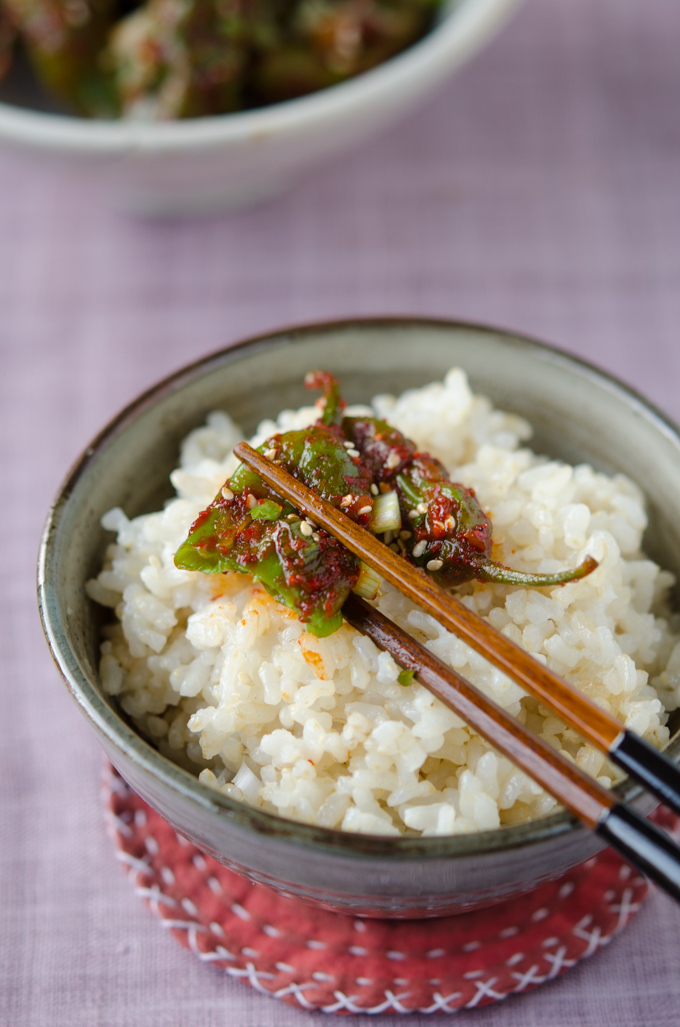 Certain dishes have a way of evoking cherished memories. As I savored these steamed chilies, I was transported to a dinner table from my childhood, surrounded by memories of summer fun with my family. These simple steamed chilies even had a place on that nostalgic scene, nestled in my rice bowl.
Other Simple Korean Side Dishes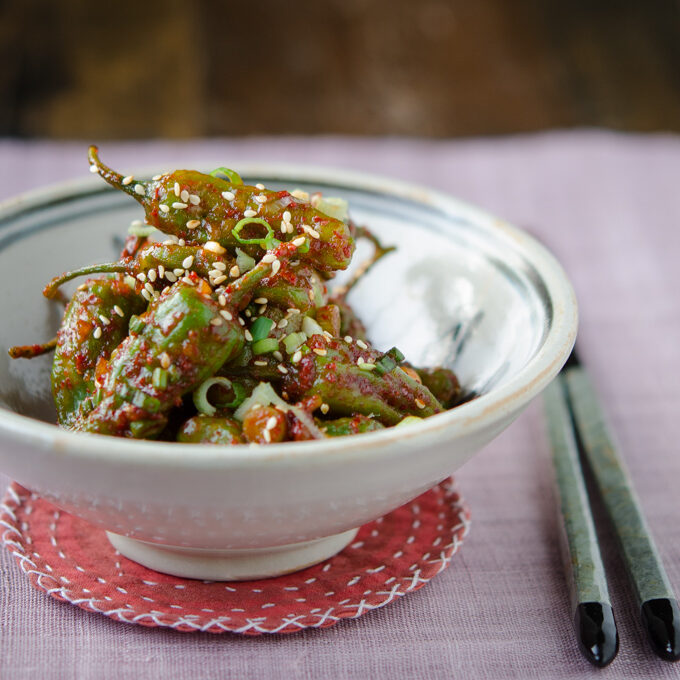 Korean Steamed Shishito Peppers
Korean steamed shishito peppers are a delightful and easy-to-make side dish that pairs well with many Korean main courses.
Instructions
Place a steamer over the water in a large pot and heat over med-high heat. Meanwhile rinse the chilies with water. While wet, poke each chili once with a fork.

In a plastic bag, combine the wet chilies and flour. Shake the bag to coat the chilies with the flour. Take the chilies out of bag shaking off the excess flour, place them in a hot steamer and steam for 3-4 minutes or until the coating seems translucent and not showing the raw flour on the surface.

Meanwhile, combine the rest of the ingredients in a small bowl, and mix well to make seasoning paste.

Place the steamed chilies in a mixing bowl, add the seasoning paste. Toss well to coat the chilies evenly with the seasoning paste.

Serve warm or at room temperature with rice. The leftover can be stored in a fridge for 1 week.
Did you make this recipe?
Tag @beyondkimchee on Instagram. I love to see your masterpiece.