My family is quite picky on eggs. Each one has their preference on how their egg should be.
My husband likes his scrambled eggs somewhat dry. He hates runny scrambled eggs. My son doesn't care for scrambled eggs but loves sunny side up eggs. My daughter prefers egg whites since she entered high school and started to pay more attention on her diet (?).
Well, being a kitchen goddess in my household, I often ignore what they order. I don't want to make 3 different styles of eggs for breakfast. They just have to eat what I offer.
This time, I made simple frittata with leftover vegetables. FYI, this egg and vegetable frittata is not an authentic way of making frittata. I just made it my way and it was loved by everyone. So simple and quick, you can use any vegetables you like.
First, I sauteed some green and red bell pepper, and mushroom with a pinch of salt.
Add some ham slices and chopped green onion and cook until heated through.
Gather up the vegetable mixture and crack 3-4 eggs (or however many eggs you desire) on top.
You will need to lower the heat at this point.
Using spatula, break the egg yolks and spread the eggs to cover the vegetables.
Sprinkle a little bit of salt on top to season the eggs.
Add your favorite herbs, such as chives, parsley, or basil. I used chives. Sprinkle some grated Parmesan cheese or any cheese of your choice (or no cheese at all).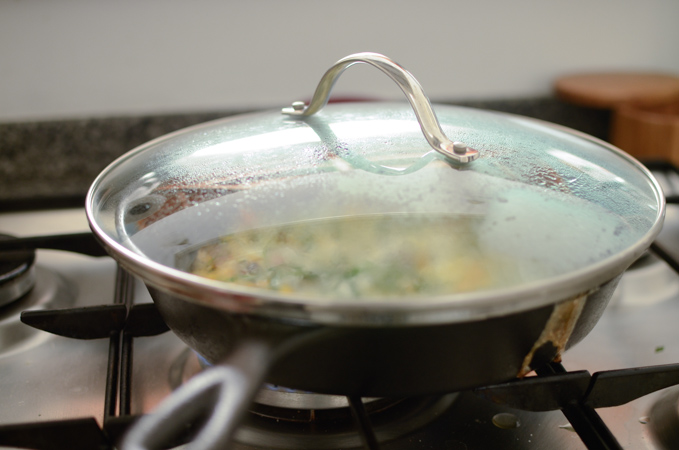 Cover with a lid and let it cook for 1-2 minutes until the cheese melt and the eggs are cooked.
Lastly crack some peppers on top, and it is ready to serve.
Quick and easy, and so versatile, this can be such an great way to serve for breakfast. I like to serve mine with a few drops of hot sauce.
This was the egg and vegetable frittata my way. Although I ignored their preferences, they were satisfied. I was happy that I could feed some vegetables to them for breakfast. I am such a good mother, aren't I? 🙂
~ Holly
Egg and Vegetable Frittata
2015-06-25 17:21:09
Serves 2
A quick and simple way of cooking egg frittata with leftover vegetables.
Ingredients
1 tablespoon vegetable oil
1/4 cup chopped red bell pepper
1/4 cup chopped green bell pepper
1 handful diced mushroom of your choice
1/2 cup diced ham slices
1 green onion, chopped
3-4 eggs
2 tablespoons chopped chives or parsley
2 tablespoon grated Parmesan cheese or other melting cheese of your choice
salt and pepper
Instructions
Heat oil in a skillet over medium heat. Saute bell peppers and mushrooms with a pinch of salt until soft, about 2-3 minutes.
Add ham and green onion and cook until heated.
Reduce the heat to low, gather up the vegetables to make thin single layer in a skillet. Crack the eggs on top.
Using a spatula, break the egg yolks and spread the eggs to cover the vegetable mixture. Sprinkle some salt to season the eggs. Sprinkle herbs and cheese and cover with a lid. Cook until cheese melts and the eggs are cooked through, about 2-3 minutes.
Lastly sprinkle freshly cracked pepper and serve hot.
Notes
You can use any kind of vegetables and protein of your choice.
Beyond Kimchee https://www.beyondkimchee.com/