Nuhbiani (Easy Royal Korean Beef)
Nuhbiani is a royal Korean beef dish that were served to the kings and queens in ancient Korea. You can broil this beef in your oven or grill.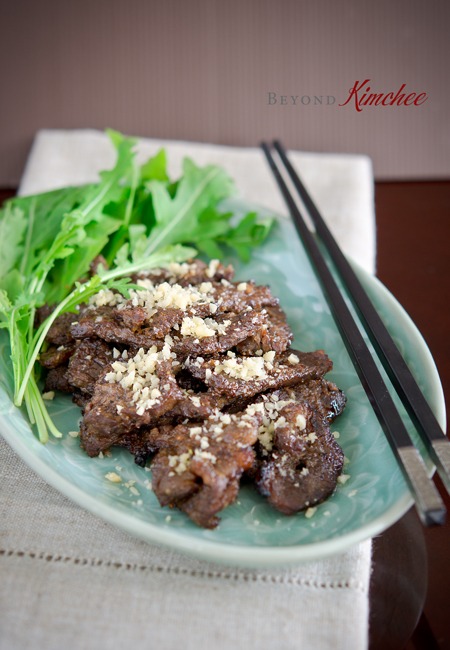 What's for your dinner tonight? Any mood for beef? How about this easy Korean beef called, "Nuhbiani"?
I humbly suggest to try this scrumptious old time easy Korean beef recipe. If I can add a comment on this dish, this used to be served to the kings and queens in ancient Korea.
History of Korean Beef
Perhaps Bulgogi was the most well known beef dish of Korea. But before Bulgoi, there was a dish called Mac-jeok, made with either beef or pork. It was basically meat directly cooked over a fire, often using skewers. Historians believed that the cooking method of this dish was influenced by Mongolians, thanks to the Genghis Kan.
However the beef was luxury protein to most commoners to access in ancient Korea. The middle class people were mostly farmers and cows were the important asset they own. In addition to that, Buddhism was commonly practiced and killing cows were something that most people were hesitant to do because of the Buddhist teaching. Besides, they didn't know how to butcher properly. Therefore only the royals and the riches had enjoyed this dish. The bulgogi that we know is the modern method that has been evolved from this dish much later time.
What's Nuhbiani?
The name Nuhbiani came from the shape of the meat. People used to call anything that has been sliced flat and squarish shape, "nuhboot, nuhboot (너붓너붓)". As a result, the word Nuhbiani was created.
The thinly sliced beef is seasoned with a soy sauce based sauce, then grilled over an open fire. It is often served with finely chopped pine nuts (or walnuts). It has an elegant look and fancy enough to serve to royal families in the palace in ancient Korea.
I guarantee that you will love this dish if you like Korean beef. It is actually very simple to make; easy enough to make for weeknight dinner, but fancy enough to entertain your guests.
You can use outdoor grill but you will love how quick and easy to adapt this recipe using a broiler function in your oven.
Cooking Instructions for Easy Korean Beef (Nuhbiani)
The best cut for this dish is strip-loin or rib-eye with good marbling. Ask your butcher to slice about 1/4″ thickness.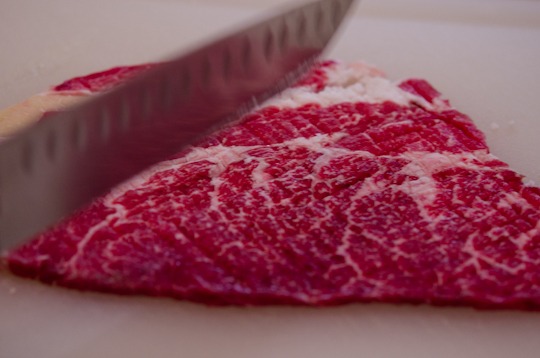 Pound your meat with back of your knife to tenderize the muscles.
Poke here and there with the tip of your knife.
Slice your meat into 1 1/2″ x 2″ rectangular shape or any big bite size you desire.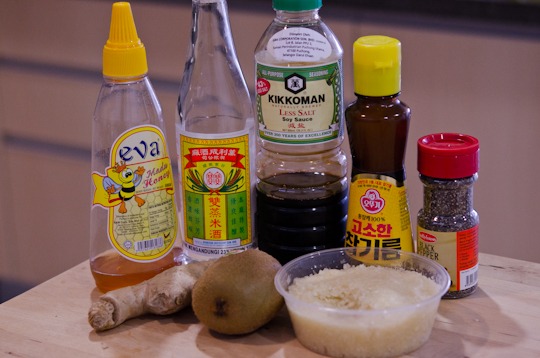 Now here are the glorious seasoning ingredients; from left to right. honey, rice wine, sou sauce, sesame oil, pepper, ginger, kiwi, and garlic. Add onion to the list.
Traditionally Korean pear is used in most beef recipes, but I can't get the winter fruit in this tropical land. Kiwi will work great since its acidity will dramatically break down the muscles of beef. You will need just a little bit.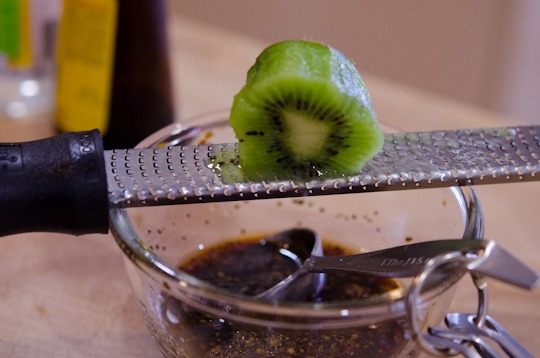 Combine all the ingredients. Grate kiwi, ginger, and onion and add in.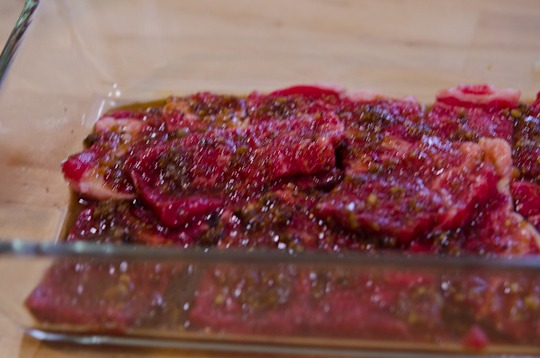 Spread the sauce evenly all over to the beef slices. Let them sit for 25-30 minutes on room temperature.
25 minutes feels like an eternity if you have to wait. Especially when you want to EAT!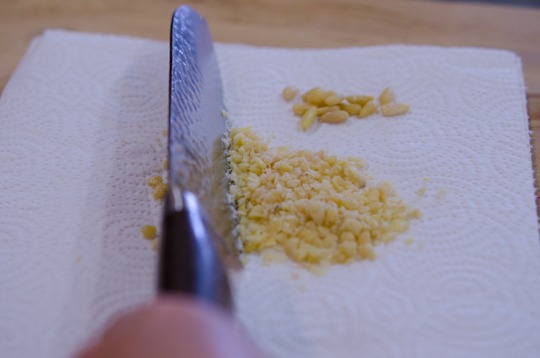 While waiting, chop some nuts finely. I recommend to use pine nuts but walnuts are okay, too.
Don't omit the nuts. They do add nice texture and flavor to this dish. Unless you are allergic…
How To Broil Nuhbiani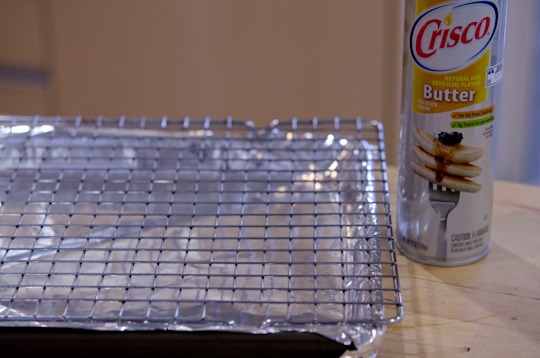 Time to broil the beef! Place a cookie rack over a pan lined with foil (easy clean-up later on…). Grease the rack with a spray.
Place your meat slices on top of the cookie rack.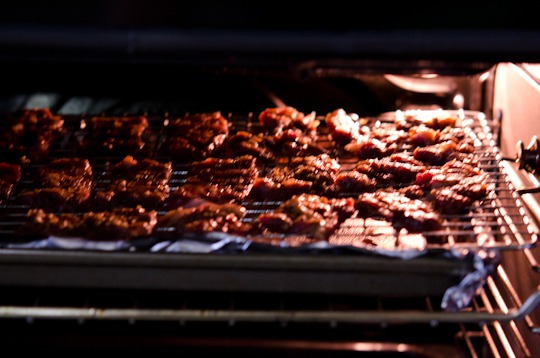 Place under the preheated broiler about 4 inch below the heat source. Broil about 4 minutes. Watch carefully so you don't burn them.
They will come out like this. Flip to the other side, and continue to broil, about 3 minutes on the other side.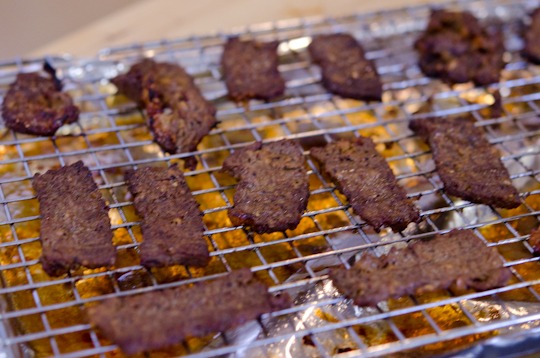 Ooooooh! I was so ready to eat. I picked one and put in my mouth. Can't find the right word to describe how good they are. I'm literally feeling my lack of English vocabulary skill.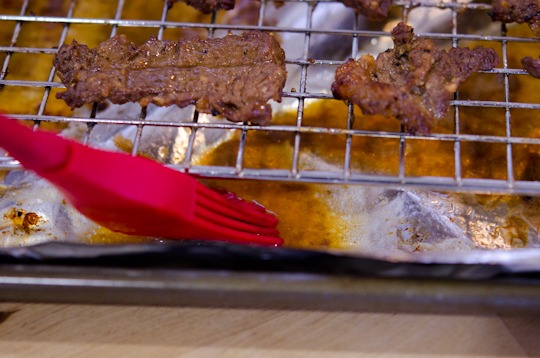 Collect some meat juice with a brush…,
and brush over your meat. Gives nice shine and keep them moist.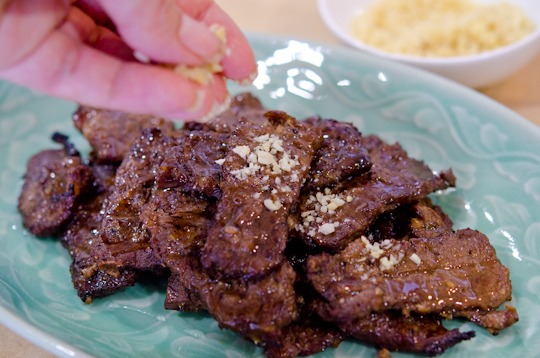 Present your meat on the prettiest platter your own and sprinkle with nuts. And enjoy with some lettuce, rice, and kimchi.
Side Dishes To Go With Nuhbiani
Choose one or two of the following side dishes to accompany this delicious royal Korean beef.
Tender, juicy, nutty, and gently sweet, savor this easy Korean beef that was once beloved in the palace of ancient Korea. Hope your dinner would be as fantastic as mine. Enjoy!
Easy Royal Korean beef (Nuhbiani)
Enjoy this easy Korean beef that were once served to the kings and queens in ancient Korea. You can broil it in your oven or grill.
Ingredients
2 lb Beef strip loin or rib eye, sliced into 1/4" thick
3 tablespoon pine nuts , finely minced
For the marinade
1/2 cup soy sauce
3 tablespoon honey , or 1/2 honey and 1/2 sugar
2 tablespoon sweet rice wine (mirim)
1/2 kiwi, grated
1/2 onion, grated
1 teaspoon grated fresh ginger
3 cloves garlic, finely minced
1 teaspoon freshly grounded pepper
2 tablespoon sesame oil
Instructions
Pound your beef slices with back of your knife to different directions on both sides. Poke with the tip of knife here and there. Slice the meat into 1 1/2″ x 2″ rectangular pieces or any big bite size you desire. Spread the beef slices in a large platter. Set aside.

In a small mixing bowl mix all the marinade ingredients and spread it evenly over to the beef slices. Let it sit on the counter for 25-30 minutes.

Preheat broiler. Place a cookie rack over a pan lined with foil. Grease the rack with spray. Spread the meat slices in a single layer over the rack and place under the broiler about 4″ below the heat source.

Broil for 4 minutes and flip. Broil the other side for 3 minutes. Watch carefully while broiling so that you don't burn the meat. You will see some juice in the pan. Brush the juice over the meat to keep moist.

Present the meat on the serving platter and sprinkle chopped pine nuts on top. Serve warm wit rice and any vegetable side dishes.
Serving: 4g
Did you make this recipe?
Tag @beyondkimchee on Instagram. I love to see your masterpiece.