Korean Chili Crab (Kkotgae Jjim)
This finger-licking delicious Korean style chili crab recipe (kkotgae jjim) is made with fresh crabs, Korean chili flakes and Korean soybean paste.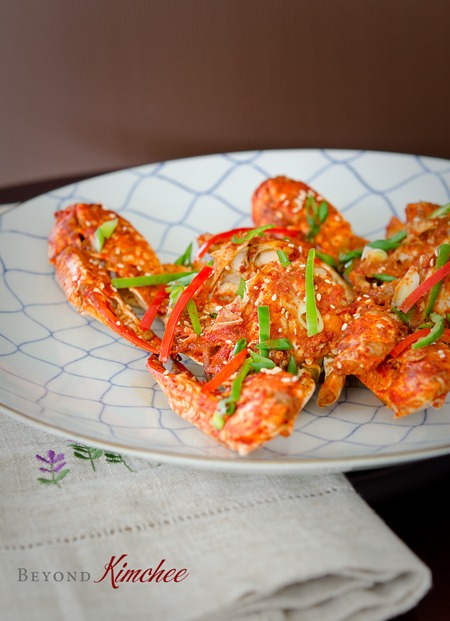 "Oh, my crab!!!" I ran into the kitchen and saw a smoke coming out of my pot on the stove. I was cooking Korean chili crabs (kkotgae jjim, 꽃게찜) when my mother called from Korea.
We started chatting and, of course, I forgot about my clawed friends on the stove until I smelled something burning. My poor crabs got 3rd degree burn, but my heavy duty French pot survived.
Yes, I know.  They don't look like burnt crabs on the photo. (Have you seen any burnt crabs, by the way? They turn white. I simply had to make them again, Urgh!!!
I wouldn't mind eating two consecutive delicious crab meals (I ate the burnt crabs. Luckily the meat inside the shell was still edible) regardless of high cholesterol intake in my body.
I am a huge fan of crabs. If there is a crab fan club, I would seriously consider to join. Maybe I should start Facebook crab fan page…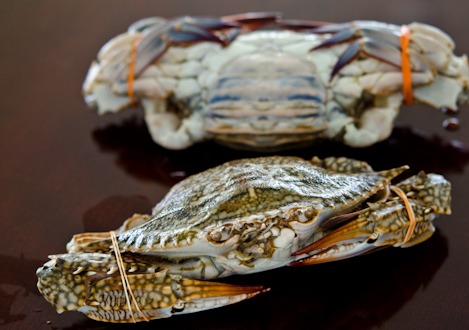 May is a great season to taste female crabs which holds lots of eggs. Their meat is in their best taste now through the summer. Oh, I miss getting blue crabs at Chesapeake bay in Maryland.
So, go to your local seafood market and grab some of these clawed ocean friends. I will show you how you can cook them, in Korean way. Finger licking deliciousness…!
How To Clean Fresh Crab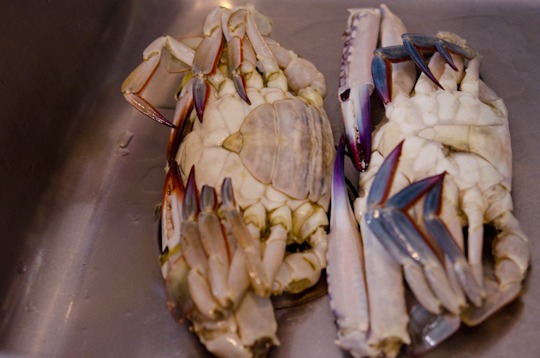 First thing first. Here are the tributes from the District 12, Katniss and Peeta! Which one is Katinss? … the one on the left.
In case you have no clue what I am talking about, I am showing you female and male crabs. If you look at their flaps in the back, the one with wider flap is female and the narrower is male. Also male crabs tend to be more colorful.
Because I chose female in the spring it doesn't mean the male crabs are tasteless. In the fall season, male crabs are better than female in terms of flavor. And this can change depends on where you live, so pick both and compare.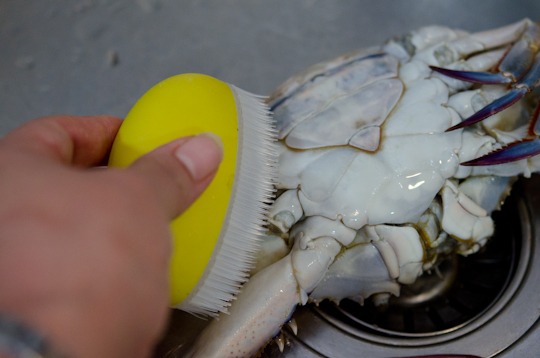 Scrub, scrub, scruuuub…, and wash very well.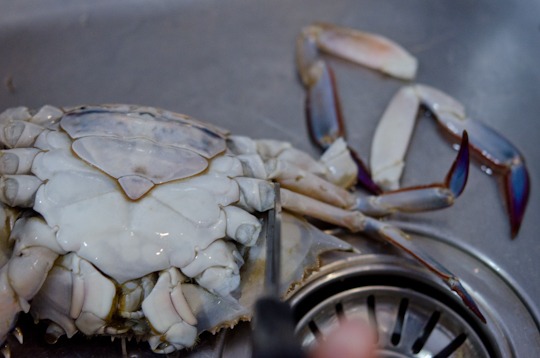 I like to cut off their skinny legs. They don't hold much flesh and takes up the space in my pot. But Leave the CLAWS!
Open up the flap to separate the top shell from the body.
And you will discover this wicked anatomy of Crustaceans.
Do you see the golden yolk-like substance in the middle? They are eggs. You will want to keep them. But the grey hairy stuff on the sides? Get rid of them.
Collect the eggs in the shell and place all the clean crabs in the shallow pot.
Recipe Instructions
Now it is time to make the sauce.
Pour 1 1/4 cup water in a pot and throw a few dried anchovies to make a quick anchovy stock. Add a tiny bit of Korean soybean paste in a pot. Simmer for 5 minutes.
Then take out the anchovies and reserve the stock.
Grab these ingredients; soy sauce, Korean soy sauce for soup, chili paste (gochujang), chili flakes, rice wine, garlic and ginger.
Combine them in a mixing bowl, add the reserved anchovy stock and mix all together…
Drizzle evenly over your crabs.
Brig to boil first and simmer, covered with a lid, for about 5-7 minutes. DO NOT forget about them like I did.
Oh, my! The sauce is too die for, guys!
What we, Koreans, do is that we mix some cooked rice with the sauce and place on the shell to serve with crabs. Or drizzle the sauce over your rice in a bowl.
Be prepared to be messy. Eating crab is a pure labor if you are not experienced, and that is part of the game!
White, soft, yet firm succulent flesh, you'll love the gentle spicy kick from the sauce made with chilies and soy sauce.
Clean fingers, a little patience, and some fine motor skills are required in order to play this exciting hunger crab games.
… May the odds be ever in your flavor!
More Seafood Recipes You Might Like
Korean Chili Crab (kkotgge Jjim)
This finger-licking delicious Korean style chili crab recipe is made with fresh crabs, Korean chili flakes and Korean soybean paste.
Ingredients
3-4 fresh blue crabs, or flower crabs, preferably female crabs
1 each fresh red and green chili, optional
Instructions
To clean the crabs, scrub the crabs with a brush and rise well. Cut off the 4 sets of swimming legs near the first joint. Keep the claws!

Open up the back tab toward the front and separate from the crab. You might see some golden yolk-like eggs inside. Transfer the eggs in the top shell which has been separated from the crab. Remove the grey gills and clean and rinse the crabs thoroughly.

Meanwhile in a shallow pot, combine water, anchovies and soybean paste. Bring to boil and simmer for 5 minutes. Remove the anchovies and drain the stock to a small mixing bowl.

Add all the sauce ingredients to the anchovy stock in a small bowl, mix well.

Place crabs and the top shells with reserved eggs in the pot and drizzle the sauce evenly all over.

Bring to boil, cover and simmer for 5-7 minutes. Shake the pot once or twice during cooking.

To serve, mix some cooked rice with the sauce and place in the shell to present the dish. Or drizzle the sauce over rice to serve with the crabs. Enjoy!
Serving: 1g
Did you make this recipe?
Tag @beyondkimchee on Instagram. I love to see your masterpiece.