Mini Seaweed Rice Rolls (Mayak Gimbap or Kimbap)
Mini seaweed rice rolls (mayak gimbap or kimbap) are addictive as the name mayak says. Mayak means narcotic. However, there is no narcotic substance in the recipe. Serve with mustard dipping sauce. It is a gluten-free, vegetarian & vegan dish.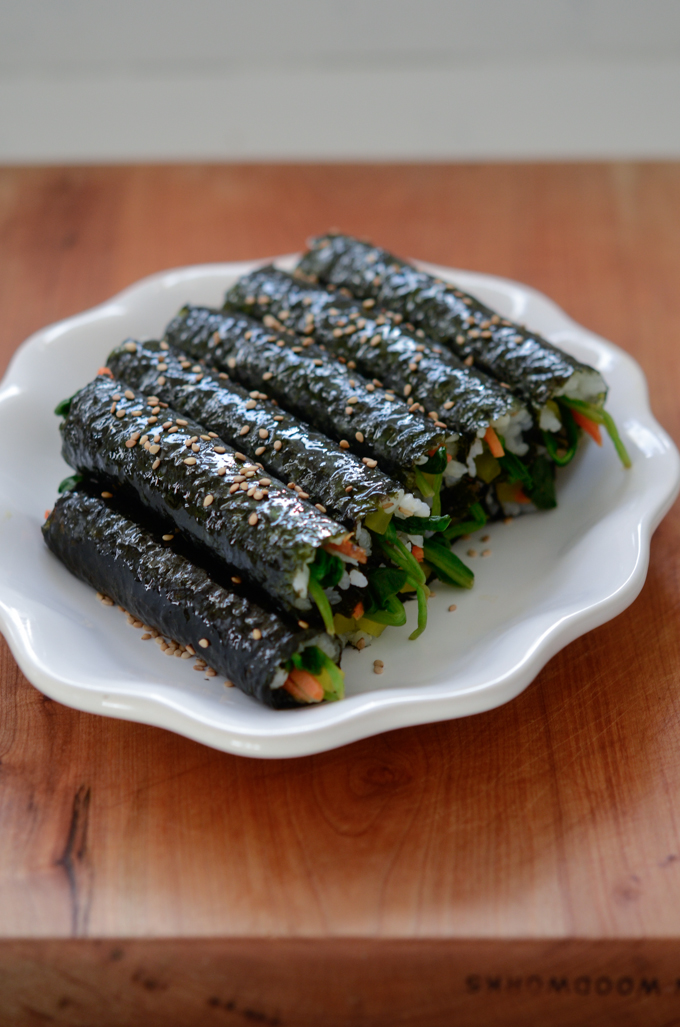 There is a famous market in Seoul called "Gwang-jang market (광장시장)". You can find all sorts of items that are related to the food. One of the famous food from the Gwang-jang market is this mini seaweed rice rolls called "Mayak Gimbap or Mayak Kimbap, 마약김밥).
Mayak means narcotic. But don't worry, these seaweed rice rolls have none of the narcotic ingredients. They named it narcotic because these little mini rolls are so addictive once you taste them.
Mayak gimbap (or kimbap) is mini seaweed rice rolls served with soy sauce & wasabi (or mustard) dipping sauce. These little rice rolls are far easier to make than traditional kimbap.
You only need 3 different vegetables to fill in instead of 6-8 in the traditional rolls. You don't need the bamboo tool to roll them up either. It is easy to make, tastes addictive, and fun to dip in the sauce.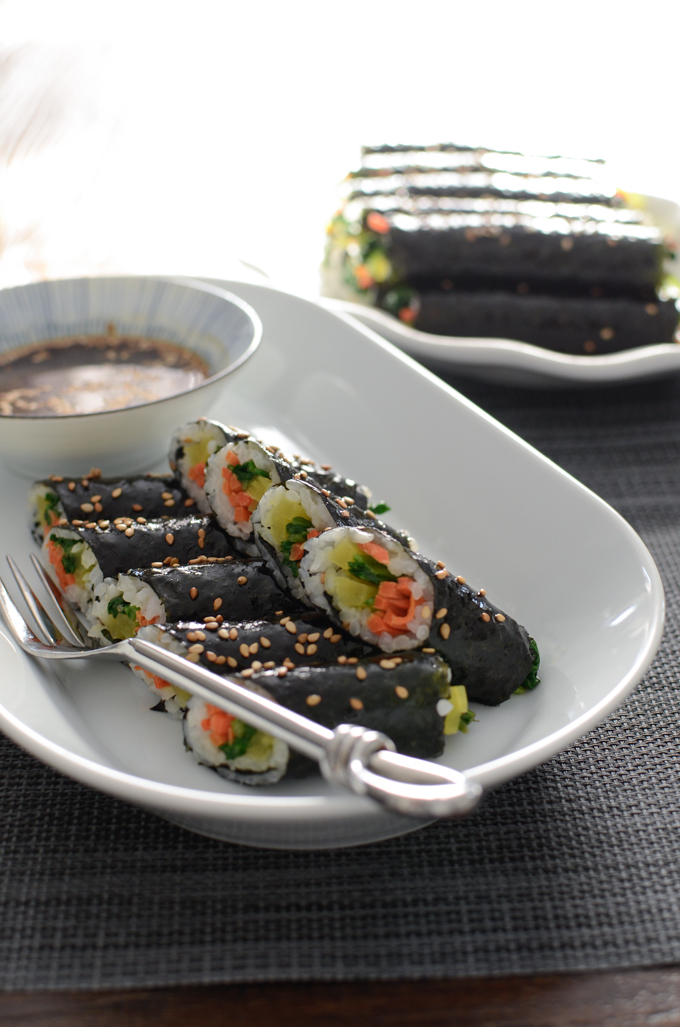 FOR THE VEGETABLES
You will need 3 vegetables contrasting in colors for the look. Sliced carrots, spinach, and pickled radish (danmooji, 단무지).
For carrots, I used store bouth pre-sliced carrots and cook in the skillet with a little bit of oil and salt. The trick to cook this faster is to add a little bit of water to get the steam going and cover with lid for 1-2 minutes as you cook.
For the spinach, blanch them in the boiling water for 10 seconds. Drain and rinse under cold water, squeeze out to remove excess moisture. Then season with a little bit of soy sauce. That's it!
For the pickled radish, Cut in half lengthwise, then slice into thin match sticks.
FOR THE RICE AND SEAWEED
Season the rice with a little bit of salt, sesame oil, and sesame seeds. It makes much more flavorful.
Quarter the sheet of seaweed like that with a pair of scissor.
Now you are ready to roll up. Prepare a bow of water to dip your fingers occasionally. That will help so the rice won't stick to your fingers.
LET'S ROLL UP!
Spread about a tablespoon of rice onto the seaweed and top with vegetables. Try not to put too much of each. Otherwise it will be difficult to roll and secure the edge.
Roll it up tightly.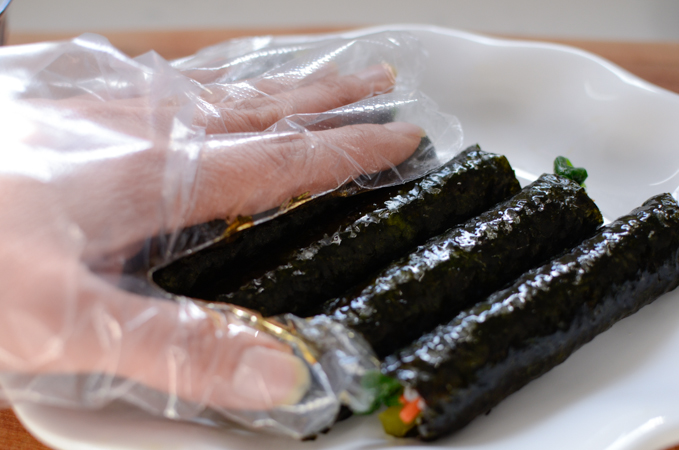 Brush with a tiny bit of sesame oil over the rolls. I like to use a plastic glove to apply the oil instead of using brush.
Sprinkle some toasted sesame seeds. They look fantastic, right?
DIPPING SAUCE
For the dipping sauce, mix soy sauce, vinegar, sugar, wasabi paste (or dijon mustard), and a little bit of water.
I like to cut the mini rolls in half diagonally.
And serve in a pretty platter with the dipping sauce.
Dip the rolls in the sauce and savor all the flavors inside your mouth. So good~!
You can literally eat a dozen rolls in no time. Mayak gimbap (or kimbap) will be great for picnic food, too. So when the weather turns warm and the sun is shinning, make these mini rice rolls and take with you wherever you go. Everyone would be jealous and might beg you to try one.
I also just realized that these rolls make perfect vegetarian/vegan as well as gluten-free dish if using gluten-free soy sauce. How nice?
More Korean Rice Rolls Recipes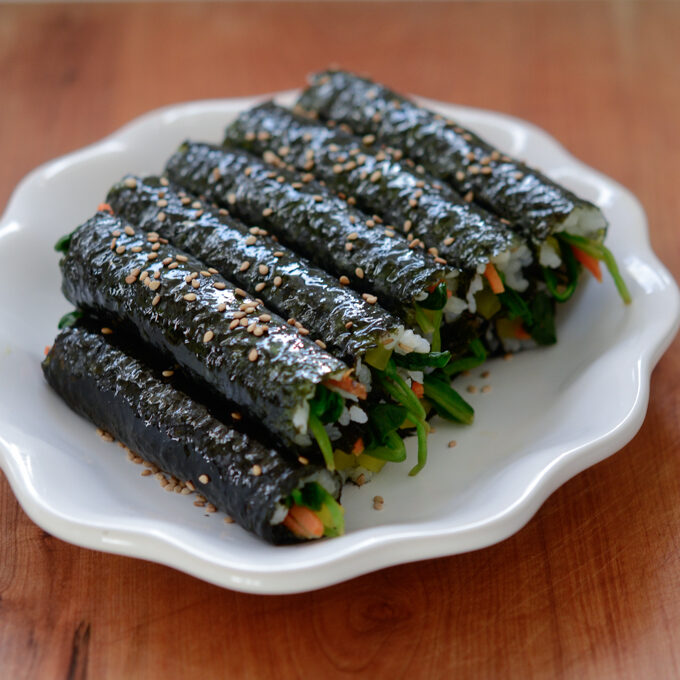 Mini Seaweed Rice Rolls (Mayak Gimbap or Kimbap)
Mini seaweed rice rolls (mayak gimbap, kimbap) are addictive. These rice rolls are perfect gluten-free, vegetarian & vegan dish. Serve with a mustard dipping sauce
Ingredients
2 cup cooked white short grain rice
2 tsp sesame oil , for brushing
1 tbsp toasted sesame seeds, to garnish
2-3 pinch kosher salt
1 cup julienne carrot
1 tbsp oil
5 strips pickled radish
1/2 bunch spinach, blanched in boiling water
2 tsp soy sauce
Instructions
For the carrot, heat oil in a skillet over med-high heat. Cook carrots, adding 1 tablespoon of water to create steam. Cover with a lid and cook for 30 seconds. Continue to cook to soften the carrots, adding more water if needed. Season with a little bit of salt. Set aside to cool.

For the pickled radish, cut the strips in half lengthwise, the slice each strips into 1/4 thickness. Set aside.

For the spinach, season the blanched spinach with soy sauce. Toss well and set aside.

For the rice, season the rice with sesame oil, salt, and sesame seeds. Mix well.

To assemble; quarter the seaweed sheets so that you have total 20 mini sheets. Spread a tablespoon of rice even all over the seaweed with your fingers. (Dip the finger in the water if needed but not too often)

Top with carrot slices, spinach, and 1-2 strips of pickled radish. Roll it up tightly. Repeat the other sheets until you finish them all.

Brush the rolls with a little amount of sesame oil and sprinkle with toasted sesame seeds. Cut the rolls in half, if you prefer, and serve with dipping sauce.

To make the dipping sauce, combine all the ingredients and mix well.
Calories: 437kcal, Carbohydrates: 82g, Protein: 10g, Fat: 8g, Saturated Fat: 1g, Polyunsaturated Fat: 3g, Monounsaturated Fat: 4g, Trans Fat: 1g, Sodium: 501mg, Potassium: 495mg, Fiber: 4g, Sugar: 3g, Vitamin A: 9494IU, Vitamin C: 16mg, Calcium: 109mg, Iron: 3mg
Did you make this recipe?
Tag @beyondkimchee on Instagram. I love to see your masterpiece.
Save
Save
Save
Save
Save