Korean Potato Salad
Korean potato salad is unusual salad. It's creamy and slightly sweet, you will find it pleasant to serve as a side dish or make as a breakfast sandwich with toasted bread.
Honestly, there is nothing Korean about it in this Potato salad. Then why do I call it Korean?
Well, because I had this kind of potato salad only in Korean restaurants and I always loved it. With velvety smooth mashed potatoes with crunch vegetables and hint of sweetness coming from the honey and raisins, this Korean Potato Salad was just perfect to top on my toasts for a simple lunch. It is one of the popular Korean side dish recipes.
How To Make Korean Potato Salad
Be creative with what you can add to the salad for your liking. It will make a wonderful finger food to any gatherings. See how pretty they look…!
For The Dressing
Only 4 ingredients to make dressing.
Mix all together. Set aside.
Prepare Potatoes And Other Ingredients
Cook your potatoes until fork tender.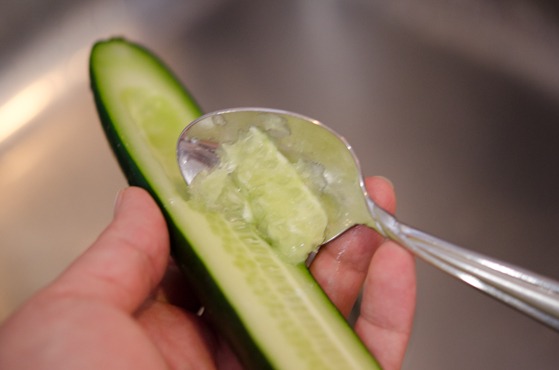 Remove seeds from the cucumber. You ain't want your salad to be soggy.
Slice them into 1/4″ strips. Sprinkle some salt and let it sit for 15 minutes. That will withdraw some moisture.
Rinse once and squeeze out.
Chop.
Cut ham and red pepper into small pieces, too.
The same goes to 3 hard boiled egg whites. Reserve the egg yolks.
Mash your potatoes. I wouldn't mash too much. A little potato chunks here and there would be nice.
Mix Potato Salad with Dressing
Add all your chopped friends to the bowl and pour the dressing over.
Add the raisins. No like raisins? Leave it out, then.
Mix well, Maxwell!
Egg Yolks (Optional Step)
Use your reserved egg yolk this way. Sieve through a mesh strainer to get this beautiful yellow crumbs.
And sprinkle over your potato salad. Voila! That was easy! Look how pretty that is, totally Gangnam style…!
Recently my family has been enjoying the "Gangnam Style" music video by K-pop singer Psy. (Gangnam is popular shopping and entertainment area of Seoul)
Yeah, my little daughter is getting pretty good at the funny horse dance now.
I call her, "Eunni(언니) Gangnam style!" ㅋㅋ 🙂
Hope you can give this Korean Potato Salad a try. Have a fabulous weekend, with the *Gangnam style*!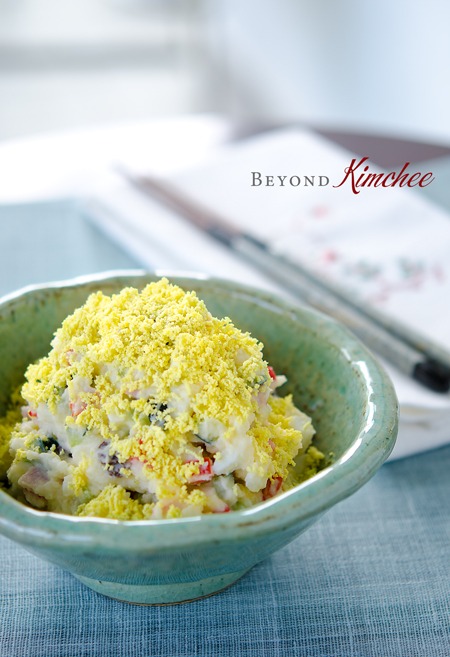 More Potato Recipes
Korean Potato Salad
Korean potato salad is unusual salad, but very common in Korea. You can serve as a side dish or make a sandwich with bread.
Ingredients
1 lb 450g potatoes (yukon or russet)
1/2 cucumber, sliced in half lengthwise and seeded
1/3 cup red pepper minced
1/3 cup ham chopped
1/4 cup raisins, optional
3 hard boiled eggs
3 tablespoon mayonnaise
4 tablespoon plain yogurt, Greek style preferred
2 tablespoon honey
3/4 teaspoon salt
dashes white pepper, optional
Instructions
Cook potatoes in boiling water until fork tender and let them cool and peel off the skim, set aside.

Cut the cucumber to 2-3 sections and slice each log into thin strips, sprinkle a few pinches of salt over and toss together. Set a side for 15 minutes to withdraw moisture. Rinse once and squeeze out the water. Chop them finely into small chunks. Set aside.

Chop egg whites into small pieces. Reserve yolks.

In a small mixing bowl, combine mayonnaise, yogurt, honey and salt & pepper, mix well.

In a large mixing bowl mash the potatoes briefly, add the cucumber pieces, ham, red pepper, egg white pieces, and the raisins. Pour the dressing over and mix well with a spatula. Chill your salad.

In a coarse mesh strainer, place the reserved egg yolks and press them down with a spoon. You will get the yellow egg yolk crumbs.

Place the salad in the serving platter and spoon over the yolk crumbs all over.

Serve cold or at room temperature.
Did you make this recipe?
Tag @beyondkimchee on Instagram. I love to see your masterpiece.