Luscious Orange Cake Recipe
This moist orange cake made with fresh orange juice, zest, and simple orange sauce gives a citrus punch in every bite. This recipe makes a truly crowd-pleasing dessert with full of orange flavor.
I eat cakes, the REAL cakes.
I don't eat them often so when I do, I like to enjoy the full flavored luscious, moist cake that is worth every single molecule of calories.
Here I am sharing a delicious orange cake recipe made with fresh oranges. It's truly luscious, especially with the fresh orange sauce!
When I first made this orange cake a few years ago, my husband and I finished the whole batch in two days. Not a good idea for preserving my hourglass silhouette. So I decided not to make it again until today. I was craving something orange and something cake-y.
Dang it! So good that I find myself reaching out for more every time I entered the kitchen. I added a little bit of lemon juice and butter in the sauce, and it was just perfect.
It is a lovely cake. I am sure you and your loved ones will be impressed.
How to make Homemade Orange Cake
Zest your truly lovely orange. Set aside.
Forgot to take a picture but sift flour, baking soda and baking powder together and set that aside as well.
Separate the egg yolks from the whites. Love this little yolk separator of mine.
Beat egg whites until the peak forms. Transfer to another bowl and set aside.
In the same mixing bowl, beat butter and sugar together until fluffy. Add the reserved yolks…
and the sour cream ( I used the light cream to ease my guilt).
Add the zest. Beat until light and fluffy.
Stir in the flour mixture to the mix and return your egg whites to fold in.
Pour the batter in a greased and floured 12-cup bundt pan and bake at 325˚F for 45-55 minutes.
Voila! You got a cake! Let it cool in the pan for 15 minutes then turn out to a serving platter
Poke holes with a wooden skewer here and there. Use a chopstick or fork if you don't have any skewers.
Orange Sauce for Orange Cake
Squeeze out the juice from two fresh oranges and a lemon, and mix with powdered sugar in a small sauce pan. Add butter and tiny bit of vanilla extract. Mix well.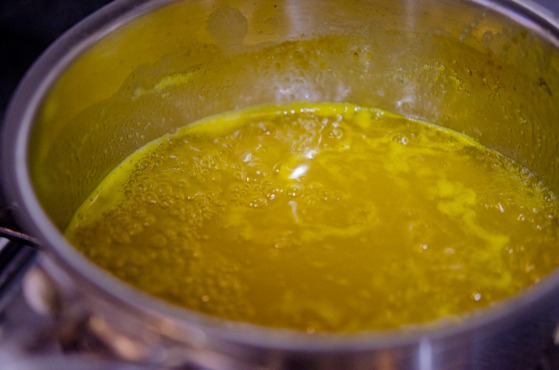 Bring to gentle boil and cook for 3-4 minutes. Remove from the heat and let it cool for at least 10 minutes. Your sauce will thicken slightly.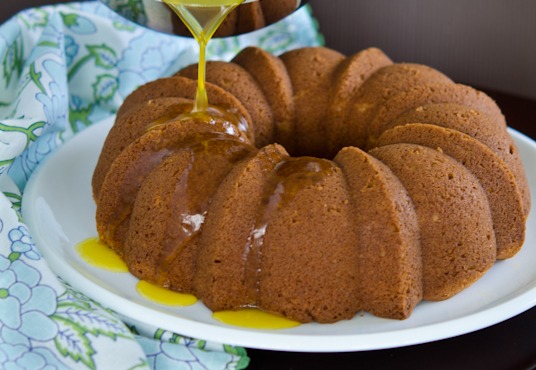 Oh, yes! Drizzle that luscious orange sauce over your orange cake. The cake will absorb the syrupy sauce and makes it so moist and irresistible.

Adding a little bit of lemon to orange juice in the sauce was just perfect to brighten up the flavor of orange. And a tiny bit of butter made it even better.

I hope you can give this luscious orange cake recipe a try. You won't go back to the cake mix version, ever. Life would be less pleasant without the desserts.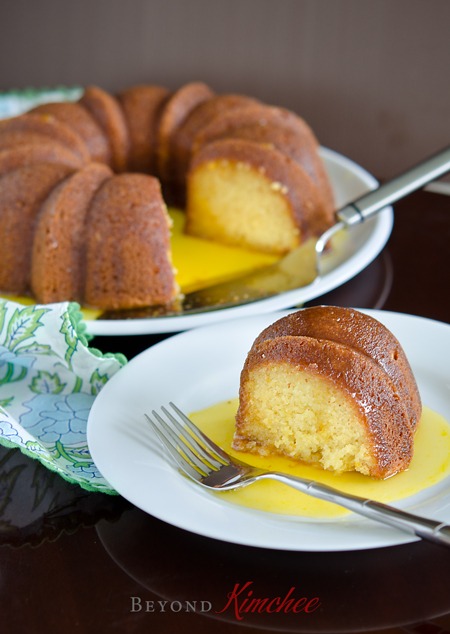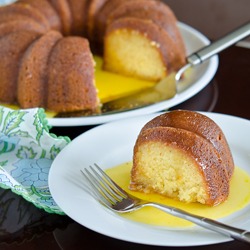 Luscious Orange Cake Recipe
Ingredients
1-3/4 cups all purpose flour
1 teaspoon baking powder
1 teaspoon baking soda
pinch salt
1 cup sugar
1 cup 2 sticks butter at room temperature
3 eggs separated
1 cup sour cream at room temperature
zest of 1 orange
For orange sauce:
1-1/2 cup powdered sugar
3/4 cup fresh orange juice, about 2 oranges
1/4 cup fresh lemon juice, about 1 lemon
1 tablespoon butter
1/4 teaspoon vanilla extract
Instructions
Preheat oven to 325ºF. Sift flour, baking powder, baking soda, and salt in a mixing bowl and set aside.

In a electric mixing bowl with a whisk attachment, beat egg whites on high speed until the peak forms. Transfer the fluffy whites into a bowl and set side.

In a same bowl with a paddle attachment, cream butter and sugar until creamy. Add egg yolks, sour cream and orange zest and beat until light and fluffy on medium speed.

Add the flour to the mixture and mix until combined on low speed. Fold in the reserved egg whites to the mixture until just combined.

Pour the batter into a greased and floured 12-cup bundt pan. Bake for 45-55 minutes until toothpick comes out clean. Let the cake rest in the pan for 15 minutes.

Turn out the cake to a serving platter and poke holes with a wooden skewer. Spoon the orange sauce over the cake when you serve.

To make the orange sauce, mix all the ingredients in a sauce pan and bring to to gentle boil over medium heat. cook the sauce for 3-4 minutes. Remove from the heat and let it cool for 10 minutes to thicken slightly. Pour the sauce over the cake.
Did you make this recipe?
Tag @beyondkimchee on Instagram. I love to see your masterpiece.