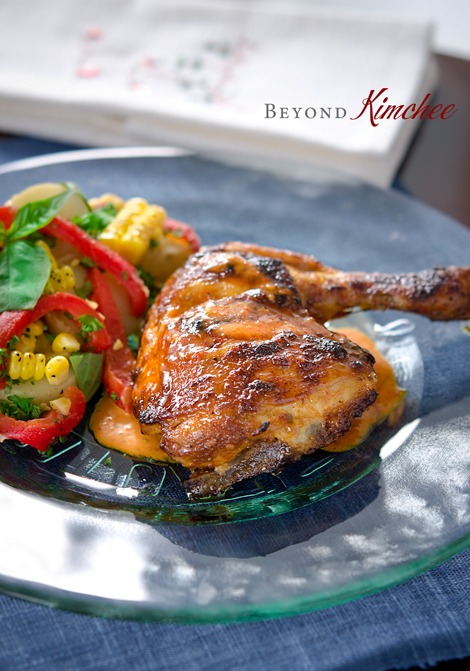 Some says Peri-Peri, and the others say Piri-Piri…
This spicy Portuguese Chicken is quite addictive. I first had the Peri-Peri Chicken at the South African franchise restaurant called "Nandos" and loved it. The spicy peri-peri (or piri-piri) sauce made with bird's eye chili, garlic, herbs, and lemon awakens your tongue and quickly salivates all over inside your mouth. Although the sauce itself has its origin marked at Portugal, it is widely used in African countries like Angola, Mozambique, and South Africa.
The spiciness of peri-peri sauce can be adjusted by the amount of chilies, or even using less spicy kind of chilies. The best way to cook the Peri-Peri Chicken is to GRILL them. For not having an out door grill in my high rise cosmopolitan kitchen, I baked it in the oven instead. It came out great but, of course, the smoky grilled flavor would have been even better. If you have a BBQ grill, use it!
The sauce can be made in less than 5 minutes, and all you need to do is to marinade chicken ahead of time. You will love this chicken IF you can bear the heat!
The sauce ingredients…
I mixed two kinds of chilies to reduce some heat (bird's eye is too spicy for me). Yes, I am a WIMP!
If you want the suicidal heat…, go for 10 or even 15 of these tiny bird's eye chilies.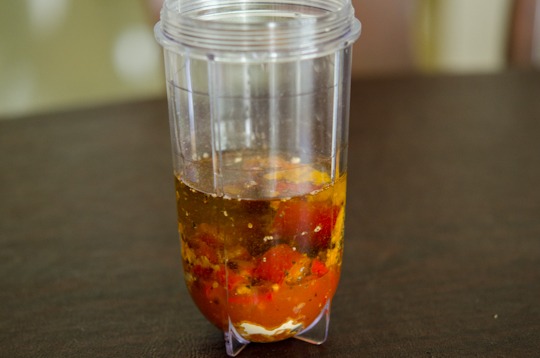 Put them in a blender.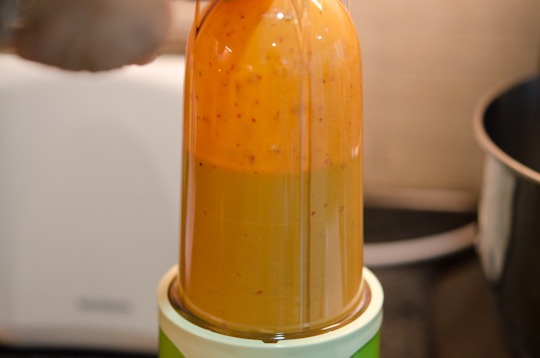 Blend until very smooth.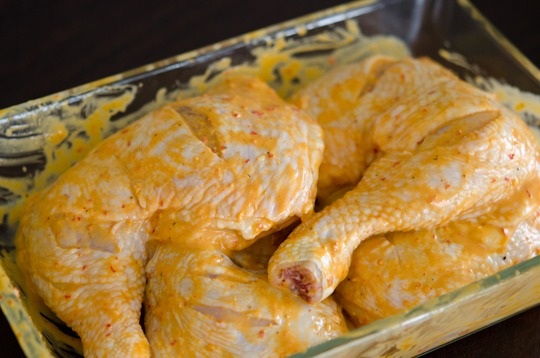 Pour 1/3 cup of sauce over chicken legs and spread all over. I scored chicken so the flavor will penetrate better to the meat. Marinade at least 1 hr. Overnight is even better.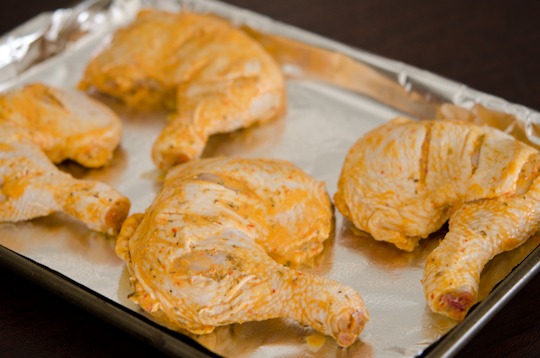 Place them on a pan lined with foil (Spray the pan with oil before you place the chicken).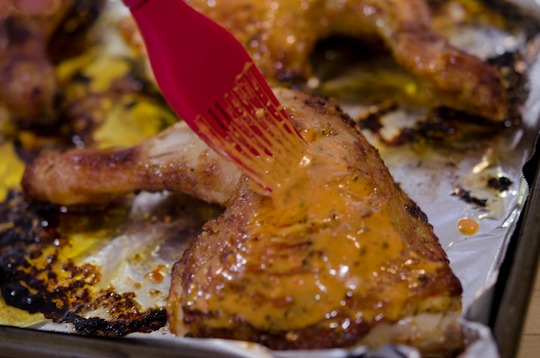 Bake them in an hot oven (425F) for 20-25minutes, baste with more sauce as you turn the chickens to the other side.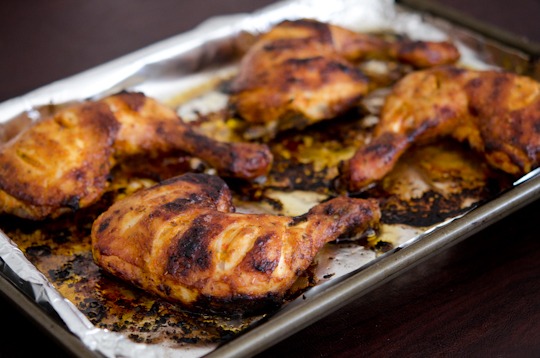 Hmmmmm… Looks delicious! Salivating as I know how they will taste…
I served my families these Peri-Peri Chicken with potato, corn, and roasted pepper salad. I drizzle a little more Peri-peri sauce over the chicken to knock them out.
Well, everyone survived and finished the chicken off to the bone.
Dinner was done and the clean up was a breeze!
Now I have to come up with what to serve for tomorrow night…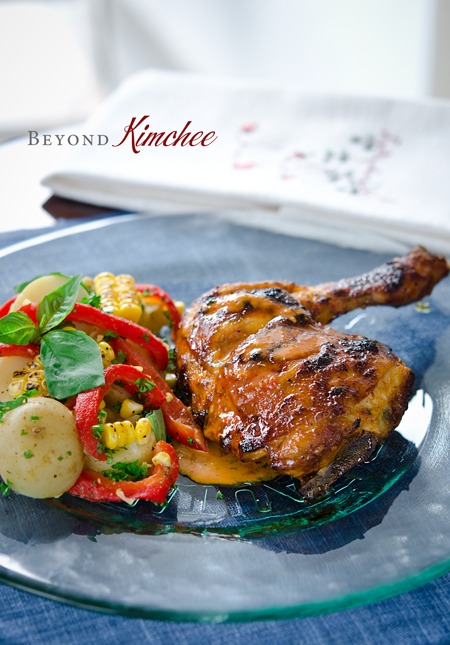 Peri-Peri Chicken, the spicy Portuguese chicken
Ingredients
4 tablespoon olive oil
4-10 bird's eye chili, depends on the heat level of your choice
4 cloves garlic, or 1 1/2 tablespoon garlic powder for a thicker consistency
juice of 1 lemon (about 1/4 cup)
1 tablespoon paprika
1 bay leaf
1 teaspoon oregano
1 teaspoon sea salt
1/2 teaspoon pepper
4 chicken legs
extra sea salt, optional
Directions
In a blender combine everything except the chicken and the extra salt, blend until very smooth.
Score chicken legs with a knife a few times.
Pour 1/3 cup of the sauce over chicken and toss well. I sprinkle a few dashes of extra salt on top of chicken. Marinade the chicken at least 1 hour or overnight.
Grill your chicken or bake.
To bake, preheat the oven to 425ºF
Place chicken on a baking pan lined with foil, spray with oil,and place chicken. Bake for 15 minutes, turn over, baste with extra sauce, and continue to bake for another 10 minutes or until chicken is cooked and browned.
Serve with extra sauce on the side.
https://www.beyondkimchee.com/peri-peri-chicken/
All rights reserved by www.beyondkimchee.com