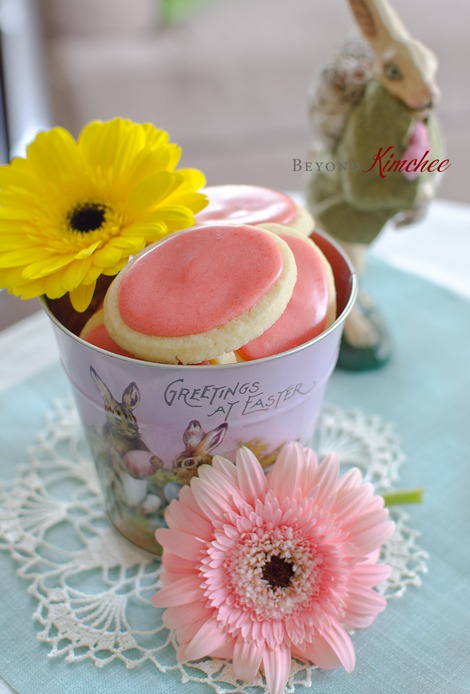 I love colors of Easter celebration – the subtle hues of prettiness.
I think sugar cookies have their best shining moment during Easter. You will find many cute cut-out cookies adorned with royal icing everywhere during Easter time. If you go over to Martha Stewart website you will get a ton of beautiful Easter cookie decoration ideas. Some simple and some more labor intensive.
I used to enjoy spending some time decorating Easter cookies with many colors of royal icing but I just don't have that kind of time these days.
Here is one sugar cookie recipe which is slightly softer than most other sugar cookies. Although the flavor and the texture of these cookies were excellent, my favorite part is on the icing. It uses fresh strawberries, not the food coloring! You will taste the burst of fresh strawberry flavor when you bite into them.
My kids just adored these cookies and demanded to make more. They are not labor intensive and can be made quite easily. But you need to make the cookie dough a day in advance to chill before you roll out.
I adapted this Soft Sugar Cookies with Fresh Strawberry Icing from a cookbook called "The All-American Dessert Book
" by Nancy Baggett.
Beat butter, shortening, and sugar in a mixer until light fluffy.
Add eggs one at a time. Beat, beat, and beat.
Add the lemon zest and mix.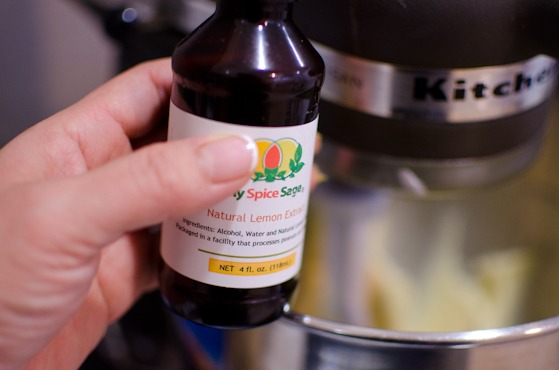 And add vanilla, corn syrup and lemon extract. Mix.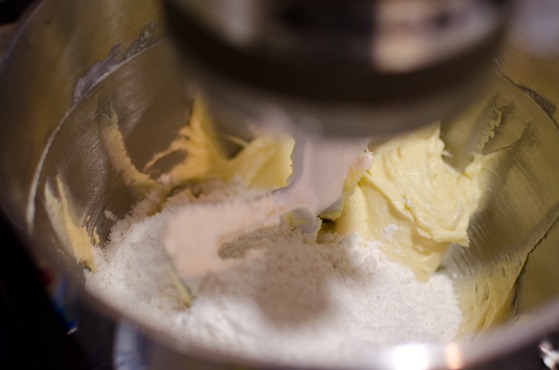 Add half of the dry ingredient which is the mixture of flour, salt and baking powder.
Mix in sour cream, then add the rest of the flour mixutre. Mix in low speed just until they are all combined.
The dough is done but very soft to roll out right away. You need to chill so the butter firms up.
Divide the dough into two parts and wrap with plastic wrap. Keep in the fridge for 6 hours or up to 2 days.
Roll out the chilled dough on lightly floured surface. Cut out with desired cookie cutter. I used the egg shaped one.
Note: You need to work fast on this stage while the dough is still cold. It will be a little tricky to lift up from the surface once the dough gets soften.
Bake at 350F oven for about 8 minutes or until the edges are turning slightly light gold. Let them cool in a pan for 1-2 minutes and transfer to wired rack to cool completely.
Let's make icing. Combine strawberries, 1/4 cup powdered sugar, lemon zest in a blender or food processor. Grind them up until smooth.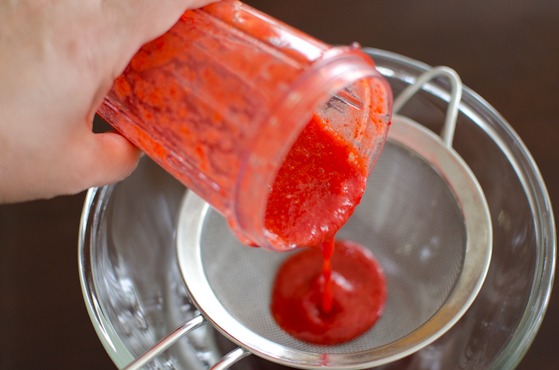 Pour the strawberry puree over a fine mesh to collect the seeds.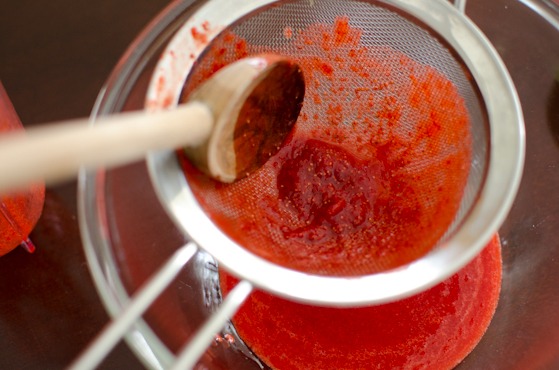 Like this! Press down with a wooden spoon to get all the puree. Discard the seeds.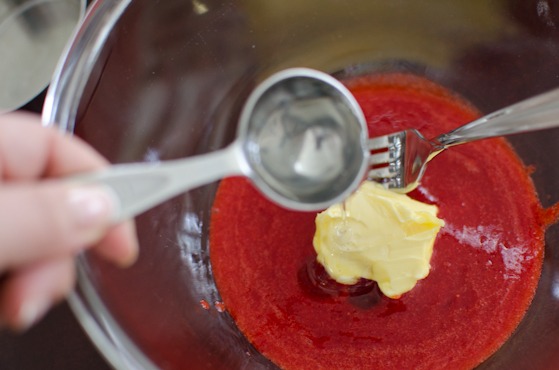 Add very very soft butter, vanilla, and corn syrup to the strained strawberry puree. Mix well.
Add powdered sugar and whisk well. I suggest to sift the powdered sugar beforehand to get rid of any lumps. You can do this in a blender or a food processor if you are using.
Mix well until it becomes smooth and falls like ribbon. If the icing is too thick you can add a little water.
Isn't this pretty color? Peachy and pinky… I love it!
Spread the icing on cookies using a spoon.
Holly's Baking Rule: You made it? You eat it first, especially cookies. The first cookie that has been iced has to go into my mouth first.
Yum! So strawberrie-ish!
The cookies are very soft and tender with a hint of lemony flavor which accompanies so well with fresh icing. I had two more, I confess.
Let them set until it feels dry to the touch.
These soft sugar cookies with fresh strawberry icing freeze well. Just put a piece of parchment or wax paper in between the layer so they don't stick to each other.
"Hello, Peter! Are you looking for something?" His name is Peter, my Easter rabbit, and he has been eye witnessing me eating nearly half dozen of these cookies.
Ahhhh… spring makes me happy.
And the spring with strawberry iced cookies makes me even happier.
However, my happiness is not 100% complete this Easter season because one important thing is missing — the Marshmallow Peeps! My favorite sweet treat that I enjoy during Easter but can't find them here. How sad!!! 🙁
Enjoy and appreciate your marshmallow peeps for me, would ya?
Happy Easter!
Soft Sugar Cookies with Fresh Strawberry Icing
Ingredients
For the cookies:

3 1/3 cups all-purpose flour
3/4 teaspoon salt
3/4 teaspoon baking powder
1 1/4 cups granulated sugar
2/3 cup (10 2/3 tablespoon) unsalted butter, slightly softened
2/3 cup solid white shortening, at room temperature
2 large eggs
1 tablespoon light corn syrup
1 tablespoon vanilla extract
1 teaspoon freshly grated lemon zest
1/4 teaspoon lemon extract
1/4 cup sour cream

Fresh strawberry icing:

1 cup strawberries
1/2 teaspoon lemon zest
4 cups powdered sugar sifted
2 tablespoon unsalted butter, very soft but not melted
1 1/2 tablespoon light corn syrup
1/2 teaspoon vanilla extract
water, if needed
Directions
In a medium bowl, stir together flour, salt, and baking powder. Set aside.
In a mixing bowl with medium speed, mix sugar, butter, shortening until light and fluffy.
Beat in eggs, corn syrup, vanilla, lemon zest, and lemon extract until smooth and incorporated.
On low speed, beat in half of the flour mixture, scraping down the sides of the bowl as needed. Beat in the sour cream then stir in remaining flour mixture just until smooth.
Divide the dough into 2 portion and wrap around with plastic wrap. Refrigerate for at least 6 hours and up to 2 days.
Preheat oven to 350ºF. Grease baking sheet with spray or line with parchment paper or baking mat.
Take 1 dough out of fridge and roll out the dough into 1/4" thick on the board dusted lightly with flour. Using a egg shaped cookie cutter, cut out the dough and transfer to the baking sheet. Work fast while the dough is still cold. Repeat with the other piece of the dough.
Bake for 8-10 minutes or until the edges of the cookies turns slightly gold.
Let the cookies stand in a baking sheet for 1 minute, then transfer to wired racks to cool completely.
When cookies are cool, using a spoon ice the cookies. Let cookies stand until the icing set, at least 2 hours.
To Make Icing: Coarsely chop strawberries, combine with lemon zest, 1/4 cup of powdered sugar in a blender or food processor. Puree until smooth. Strain the strawberry puree through a fine sieve pressing with a wooden spoon to remove the seeds. Discard the seeds.
Stir in butter, corn syrup, and vanilla extract and mix well. Add 3 3/4cups of powdered sugar and whisk or process (if using a food processor) all together until smooth. Adjust the consistency with more powdered sugar or a little water.
http://www.beyondkimchee.com/soft-sugar-cookies-with-fresh-strawberry-icing/
All rights reserved by www.beyondkimchee.com