I used to think beef doesn't go well with fruits. And I think I might be wrong.
Beef is excellent meat choice to pair with fruit and here is one recipe that I can prove: The Orange Beef!
Many of us provably had this sweet and savory dish in our favorite Chinese restaurant somewhere. The thin slices of beef are so crispy and the sticky sauce that coats the meat is just lip smacking good.
Here I throw my recipe of Orange Beef to ease your burden of tonight's dinner preparation.
If you have a good quality thin slice beef and a couple of oranges, you are good to go. I assume that you have some soy sauce, vinegar, garlic, ginger, and corn starch in your pantry. Right?
With only a few ingredients you can whip up this insanely good orange beef in a very short time. So let's add some orange pizazz on our dinner menu tonight. Shall we?
By the way, this can be a wonderful gluten free dish if you are using the gluten free soy sauce. How sweet~?
First, zest one orange and collect about 1 tablespoonful. After that, juice the orange to collect about 1/4 cup, too.
In a small mixing bowl, combine the orange juice and the zest, soy sauce, vinegar, ginger puree and the corn starch. Mix well. Set aside.
Season your beef slices with salt and pepper very lightly. I used Korean Bulgogi slices.
Mix 1/2 cup of corn starch with 1 teaspoon of baking soda in a shallow bowl. Coat the beef slices lightly with the mixture.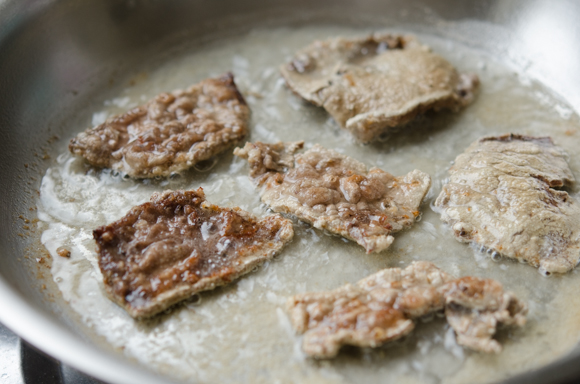 Fry them in a little oil until brown. They only take about 30-60 seconds on each side.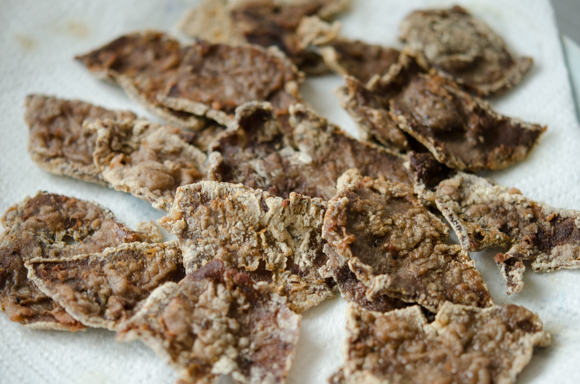 Transfer them onto a plate lined with paper towel.
Now, get your sauce and some mince garlic, and a few slices of oranges ready to go.
In a clean skillet, saute garlic for 10 seconds in a 1 tablespoon of oil over medium heat.
Pour in sauce and let it bubble. It will thicken. When the sauce get reduced almost in half…
Add the beef and the orange slices. Stir to coat them with the sauce. Remove from the heat and they are ready to embrace a bowl of rice.
The beef in this sticky orange goodness stayed crispy quite long. Even after I finished taking a few beauty shots, they still remained crisp. And I loved biting into the orange slices. They added the extra flavor in my mouth.
Enjoy!
Ingredients
3/4 lb beef sirloin, very thinly sliced
salt and pepper to taste
1/2 cup corn starch
1 teaspoon baking soda
a little oil for frying
2 garlic cloves, finely minced
1/2 orange, thinly sliced into bite sized pieces

For the orange sauce

1 tablespoon orange zest
1/4 cup orange juice
3 tablespoon sugar
3 tablespoon soy sauce
3 tablespoon white vinegar
1 teaspoon pureed ginger
2 teaspoon corn starch
Directions
In a small mixing bowl combine all the ingredients for the sauce and set aside.
Season the beef slices with salt and pepper lightly.
In a shallow bowl mix corn starch and baking soda. Pour oil just to coat the bottom of the skillet and heat over medium heat. Coat the beef slices with the corn starch mixture lightly and drop in oil in the skillet. Fry the beef for 30-60 seconds or until they are browned. Turn to the other side and fry another 30-60 seconds. Transfer the beef onto a plate lined with paper towel. Set aside.
In a clean skillet, heat 1 tablespoon of oil over medium heat and cook garlic for 10 seconds. Pour the reserved orange sauce, let it bubble and reduce in half. Add in the beef slices and the orange slices, toss well to coat with the sauce. Remove the skillet from the heat and serve immediately with rice.
http://www.beyondkimchee.com/orange-beef/
All rights reserved by www.beyondkimchee.com