30-Minute Crispy Korean Beef
This crispy Korean beef doesn't need the marinating step like the classic Korean beef barbecue would. 30 minute is all you need to make from scratch. The beef is crispy and caramelized on the outside, but juicy and tender on the inside. Perfect for a busy weeknight dinner. Serve with rice and kimchi!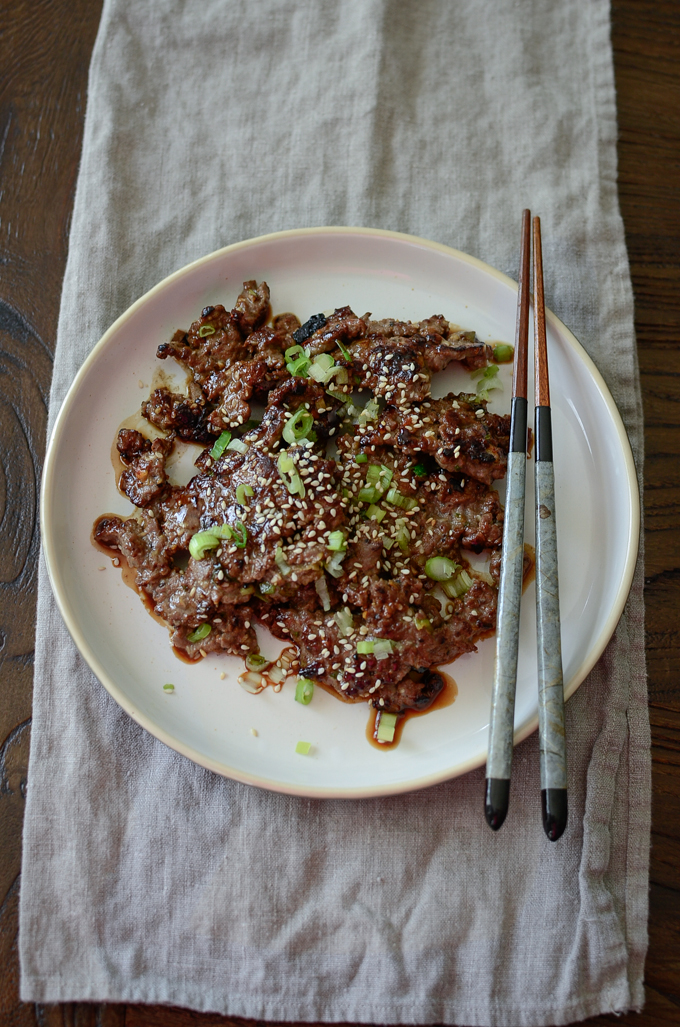 This crispy Korean beef (bassak bulgogi, 바삭 불고기) is perfect for those who love the flavor of traditional bulgogi but are looking for a crispier texture. Unlike the traditional Korean bulgogi recipe, which requires a long marinating time in the sauce, you can make this crispy Korean beef as you prepare for dinner.
The Korean word of "bassak" mean dry and crisp which this recipe offers. It's a quick and easy option for weeknight dinners. Give it a try and enjoy the crispy and flavorful Korean beef!
What beef cut to use for this recipe?
Tender cut of beef, such as beef sirloin, works the best.
You don't have to go to a Korean store to look for the extra thin bulgogi beef cut for this recipe. Most grocery store carries thinly sliced beef sirloin for making beef cutlet or pan fry recipes, and it will work better.
Try this easy recipe, and it will become your favorite thing to eat along with the other Korean beef bowl recipe made with ground beef.
If you enjoy crispy texture of beef, try my Chinese crispy beef for another great beef recipe under 30 minutes.
Recipe tips for making crispy and tender beef
Use thinly sliced beef: tender cut of beef such as sirloin slices. It cooks fast.
pounding: pounding the beef with a back of your knife or meat hammer does a charm to tenderize the beef
Do not use onion: Avoid using onion and use green onion or Asian leek instead to add the savoriness that this dish needs.
Use high heat: Make sure to heat your skillet very hot over high heat. This will evaporate the steam quickly as the beef cooks.
Don't crowd the skillet: Do not overcrowd the skillet. If you spread the beef to fill the skillet, it becomes more difficult to flip and hard to insure the crispiness.
Let the meat sear: Let the meat sear on one side before flipping and make sure to let it cook long enough to achieve a crispy exterior.
How to make crispy Korean beef in 30 minutes
Step 1: Tenderize Beef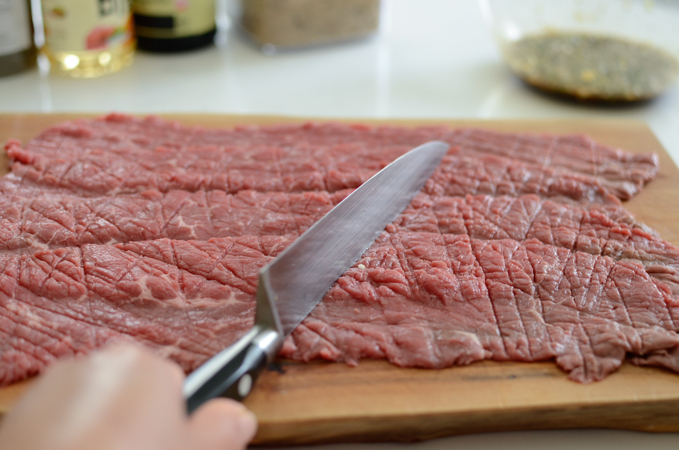 Spread the thin beef slices over the cutting board and pound with the back of knife a few times. Rotate the knife to different directions.
You are not cutting through the meat but just give the scoring to tenderize. Flip the meat to the other side and do the same.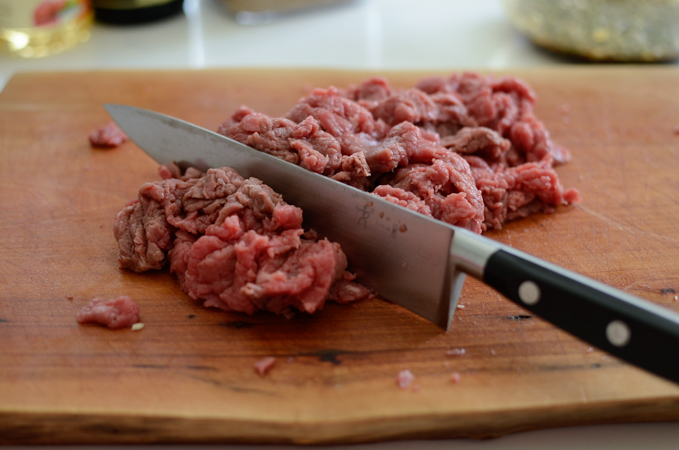 Then gather up and give 3-4 cuts.
Step 2: Make bulgogi sauce and mix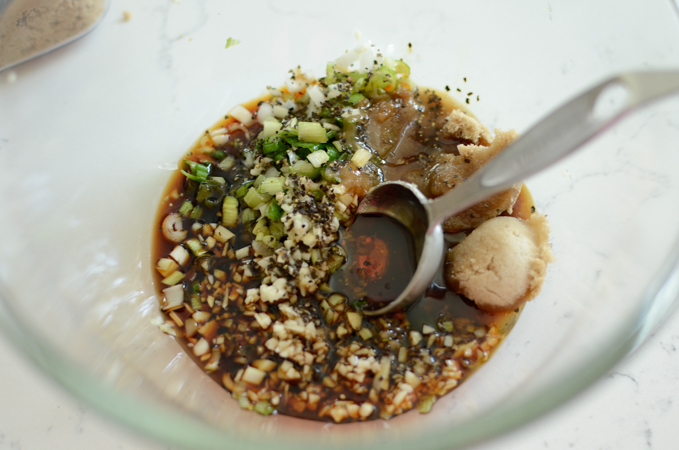 In a mixing bowl, combine all the seasoning ingredients. Make sure to chop the green onion finely.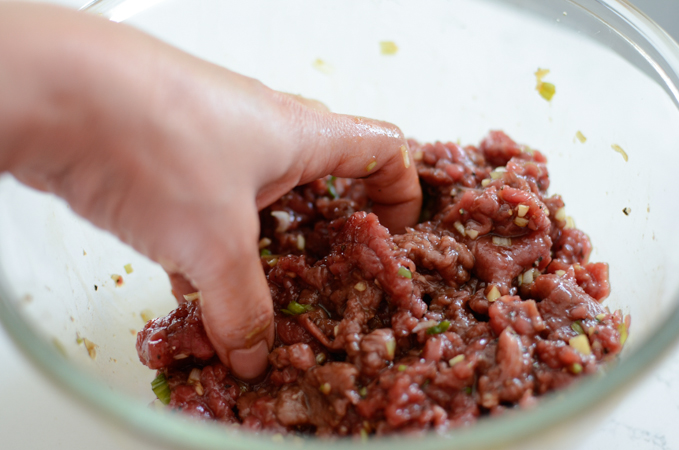 Add the beef and mix together. If you don't have any time, you can cook it right away, but I would suggest to let it sit on the counter while you are setting up the dinner table or preparing other dishes to serve with.
10-20 minutes of sitting time will help marinade the meat to produce tenderer and more flavorful bulgogi.
Step 3: Cook beef in a skillet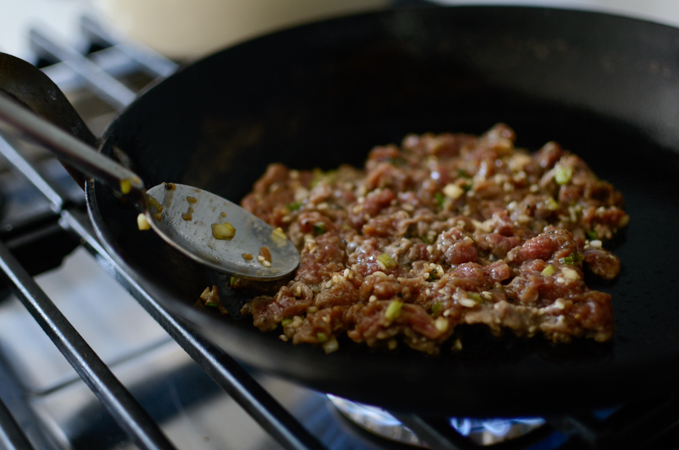 When everyone is ready to eat, heat up the heavy bottom skillet over medium high heat. Drizzle a little oil and spread the meat mixture thinly.
I love my carbon steel pan. It is my go-to cookware when I need a good searing on my food; perfect for steak. It is also great for baking cornbread, rolls, or anything that requires skillet (pan) for baking.
The beef should sizzle immediately. Cook for 1-2 minutes, then flip and cook for another minute. This crispy Korean beef cooks up super fast.
Korean Crispy Beef Serving Tips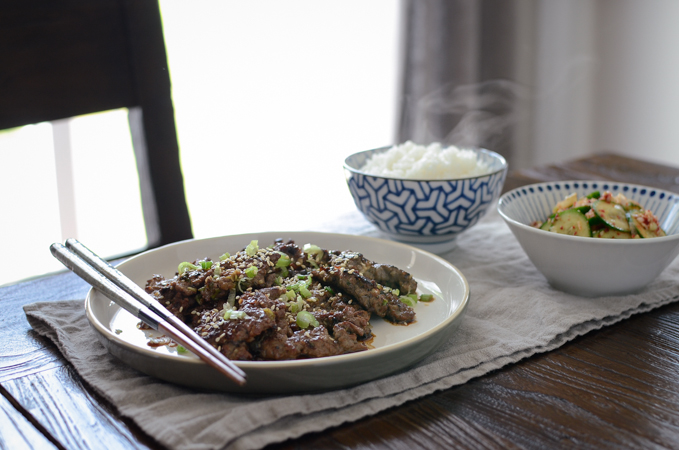 Serve the crispy beef bulgogi hot with steamed rice and a side of kimchi. I served mine with a simple Korean cucumber salad, and it was just perfect.
You can also wrap the beef in lettuce leaves for a delicious Korean-style wrap.
You will love the texture of this bulgogi, crispy at the first bite, then soft and chewy texture that follows after. If you are a bulgogi lover, you will adore this crispy Korean beef recipe. Try it out!
More Korean Beef Recipes You Might Like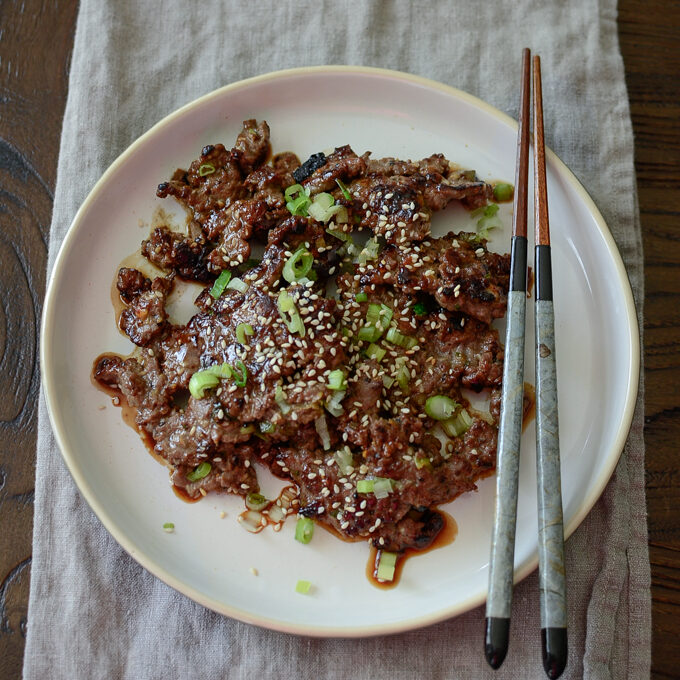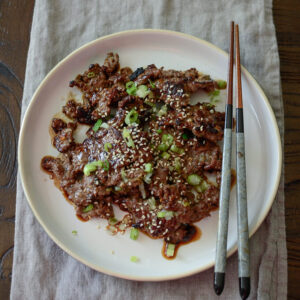 30-Minute Crispy Korean Beef
Enjoy this incredible crispy Korean beef (bassak bulgogi) without the marinating step. It's easy and quick to prepare for a weeknight dinner.
Instructions
Spread the beef over the cutting board and pound strong with the back of your knife all over the meat. Do not cut through. Flip the meat to the other side and do the same. Gather up the meat and cut 3-4 times.

In a large mixing bowl, mix the rest of ingredients together except oil.

Add the beef to the sauce, and toss to coat as you are kneading the meat. Let it sit on the room temperature for 10 minutes.

Heat a heavy bottom skillet until very hot. Drizzle a little oil and spread a small amount of beef mixture thinly on a hot skillet. It should sizzle immediately. Cook for 2 minutes, turn to the other side and cook for another 1 minute. The meat should have some caramelized surface.

Serve hot with rice and a simple side salad. Enjoy!
Did you make this recipe?
Tag @beyondkimchee on Instagram. I love to see your masterpiece.
Save
Save