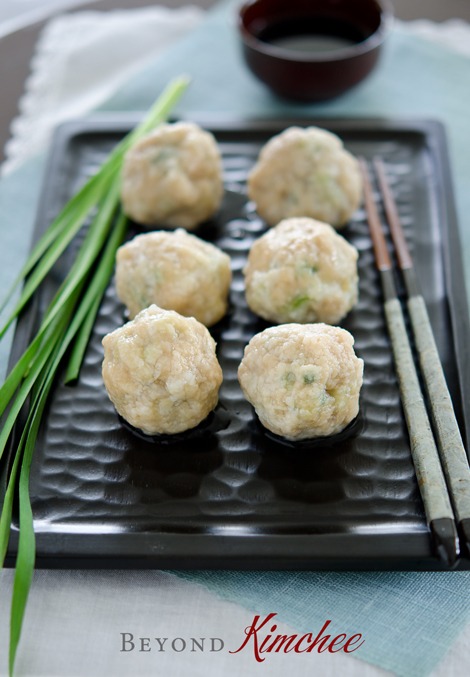 I promise this will be G rated post.
These are called Nude Dumplings.  They are nude because they are not wearing the wonton wrappers like the traditional dumplings would.  For being a very modest cook, I thought of covering them with fig leaves (joking!), but I decided to go with a different material instead.  There is a thin shear layer covering them to hold their shape, which makes these guys almost see through look.
Anyhow they are very simple to make dumplings and takes far less time than traditional kinds.  And they taste awesome!
You can use any dumpling filling you like. I used ground pork, cabbage, and Asian chives — my favorite combination.  Since they don't wear any wonton wrappers, they can be great gluten free dish as long as you use naturally brewed soy sauce for seasoning.
Shall we start the today's nude episode?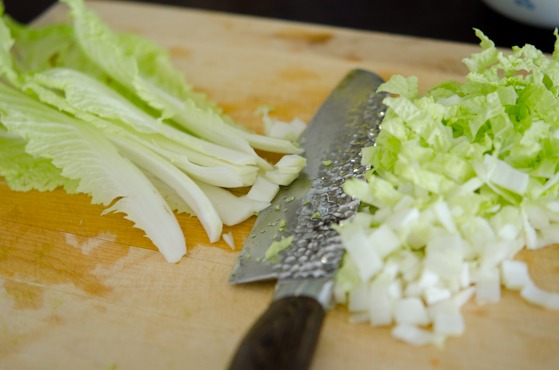 First, chop the cabbage into small pieces.
Sprinkle 1/2 teaspoon of kosher salt and toss well.  Let it sit 10-15 minutes. This will extract the moisture and your cabbage will pretend dead.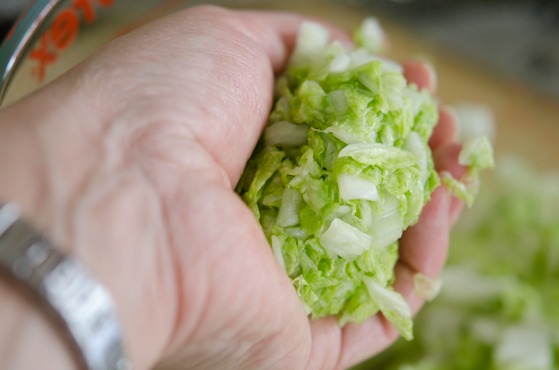 Squeeze them out as hard as you can to show your love.
When you love someone, don't you feel like squeezing them? Or is it just me being weird…?
Now combine ground pork, the nearly-squeezed-to-death cabbage, Asian chives (or green onion), garlic, soy sauce, sesame oil, salt and pepper, and an egg yolk.
Wait! I think I am forgetting someone again.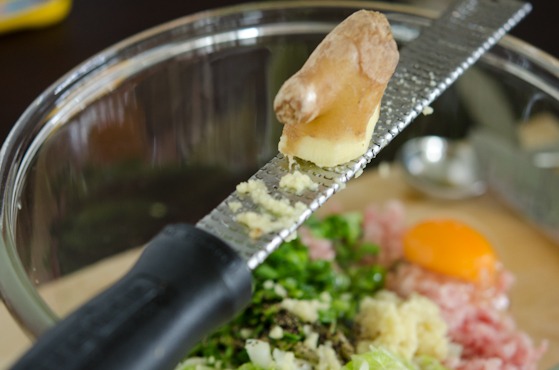 Ahhh! Ginger.  Grate her in an elegant manner.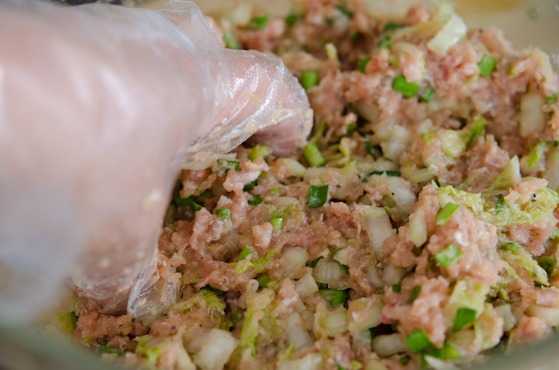 Mix well together.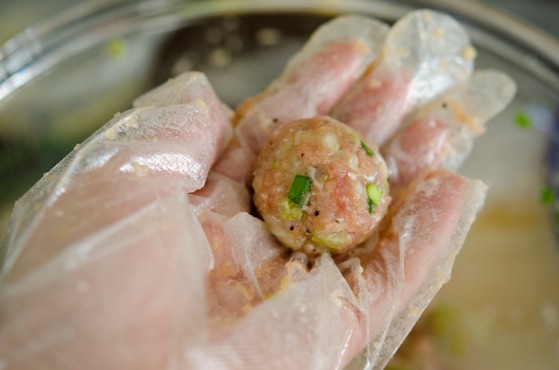 Roll the mixture into 1″ balls or whatever size you desire.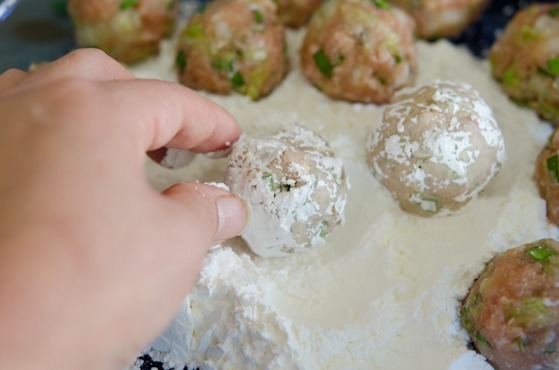 Coat them with corn flour. You want to coat them twice to hold their shape during cooking.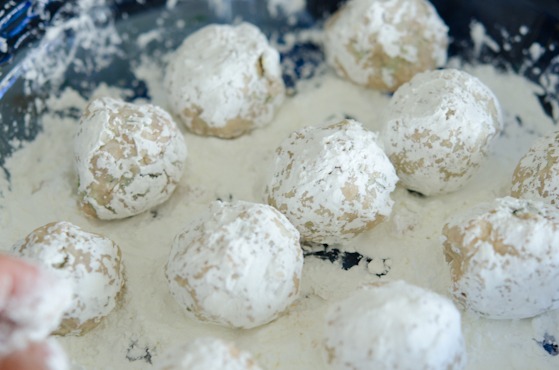 Here, the ready to go dumpling balls! Make sure you boil a pot of water on the side while you are rolling them.
When the water comes up to a gentle boil, drop these guys.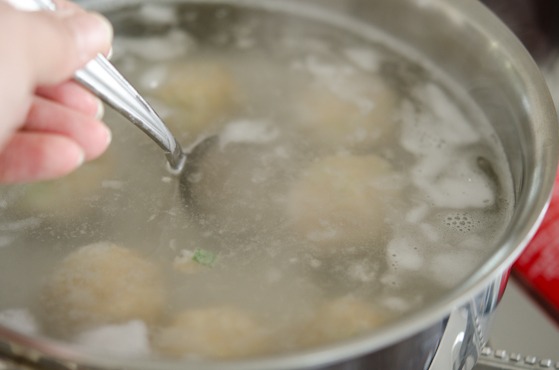 Boil them for about 3 minutes stirring occasionally so they don't stick to the bottom of pot. They will float to the top when they are fully cooked.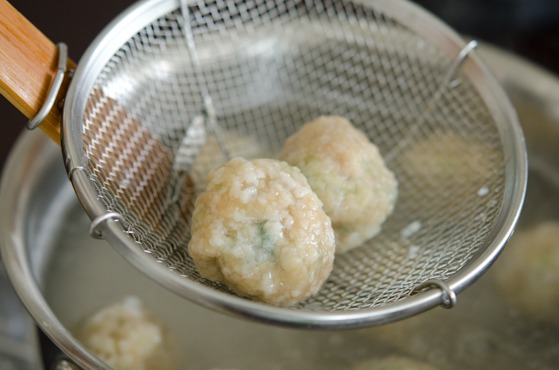 Take them out and serve with soy sauce+vinegar dipping sauce.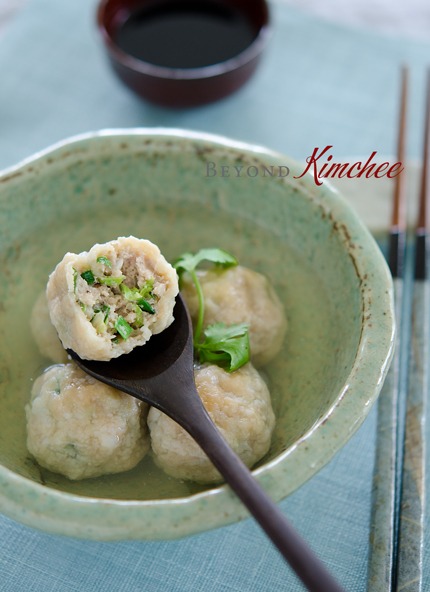 I like my dumplings served in a broth to keep them moist.  I used simple anchovy-kelp stock but any broth will be fine.  Or you can simply serve as is, as soon as they come out of water
You will love these dumpling balls, especially if you can't have gluten.   It is simple to make, quick to cook, low in calorie, gluten free, and most importantly, delicious!!!
What else is better?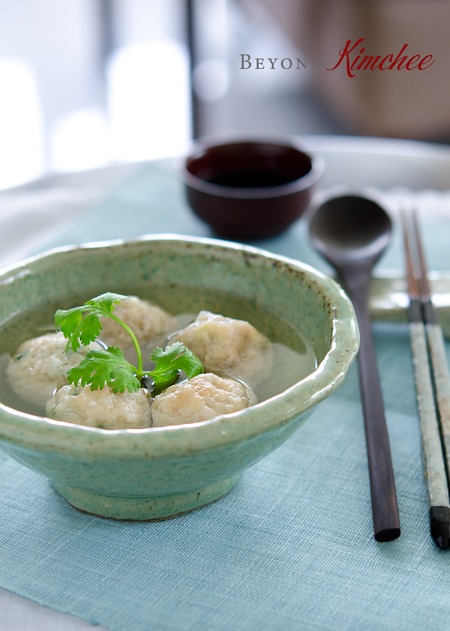 Nude Dumplings; for those who can't have gluten
Ingredients
3/4 lb ground pork
3 cups Napa cabbage finely chopped
1/3 cup Asian chives finely chopped
2 teaspoon minced garlic
1/2 teaspoon freshly grated ginger
1 tablespoon soy sauce
1 tablespoon rice wine
1 teaspoon sesame oil
1 teaspoon kosher salt, divided
1/2 teaspoon pepper
some cornstarch to coat

For the dipping sauce

3 tablespoon soy sauce
1 1/2 tablespoon vinegar
Directions
Toss chopped cabbage with 1/2 teaspoon salt in a bowl and let it sit for 15 minutes to wilt. Squeeze out the cabbage with hands to remove as much moist as you can.
In a large mixing bowl, combine pork, cabbage, chives, garlic, ginger, soy sauce, rice wine, sesame oil, 1/2 teaspoon salt, and pepper. Mix all together and make into 1" balls.
Bring a pot of water to boil.
Pour cornstarch in a shallow bowl and roll the balls to coat evenly around. You want to coat them twice to hold their shape.
When the water comes to gentle boil, drop the balls a few at a time to cook, about 3 minutes, stirring with a spoon occasionally so that they don't stick to the bottom of the pot. They will float to the surface when they are fully cooked.
Take them out and serve with the dipping sauce while hot.
http://www.beyondkimchee.com/nude-dumplings/
All rights reserved by www.beyondkimchee.com