Ssambap, Korean Lettuce Wraps
Korean lettuce wraps (ssambap) is a home-style healthy Korean meal. Rice is wrapped with variety of lettuce and leaves, then topped with a fish topping sauce. A canned mackerel pike comes handy for this recipe.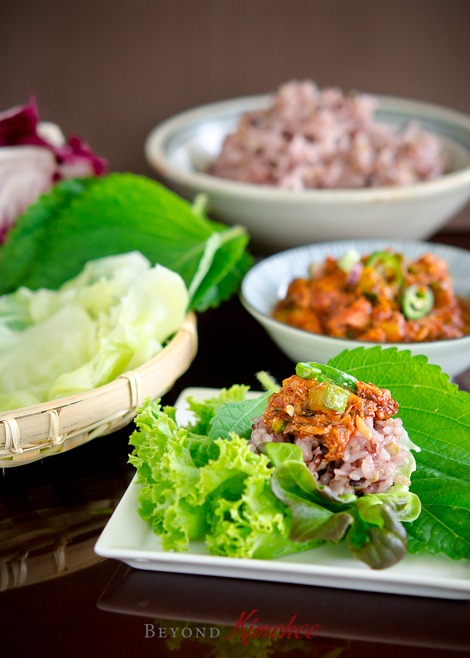 One of the fond memories of my childhood is having the Korean lettuce wrap called "Ssambap" with my family sitting on the outdoor table called "pyoungsang".
It is a large square low table that stands in the middle of courtyard of the house for people to sit on. It is unique to Korean culture that is easily found in the countryside.
Everyday we had our dinner sitting on this Pyoungsang during the summer season. My mother often prepared this delicious Korean lettuce wrap. It is rice wrapped with assorted lettuce and leaves. Certainly, she made the fish topping sauce that goes with the wrap.
The blazing summer sun have finally settled down in the evening with a cool breeze. Meanwhile the night stars were popping out here and there in the sky. The moments and the foods of those summer days that we had together as a family still remains dearly in my heart.
Obviously Korean lettuce wraps (ssambap) is a country style Korean food. Just picked from the farm, freshest lettuces and the leaves of all kinds are always available in the country. That is to say, many city people go to the Ssambap restaurant to comfort their nostalgic country mouse childhood memories.
Lettuces and Leaves For Ssambap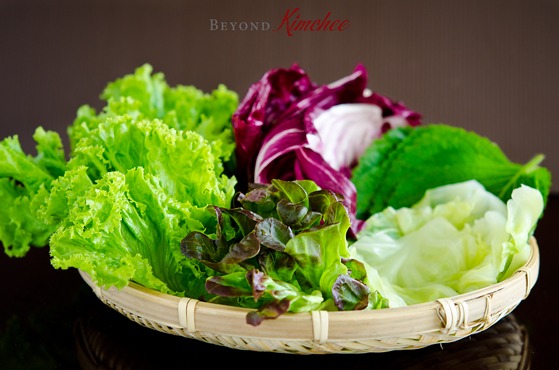 Ssambap is very easy to put together. Get a varieties of leafy lettuces. You can also use many different types of vegetable leaves; such as cabbage leaves, perilla leaves, pumpkin leaves, thin sea kelp. Most of them can be eaten fresh and some (cabbage and pumpkin leaves) can be steamed.
Serve your ssambap with multigrain rice rather than white rice. It is much more wholesome and healthier.
There are many different types of topping sauce you can serve with; meat, fish, tofu, mushroom, or just plain.
Today I will show you one of my favorite topping that is very easy and inexpensive to make. The taste? You better try yourself to believe. If you like the rustic Korean flavored dishes like doenjang jjigae and fish, you will love this. I guarantee.
How To Prepare Korean Lettuce Wraps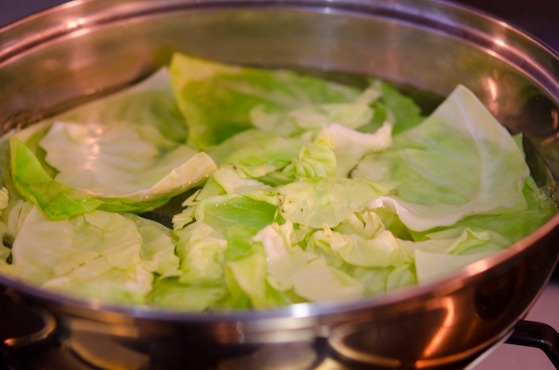 Get any assorted lettuce and variety of edible leaves you like. I added Perilla leaves and cabbage leaves. Boil cabbage leaves for 4 minutes and drain. Chill with lettuces.
Let's make the delicious fish topping sauce (ssamgjang, 쌈장) to go with our wraps.
Fish Topping Sauce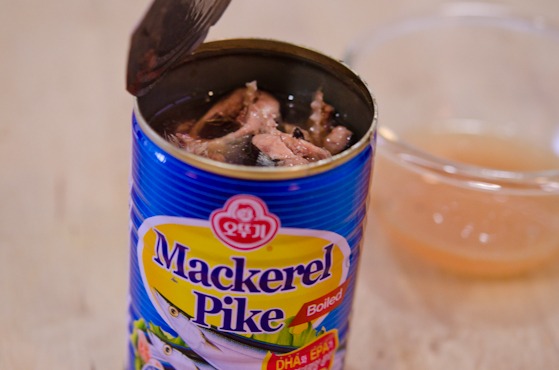 What is Mackerel Pike?
Mackerel pike (kkongchi, 꽁치) is a cousin of mackerel, a blue-backed fish. But Pikes carries a little smaller gene in the family. You can use canned mackerel or tuna if you can't find mackerel pike.
Drain but reserve 3 tablespoon of the can liquid and set aside.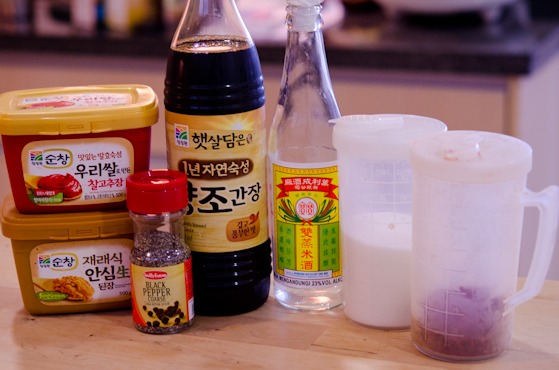 Here are the seasoning team: Korean chili paste, soybean paste, black pepper, soy sauce, rice wine, sugar, and Korean chili flakes.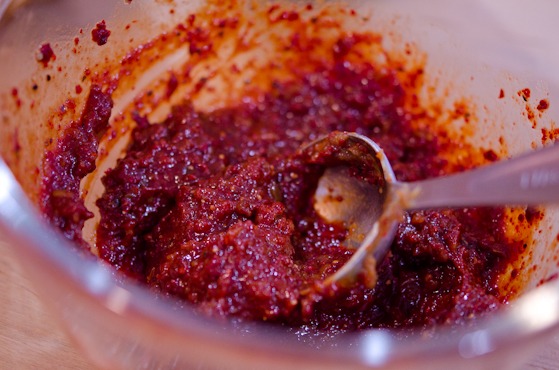 Mix all together with given amount.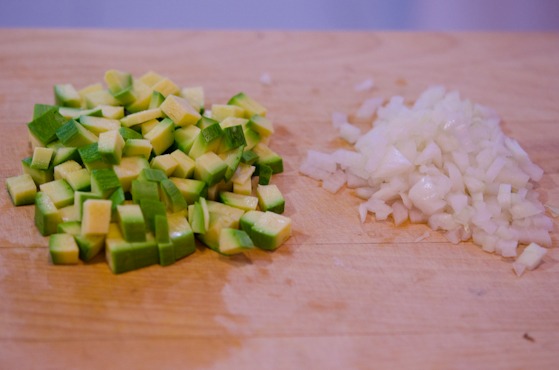 Chop a small piece of zucchini and onion. You might want to chop some garlic as well since you are holding a knife.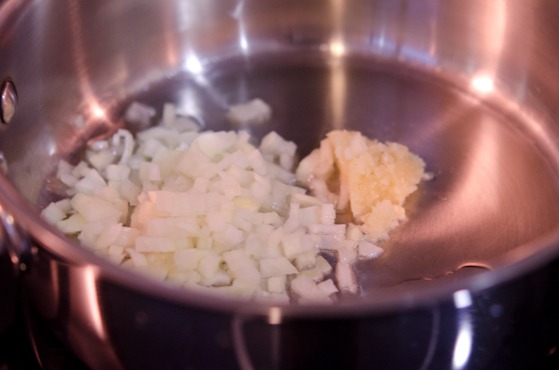 In a small pot, add a little oil and saute onion and garlic for 1 minute.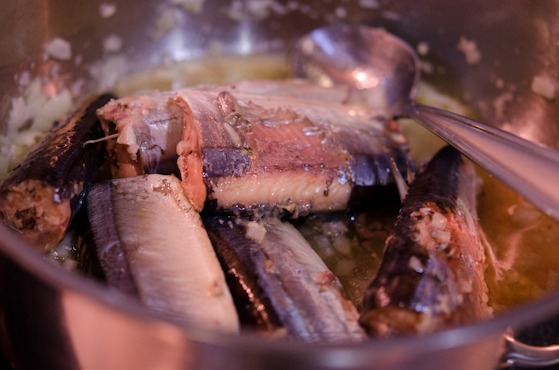 Dump the Pike family and the reserved juice. Don't bother to de-bone them. They are perfekly soft and add 100% natural calcium to your body.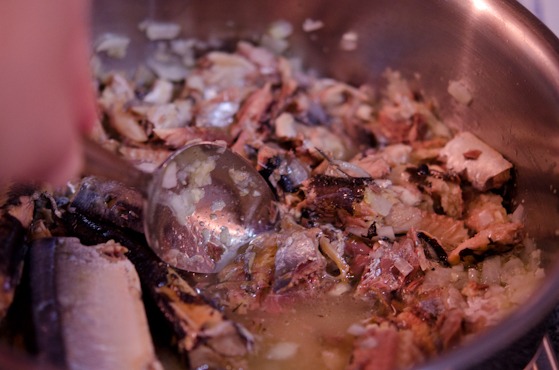 Using a spoon, break off the pikes into small bite size chunks.
Add 1/2 cup water and bring them to boil.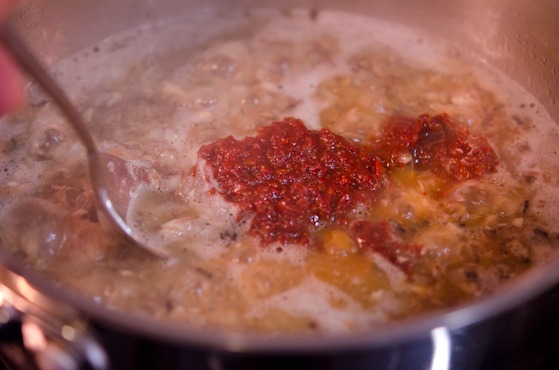 Add the seasoning paste…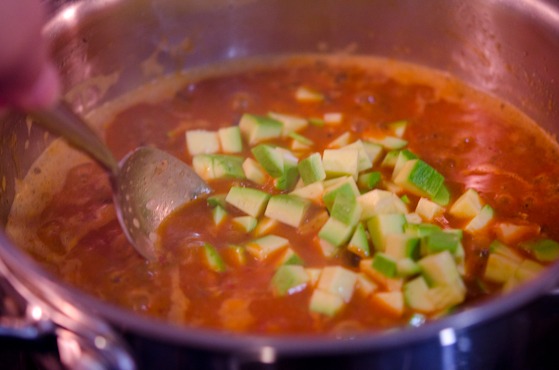 And the zucchini pieces. Continue to simmer over medium-low heat for 7-8 minutes until the sauce gets thicken.
At last add green onion and green chili (optional) to add the extra spicy kick. Simmer for 1-2 minutes. The sauce will thicken more as it rests.
That's it! This sauce it just so good to mix with rice as is.
How To Serve Korean Lettuce Wraps
Here is an image of how to put together!
Place your rice (Mulit-Grain Rice) on any lettuce or leaf, put some topping sauce on top, gather-up, and just SHOVE it into your mouth.
No biting-off, please! This is NOT a time to have the European table manner that you would do at a Michelin starred restaurant.
This is a country style Korean food. Time to be a country mouse without the nibbling. …I don't like seeing people nibbling the food I made.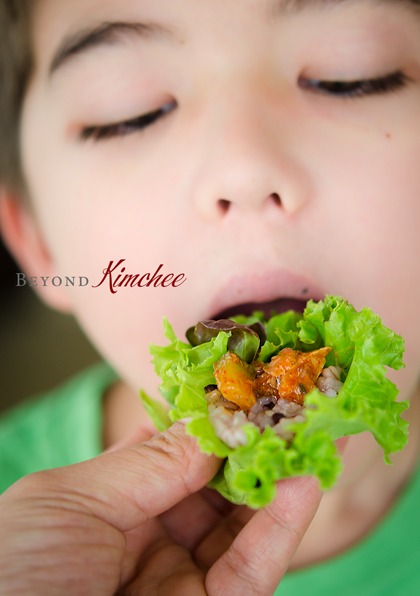 Two things in this world that makes me happy;
#1 – Apple stock share going up
#2 – Watching the food entering into my child's and my husband's mouth
I hope you experience the same joy I had today.
Other Rustic Korean Dishes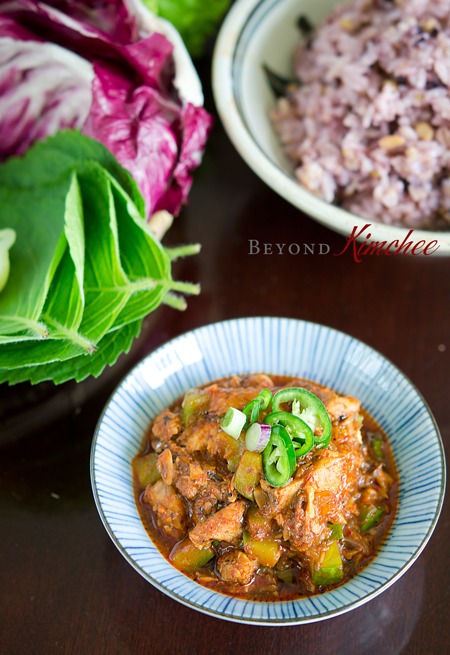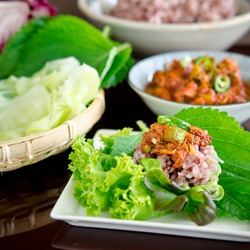 Korean Lettuce Wraps (Ssambap) with Fish Topping Sauce
Ssambap is a rustic Korean lettuce wrap with rice and it is a healthy home-style meal. Rice is wrapped with variety of lettuce and leaves, then topped with fish topping sauce. A canned mackerel pike is handy for this recipe
Ingredients
assorted leafy lettuces and edible leaves, cleaned and some leaves steamed
cooked multi-grain rice or brown rice to serve
For the topping sauce
14 oz canned mackerel pike or tuna, drained but reserving 3 Tbsp liquid
1/2 small onion, chopped
1/3-1/2 zucchini, chopped
1/2 tbsp garlic, minced
1 tbsp canola oil
1/2 cup water
1/2 green chili, chopped, optional
1 green onion, chopped, optional
Instructions
Combine all the seasoning ingredients in a small mixing bowl, set aside.

In a small sauce pan, saute onion and garlic in oil over medium heat until soft. Add the fish, reserved juice, and the water and bring to boil.

Add the sauce to the pan and stir. Add the zucchini and bring to boil again. Reduce the heat to med-low and simmer for 7-8 minutes or until the mixture thickens a little.

Add the chili and green onion, if using, and let it cook for another 1-2 minutes.

Remove from heat and let it cool. It will thicken more as it cools.

To serve the dish, place 1 tablespoonful of rice in the middle of lettuce, top with the fish topping sauce, about 1/2 Tbsp, and gently bunch the lettuce together and eat in ONE bite!
Did you make this recipe?
Tag @beyondkimchee on Instagram. I love to see your masterpiece.