Bean Sprouts…! 콩나물, kongnamul!
The most consumed vegetable next to the cabbage in Korea would be the bean sprouts. We often call it 국민반찬 (gookmin banchan), which translates into "The national side dish of People's Republic of Korea".  Koreans eat bean sprouts A LOT.
They are cheap, nutritious, and also very delicious to the taste. What's there not to love about? You can do many things with bean sprouts and here is a very simple Spicy Bean Sprout Salad that you always see in many Korean restaurants along with the plain bean sprout salad.
Clean the sprouts in the water and remove all the yellowish shells off the heads. Place them in a large pot with 1/2 cup of water. COVER with a lid and bring to med-high heat and cook for 6 minutes (You will need to lower the heat to med-low after about 3 minutes). For some reason the "6 minutes" is the magical cooking time for bean sprouts to be crisp-tender. Just perfect!
Important : DO NOT open the lid until your 6 minutes are up. Don't even peek!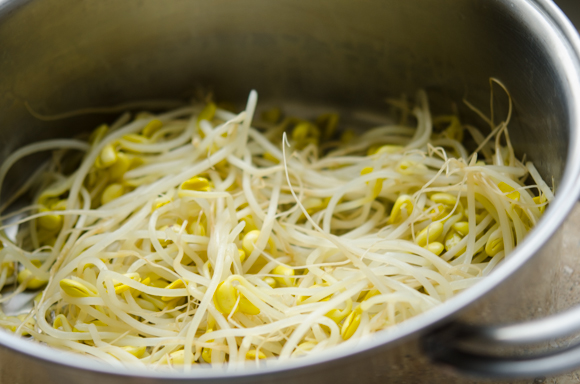 Here is! soft yet still crunch! toss well first, then strain the sprouts to drain the liquid out.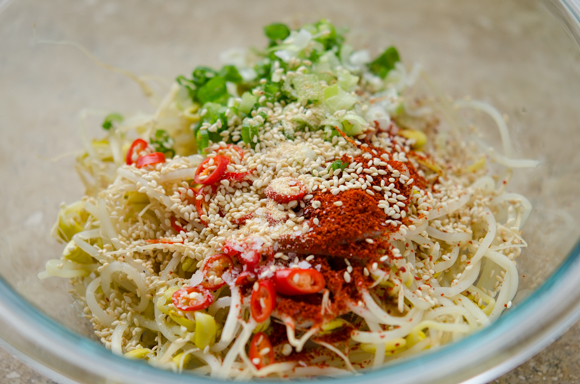 Place the sprouts in a mixing bowl and add all the seasonings: green onion, Korean chili flakes, Korean soy sauce for soup, garlic powder, sesame seeds, and a little salt. I added some fresh red chili since I always have some. You don't need to.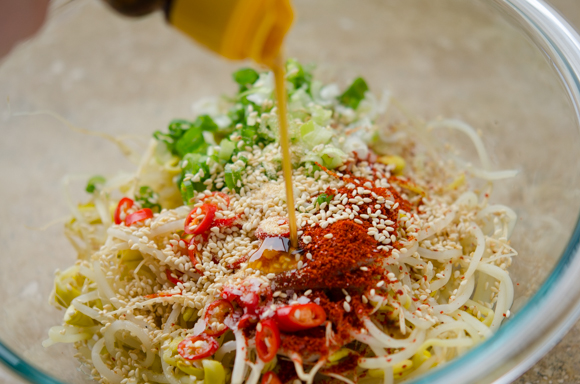 Drizzle the golden oil of Asia! The sesame oil.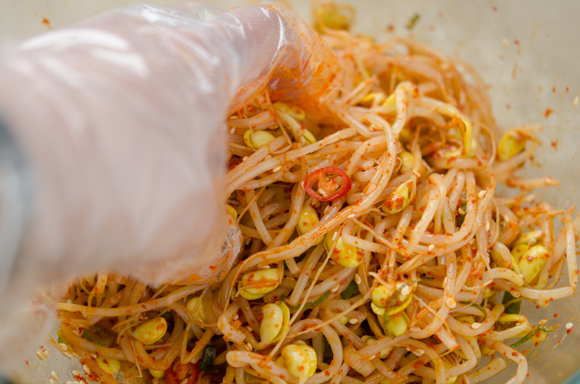 Toss all together to incorporate the sprouts with the seasonings. The best tool for this job is your hand. Taste it, and season more with salt according to your taste.
Very simple but so flavorful, I just have this strong urge to throw these sprouts and hot rice into a large serving bowl, drop a little gochujang (Korean chili paste), drizzle more sesame oil, and mix like crazy. Then shove a big spoonful of it into my mouth. That is soooo~ Korean thing to do!
Hope you get to try it with these sprouts. Yum!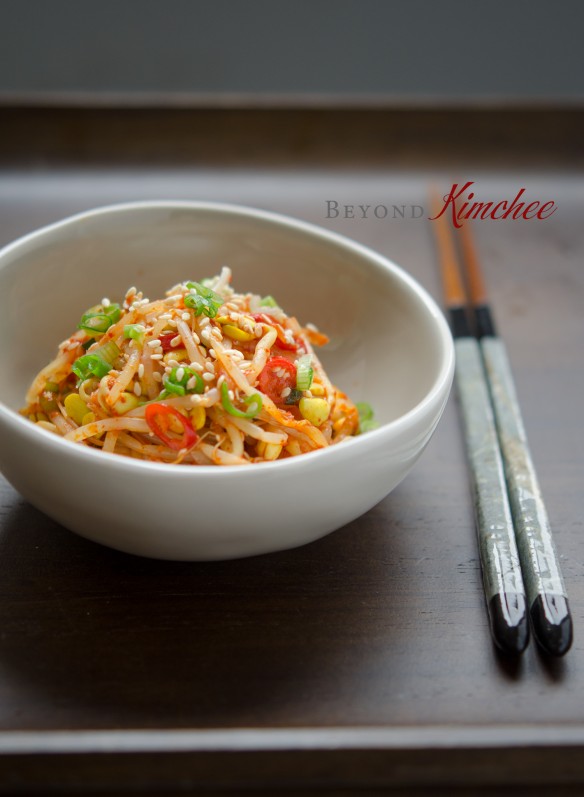 Ingredients
16 oz (450g) bean sprouts, cleaned
1/2 cup water
1/2 teaspoon salt
1/2-1 tablespoon Korean chili flakes
2 green onion finely chopped
1/2 teaspoon garlic powder
2 teaspoon Korean soy sauce for soup
2 teaspoon sesame oil
1 tablespoon toasted sesame seeds
extra salt to season, if needed.
1 fresh red chili, sliced, optional
Directions
Put 1/2 cup water and 1/2 teaspoon salt in a large pot and spread bean sprouts over. Close with a lid and bring the pot over med-high heat and cook for 6 minutes (You will need to lower the heat a little after about 3 minutes). Do not open the lid during the cooking time. When done, toss the bean sprouts in the liquid first, then strain them out. Discard the liquid.
Place the sprouts in a large mixing bowl and add chili flakes, green onion, garlic powder, Korean say sauce for soup, sesame oil, and the sesame seeds, and fresh red chili (if using). Toss well to combine with your hand to incorporate the seasoning with the sprouts. Season with salt according to your taste.
https://www.beyondkimchee.com/spicy-bean-sprout-salad/
All rights reserved by www.beyondkimchee.com