Peach Kuchen (German Peach Cake)
Peach Kuchen is a delectable German peach cake made with either fresh or canned peaches. Simple custard cream and cake batter is baked all together creating a moist and delicious cake. Perfect dessert for a dinner party!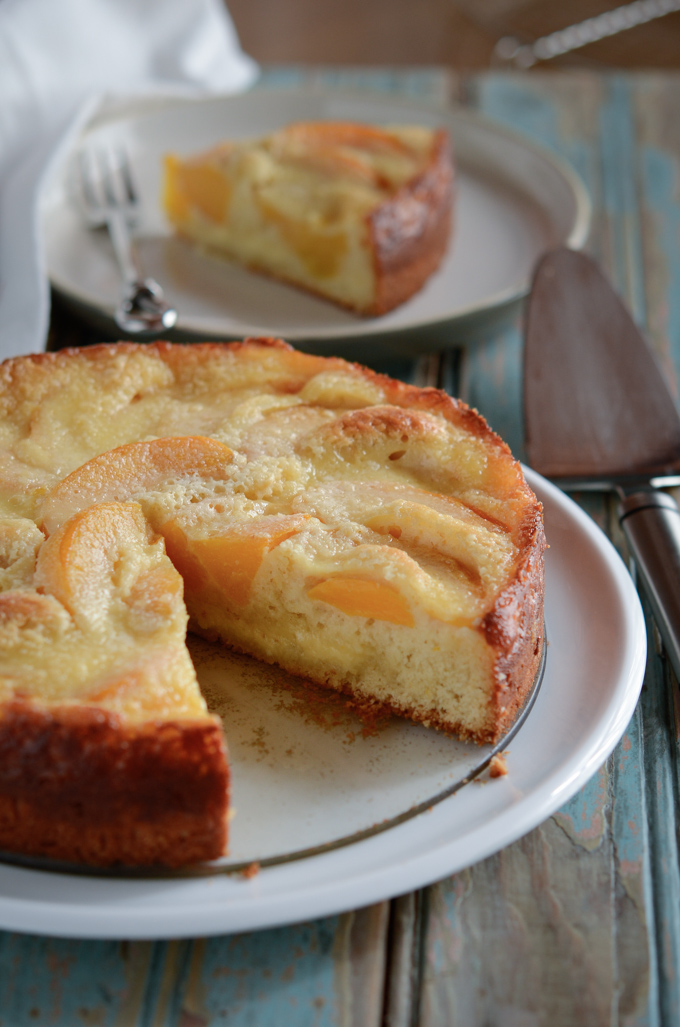 "This has become one of our favorite recipes and is baked at least every other week in our home."

– BRITTA
I have been posting spicy recipes for the past couple of weeks and thought I need something to sweeten things up. Here is a delicious Peach Kuchen, the German peach cake made with canned peaches.
Kuchen is quite an interesting dessert, not to mention how delicious it is. It is like a sort of pie but with tender cake-like crumbs.
Plus, the cake has a delicious and moist custard cream mingled in a layer of cake. If you taste it, you will fall for it immediately.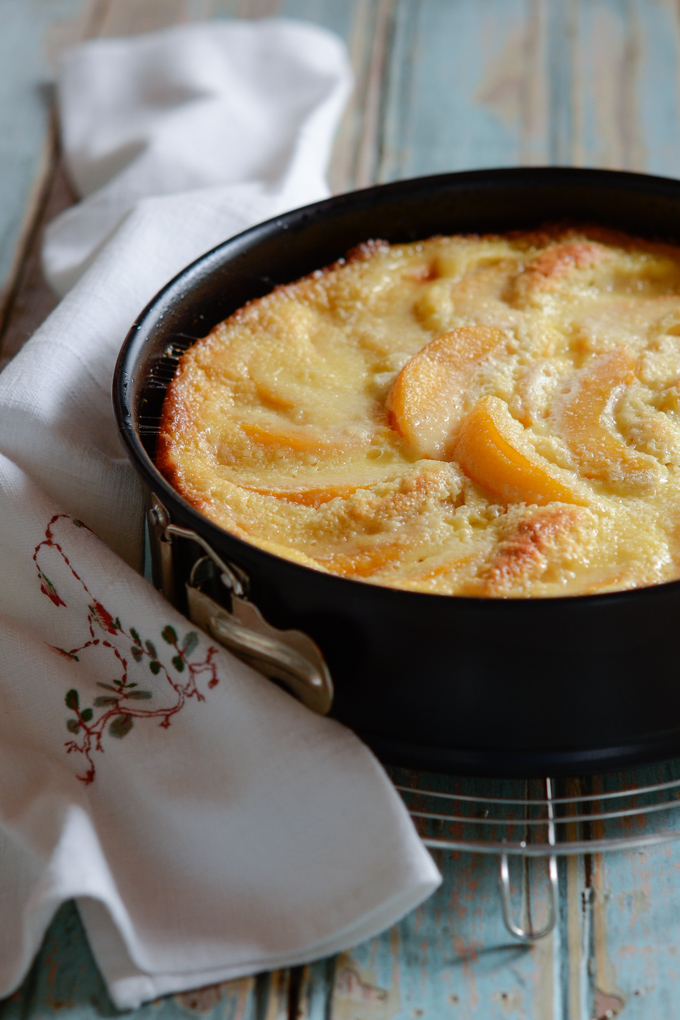 Fresh peaches would make the most delicious Kuchen for this recipe, but I can't even ask for fresh peaches in the chilly winter in Buenos Aires right now. Here comes canned peaches to the rescue. Besides, they were on sale. Perfect!
I recommend a springform pan to accomplish the drop-dead gorgeous Kuchen presentation, but it is not mandatory. I am not including the tutorial instructions for this recipe this time, because it is very simple to follow from my printable recipe.
However, with my video below on apricot Kutchen (using fresh apricots), you will be able to see how I made this wonderful German dessert.
Watch How To Make German Kutchen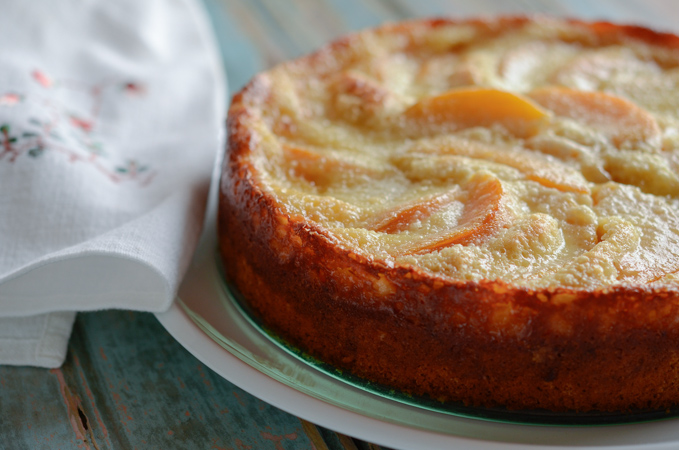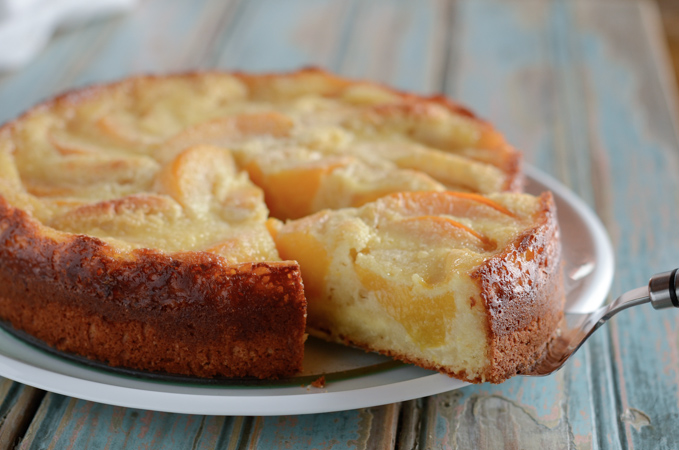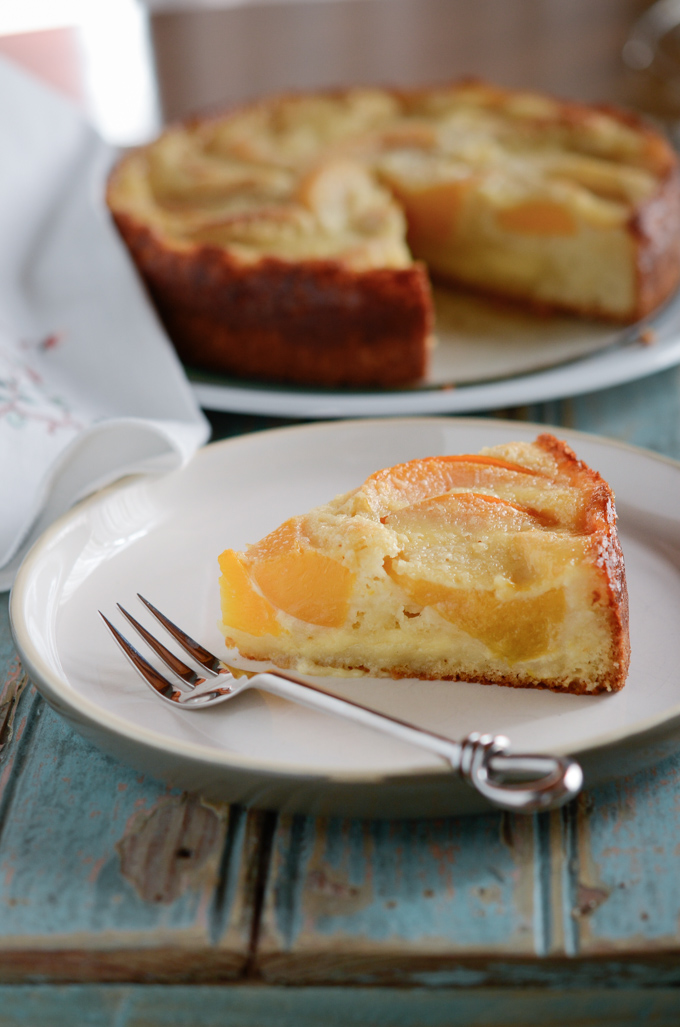 Whether you use fresh peaches or canned peaches, you will end up with a delectable dessert on your plate. If you have never made Kuchen before, give this a shot!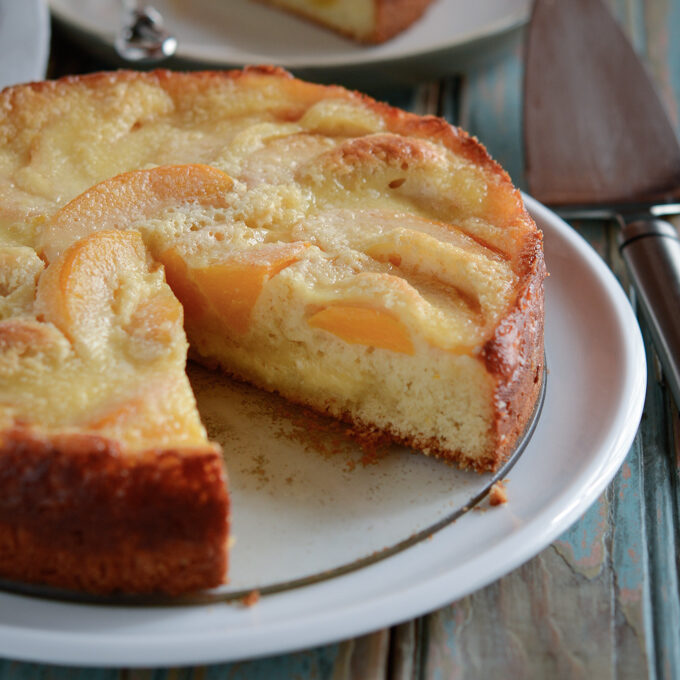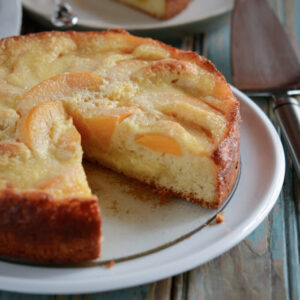 Peach Kuchen (German Peach Cake)
Peach Kuchen is a delectable German peach cake made with either fresh or canned peaches. Simple custard cream and cake batter is baked together creating moist and delicious cake
Ingredients
1-1/2 cup all-purpose flour
3/4 cup sugar
2 tsp baking powder
1/2 tsp salt
1/8 tsp mace , or nutmeg
1/4 cup cold butter, cut into small pieces
1/2 cup whole milk
1 egg
1 large can (850g) peach halves, drained and sliced into 1/2-inch thick, or use 3-4 fresh peaches
For custard cream
1 cup heavy cream
2 tsp flour
1/2 cup sugar
1 egg
1 tsp vanilla extract
pinch salt
Instructions
Preheat the oven to 400˚F. Grease a 9-inch springform pan and set aside.

Combine flour, sugar, baking powder, salt, mace in a mixing bowl and stir well with a whisk. Add the cold butter pieces and incorporate to blend with the flour until it becomes fine crumbs.

In a small mixing bowl, whisk milk and egg well. Pour the milk mixture over the flour mixture. Mix with a fork just until it becomes wet.

Spread the batter on the bottom of the prepared pan. Arrange the peach slices on top. Bake in the preheated oven for 15 minutes.

To make the custard cream, combine 1/4 cups of cream with flour in a medium mixing bowl, and whisk together to get rid of big lumps. Add the rest of the cream, sugar, egg, vanilla, and salt; whisk well to mix.

Take the cake out of oven, and pour the cream mixture on top. Put the cake back in the oven, and immediately reduce the heat to 350˚F. Continue to bake the cake for 35-40 minutes.

When the cake top is puffed, the edges are deep golden and starting to separate from the pan, the cake is done. Cool the cake in the pan for 15 minutes, then remove it from the pan and let it cool completely on a cooling rack.
Notes
I used canned peaches for this recipe, but you can certainly use fresh peaches. Just peel and remove the seed from the peaches and cut into 1/2 inch thick slices.
Did you make this recipe?
Tag @beyondkimchee on Instagram. I love to see your masterpiece.